Before we jump right into this draft recap, let's go over a little bit of background about the league and its details. This isn't like the typical RCL 5×5 rotisserie league we often talk about in this space. LOEG is a 10×10 head-to-head keeper league, with 10 teams and four keepers per team from year to year. The league has been around for something like ten years and has been graced by the presence of yours truly for the past five.
Since the categories, scoring, and rules are a little different in this league I'll break down all the details below. I think it's important to break this down a bit first because not only do I want to bore you to death, but I want you to have all the information while you are going over the results and making fun of my team in the comments section. Anyway, here we go:
Razzball Commenter Leagues are open! Play against our contributors and your fellow readers for prizes. Join here!
LOEG DETAILS
Categories
Batting: BA, BB, H, HR, KO, OPS, R, RBI, SB, XBH
Pitching: BAA, BBI, ERA, HD, K, L, QS, S, W, WHIP
Rosters
26-man rosters, with 18 active players, 7 reserves, and 1 minor league spot

Active lineups, adjusted daily: C, 1B, 2B, SS, 3B, OF (3), Util, SP (5), RP (4).

5 Disabled List spots
Additional Details
Maximum of 13 starting pitcher starts per week per team

Minimum of 30 innings pitched per week per team

Head-to-Head weeks start on Mondays and end on Sundays

$200 league entry fee, $1 per free agent signing (injury replacements are free), $5 per-player for all trades.
That last detail is probably one of the bigger ones, as streaming in a money league can get expensive pretty fast. And that doesn't even include the $400+ tab we ran up at Donovan's Pub in Manchester, NJ during the draft or the money I spent to fly up to NJ from Fort Lauderdale. As you can see, the rosters and scoring settings are a bit different from RCL roto leagues. Anyway, let's get to the results. But first, here are the keepers: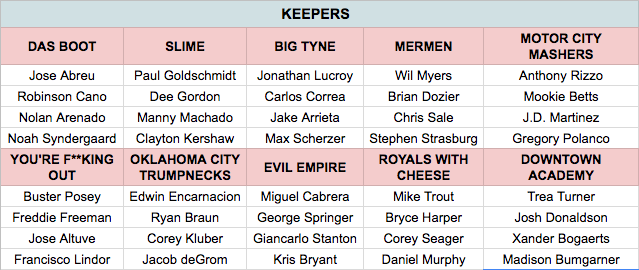 And now let's get to the results…
DAS BOOT
Player
Pos
Team
Pick
Abreu, Jose
1B
CWS
KP
Cano, Robinson
2B
SEA
KP
Arenado, Nolan
3B
COL
KP
Syndergaard, Noah
SP
NYM
KP
Villar, Jonathan
2B,3B,SS
MIL
5.01
Marte, Starling
OF
PIT
6.10
Jones, Adam
OF
BAL
7.01
Carrasco, Carlos
SP
CLE
8.10
Swanson, Dansby
SS
ATL
9.01
Hernandez, Felix
SP
SEA
10.10
Moore, Matt
SP
SF
11.01
Keuchel, Dallas
SP
HOU
12.10
Gray, Jon
SP
COL
13.01
Matz, Steven
SP
NYM
14.10
Broxton, Keon
OF
MIL
15.01
Wieters, Matt
C
WAS
16.10
Gurriel, Yulieski
3B
HOU
17.01
Buxton, Byron
OF
MIN
18.10
Walker, Taijuan
SP
ARI
19.01
Ozuna, Marcell
OF
MIA
20.10
Wheeler, Zack
SP
NYM
21.01
Ellsbury, Jacoby
OF
NYY
22.10
Cecil, Brett
RP
STL
23.01
Siegrist, Kevin
RP
STL
24.10
Rosenthal, Trevor
RP
STL
25.01
Kelly, Joe
RP
BOS
26.10
Das Boot Recap: Das Boot picked first because, you know, they finished in last place in 2016. The early rumors had Charlie Blackmon going first overall, but the fake Ken PosenPaul account on Twitter broke the news early on Saturday morning that Blackmon was out (black men were very much still in for Das Boot, just Blackmon was out) and Jonathan Villar was in. My super projections currently have the Boot finishing 9th out of 10 teams (Sorry, Jay!). Perhaps it is because his four relievers are currently made up of three current St. Louis relievers and one former St. Louis starter, or maybe it is because his unofficial Guinness and Jack Daniels shooter count on Saturday was something like one per round. Either way, I have him finishing in the bottom third of the league in saves, WHIP, and ERA on the pitching side and BB, Runs, and OPS on the offensive side. I hope Das Boot was made for walking because they have some work to do.
SLIME
Player
Pos
Team
Pick
Goldschmidt, Paul
1B
ARI
KP
Gordon, Dee
2B
MIA
KP
Machado, Manny
3B,SS
BAL
KP
Kershaw, Clayton
SP
LAD
KP
Sanchez, Gary
C,DH
NYY
5.02
Benintendi, Andrew
OF
BOS
6.09
Gonzalez, Carlos
OF
COL
7.02
Cole, Gerrit
SP
PIT
8.09
Upton, Justin
OF
DET
9.02
Russell, Addison
SS
CHC
10.09
Rendon, Anthony
3B
WAS
11.02
Greinke, Zack
SP
ARI
12.09
Harvey, Matt
SP
NYM
13.02
Salazar, Danny
SP
CLE
14.09
Betances, Dellin
RP
NYY
15.02
Melancon, Mark
RP
SF
16.09
Cain, Lorenzo
OF
KC
17.02
Rodon, Carlos
SP
CWS
18.09
Gonzalez, Adrian
1B
LAD
19.02
Tulowitzki, Troy
SS
TOR
20.09
Dyson, Sam
RP
TEX
21.02
Bundy, Dylan
SP
BAL
22.09
Bedrosian, Cam
RP
LAA
23.02
Brantley, Michael
OF
CLE
24.09
Glasnow, Tyler
SP
PIT
25.02
Bauer, Trevor
SP
CLE
26.09
Slime Recap: It is difficult to truly evaluate slime. It is, by definition, slippery, repulsive, and often difficult to define, at least on a case-by-case basis. This slime is no different. The Razzball community will no doubt dislike Slime taking a catcher so early, though Gary Sanchez might turn out to not be just any catcher. Even so, as the resident Frankencatcher Reporter, I must turn my nose up at such a pick. That being said, my lab mice came back with their projections and predicted Slime to finish 4th. They are impressively average or better in 19 of the 20 categories right now, with only K (batters) as an outlier (projected to finish dead last). If they can meet or surpass those projections, we are looking at a playoff team. Slime does, however, have some very risky starting pitching.
BIG TYNE
Player
Pos
Team
Pick
Lucroy, Jonathan
C
TEX
KP
Correa, Carlos
SS
HOU
KP
Arrieta, Jake
SP
CHC
KP
Scherzer, Max
SP
WAS
KP
Blackmon, Charlie
OF
COL
5.03
Odor, Rougned
2B
TEX
6.08
Darvish, Yu
SP
TEX
7.03
Archer, Chris
SP
TB
8.08
Chapman, Aroldis
RP
NYY
9.03
Frazier, Todd
3B
CWS
10.08
Britton, Zach
RP
BAL
11.03
Ramirez, Jose
3B,OF
CLE
12.08
Quintana, Jose
SP
CWS
13.03
Baez, Javier
2B,3B,SS
CHC
14.08
Davis, Chris
1B
BAL
15.03
Roark, Tanner
SP
WAS
16.08
Eaton, Adam
OF
WAS
17.03
Familia, Jeurys
RP
NYM
18.08
McCann, Brian
C,DH
HOU
19.03
Odorizzi, Jake
SP
TB
20.08
Bruce, Jay
OF
NYM
21.03
Reyes, Jose
3B,SS
NYM
22.08
Bellinger, Cody
1B*
LAD
23.03
Bush, Matt
RP
TEX
24.08
Brach, Brad
RP
BAL
25.03
Kepler, Max
OF
MIN
26.08
Big Tyne: The only surprising thing about Big Tyne's draft was that they waited until the 9th round to take his first reliever. They were no doubt happy to be able to grab Charlie Blackmon at 5.03 after his brief draft day fall. Big Tyne also boasts my favorite minor league pick for 2017 in Cody Bellinger, who might provide some valuable power at what is a weak first base position. I hesitated on pulling the trigger on Bellinger for about four rounds before watching Big Tyne swoop in and capitalize on my hesitation. My secret algorithms have Big Tyne pegged for 5th place right now.
MERMEN
Player
Pos
Team
Pick
Myers, Wil
1B,OF
SD
KP
Dozier, Brian
2B
MIN
KP
Sale, Chris
SP
BOS
KP
Strasburg, Stephen
SP
WAS
KP
Votto, Joey
1B
CIN
5.04
Segura, Jean
2B,SS
SEA
6.07
Beltre, Adrian
3B,DH
TEX
7.04
Desmond, Ian
OF
COL
8.07
Trumbo, Mark
OF,DH
BAL
9.04
Kinsler, Ian
2B
DET
10.07
Hamilton, Billy
OF
CIN
11.04
Maeda, Kenta
SP
LAD
12.07
Diaz, Aledmys
SS
STL
13.04
Ramirez, Hanley
1B,DH
BOS
14.07
Perez, Salvador
C
KC
15.04
Osuna, Roberto
RP
TOR
16.07
Ray, Robbie
SP
ARI
17.04
Giles, Ken
RP
HOU
18.07
Franco, Maikel
3B
PHI
19.04
Davis, Khris
OF,DH
OAK
20.07
Pineda, Michael
SP
NYY
21.04
Barraclough, Kyle
RP
MIA
22.07
Jones, Nate
RP
CWS
23.04
Estrada, Marco
SP
TOR
24.07
Iwakuma, Hisashi
SP
SEA
25.04
Giolito, Lucas
SP
CWS
26.07
Mermen Recap: The Mermen took Joey Votto with their first pick of the day, after yours truly kept Daniel Murphy over him :::ducks from the crowd throwing rotten vegetables:::. I love Votto, but he burned me the last two years in April and May, to the point where I almost had to drop him. You can weather extreme slumps in roto leagues, but they can be devastating in H2H leagues, where points matter every week. For the Mermen's sake, I hope Votto actually gets out of the gate this season. The Mermen took a gamble by grabbing Ian Desmond at 8.07, as they are no doubt hoping for him to return sooner rather than later and produce like he did last season. I like this team overall, except for the backend of the rotation, but the super computer currently has this team projected to finish 8th.
MOTOR CITY MASHERS
Player
Pos
Team
Pick
Rizzo, Anthony
1B
CHC
KP
Betts, Mookie
OF
BOS
KP
Martinez, J.D.
OF
DET
KP
Polanco, Gregory
OF
PIT
KP
Story, Trevor
SS
COL
5.05
Bregman, Alex
3B
HOU
6.06
Tanaka, Masahiro
SP
NYY
7.05
Bautista, Jose
OF,DH
TOR
8.06
Zobrist, Ben
2B,OF
CHC
9.05
Porcello, Rick
SP
BOS
10.06
Duffy, Danny
SP
KC
11.05
Grandal, Yasmani
C
LAD
12.06
Diaz, Edwin
RP
SEA
13.05
Ross, Joe
SP
WAS
14.06
Smyly, Drew
SP
SEA
15.05
Reed, Addison
RP
NYM
16.06
Pederson, Joc
OF
LAD
17.05
Cotton, Jharel
SP
OAK
18.06
Belt, Brandon
1B
SF
19.05
Schoop, Jonathan
2B
BAL
20.06
Frazier, Clint
OF*
NYY
21.05
Kelley, Shawn
RP
WAS
22.06
Neris, Hector
RP
PHI
23.05
Cabrera, Melky
OF
CWS
24.06
Renfroe, Hunter
OF*
SD
25.05
Bell, Josh
1B,OF
PIT
26.06
Motor City Mashers Recap: When I look at this roster with my heart, I like it, but I don't love it. The powers that be (creating my projections), however, have the Mashers winning the whole dang thing. They obviously started with a stacked outfield of keepers and one of the best first baseman in the game, and they added to that infield with Trevor Story and Alex Bregman in the first two rounds. I don't love taking Tanaka and his brittle UCL that early, but I get it. I'm just not into taking a starting pitcher with such an injury risk as my first arm. And I think they grabbed Ben Zobrist wayyyyyyy too early. And Jharel Cotton is too early for my liking, as well. They will also have to add another starter, at least, to be able to compete with the numbers of some other teams when they go head-to-head, otherwise, the raw numbers will catch up to them. When I look at the numbers of my projections, there is little room for error for the Mashers, as they are just percentage points above some other teams in many categories, and those categories are likely to be compromised when they are forced to make what look to be some necessary roster moves (they have seven pure outfielders right now) early in the season. But, at least for now, the Mashers are your preseason paper champs.
YOU'RE F**KING OUT
Player
Pos
Team
Pick
Posey, Buster
C,1B
SF
KP
Freeman, Freddie
1B
ATL
KP
Altuve, Jose
2B,DH
HOU
KP
Lindor, Francisco
SS
CLE
KP
Pollock, A.J.
OF
ARI
5.06
Carpenter, Matt
1B,2B,3B
STL
6.05
Hamels, Cole
SP
TEX
7.06
Price, David
SP
BOS
8.05
Longoria, Evan
3B
TB
9.06
Piscotty, Stephen
OF
STL
10.05
Fulmer, Michael
SP
DET
11.06
Sanchez, Aaron
SP
TOR
12.05
Hill, Rich
SP
LAD
13.06
Stroman, Marcus
SP
TOR
14.05
Puig, Yasiel
OF
LAD
15.06
Pence, Hunter
OF
SF
16.05
Ramos, A.J.
RP
MIA
17.06
Rodriguez, Francisco
RP
DET
18.05
Johnson, Jim
RP
ATL
19.06
Profar, Jurickson
1B,2B,3B,SS,OF
TEX
20.05
Foltynewicz, Mike
SP
ATL
21.06
Gyorko, Jedd
1B,2B,3B,SS
STL
22.05
Kennedy, Ian
SP
KC
23.06
Wilson, Alex
RP
DET
24.05
Torres, Gleyber
SS*
NYY
25.06
Gregorius, Didi
SS
NYY
26.05
You're F**king Out Recap: In an unofficial preseason poll, the ownership team for YFO was voted the most hated in the LOEG. The somewhat-trained chimpanzees creating the preseason projections may have taken that into account when predicting them to finish 6th. Or maybe they just took taking Yasiel Puig five rounds above his ADP into account. Or maybe the thought of David Price losing range of motion in his throwing arm just made them want to fling excrement at this squad. I don't know for sure; they haven't mastered the art of communication. They're just here for the projections. The A.J. Pollock pick makes me nervous, and I didn't even have Pollock on my big board heading into the draft because I knew someone would take him before I did. There is just too much to hate: injuries, the fact that he has only ever had one good season and never displayed much power before his breakout (career high in HR was 8 before 2015, including the minors), the fact that I have to look up how to spell Pollock every time I write it. Pollack. Pollok. Polack. Blegh, gross. Anyway, I get it, if he returns to 2015 form and stays healthy, then getting him in the fifth round is a steal. I just don't see it.
OKLAHOMA CITY TRUMPNECKS
Player
Pos
Team
Picks
Encarnacion, Edwin
1B,DH
CLE
KP
Braun, Ryan
OF
MIL
KP
Kluber, Corey
SP
CLE
KP
deGrom, Jacob
SP
NYM
KP
McCutchen, Andrew
OF
PIT
5.07
Yelich, Christian
OF
MIA
6.04
Verlander, Justin
SP
DET
7.07
Pedroia, Dustin
2B
BOS
8.04
Oh, Seung Hwan
RP
STL
9.07
Realmuto, J.T.
C
MIA
10.04
LeMahieu, DJ
2B
COL
11.07
Davis, Wade
RP
CHC
12.04
Nunez, Eduardo
3B,SS
SF
13.07
Anderson, Tim
SS
CWS
14.04
Colome, Alex
RP
TB
15.07
Urias, Julio
SP
LAD
16.04
Manaea, Sean
SP
OAK
17.07
Happ, J.A.
SP
TOR
18.04
Wainwright, Adam
SP
STL
19.07
Granderson, Curtis
OF
NYM
20.04
Bird, Greg
1B*
NYY
21.07
Gonzalez, Gio
SP
WAS
22.04
Zimmermann, Jordan
SP
DET
23.07
O'Day, Darren
RP
BAL
24.04
Moustakas, Mike
3B
KC
25.07
Gomez, Carlos
OF
TEX
26.04
Oklahoma City Trumpnecks Recap: Behold, the Trumpnecks. No offense, Trumpy, but this is my least favorite team. My interns punched your team into their TI-84s and projected the Trumpnecks to finish 7th, but they are only interns and I'm not sure why they needed graphing calculators. OKCT were lucky to get Christian Yelich in the 6th after passing him over for McCutchen in the 5th, so that helps things a little. But then they followed that up with Dustin Pedroia in the 8th, J.T. Realmuto (not that I don't love me some Jacob Tyler Realmuto, as you all know) in the 10th, and DJ LeMahieu in the 11th. All reaches in my books. And I don't hate any of those players, it's just that none of them have a high enough ceiling to justify taking them that high. They were also the first team of the day to use their minors pick, grabbing Julio Urias in the 16th round. Who knows, maybe Greg Bird will hit 80 home runs in Yankee Stadium and save them, but I see dark times ahead for Trumpneck Nation.
EVIL EMPIRE
Player
Pos
Team
Pick
Cabrera, Miguel
1B
DET
KP
Springer, George
OF,DH
HOU
KP
Stanton, Giancarlo
OF
MIA
KP
Bryant, Kris
3B,OF
CHC
KP
Schwarber, Kyle
OF*
CHC
5.08
Cueto, Johnny
SP
SF
6.03
Contreras, Willson
C,OF
CHC
7.08
Turner, Justin
3B
LAD
8.03
Peraza, Jose
2B,SS,OF
CIN
9.08
Gausman, Kevin
SP
BAL
10.03
McCullers, Lance
SP
HOU
11.08
Hosmer, Eric
1B
KC
12.03
Taillon, Jameson
SP
PIT
13.08
Kipnis, Jason
2B
CLE
14.03
Richards, Garrett
SP
LAA
15.08
Lynn, Lance
SP
STL
16.03
Moncada, Yoan
2B*
CWS
17.08
Perez, Hernan
2B,3B,OF
MIL
18.03
Snell, Blake
SP
TB
19.08
Iglesias, Raisel
RP
CIN
20.03
Ottavino, Adam
RP
COL
21.08
Vizcaino, Arodys
RP
ATL
22.03
Edwards Jr., Carl
RP
CHC
23.08
Judge, Aaron
OF
NYY
24.03
Gsellman, Robert
SP
NYM
25.08
Wacha, Michael
SP
STL
26.03
Evil Empire Recap: The Evil Empire were at a disadvantage heading into this draft, as they had dealt their 2nd and 4th round picks at last season's trading deadline to try and make a playoff run. They compensated for that by trading out of the first round and acquiring a couple picks. So, just know that the numbers listed above for two of their first for picks are slightly off by about half a round or so. The Empire wanted Gary Sanchez with their first pick of the night but traded out of the round in disgust after watching Sanchez go second overall to Slime, of all teams. They did pick up two potential catchers with their first three picks, though, as they grabbed Kyle Schwarber and Willson Contreras early. One might question the strategy behind taking two catchers that early, but one is expected to be mostly an outfielder and the other at least has OF eligibility. The latter, though, was taken three rounds above his ADP. The preseason projections, unfortunately, have the Empire finishing, gulp, dead last. They have the Empire ranking last in XBH, H, R, RBI, and HLD, and second-to-last in SB, QS, WHIP, SO, W, and SV.
ROYALS WITH CHEESE
Player
Pos
Team
Pick
Trout, Mike
OF,DH
LAA
KP
Harper, Bryce
OF
WAS
KP
Seager, Corey
SS
LAD
KP
Murphy, Daniel
1B,2B
WAS
KP
Cruz, Nelson
OF,DH
SEA
5.09
Seager, Kyle
3B
SEA
6.02
Martinez, Carlos
SP
STL
7.09
Hendricks, Kyle
SP
CHC
8.02
Santana, Carlos
1B,DH
CLE
9.09
Kimbrel, Craig
RP
BOS
10.02
Lackey, John
SP
CHC
11.09
Sano, Miguel
3B,OF,DH
MIN
12.02
Robertson, David
RP
CWS
13.09
Bradley, Jackie
OF
BOS
14.02
Paxton, James
SP
SEA
15.09
Watson, Tony
RP
PIT
16.02
Velasquez, Vince
SP
PHI
17.09
Shoemaker, Matt
SP
LAA
18.02
Miller, Brad
1B,SS
TB
19.09
Harris, Will
RP
HOU
20.02
Eickhoff, Jerad
SP
PHI
21.09
Drury, Brandon
2B,3B,OF
ARI
22.02
McHugh, Collin
SP
HOU
23.09
Maurer, Brandon
RP
SD
24.02
Castillo, Welington
C
BAL
25.09
Meadows, Austin
OF*
PIT
26.02
Royals with Cheese Recap: Ladies, Gentlemen, and in-betweeners, your mighty Royals. Number one in your hearts and number two in your league standings the last two seasons :::cut to commercial so I can get in a quick cry and pull myself together:::. Overall, I'm pretty happy with how things fell for me. I was able to keep the Seager brothers together for the third time this draft season, and a happy home is a healthy home. My projections have me finishing in third place, which is bull because they are my projections and I should just always adjust them until they have me winning it all or, at the very least, finishing in second place for the third straight year. My team can absolutely mash the baseball, and I am projected to finish first in HR, RBI, BB, and OPS. What I do not have is any kind of speed whatsoever, as I ended up just punting steals. My lineup depth is great, but I could use one or two SP upgrades. If I can tweak that just a little, I really like my chances this season.
DOWNTOWN ACADEMY
Player
Pos
Team
Pick
Turner, Trea
2B,OF
WAS
KP
Donaldson, Josh
3B,DH
TOR
KP
Bogaerts, Xander
SS
BOS
KP
Bumgarner, Madison
SP
SF
KP
Cespedes, Yoenis
OF
NYM
5.10
Lester, Jon
SP
CHC
6.01
Gattis, Evan
C,DH
HOU
7.10
Jansen, Kenley
RP
LAD
8.01
Dahl, David
OF
COL
9.10
Kemp, Matt
OF
ATL
10.01
Herrera, Odubel
OF
PHI
11.10
Teheran, Julio
SP
ATL
12.01
Pujols, Albert
1B,DH
LAA
13.10
Miller, Andrew
RP
CLE
14.01
Allen, Cody
RP
CLE
15.10
Nola, Aaron
SP
PHI
16.01
Herrera, Kelvin
RP
KC
17.10
Fowler, Dexter
OF
STL
18.01
Samardzija, Jeff
SP
SF
19.10
Forsythe, Logan
2B
LAD
20.01
Pomeranz, Drew
SP
BOS
21.10
Morales, Kendrys
DH
TOR
22.01
Skaggs, Tyler
SP
LAA
23.10
Plouffe, Trevor
1B,3B
OAK
24.01
Ramos, Wilson
C
TB
25.10
Rosario, Amed
SS*
NYM
26.01
Downtown Academy Recap: Downtown Academy had nothing to prove after winning the league last season, but they showed up to the draft anyway. I have some major questions about this squad, but when I plugged all of these teams into MLB 2015 The Show and simulated an entire season, they projected DA to finish second. The David Dahl injury makes me worry about that pick, and 7.10 is way too early for Evan Gattis for me, especially since we are talking about roughly 400 at-bats in a H2H league. The rest of the squad, though, is solid and very balanced. I only have them in the bottom third for BB (offense).
So, there you have it. The secret sauce (or maybe I was just secretly sauced when creating them?) projection module have the Motor City Mashers topping Downtown Academy in the championship. Will that really happen? Of course! These are projections! Projections are always right, just like polls run by CNN!
More importantly, but do you guys think? Who has the best and worst team? What are the best and worst picks? Many of the members of this league read this posts, so feel free to let them have it.
If you want to talk fantasy baseball or football or have players you want Mike to feature, hit him up on Twitter at @mikeMaher or post a comment below!