The intro for Yahoo's 2019 fantasy baseball rankings reminds of a Dear John letter written by your ex-wife.  Only your name is Kevin and she accidentally writes "John," and doesn't have a chance to proofread it because she's bedding down your best friend.  Read for yourself: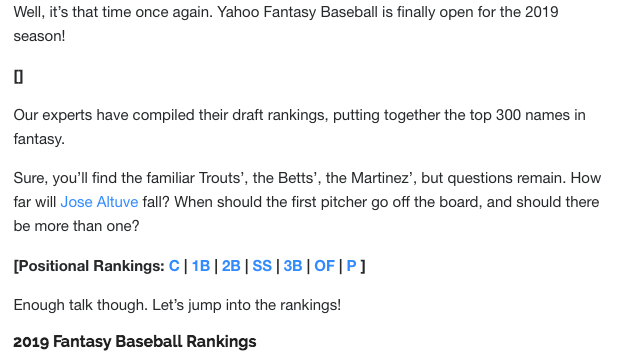 Sure, guys and five girl readers, "You'll find your familiar Trouts', the Betts', the Martinez', but questions remain."
Huh?
Yeah, I have questions that, uh, remain.  How many Trouts have they ranked?  The Betts'?  Did they rank his entire family?  The Martinez'?  Is that like World War Z, but instead it's, "An Apostrophe Z?"
"When should the first pitcher go off the board, and should there be more than one?"
Said like Ron Burgundy, "That's not English."  Should there be more than one?  Are Yahoo leagues this year one-pitcher leagues?  I'm so confused.  Did 100 monkeys with 100 typewriters, who only read Bleacher Report, write up this intro?
"Enough talk though.  Let's jump into the rankings!"
Ha!  Was there enough talk?  I've written more in this intro than they wrote.  With that level of effort, they don't even deserve this evisceration, but… *sharpens nails that look like the 108-year-old Asian man in the Guinness Book of World Records* …here goes nothing.  For this post, I will be looking at the consensus Yahoo 2019 fantasy baseball rankings vs. my own 2019 fantasy baseball rankings.
Please, blog, may I have some more?