There is a special day in mid-February where I can freely and shamelessly express my love. Appreciate my partner in life. Get lost in romance.
That is Valentine's Day. But the day before it was the 15-team LABR Mixed draft which is more fun and less expensive.
As always, thanks to Steve Gardner at USA Today for the invite. Can't believe this is the 5th year I've been in this league.
I was holed up in an NYC hotel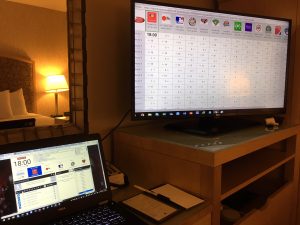 for the draft where luckily the wifi did not shit the bed (nor did I). No kids disrupting the draft. A background soundtrack of sporadic car horns and loud-talking pedestrians. I was able to grab the HDMI cord from the cable box so I could rock the two screens. If only I remembered to pick up a pastrami sandwich and a six pack, I could've been in Costanza heaven.
Quick Perspective On The Difference Between 15-Team Mixed w/ Weekly Roster Changes vs. 10/12-team Mixed Daily Roster Changes
I am going to share with you the only relevant difference between these two formats. If you are someone who plays shallow leagues with daily roster changes (and typically a high transaction cap), repeat this as a mantra in your head when drafting in this format (like in NFBC).
Please, blog, may I have some more?