What you didn't think I was going to go full homer with my debut pitching profile? I mean, it's as if you don't even know me? Suffice it to say we've turned the keys to the Top 100 pitching ship from one homer, to another. Truth be told, it was a busy weekend, as I covered for Grey on Friday, recorded the Prospect Podcast on that night with Halp, traveled to New York for Smokey's 40th birthday, took in the Saturday Yanks vs. O's game with Smokey and the crew, wrote my Minor League Update, and drove back to Massachusetts Sunday morning. Not to mention I was only tasked with this honor Thursday evening, right after I returned from my oldest son's first baseball practice of the season. So to say it's been a hectic few days is an understatement. However, a date for Edurado Rodriguez with the Cubs seemed like a good test for his new found swing and miss tendencies. It should be mentioned, that coming into the game Ed-Rod sported a 33 at bat hitless streak vs righthanded batters. So I was going to be paying extra attention as to how he attacked righties vs lefties, and what sequencing, pitch, etc. was leading to his success. Let's get into it.
Tale of the Tape | Eduardo Rodriguez
Throws: Left
Height: 6'2 Weight: 220
Age: 24
Arsenal: 4-Seam Fastball (avg. velo: 93.3 mph; % thrown: 58.45%)
Two-seam (avg. velo 91.3:% thrown: 11.6%)
Change (avg. velo: 86.9; % thrown: 22.71%)
Slider (avg. velo: 84.3; % thrown 7.25%)
Swinging Strike %: 15%; K/9: 11.42, Bb/9: 6.23
Scouting Report: Ed-Rod's approach has altered over this offseason as he re-introduced a cutter, and continued to mix in his sinking fastball, giving him two varations of his two-seam, and another couple of pitches to mix with his four-seam, changeup, and slider. His changup is by far his best out pitch, but he uses the different variations of his two seam as well. Throwing the sinker low in the zone and outside, and the cutter belt high, and in on the hands to righties. He likes to work up in the zone with his four-seamer, getting lots of swings, and popups with the pitch. He has a strong muscular frame, and has a loose clean delivery. His control has been an issue this year, as he has a tendency to nibble at times in two strike counts.
Game Scouted: Chicago Cubs @ Boston Red Sox April, 30th 2017
First Inning
The leadoff hitter Kyle Schwarber, grounds out to Dustin Pedroia for the first out of the game. Next up is Bryant should be interesting to see how he attacks his first righthander of the night. Much of his success vs RHB has to do with the fastball running up and in, you can see this from the jump, as he goes right at Bryant, who grounds out to Mitch Moreland on a close play at first. Anthony Rizzo walks, not a good sign. Will Ed-Rod's control sink him early? Next up is Ben Zobrist, who doubles on a nice piece of hitting. As he manages to get around and stay compact with his swing on a ball he pulled in on the hands at 94 MPH. Solid pitch, tough break. Next up is Addison Russell, who Ed-Rod consistently challenges up in the zone, going fastball on all four pitches, inducing an infield fly to Bogaerts, to end the threat.
First inning: 1 hit, 1 walk, 0 ER, 0 K
Second Inning
Heyward leads off the second, takes a two seam fastball low in the zone, then hits a single to right off the end of the bat, on a slider down and away. Next up Contreras, who he saws off on a fastball up and in again. next Ed-Rod makes quick work of Albert Almora Jr. throwing three straight fastballs, one down and in the zone for a strike, another high and on the edge of the zone for the second strike, a fastball inside for ball one. Rodriguez then rings up Almora on a slider on the outside part of the plate.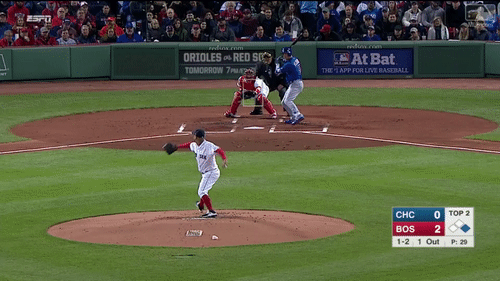 Jon Jay down 0-2, reaches on a fastball high and outside that he takes the the way to left for a single. Schwarber follows up with a groundball hit into the shift that Bogaerts makes a great diving play on.
Second inning: 2 hits, 0 walks, 0 ER, 1 K
Third Inning
This is a make or break inning for Eduardo as he faces the heart of the world champion's order. Getting out of this one unscaved is going to take some trickery, and good placement. The inning starts out well for Rodriguez, striking out Kris Bryant on six pitches with a changeup in the dirt. Nice bit of pitching by the lefty.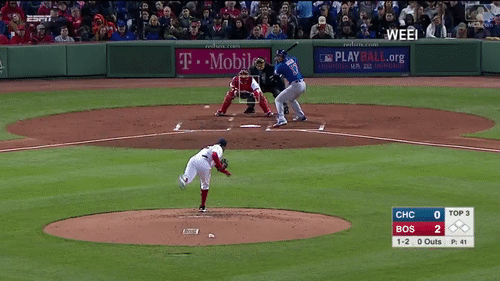 Anthony Rizzo's up next, he gets up 2-2 on the slugger before striking him out on another low changeup in the dirt. Back to back K' s against Bryant and Rizzo. Impressive!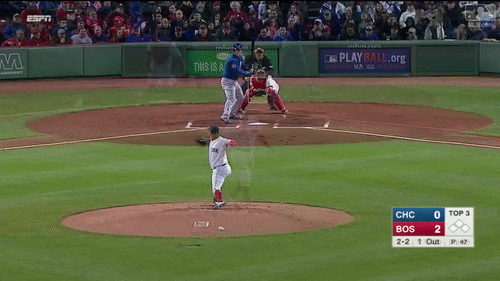 Switch-hitting Ben Zobrist is up next, Rodriguez gets down 3-1, before evening the count, and eventually striking him out on an outside fastball that's hardly even a boarderline strike. Lucky break for Eduardo. Three up, three down, as Rodriguez strikes out the side.
Third inning: 0 hits, 0 walks, 0 R's, 3 K's
Fourth Inning
Addison Russell leads off the fourth inning, and sees four straight fastballs from Rodriguez, before striking out on a changeup in the dirt. Four consecutive strikeouts for Rodriguez, he's dealing right now. Jason Heyward steps to the plate, and gets up 3-1 before Ed-Rod evens the count, and puts him away on another questionable called strike. This one a four-seamer that cuts in toward the plate at 94. Five consecutive strikeouts! Is my homerism shining through? The streak ends as Rodriguez nibbles around the edges of the plate against Willson Contreras, but no favorable calls this time as we walks the catcher on 5 pitches. The at bat against Almora starts with a nasty slider at 80 MPH that drops out just under the zone and gets a swing nowhere near the ball. Unfortunately Almora goes the opposite way on a 93 MPH fastball high and outside for a single but a good piece of baserunning by the Cubs gets him to second safely with the double. Trouble for Ed-Rod with two men in scoring position, and two outs. Next up The Federalist himself Jon Jay, who falls behind 1-2 before chasing the changeup that bounces off the plate for strike three.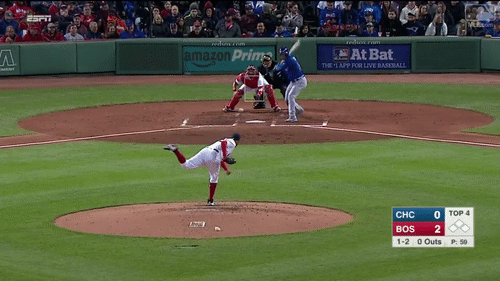 7 K's through 4 for Rodriguez, he's setting them up with the 4 seam, and 2 seam fastballs, before putting them away with the changeup out of the zone.
Fourth Inning: 1 hits, 1 walk, 0 ER, 3 K's
Fifth Inning
We're going back through the order a third time as Kyle Schwarber steps to the plate. The leadoff hitter works the count to 2-2, before Rodriguez strikes him out too on a changeup in the dirt.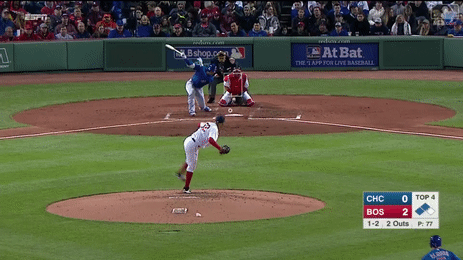 Ed-Rod now has 8 strikeouts against 8 different Cub hitters. He's gotten everybody, but Willson Contreras. Next up Kris Bryant, Rodriguez starts with a ball to the outside for ball one. On the next pitch Rodriguez misses middle-middle with the fastball, and Bryant rides it 400+ feet for a solo home run. One of the few real mistakes by the lefty all night. Next at-bat he rebounds nicely against Rizzo, efficiently getting the lefty to ground out on his second pitch of the at bat, a low two-seam fastball. With two outs, and no one on, Ben Zobrist steps to the plate, and watches three straight pitches before hitting a lazy fly ball to right on a 93 MPH fastball up in the zone. Outside of Bryant's homer and Zobrist's double in the first not many balls have been well hit. Homers have been a problem for Rodriguez this year as his HR/9 sat at a grotesque 1.56 entering the game.
Fifth Inning: 1 H, 1 ER, 1 HR, 0 Bb, 1 K
Sixth Inning
Addison Russell leads off the 6th, and works the count full against Ed-Rod, before grounding out on a nice slider down and outside that the shortstop reaches to make contact with. Next up is Jason Heyward who too works the count full, before lining out to short on a great diving stab by Xander Bogaerts. This will definitely be his last inning as he's now up over 100 pitches. Up steps Willson Contreras, can Rodriguez finish his night on a high note and complete the strikeout sweep of the Cubbies lineup? He starts off with a slider that Contreras swings right through. Rodriguez follows up with a series of fastballs, Contreras takes two for balls and fouls one off, before ultimately falling victim to the changeup. He gets all 9 Cubs via the strikeout and ends his night on a high note.
Sixth Inning: 0 hits, 0 walks, 0 ER, 1 K's
Final Line: 6 innings, 108 pitches (71 for strikes), 1 ER, 1 HR, 5 Hits, 2 walks, 9 K's, Gamescore: 62
Summary: Ed-Rod's changeup was devastating tonight, getting tons of swings and misses out of the zone. It was particularly effective in two-strike counts. The introduction of the front-door two seam fastball this season, gives him a different look, and keeps hitters off balance when paired with his high and inside approach on the four-seamer and the aforementioned change he buries in the dirt consistently. The walks that troubled Rodriguez in earlier starts weren't an issue tonight. That's not to say he didn't nibble, and receive more than a few "favorable" calls in full counts. All in all a good start for the young lefty, against one of the stronger lineups in the league.

Updated Top 100 SP
(rankings for ROS based on 12-team Roto)
| RANK | SP, TEAM |
| --- | --- |
| 1 | Chris Sale, BOS |
| 2 | Clayton Kershaw, LAD |
| 3 | Max Scherzer, WAS |
| 4 | Yu Darvish, TEX |
| 5 | Jacob deGrom, NYM |
| 6 | Jake Arrieta, CHC |
| 7 | Carlos Carrasco, CLE |
| 8 | Stephen Strasburg, WAS |
| 9 | Corey Kluber, CLE |
| 10 | James Paxton, SEA |
| 11 | Chris Archer, TB |
| 12 | Johnny Cueto, SF |
| 13 | Masahiro Tanaka, NYY |
| 14 | Danny Duffy, KC |
| 15 | Zack Greinke, ARI |
| 16 | Lance McCullers, HOU |
| 17 | Gerrit Cole, PIT |
| 18 | Carlos Martinez, STL |
| 19 | Dallas Keuchel, HOU |
| 20 | Dylan Bundy, BAL |
| 21 | Justin Verlander, DET |
| 22 | Danny Salazar, CLE |
| 23 | Kyle Hendricks, CHC |
| 24 | Jon Lester, CHC |
| 25 | Jameson Taillon, PIT |
| 26 | Ivan Nova, PIT |
| 27 | Rick Porcello, BOS |
| 28 | Marcus Stroman, TOR |
| 29 | Julio Teheran, ATL |
| 30 | Michael Fulmer, DET |
| 31 | Kenta Maeda, LAD |
| 32 | Sean Manaea, OAK |
| 33 | Aaron Sanchez, TOR |
| 34 | Taijuan Walker, ARI |
| 35 | Luis Severino, NYY |
| 36 | David Price, BOS |
| 37 | Michael Pineda, NYY |
| 38 | Julio Urias, LAD |
| 39 | Jerad Eickhoff, PHI |
| 40 | Madison Bumgarner, SF |
| 41 | Robbie Ray, ARI |
| 42 | Jose Quintana, CHW |
| 43 | Mike Foltynewicz, ATL |
| 44 | Noah Syndergaard, NYM |
| 45 | Aaron Nola, PHI |
| 46 | Cole Hamels, TEX |
| 47 | Marco Estrada, TOR |
| 48 | Ervin Santana, MIN |
| 49 | Tanner Roark, WAS |
| 50 | Eduardo Rodriguez, BOS |
| 51 | Francisco Liriano, TOR |
| 52 | John Lackey, CHC |
| 53 | Jason Vargas, KC |
| 54 | Matt Harvey, NYM |
| 55 | Matt Shoemaker, LAA |
| 56 | Michael Wacha, STL |
| 57 | Ian Kennedy, KC |
| 58 | Brandon McCarthy, LAD |
| 59 | Gio Gonzalez, WAS |
| 60 | Jeff Samardzija, SF |
| 61 | Kendall Graveman, OAK |
| 62 | Jeremy Hellickson, PHI |
| 63 | Amir Garrett, CIN |
| 64 | Charlie Morton, HOU |
| 65 | Felix Hernandez, SEA |
| 66 | Matt Moore, SF |
| 67 | Daniel Norris, DET |
| 68 | Drew Pomeranz, BOS |
| 69 | Wade Miley, BAL  |
| 70 | Sonny Gray, OAK |
| 71 | Jake Odorizzi, TB |
| 72 | Mike Leake, STL |
| 73 | Tyler Skaggs, LAA |
| 74 | Jesse Hahn, OAK |
| 75 | Chase Anderson, MIL |
| 76 | Vincent Velasquez, PHI |
| 77 | Hyun-Jin Ryu, LAD |
| 78 | Patrick Corbin, ARI |
| 79 |  Adam Conley, MIA |
| 80 | Lance Lynn, STL |
| 81 | Alex Cobb, TB |
| 82 | Carlos Rodon, CHW |
| 83 | Jaime Garcia, ATL |
| 84 | Hisashi Iwakuma, SEA |
| 85 | Trevor Bauer, CLE |
| 86 | Blake Snell, TB |
| 87 | Jharel Cotton, OAK |
| 88 | Dan Straily, MIA |
| 89 | J.C. Ramirez, LAA |
| 90 | Andrew Triggs, OAK |
| 91 | Kevin Gausman, BAL |
| 92 | Matt Cain, SF |
| 93 | Adam Wainwright, STL |
| 94 | Bartolo Colon, ATL |
| 95 | Joe Musgrove, HOU |
| 96 | Zack Wheeler, NYM |
| 97 | Robert Gsellman, NYM |
| 98 | Matt Boyd, DET |
| 99 | Chad Kuhl, PIT |
| 100 | Ariel Miranda, SEA |
Coming Up: Josh Hader, MIL, Jose Berrios, MIN, Jacob Faria, TB, Brandon Woodruff, MIL, Jose De Leon, TB
Dropped Out: Rich Hill, LAD (No longer in rotation), Tyler Glasnow, PIT ( the control is just too much of an issue), Joe Ross, WAS (The periphirals look bad), Reynaldo Lopez, CHW (Not even pitching well in AAA), Jimmy Nelson, MIL (Can we forget he exists for a few years?)
The big story is Thor's torn lat, placing him on the shelf for two months. So he's dropped out of the Top 10, and moved into Bumgarner territory at 44. I'm not dropping an elite arm out of the top 50, if they can still see 10+ starts. Waiting for more news to develop on Syndergaard's surgery and recovery.
Ralph, you buried Jon Lester and Cole Hamels, for why? Simple, you're not getting love from the Prospector with pheriphirals that scream "watch out, I'm about to blow". Seriously, both lefthanded vets have seen a drop in velocity, swinging strike rates, swings outside the zone, and a jump in contact rates. That's no bueno.
Damn you love Mike Foltynewicz, are you polish? Good velo, a 10% SwStr%, and four pitches with positive pitch values will do that. With a mid-90's fastball, mid-80's slide piece, high-70's curve, and high-80's change, Folty has very nice separation on hid repertoire.
Joe Ross is a mess at the moment, his SwStr% is down from 11% in 2016, which was down from 11.9% in 2015, but has bottomed out in 2017 at 8.3%. He's also getting less swings all around, but his contact rate has jumped 5%, mostly on his O-Contact% which is up to 68.8% from 55.3% a year ago. Means he ain't fooling anyone, looks like they know "where he is now".
I really want to rank Jason Vargas higher, he's pitching out of his mind, even if he regressed a little in his last start. The SwStr% is at 14.5%, his contact rate of 69.1% is 5th lowest in the game between Robbie Ray, and James Paxton.
One of the more slept on deep league arms I've been targeting, has been converted reliever J.C. Ramirez of the Angels. He's got a few things going for him. First, an elite SwStr% of 12.1%, contact rate of 72.7%, and he's inducing a ton of weak contact, 23.9% soft (13th best), 14.8% IFFB% (15th). Plus he pitches in a great home ballpark. A worthy flier in deep leagues.
Follow me on twitter @ralphlifshitzbb and tune into my weekly Baseball Show on Fantrax Youtube channel Tuesday's at 9 PM EST.