Maybe the real-life baseball season has stopped, but that doesn't mean fantasy baseball has to. It's all we have these days, really. Fantasy sports while we fantasize about real sports coming back. I feel bad for my fellow fantasy hockey folks – I get the feeling it ain't coming back, even if regular hockey does. I'm not about that fantasy basketball life (I dabbled in my younger years – Tracy McGrady anyone? Had to have him on all my teams), but I fear it's the same fate. Only fantasy football is unscathed…so far. Wild stuff happening on that front, too. Brady to the Bucs? Da BUCS?! DAFUQ! Gurley and Newton RELEASED?! Hopkins TRADED?! Maybe Watson, too?! Madness, I say!
Anyway. This is a fantasy baseball article. Almost forgot. It's an important year for the fine ladies and gents here at Razzball: the inaugural season of RazzSlam! Big shoutout to the NFBC peeps for hosting it. Give 'em a follow on the Twitter at @TheNFBC. I had the honor of being accepted into League 2 (of 18). Some scrub ass writer for CBS is in it. Big deal. I'm kidding, he'll probably whoop my ass.
So, instead of looking at all the leagues, I thought it'd more worthwhile (aka easier) to focus on the one I'm in. If'n you don't know, RazzSlam is a Best Ball points league, so your roster is basically your roster for the entire season. There are no trades whatsoever, and there are only two FAAB periods – one in April, one in June. I imagine those will be adjusted depending on when the MLB season begins. But you get the idea. Rosters are deep as shit because of this. Twelve teams x 42 rounds = 504 picks.
Here's the scoring breakdown: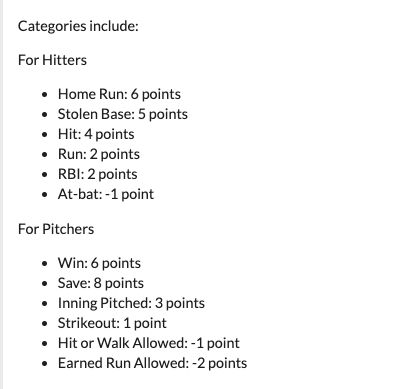 I will most certainly not bore you with all 504 picks, nor do I care to analyze them all. Instead, I thought for the purpose of this piece I would just tier the NFBC overall ADPs for Best Ball Cutline Championship leagues, which is what RazzSlam is based on. I'll divide the top 200 ADP-wise into three tiers: Tier 1, #1-50; Tier 2, #51-100; Tier 3, 101-200. Then just a big ass Everyone Else section, otherwise this article would get way too long. I'll compare how our draft played out to the ADP ranks and just give my thoughts on each tier – be it players going where they should, players going where they shouldn't, or what I think might be a steal, etc.
For you hardcore nerds out there, the full draft results are right here.
Let's get right to it, shall we? We shall.
But first! My team
I must confess, dear reader, that this was my first ever Best Ball league. Really it's my first points league, even. So I'm not 100% sure I've got a good team. I know I made some picks I feel good about, and I know I made some picks I don't feel so good about in hindsight.
C: Tom Murphy
C: Omar Narvaez
1B: Jose Abreu
2B: 2B/OF Whit Merrifield
SS: Corey Seager
3B: Rafael Devers
OF: Michael Conforto
OF: Lourdes Gurriel Jr.
OF: Hunter Renfroe
OF: Mallex Smith
OF: Ian Happ
CI: 3B Eugenio Suarez
MI: 2B/OF Ketel Marte
UT: OF Wil Myers
Bench: OF Yoenis Cespedes, OF Tyler O'Neill, C Tucker Barnhart, SS Nico Hoerner, 3B Matt Carpenter, 1B Mitch Moreland, 2B Adam Frazier, OF Kevin Pillar, SS J.P. Crawford, 1B Mike Ford
P: Gerritt Cole
P: Aaron Nola
P: Kirby Yates
P: Chris Sale
P: Edwin Diaz
P: Raisel Iglesias
P: Jake Odorizzi
P: Jose Urquidy
P: Hansel Robles
Bench: Dylan Cease, Ryan Yarbrough, Nate Pearson, Griffin Canning, Gio Gonzalez, Kwang-Hyun Kim, Collin McHugh, Michael Lorenzen, Adam Ottavino
I'm lazy and you can click on the draft board link above if you want to see where and when I drafted everyone. I touch on some of my picks below, but I'll begin with what I don't like. Chris Sale. See below in the last paragraph of Tier 2 for the story there. Yuck. I had rose-colored glasses on picking Merrifield that high, I think. I dunno, maybe he gets back to swiping a ton of bags and still hits like a boss. The dual-eligibility won me over. I really, really, really don't like my outfield. I waited too long and focused on other positions, but I'm at least very pleased with Conforto and Gurriel Jr., the latter of whom I think will be a total badass this season if the guys ahead of him do their thing again this season. Renfroe I at least expect some nice power numbers from, and I have some OF guys on the bench that could end up being good value (Cespedes, mainly, but I also like Pillar).
Here's what I do like: my pitching (minus Sale UGH!), my infield, and my catchers. I think I have a solid mix of starters and closers (sadly other relievers have next to zilch value in this format except as handcuffs for taking the closer role). Elite closers can outscore a lot of starters, so Yates was a no-brainer. Something whispering in both ears at once tells me Diaz is going to be better this year. Plus I dig my depth for pitching – I like everyone on my bench honestly. Except maybe McHugh, but I'm hoping he's healthy and going to be in the rotation come season start. I dig my infield. I was so close to getting Matt Olson instead of Abreu, but Abreu was Plan B and I'm still very happy. Devers and Suarez can mash. Seager I got at a good price. Marte is a stud. And lastly, my catchers. Got 'em both late, well after the obvious names were taken. Part of me regrets passing on Mitch Garver, but I just couldn't bring myself to draft a catcher so soon (he went #82). Murphy may not work out, but he's got legit power upside. Narvaez is just Steady Eddie back there – good average, good power, and hits in a good lineup.
Tier 1: #1-50
The first few picks were as expected, save for the fact that Mike Trout went first overall when it's usually Ronald Acuna Jr. on account of dem steals. Can't go wrong either way, especially considering Trout finally has some protection with the addition of Anthony Rendon. If you're curious, I took Gerritt Cole at #5 when Mookie Betts has been going there. The format lends itself to innings, wins, and strikeouts for pitchers. Cole checks all the boxes. Although, the innings aren't as valuable now since the season will most likely be shortened. Damn. But at the time my thinking was an SP in a class of his own versus an OF – a pretty deep position. Would I do it differently had I known what was to come? Meh, maybe.
Really the top 50 picks in our draft weren't too out of line from how most NFBC Best Ball Cutline leagues have been going. Trea Turner went 7th instead of his ADP of 14.37, which is kinda noteworthy. I dig Turner, but that's assuming he'll be healthy. He sho ain't been all that healthy so far in his MLB career, though he did give us a full 162 games in 2018. If you're not familiar with the scoring, basically you want power out the ass and some speed. The big point-getters are homers and steals, but homers are by far the most valuable when you consider you also get the points for the hit, the run, and however many RBIs that come with it. Shortstop is a deep position this season, so Turner cracking the top 10 is a bit of a reach, maybe. Also somewhat noteworthy was Justin Verlander going 9th instead of in the 15-range. Across all Cutline leagues, Verlander's highest pick was 7th. I mean, if you knew you'd get this year what you got last year, then sure. I'm not sold. Age and groin surgery and all that (but to be fair, this draft started well before surgery was on the table – lol see what I did there?).
Honestly, nothing else stands out to me until we get to Mike Clevinger. His NFBC Cutline ADP is 38.51. Here, he went 59th. Me likey that value. Clevinger went off last season and of course still pitches for a video game lineup. I talk about him a little more here. Next we've got a couple guys with similar ADPs; one was reached for, one was faded. J.T. Realmuto went 25th overall! ADP is 41.14. Reach alert! But, consider this: it's a two-catcher format. With 12 teams, that means 24 catchers are on starting lineups. Wouldn't you want JTR in that kind of league? Then again, do you expect a top-25 player out of him? I dunno, man! Interesting debacle. The faded guy with the ADP of 41.45 was Aaron Judge, who went wayyy later at 84th. For the mathematically challenged, that's more than double. Clearly the injury uncertainty had a hand in that, but the indefinite delay certainly helps his cause. See that same link for more on that, too. The last pick worth mentioning was Reds All-Star Luis Castillo at 66th when his ADP is just inside the top 50. He won 15 games last season, and if you've been reading my other stuff, you know I love the per-nine-innings stats. Castillo passes that test with flying colors – 6.6 H/9 and 10.7 K/9, and on a starter I love those rates so much. Cincy figures to be much, much better this season. Love this pick.
Tier 2: #51-100
Tier 2 had a lot more variation from the NFBC numbers. Maybe everyone more or less played it safe with the first few rounds then decided it was time to go buck wild. There were a lot more "bad" picks in these rounds, which I loosely define as a pick 10 or more spots ahead of ADP. I don't even really think those are bad picks most of the time, I just gotta call them something, right? It depends on where they go in the turn and all that – nothing worse than watching the guy you wanted get swiped because you didn't want to reach a little. If bad picks are 10 more spots ahead, then I guess "good" picks have to be 10 or more behind.
Let's start with the bad. Won't list them all because it'd be boring for you to read that many names in a row (there were 16). Those that stand out to me were Vladimir Guerrero Jr., Clayton Kershaw, and Nelson Cruz. Little Vlad went 42nd, and in all Cutlines the highest he went was 41st, so that's pretty ding dang close. Boom or bust type pick, in my book. The boom is obvious: he's got the genes, the pedigree, and some ridiculous minors numbers as a 19-year-old. Given the hype, it's fair to say his big-league debut was underwhelming. Still, 15 homers in 123 games from a 20-year-old ain't bad. I wouldn't be surprised if he took a step forward this year and did some big things, but I'm not expecting a top-50 player. Kershaw was the very next pick at 43rd, almost 21 spots ahead of his ADP. Injuries are more of a concern now with him, but he's still elite, even he's not quite as dominant as he was a few years ago. Them Dodgers gonna win a lot, too. Lastly, we have Cruz – he went 54th, ahead of his 79.72 ADP. Dude's almost 40, but fits the format like a glove (power, power, power). No problem with this pick, assuming we get what we've gotten for the past six seasons. Is Nelson Cruz the Drew Brees of baseball? I guess I should say he's a tad less valuable in this format given he will only ever slot into the UT position.
Good picks time. Let's see…checking my notes here, and we've got nine good picks. Won't cover them all. And one of them I don't count…Chris Sale. Ugh. This was my pick, and it was a total accident *cues tiny violin*. Long story short (not that long, really), I fell asleep before my turn and got autoed Sale in Round 10. At pick #116, I got him 46 spots past his ADP, which was technically the biggest bargain in the first three tiers. Oh, but guess what? He is indeed having Tommy John surgery. I almost knew it was coming, and I had negative infinity intention of drafting Sale anyway, but of course he was the first guy on the board to be autoed when my turn came. Okay, sob story over. Giancarlo Stanton went almost 21 spots later than his ADP, which could turn out very well if he gets fully healthy. Willson Contreras was drafted at #104. The latest he went in any Cutline league was #116, so that's some pretty nice fade action in a two-catcher league. Our last value pick in this tier was Jose Berrios, who went next at #105. Also some good fade action here, since he never went any later than #115 anywhere.
Tier 3: #101-200
The deeper we get into this thing, the more deviation from the norm we see. There's a lot of guys getting picked all over the place. That's kind of the nature of the beast once you get to this point, and it's what makes it fun. Like Victor Robles getting picked 40 spots higher at #62. Will Robles jump ahead this year? Do the Nationals have another young outfielder ready to ascend to stardom? He fits the format well with a nice mix of power and speed. You'd like to see more hits, but the runs, homers, and steals should be *Borat voice* ver-eh niiiice. On the flip side, Robles went 40 picks sooner, but Mike Soroka went 40 picks later. That's an obvious bargain, assuming health and whatnot. The Braves are a very good baseball team, so I see plenty of wins coming. Innings should be fine – the only downside to him is a relative lack of strikeouts, but Soroka at #156 looks more than fine to me. I could see Robles panning out, too, but maybe a tad less so.
There are just too many "good" and "bad" picks from here on. Can't possibly list them all without boring you to death. I mean, really, it's pretty safe to assume all picks from here on are either reaches or fades compared to the NFBC ADPs. But some names that stood out in the reach category were the following, in order of ADP: Victor Robles, Gavin Lux, Justin Turner, Willie Calhoun, Didi Gregorius, Luke Voit, and Jean Segura. Already covered Robles, but Gavin Lux I'm on the fence about. His MLB numbers were nothing to write home about. Those minors numbers, though. Still, Lux was drafted ahead of guys like Ryan McMahon, J.D. Davis, Khris Davis – all guys I'd rather take a chance on for a Best Ball. I'm fine with the Turner and Calhoun reaches (both went about 32-33 spots higher than ADP). You at least know those guys have produced in the majors. Hopefully, Calhoun's jaw heals up by season start, and he did club 16 homers in just 60 games (56 starts) in the second half of 2019. I really dig the Gregorius and Voit picks. Didi is going to a hitter-friendly park and will slot into the middle of a good lineup. I like him to bounce back in 2020. Voit is a little bit of a question mark, but I still like him quite a bit. The dude barrels so many balls and draws a lot of walks. Last season didn't look nearly as good as his small sample size from 2018, but his xwOBA was still very healthy. Patience and power usually lead to good things. As for Segura, he went about 53 spots higher than usual. That's a lot. He just doesn't fit the scoring all that well.
Tier 3 fades that stood out were Mike Soroka, Lance Lynn, Eduardo Rodriguez, Hyun-Jin Ryu, Julio Urias, James Paxton, Sean Manaea, and Michael Chavis. Lots and lots of pitchers there, and in this chunk of picks there were lots and lots of pitchers taken. You need a lot in this format – your starting lineup will have nine pitchers, so you wanna up your odds by having a lot on your roster. All these guys were at least 25 picks later than their ADPs, and this wasn't even all of them. We've hit Soroka already. The biggest fade of this group was actually Manaea, who went almost 44 spots later than usual. He missed like all of 2019 but showed up in September and was excellent. If he can carry that into whenever 2020 starts, then whew boy that's a doozy of a deal. I don't feel fantastic about the other pitchers I haven't mentioned yet, just because I'm either not sold they can repeat or that they'll stay healthy. But all of them have the potential to be valuable, especially Paxton, who fits the format like a pair of Spanx when he's clicking.  Urias I almost feel fantastic about, it's just whether his stuff can translate to being an MLB starter consistently. It's a chance I'd take at pick #178, that's for sure. Maybe I do feel fantastic about it after all. Lynn, Rodriguez, and Ryu I'm just kinda meh about. Wouldn't be surprised if they are good, wouldn't be surprised if they take a step or two back. Chavis is the only non-pitcher that stood out to me. Largely because he's eligible at 2B and 1B, which also makes him an option to slot into the CI or MI position. As the probable everyday second baseman, cuz Dustin Pedroia is so done, Chavis could flirt with 25 or more homers – he had 18 in 95 games last year.
Everyone Else: #201-504
Shit just hit the fan from this point on. Some dudes went well over 100 picks above or below ADP; some didn't get drafted at all. You know how it goes. When you get to the final rounds it's a bunch of handcuff picks or high-upside prospects.
Let's start with some big ass reaches (warning: lots of hyperlinked names coming). Tom Murphy, Mark Canha, Luis Arraez, Joey Votto, Nick Anderson, Jon Berti, Josh James, Michael Pineda, Joe Jimenez, Nathan Eovaldi, Dylan Carlson, Alex Wood, J.A. Happ, Jordan Montgomery, Mike Tauchman, Justus Sheffield, Miguel Cabrera (111 picks early!), Corbin Burnes (121 picks!!), and Hunter Harvey (106!). That's just a select few. Murphy was my pick because I faded catchers longer than I maybe should have, but I ended up with him and Omar Narvaez, so I'm actually very pleased with that. My third C, just in case, is Tucker Barnhart lol. Um let's see…Canha I like quite a bit. In this range of picks I think his upside is good enough. Votto I think just has to be better, and he has elite history, so I'm cool with it. Berti is eligible like everywhere and has good speed, just a matter of playing time. Carlson is a big maybe, but big upside. Wood and Happ are good if healthy. Miggy was having a good spring, so maybe he turns a corner. Burnes has fantastic stuff but really isn't very useful unless he's starting or closing, which it's unlikely he'll do either. Harvey could be the closer eventually, but it's the Orioles. But also bad teams can still give you a useful closer since they don't often blow anyone out. I like Jimenez for the same reason. Tauchman is a solid bat and may platoon some, but he's a good handcuff otherwise. Last one I'll touch on is Arraez – I meannnn, what does he do other than have a good batting average? Might score some runs, I guess. Doesn't really strike me as a points league type.
You guessed it, big ass fades time: Aristides Aquino (166 picks later!!!), Dallas Keuchel, A.J. Puk, Griffin Canning (106 picks!), Jose Quintana, Cesar Hernandez, Dustin May, A.J. Pollock, Julio Teheran, Dakota Hudson, Rick Porcello (105 picks!), Johnny Cueto, Ross Stripling (104 picks!), Freddy Galvis, Emilio Pagan (101 picks!), Austin Romine, John Means, Kevin Pillar, aaaaand sooooo manyyyyy moreeeee. I'll brag on myself for Canning, who looked really good in his first MLB season. I'm def hoping that elbow is ready to rock and roll when games start. May and Puk figure to benefit with a shortened season. Cueto and Quintana don't excite me like they used to, but they're still the types you gotta take a small chance on. Porcello was a nice fade, but I'm so meh on him and always have been. Pillar was my pick, and I like him okay. Under-the-radar bat who could provide some pop and score runs on a still-good-without-Betts lineup. Lastly…I really want to like Aquino, but Nick Castellanos and Shogo Akiyama showing up really screwed him over. And after his straight up VIDEO GAME start, he turned into a terrible hitter. But I stand by this: if batting stances counted in fantasy, I'm taking him #1 overall.
I hope you enjoyed this nearly 3500-word ramble on one particular RazzSlam draft. ICYMI: the link for the full draft board is right here. I'm Team 5. Comment below or @ me on the Twitter (@jkj0787) with how idiotic my picks were, please. I'm ready for it.