I use a number of different tools, sites, and metrics every week to adjust my rankings and to determine exactly who I should focus on each week. I usually try to focus on players owned in less than 60% leagues, players who are rising or falling and who you should probably buy low or sell high on, or players who are new to the Top 100 or on the cusp of joining the ranks. It has only been a few weeks since I took over these rankings for the legendary [email protected], so I am still working on creating the most efficient system (I spend wayyyyyy too much time agonizing over these rankings every Sunday).
I start by going over my notes and spreadsheets from the previous week, then take a peek at Razzball's Player Rater and look at the current rankings and the Rest of Season Projections. Once I jot down some notes from those, I take a look at ESPN's PR15 Player Ratings for the last 15 days. Lastly, I check FanGraphs with a focus on the best wOBA for the last 14 days and the last 30 days. Usually, once I am finished with that process, I have an idea of who I am going to write about and a starting point for adjusting the rankings.
Still awake? I know it's a riveting process, and you were probably on the edge of your seat. Anyway, the point I am trying to make here is that I usually have an idea for a focus point. This week, the focus points pretty much slapped me in the face and forced me to talk about them.
Enter Ryon Healy and Domingo Santana. Both players are still somehow owned in less than 50% of ESPN leagues and ranked in the Top 5 of ESPN's PR15 list and Top 15 for wOBA over the last week in all of baseball. That's pretty absurd production for anyone, but these two are available in a ton of leagues right now.
Son focused on Healy in his One Man's Trash post this week, so you can head over there for his take and a breakdown of the numbers (spoiler alert: treasure). The Cliffs Notes (does anyone still know what those are?) are: he is hitting for power, he is driving in runs, he is chasing too many pitches, and he plays in Oakland. I actually picked up Healy in my H2H league just before writing this post last week, and I reaped the benefits.
Santana is a guy who I almost included in the rankings last week but decided I wanted to wait a bit longer. I took some heat for that in the comments (I see you, westcoastpete!), which seems to be a trend for my when it comes to guys just outside my Top 100. After a .456 wOBA and five home runs over the last two weeks, I'm ready to add him.
Now, Santana is still just 24 years old, but he has been in the minors since he was signed by the Phillies out of the Dominican Republic when he was just 16. He is already in his ninth year of professional baseball. Between team changes, fall leagues, promotions to different levels, and Dominican winter leagues, his Baseball Reference page has 30 different rows to look at. Throughout those years, he has displayed a few things, such as plus-power, decent speed (though he doesn't seem to run all that often), an ability to hit the ball to all fields, and strikeouts. The hardest thing about evaluating Santana is that he has been moved around so often, making you wonder about the effects those have had on his development. For all we know, his ceiling is even higher than what we might think just because he has never been able to really get comfortable anywhere.
Anyway, that is just speculation. My main concern so far for Santana is his ability to consistently hit major league pitching. He has been up and down between MLB and AAA and has struggled at times at the MLB level, and his .349 BABIP might suggest his .281 batting average is due to come down a bit. Another concern is the amount of talent around him in that Brewers outfield. In addition to Ryan Braun on the disabled list, they also have Hernan Perez, Keon Broxton, and prospects Brett Phillips and Lewis Brinson. If he struggles for any kind of extended period of time at all, he could lose playing time. That being said, there is still a lot to like.
Let's look at his spray chart from last season, when he appeared in 77 games for the Brewers:
Source: FanGraphs
Here, you can see the home runs to left, center and right and line drives all over the field. The abundance of ground balls to the pull side are often due to rolling over the ball.
Now, let's look at 2017:
Source: FanGraphs
2017 looks even better. Four home runs to right-center/right, five to left-center/center, and one to left. Line drives are still all over. I still have some concern about his value ROS in redraft leagues, but I do like his high ceiling.
Note: These rankings are considered ROS Trade Value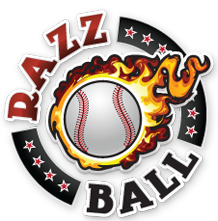 Mike Maher's Top 100 Hitters
(Rankings based on 12-team Roto. GREEN = player rising. RED = player dropping. BLUE = new to the 100.)
The Honorable Mentions (Next Five In…)
Dropped from the rankings: Kevin Kiermaier, Ian Happ, Yasmani Grandal, Keon Broxton
As always, disagree with anything here? Have any questions or comments? Want to tell Mike how great he is or how much you agree with him? Want relationship or investment advice?
DROP THOSE COMMENTS!
If you want to talk fantasy baseball or football or have players you want Mike to feature, hit him up on Twitter at @mikeMaher or post a comment below!