Never once did I think I would be writing about a creeper older than I am, and yet here I am, talking about Torii Hunter. Being the ageless wonder (or is it the wonder of agelessness, I'm not really sure), he still suits up every day and goes out and plays. I was racking my brain for some kind of analogy for the creeper and I found my inspiration from the Paleolithic 80's flick Quest for Fire, for like this movie, we are just a bunch of uncivilized men searching for a player to catch fire. So why not a Hunter? Haha…get it? Okay, I'll stop with the bad jokes. Hey, at least I didn't do Caveman with Ringo Starr. Come to think of it, Hunter could be considered the Twins Ringo. Doesn't really matter if he's there or not. Oh well, the moment has passed and now we move on to why we are here…
This week, the 13% owned Torii Hunter gets a lot of love from the Hitter-Tron ($12.7 play for the week) and I have to concur with Razzball's robot. I like to pick my battles with that machine, because as we learned from the Terminator movies, they will rule the world. I'm going to lay out a few points about why to like Torii this week. First, going back to April 15th, Torii has hit safely in every game but one with two multi-hit efforts and a dong for good measure… heehee. That's momentum my friends. Second, he's hit .316 at Target Field this year, and over the last three years batted .370 there. Third, yes there is a third with me, he hits a combined .285 against the Detroit trio he faces and .276 against all Detroit pitchers with 4 home runs. In his Chicago match-up, he bats .333 against the starters he faces (he's never faced the shark) and the great match-up here for you batty callers is with John Danks who he just absolutely crushes (4HR's and .320 BA in 50 AB's). Fourth, there is no fourth, that is reserved for the four horsemen …WOOOOOOO! By the way, here is the Ric Flair documentary if you an hour-fifty to kill. Lastly with Torii, is that I don't think he's done yet. His ground ball rate is crazy high and his line drive rate is way down, but its starting to turn a corner. I would give him a shot if you need a fill in this week and missed on some of the other hot schmotato's that have been gobbled up on your waiver wire.
Frankencatcher – Are catchers the new closers? The squatters are dropping like fly's this year. Matt Wieters and Yan Gomes got joined by Jonathan Lucroy and Travis d'Arnaud on the DL this past week, and Devin Mesoraco might as well be on the DL. He has all of three plate appearances since April 12th. Just put him on the DL Cincy, this is a friggin joke. This week I'm going with Kevin Plawecki. I grabbed him as soon as I lost TdA in the 'Perts League and he dropped a dong off CC yesterday. Grey told you to buy him on Friday and I'm here to reinforce that. CAGNOF! Mike covered him in his Mets 2015 Minor League Preview and to quote our resident Schmidtanatic, Plawecki has an above average hit tool and average power. I guess you can call this a buy, but go buy him if you lost your catcher this week or are struggling with a replacement. He's 7.2% owned and its rising. Now go get on it.
The Top 100 Hitters for Week 4
DL – Carlos Gomez, David Wright, Christian Yelich, Anthony Rendon, Hunter Pence, Alex Rios
This is my first major shake-up. I really wanted to wait until we got at least 100 AB's before I started to carve this up but players are forcing my hand. Some players I still have faith in while others are fulfilling my preseason worries.
The biggest shake-up in the top 20 was the addition of Nelson Cruz. His pace is unreal, but until he gets hurt, which he most likely will, he stays here. The power is redonk and everyone that got a draft day deal should be popping some beers and pouring it over yourself.
Suavecito Souza and Devon Travis are getting their proper dues right now and have now cracked my top 80. The sample size is small but it keeps growing every day…that's what she said I told her.
The Flying Zombino Brothers, Tex and A-Rod are officially in my top 100. They both have top 20 ISO's with Tex leading all of baseball.
Don't call me Psycho, unless you like to jam to the Sonics, but I can't stop shooting Lo-Cain…up my list.
East Bay Moobs Butler has not let me down in leagues where I drafted him and he needs to get some love from someone other than the manager at the local Hometown Buffet. His K rate is down, wOBA is up, but that darn GB rate is high and the LD rate is too low. Lets ride the moobs for as long as we can.
I'll be honest I was a little skeptical of Segura this year but so far so good. He still won't have a ton of pop but his BABIP is reasonable and his K rate is down. Jean is a professional. (NSFW)
I believe I believe I believe in Steven Vogt!
I've had a few of you ask for some kind of indication of a player moving up and down the board. I'm going to run a few ideas by Jay and will get back to you soon.
I hope you like the little GIF I left for you. It's like watching Tattoo hit a homerun.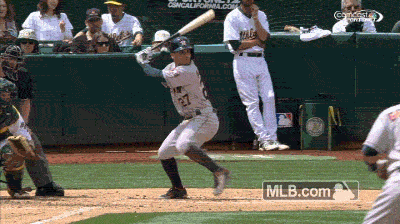 If you need an over the net friend you can follow J-FOH on Twitter.