What is not to love about Marlon Byrd? He is one of twenty-one hitters who have 49 homeruns over the past two seasons, and is on pace this year to hit over 20 bombs again. He has been on the DL since June 2nd and just came off this past Friday. I understand the batting average is something to be concerned with, but even if that's your issue, he is still a donkey (the flying donkey to be exact), and donkeys are useful… and they are really darn useful in fantasy baseball. You rent them like a lady-friend on a trip to Vegas, and if they bring you some winnings, you keep them around a few days to give you a place to rest your hand. Now, like our friends in Vegas, you never keep them around any longer than your trip. Byrd could be a creep-to-own, so be prepared to hold if he comes out of the gate hot. But enough about Byrd, I'll cover him below. It's Fathers Day today, and being that my dad introduced me to the Yardbirds, I wouldn't be me if I didn't add some title-related links into the fold, as I know you enjoy it and I think it irks Jay.
The Yardbirds were one of the first British invasion bands I really enjoyed. I was around nine when I heard my first song from them, and I was hooked. I'm not one of those guys where I have to find the coolest most obscure songs to call my favorite, I enjoy a lot of them regardless if they are well known or not. For Your Love is still a great track, as is this gem that gets a reboot in this contemporary live version featuring Jeff Beck. When I was younger, there was no internet, so you had to rely on books, magazines, and the cloudy memories of old people to know how many dynamic guitarists (Eric Clapton, Jeff Beck and Jimmy Page) played with this group. I always found it fascinating that Jimmy Page called Led Zeppelin the New Yardbirds at first and brought this great track along with him.
This week, the 10.8% owned Marlon Byrd takes a roady from the hitter friendly confines of Great American and travels to Pittsburgh and New York. Excuse me J-FOH, then why do we want to play him in those more pitcher friendly parks? As I referenced above he should be more widely owned and I'm jumping all over his sale pitch. You still didn't answer the question. Here's my pitch, I wrote it in an elevator. What would you say if I can get you into an eight dollar player today for the low low cost of one dollar? Is that something you might be interested in? What's that? You want to hear more? I have a thing for players that get series in ballparks they used to call home, and in the 2013 season, Byrd played well in both home parks he's in this week (he was on the Mets and then got traded to the Pirates at the deadline). I glanced at the starters he faces and he has positive numbers against half of them, but also faces Harvey. I'm not worried though, Harvey has been hit or miss this year. Yes Harvey fans, I love him too, but he has shown me is human, and is not a reason for me to not recommend Byrd as a creeper. He also faces Cole too. Oh damn, that's ballsy Mr. FOH! Yes it is, but he bats .400 against with a dong (small sample size…TWSS) so we at least know he CAN hit him. I was texting with Sky as I wrote this, and no we don't sext… anymore, and he concurred that we love older players coming off the DL to do some damage. He's a rested veteran and this is when they are at their best. If he hasn't been snaked yet I would go grab him and get him in your line-up! No seriously go do it.
Creepy Catcher has been a limping dog with fleas all year. I decided to defer to the Hitter-Tron this week, as I got a coded message left for me on my defiled toaster. It says: get Robinson Chirinos in your line-up. I say to hold for the first half of the week and get acquainted with Wellingon Castillo as he opens the week on Tuesday with three at Coors. After the Rockies series go Chirinos as he goes to the right handed friendly Rogers Center. Damn, I forgot about Monday. If Cameron Rupp gets the start in NY, I might be inclined to roll with him. He's been hitting lately when he gets his opps and it feels like Ruiz is 50. (I'm sure Mike will come correct me, also, I liked it better when he was Maikel, maybe we can get him to drop the "a" be Mikel)
Top 100 Hitters, Week 12
DL – Jacoby Ellsbury, David Wright, Jorge Soler, Adrian Beltre, Hunter Pence, Matt Holliday, Ryan Zimmerman, Corey Dickerson, Ender Inciarte, Wil Myers
Ian Desmond is gone! Ian Desmond is gone! I have had a nice stretch of players turning it around when I either drop them completely out of the top 100 or I drop a deuce on them. I'm like the Triumph the Insult Comic Dog of fantasy hitters. For me to poop on. I dumped on LoCain, by dropping him all the way out of the top 100 and he blew right back up and back into Grey's good graces. If you need some under performing player hating, I do requests and…..bar mitzvahs!
Anthony Rizzo is so damn good. I was talking to Sky the other night and we are both in awe of his awesomeness. He is elite and still has enough honor to take a knee while he hits a bomb. According to our player rater, among the other first round players, if you drafted him fifth you would of been dead on. I own him in only one league and I cry myself to sleep every night wishing I had him in more…except the ones where I own Trout, Giancarlo, and Miggy. I own Au Shizz in no leagues. Sad emoji.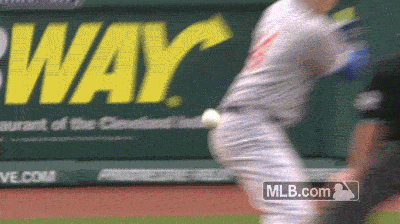 I crap on Cargo and he rewards us with dongs. Over the last two weeks he has gone yard six times and has completely cleansed the crap I left on him. Grey told you to buy low and if you listened then you owe him a daquiri and a bottle of vape juice. Looking at his batted ball profile for June and he has dropped his ground ball percentage 19.45%, increased his fly ball percentage 24.65%, and has increased his home run to fly ball up 10.2%. One stat that really surprised me this month is he has no change to his BABIP. At .277, same as May, he has even more room to grow if he can start hitting more line drives.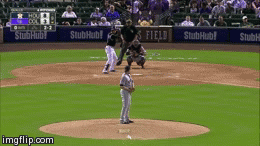 Up goes Frazier! Up goes Frazier! I can't ignore the Todd anymore. Damn, I miss that show. Frazier is fourth on the player rater and is on pace for AT LEAST 100 RUNS, 100 RBI's, 32 HR's, 13 SB's, .280 BA. That feels safe to me, could be more in homers but his HR/FB (22%) is highest since his 41 game rookie year (23.1%) It's also not high enough for me to throw a red flag. I'll throw a corral colored flag. His hard contact is up over 9% this year, his ground ball rate is down 10 % and his flyball rate is up 11%. And don't even get me started on his ISO. Okay I will, he has the 3rd highest ISO,behind Bryce and Giancarlo, and with 20 doubles is tied for third with a shizz ton of others. I like doubles, being able to hit yourself to second more than others means you are putting yourself in a greater position to create an RBI or a run. Actually of that top three which is actually ten guys, he is the only one with more than 15 HR's (he has 22).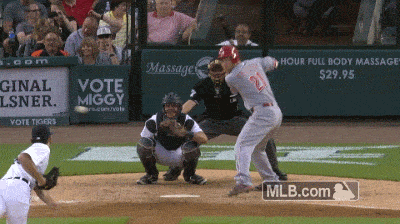 Well, would you look at that, Manny Machado got his Man Muscles! Thank you Lloyd Christmas McClendon. Speaking of Lloyd, congratulations Mariners fans on the hiring of Edgar Martinez. That was one hell of a professional hitter. I should of knew something was up when Tehol drafted Manny at the end of the 6th round in the 'perts league. If anyone is going to know about the development of man muscles between the ages of 20 and 22, it's Tehol…hehe, kidding Tehol, unless you're cool with it then yeah. Manny has already matched his career high in home runs (14) and at only 22, would be flying up my dynasty board. Looking at his batted ball profile and everything is in a nice trajectory that doesn't scream red flags. He's also third on our player rater for all 3rd basemen ahead of guys like Nolan and Bryant. He has MACHADISMO! Which is like machismo but different because it's from Baltimore.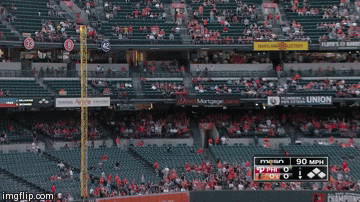 If you need an over the net friend you can follow J-FOH on Twitter