Every year, there are surprises in fantasy baseball. Some players come out of nowhere and breakout or, in the case of Aaron Judge, absolutely dominate. Other players regress after a breakout season the year before. There are even the players who have long track records of mediocrity who, all of sudden, appear to have figured something out en route to becoming legitimate contributors both in fantasy and in, you know, real baseball. I like to call these players Justin Smoak-Logan Morrison-Yonder Alonso. The more popular terms among Razzballers for these players are Schmohawks and Hot Schmotatos.
Then, there are the players with longer track records of production who suddenly begin to struggle. This year, one of those players is Carlos Santana. Santana is a guy I like, especially in OBP and OPS leagues, and I have him on a few teams and recently traded him in another. He's got power, he gets on base, he scores runs, he drives in runs, and he won't kill your batting average. Heading into this season, I liked him in what appeared to be a pretty mediocre 2017 first basemen class.
As of this writing, he is slashing .211 / .305 / .384 through 250 at-bats in 2017. Those numbers are less than good and are well below his career averages. After I was done thinking "Why Meeeeeee?!" I started thinking "Why?" and "What is different this season?" and dug into his numbers over the past few seasons.
The most obvious to jump out was his BB%, which is at 11.6%, significantly below his career average of 15.3%. But 11.6% isn't terrible, and it is not enough to justify all of his struggles. It does, however, display a troubling trend for Santana over the past few years: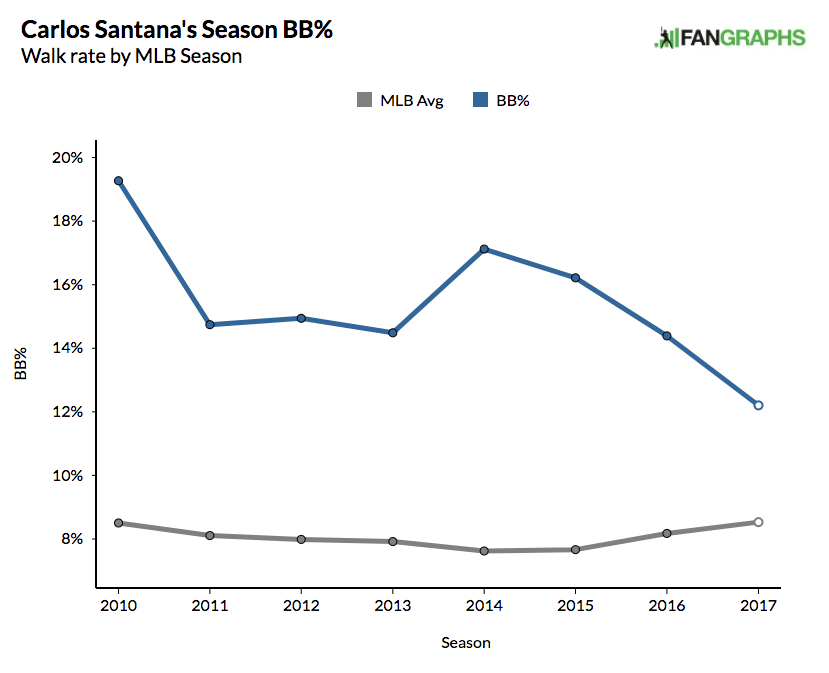 Like I said, though, the BB% doesn't tell the whole story. Santana's numbers are down across the board, and a 5% decrease doesn't explain everything. After all, his BB% dropped in 2016 while the rest of his production went up. His BABIP currently sits at .237, which is easily a career-low and helps explain some of his struggles.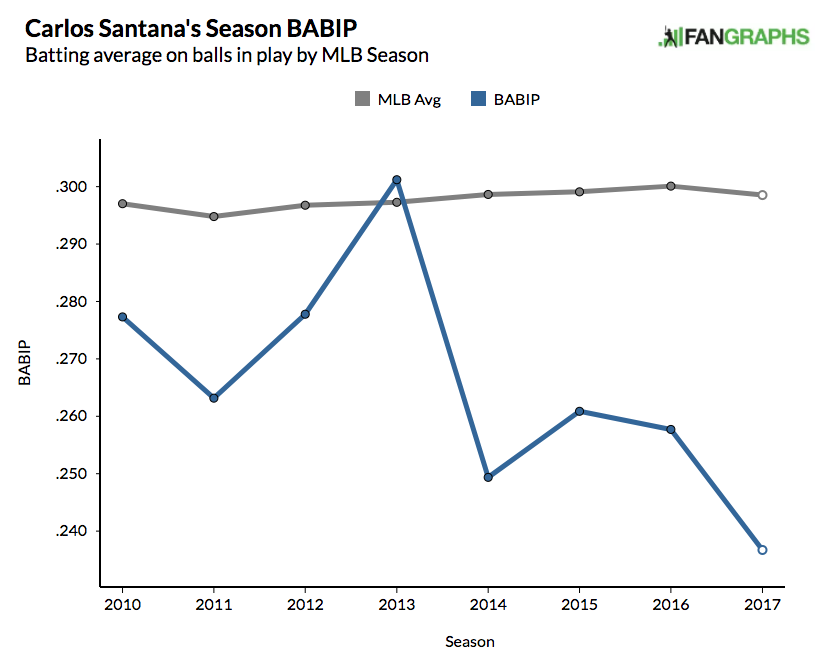 I don't expect his BABIP to remain that low, and some normalization in that area should help his batting average a bit. Santana is a switch hitter, though, and his lefty/righty splits this season show some interesting trends. For his career, Santana has been a better overall hitter from the right side but a more powerful hitter from the left side. As a righty, he is a .270 hitter with 37 home runs in 1453 plate appearances. As a lefty, he is a .233 hitter with 122 home runs in 2,952 plate appearances.
In 2016, it was much of the same. From the left: .256, 30 home runs, 492 plate appearances. Same power, a slight increase in batting average. From the right: .267 average, 4 home runs, 196 plate appearances. 2017, though, is a much different story. For starters, while Santana's BABIP is down overall, it is actually UP as a left-handed hitter: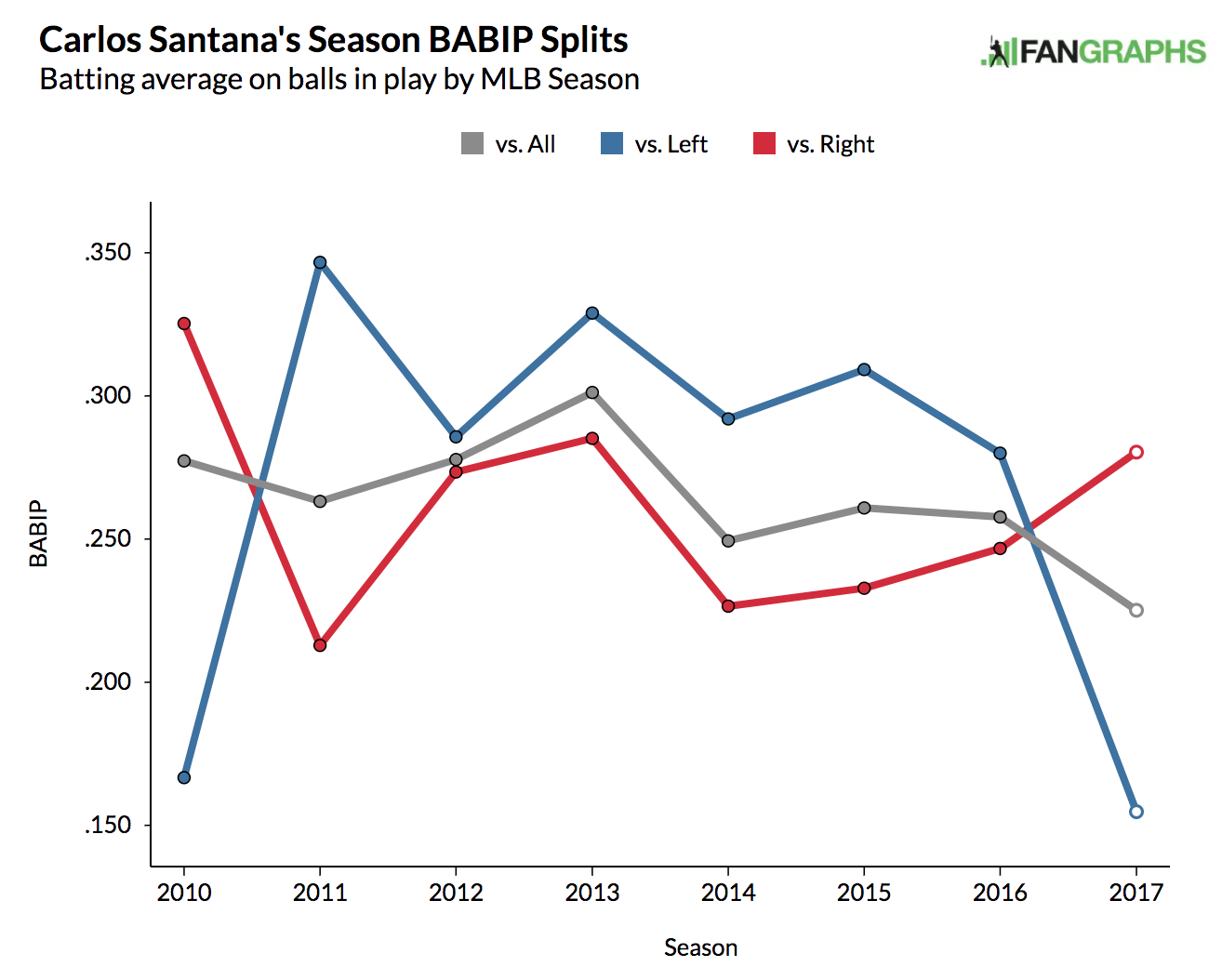 His BABIP is slightly up as a lefty but plummeted as a righty. And as I mentioned before, his BB% is down overall. In fact, his BB% is decreasing for the fourth season in a row. In 2016, his BB% from the right side absolutely plummeted: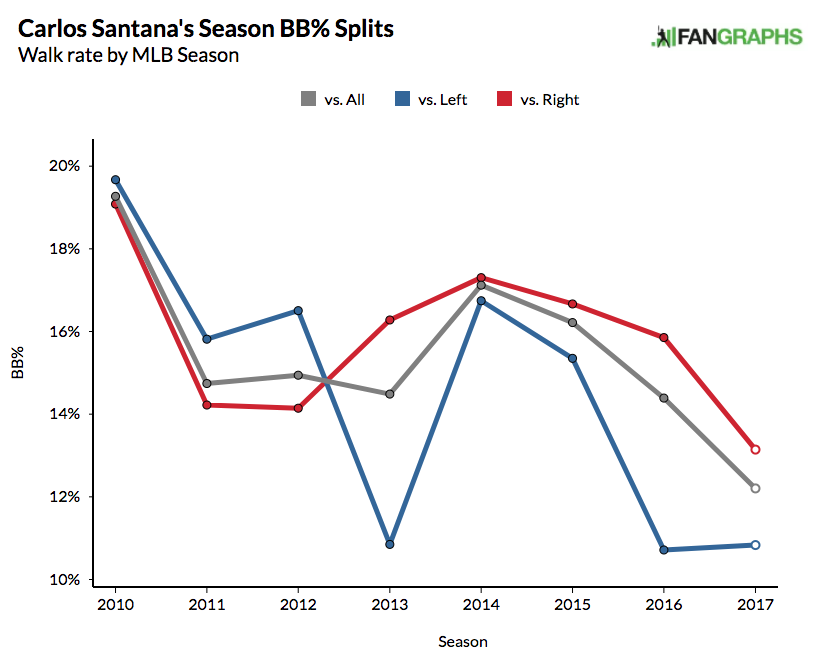 This season, while his BB% his decreasing yet again from the left side, it is slightly increased from the right side (though it is still very low compared to his 2014 and 2015 seasons). What about his K%, you ask? Well: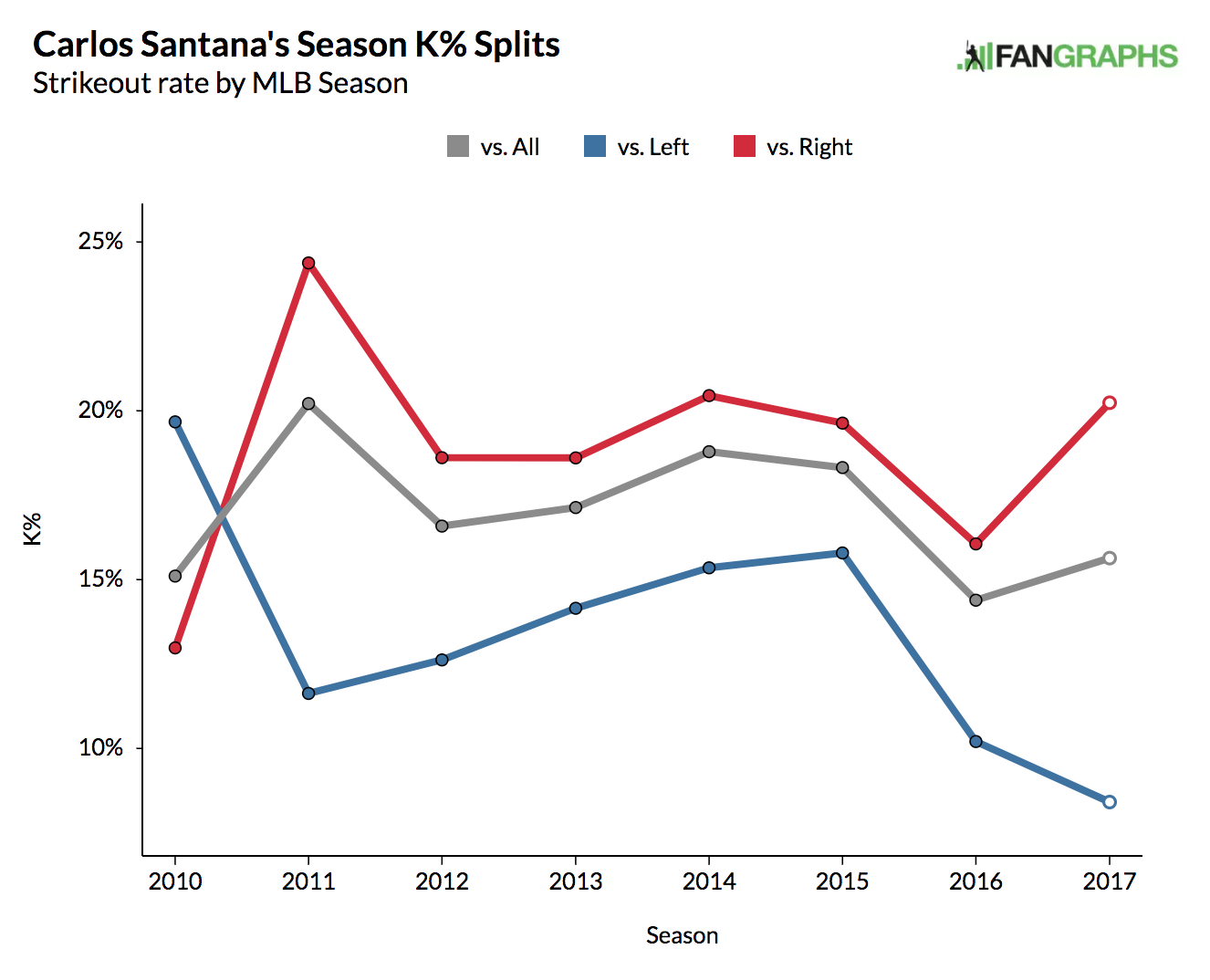 Oddly enough, his K% is up from the left side and down from the right. This tells the story of a batter who is being more aggressive from the right side of the plate and is not having much success doing so. Looking at his Plate Discipline numbers, the one number that stands out is his O-Contact% (Number of pitches on which contact was made on pitches outside the zone / Swings on pitches outside the zone). His O-Contact% is up to 75.2%, with a 66.5% in 2016 and a career average of 68.8%.
And that is likely contributing to his struggles in 2017, especially from the right side of the plate. And what is perhaps most troubling is that 2017, while we are still just 2 1/2 months into the season, is not an outlier for Santana. From the right side, this year is his third consecutive year of decline. Take a look:
After increasing from the right side from 2012-2014, Santana's wOBA has dropped from .381 all the way down to .258. He is batting just .196 from the right side of the plate, his OBP is just .283, and he is slugging just .299. And while his .189 BABIP from the right side will likely increase as the season goes on (his career mark is .292), the overall regression over the last few seasons is troubling.
Now, for the Week 12 Top 100 rankings.
Note: These rankings are considered ROS Trade Value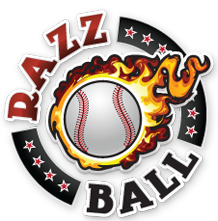 Mike Maher's Top 100 Hitters
(Rankings based on 12-team Roto. GREENÂ = player rising. REDÂ = player dropping. BLUE = new to the 100.)
The Honorable Mentions (Next Five In
)
Dropped from the rankings: Alex Bregman, Joey Gallo
As always, disagree with anything here? Have any questions or comments? Want to tell Mike how great he is or how much you agree with him? Want relationship or investment advice?
DROP THOSE COMMENTS!
If you want to talk fantasy baseball or football or have players you want Mike to feature, hit him up on Twitter at @mikeMaher or post a comment below!