Let's begin by having a moment of silence for the fact that we will be without Mike Trout for two months. I dropped him to 23 in the rankings below, which are considered ROS trade value. I know it is hard to justify Trout over some talented players who aren't going to miss two months, I just couldn't bring myself to drop him much lower. The Razzball Player Rater has him all the way down to 71 for ROS projections. Personally, if I were to trade Trout, I would hold out for the highest bid and make someone overpay. Otherwise, I'm not moving him. And in keeper leagues, I would still have him at number 1 and wouldn't entertain offers.
Now, for the players who are playing right now. The two players I moved up and want to focus on this week are Justin Bour and Justin Smoak. I received some questions and comments on here and on Twitter last week about Smoak, so let's take a look at him first. He has looked great this season, but I have my doubts.
While Smoak's slash line and counting stats look great right now, unless he finally figured everything out at 30 years old, I have my doubts. Yes, he is currently on pace for almost 40 home runs. Yes, he is striking out 17.9% of the time, which is almost half as much as he did last season and is well below his career average of 23.5%. Through 55 games and over 200 plate appearances in 2017, the metrics back up what he is doing.
But here's the thing.
Smoak has been in the league for eight seasons and has over 3,000 plate appearances. He's a career .227 / .311 / .402 hitter. His previous high for home runs in a season is 20, which he did back in 2013. Take a look at his wOBA by season: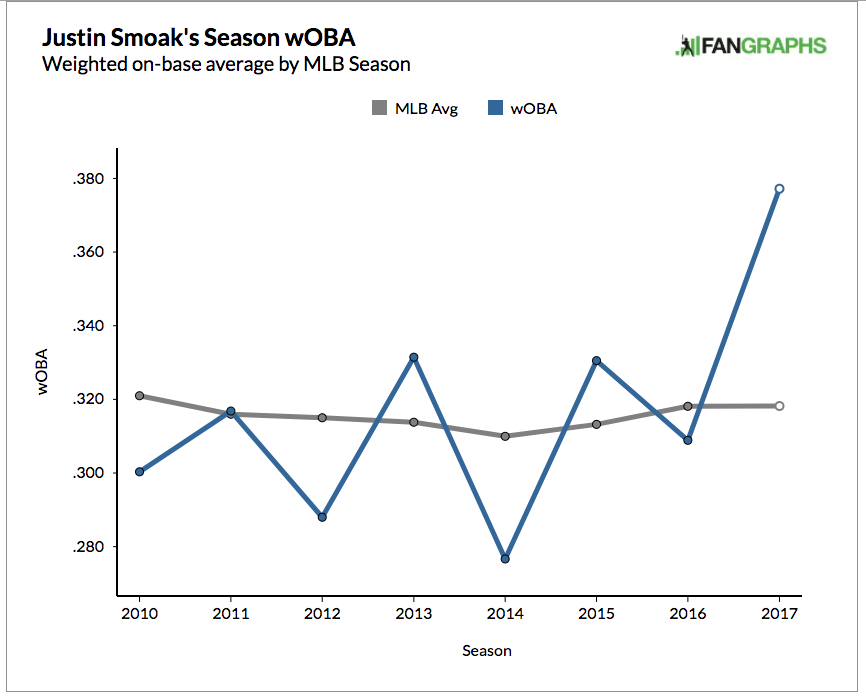 Translation: Smoak isn't this good. This probably isn't going to last, and a regression is coming.
Now, as far as Justin Bour goes, I am still skeptical but am less skeptical. Bour is 29 but has just over 1,000 plate appearances at the MLB level. He has displayed this kind of power before, both at the major league level and in the minors, so it is easier to believe that his current power stroke is real. Will he continue to hit up around .300? No, but it is reasonable to expect him to hit in the .250-.270 range and offer up 30 home runs, as long as he can stay healthy (which he can't always do).
The main point here is that, while Bour is only a year younger, he doesn't have as much of a negative track record that we can hold against him. He has also displayed plus-power in the past, while Smoak has always struggled to fulfill his potential in that department. Bour is likely to regress a bit as well, but I don't think his regression will be as extreme as Smoak's. If I had to pick between these two first basemen as a guy I value higher ROS I am taking Bour every time. Maybe I'm just biased now that I live in South Florida, or maybe their track records are telling us everything we need to know about them…
Note: These rankings are considered ROS Trade Value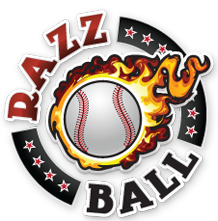 Mike Maher's Top

100

Hitters
(Rankings based on 12-team Roto. GREEN = player rising. RED = player dropping. BLUE = new to the 100.)
The Honorable Mentions (Next Five In…)
Dropped from the rankings: Cesar Hernandez, Aaron Altherr, Avisail Garcia, David Peralta, Devon Travis.
As is always the case with the Top 100 rankings, don't agree with something?
DROP THOSE COMMENTS!
If you want to talk fantasy baseball or football or have players you want Mike to feature, hit him up on Twitter at @mikeMaher or post a comment below!