I love me a hot schmotato almost as much as I love me a hot Latina. [Jay's Note: I prefer the angry Latina.] Yes, it is true, I love Latin women more than fantasy baseball, except this week, when I love me some Eddie Rosario. He's been a warming hitter looking primed to have a break out sooner than later, and I'm betting my money on this week. I know he has nothing to do with Rosario Dawson but I'll take any chance to look at her pics and this beautiful gif (I couldn't put that in the article for fear Jay would of removed it). It's crazy to think she started her career in Kids and how much of a game changer that flick was. Will Eddie R be a game changer for you this week? I like the chances for that to occur and if you keep reading I will do my best to convince you why I like him, but before I do that, one more Rosario Dawson clip for the road… okay maybe not, the Alexander clip is very NSFW, but you can look it up on your own.
This week the 7.4% owned lest handed hitting Eddie Rosario gets a lot of love by the hitter-tron and I have to concur. Our trash/treasure bear/bull writer the Big Magoo was also talking him up to me the other day and he planted a seed. I was bummed Eddie R was already swiped up in a few leagues I'm in but that doesn't mean he isn't available in yours. Like I said in the intro, he is warming and looking ready to get hot. He opens the week with 3 games at lefty friendly Cincy facing all right handers and if he's playing then he's in your lineup (the return of Danny Craptana worries me a little). He follows that series with 4 at KC getting three righties and one lefty. His batting average is the same vs. either arm but that is where the similarities end. He only has one XBH, a HR, against lefties where against righties he has 3 HR's, 5 doubles and 2 triples in only 99 AB's. I looked at his minor league numbers and he has flashed some power and speed at different levels but never consistent enough to make him a must own for either. What he has always done is hit for good average and at age 23 he is in the developing power stage. If you can get a dong, a bag, some counting stats and a good average then I would consider that a success out of the middle infidel. If you just lost Pedroia or Rendon then I would jump on him for the week.
Last week's Frankencatcher combo worked out pretty well. Castillo and Chirinos both hit dongs and that's good enough for me. This week I like Dioner Navarro, he gets 4 games at home and three at Detroit. The match-ups look solid and I would be checking on the daily if he is starting. Josh Phegley is very under owned and when he plays he hits. If you see Mr. Vogt getting an off day or set to DH, then I would grab Josh and get him in your line-up all day any day.
The Top 100 Hitters, Week 13
DL – Dustin Pedroia, Jacoby Ellsbury, David Wright, Jorge Soler, Adrian Beltre, Hunter Pence, Matt Holliday, Ryan Zimmerman, Corey Dickerson, Ender Inciarte, Wil Myers, Giancarlo Stanton, Freddie Freeman, Anthony Rendon.
I would like to open this with a moment of silence for Giancarlo. Now take a five minute moment of silence to pray for Grey. He is crushed right now and I spent Saturday trying to console him with the sweet soul hip hop music of Oddisee. (Track 1, Track 2, Track 3.) Please, don't bother Grey with catcher questions for the next couple of days while he heals. Here is a little hand gif for you…too soon?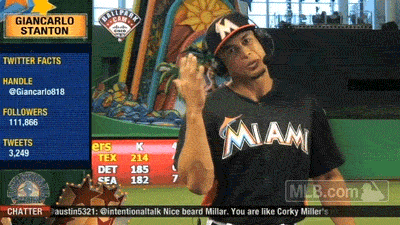 Giancarlo's injury leads to a mix up of the top 10. No, I didn't just slide everyone up one. I re-evaluated it and have a new order. Harper showing those injury wings scares me a little and I had to drop him a hair to reflect my concerns. At this point I would rather have Frazier, Donaldson, and Nolan before the Grand Dolor. The Homernado has been redonk lately and with 64 RBI's he has to be top 10. Going into the year, I liked Nolan a lot, but saw him as an 80-90 RBI guy, well opportunity brings gifts and now he is on pace for 110+. That's the thing with RBI's and Runs, they are very hard to predict from year to year.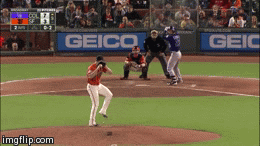 J.D. has been Just Dongs lately and I'm buying. I actually traded with Mike for him in the 'perts league this past week. Too bad it wasn't accepted til after the three homer game but I'll take the three straight days of homers I got. If you just lost Giancarlo and need a power play, I would definitely be trying to buy me some Martinez. If he doesn't get to 35 homers I'm going to jump out my window in frustration. With an 8% drop in ground ball rate and a 8% increase in his flyball rate his batted ball profile matches the hope I have for him to exceed 30 home runs. Considering he has been unlucky (.316 BABIP) compared to last year (.389) it all looks sustainable and should be a lock for 80/33/90/6/.280.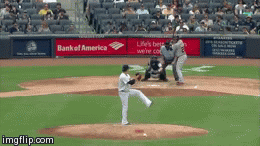 At a certain point in the rankings you guys…and girls need to understand that it becomes needs based. If you look at 60-80, it leans a little more to the positional needs side and are players less likely to be dropped. From 81-100, it is completely a categories need playground and the value of each player should be based on what will help you win. With all the new injuries this past week a lot of spots opened up. I decided to throw in some hot hitters over the past few weeks to mix it up. At this point of the season you should only be married to your core players and the rest of your slots are for playing the hot hand or SAGNOF! Grey, here are some flowers for you courtesy of Miggy (he took Giancarlo's spot in the top 100)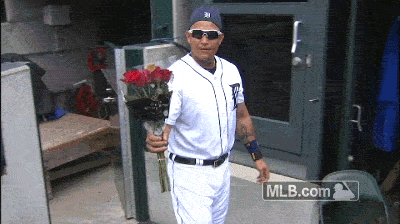 If you need an over the net friend you can follow J-FOH on Twitter