All right, you ragtag bunch of misfits! You hate me, and I hate you even more. But without my beloved ringers, you're all I've got. So I want you to remember some inspiring words that someone else might have told you over the course of your lives, and go out there and win!
Has a greater speech ever been uttered to fire up a bunch of ball players? It's pure honesty at it's finest. Group hate as a tool of motivation, then followed with some Zen-ish words or whatever kind of "Phil Jackson blah-blah-blah to get your head right" words. Hey, look, a basketball reference Gilpin! If we can remove ourself from the moment and transport ourselves to that happy place, then we can trick ourselves. Thank you Montgomery Burns for this gem and this great song. If this doesn't work for you, then just think of boobs and how many you get to see if you're successful. That's in life, not fantasy baseball. In fantasy baseball, you get the adoration of random men over the internet. Wait, what? Ummmm… I officially just made this weird. Hey, look, there's a creeper below me and a top-100 for you to chew on below that. *Runs away from computer.*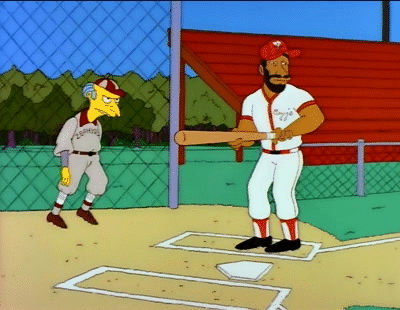 This week, the 13.7% owned Billy Burns could be a blazing ball of SAGNOF. Or in early 90's black smart guy speak: The pontification of this sagnofication is the culmination of the justification of the dontpayifacation. Hey don't blame me that's what TV and movies taught me. Book schmooks! He is an obvious own for SAGNOF'ers at this point so what I'm really doing here is driving home the point that you must own the man that can burn… the basepaths and not you. He was a pre-season darling of the king of the deep league call, Mr Sky "don't share a hotel room with this guy" the DFS guy. Grey also alluded to you adding him on Friday in his morning post and I'm now here to swing a sledgehammer at you to add him now before you get me really angry. He has done all of his damage against righthanders (7 SB vs RHP) and scores as he faces 5 of them this week with trips to Detroit and Boston. He has 2 HR's in the last week and with that porch in beantown a dong may be in the cards. Like some of my other calls this is a rent to own play. Hitter-Tron doesn't like the call here (-$3.7), but I don't care, I like Burns and DGAF. Here is what our resident SAGNOF specialist Lance said about Burns: "he comes with a 50 stolen bases type of ceiling." Thanks Lance! Just go grab him and don't worry about the rest. If he's there and you don't own him then you are being foolish…or stacked with bags already. I'm burning for Burns, are you?
Frankencatcher, frankencatcher, frankencatcher… with catchers coming off the DL there should be an uptick in players available. Gomes came off this past week and Lucroy is set for  next week. When Blake Swihart came up he was a must add and now his ownership sits at 7.5%. He's starting to hit for average and hopefully the counting stats start to roll in. A .314 batting average over the last two weeks is nothing to bat an eye at. Did you see what I did there? Oh well, grab him if you are playing the hot hand and look for him to be a longer term add if he can keep hitting above .280.
Top 100 Hitters, Week 9
DL – Yasiel Puig, Jacoby Ellsbury, Anthony Rendon, Wil Myers, Corey Dickerson, David Wright
Not a lot of changes this week as I felt the last shake-up needs to marinate a little. Last week commenters questioned the ranks of Giancarlo, Abreu, AND Brucely. I threw in J.D. because I felt like it and was able to waiver him in one league.
| Player Name |  Season to Date + Steamer ROS |  Razzball ROS $ |  ROS Rank | Grey Projection |
| --- | --- | --- | --- | --- |
|  Jose Abreu |  88/34/104/.286/2 |  $ 41.1 |  4 |  86/32/110/.306/4 |
|  Giancarlo Stanton |  89/41/115/.257/9 |  $45.7 |  1 |  93/43/109/.270/7 |
|  Jay Bruce |  61/24/72/.233/9 |  $12.6 |  75 |  77/27/89/.235/9 |
|  J.D. Martinez |  74/25/77/.265/4 |  $20.0 |  37 |  69/17/80/.277/7 |
You all needs to chill to Abreu. He'll be fine and I agree with Rudy's Robots that the second half will be all about E.G. Doler's awesome. Buy low if you have an IMPATIENT owner.
I got a few haters on Giancarlo last week…Don't you talk ill of my boy. Oh Giancarlo, how can they be mean to you? What? Grey, get out of my post!…See what I put up with here. His BABIP is crazy low (.269 vs .327 career), makes a lot of hard contact (47.9%) and why am I even doing this. He's f**king Giancarlo. Don't question the Stanton.
Raise your hand if you hate Jay Bruce *raises hand* Then why rank him Big J? He has 25+ pop and that shizz don't grow on trees. August and September are usually his big power months so be patient. His walk rate is up, K rate is down, ground ball rate is down, line drive rate is up, fly ball rate is way up as is his hard contact%. The batting average will be a mess, but whatevs. He can finish the year with 24 homers or he can finish it with 31. He's a wildcard!
I was shocked when J.D. got dropped in one of my RCL's. I think he's better than what he has shown and Detroit has been on an offensive vacation lately. When it heats up I'm expecting J.D. to move the needle. 30 HR's anyone…anyone?
The Pujols has reacted well to my hate by putting up a 9/5/7/0/.291 over the last two weeks.  I seriously need to market my motivational hate. Send me someone who needs to get their crap together, I'll s**t all over them and wham-o, problem fixed.
I think I have a lead on the Soler mystery and after getting a thumbs up by RCL legend Mauled by Pandas I believe we have found the culprit. That anchor he wears around his neck would make Mr.T blush. Take off the chain and just hit the damn ball.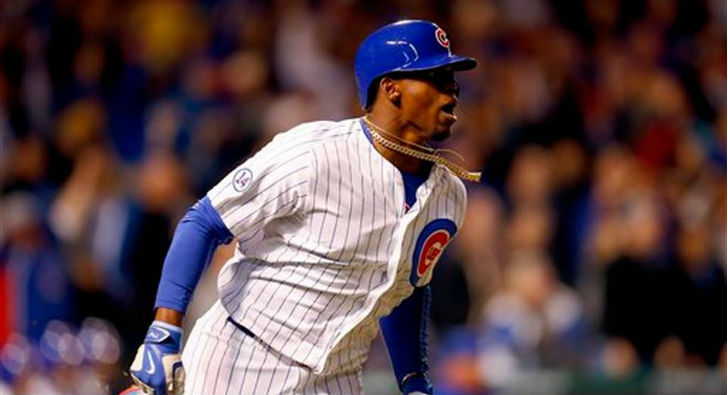 Prince has been a king lately and that fat neck issue from last year is all gone. I hate that I drafted him last year and blew him off everywhere this year. I wanted to take a chance in one of my leagues and I chickened out every time.
The Dread-less Pirate is getting back to Arrrrsomeness! I rewarded him with a bump as he tries to redeem himself. He's been chipping in some bags so a first round value he may end up being. What's with the Yoda speak, I'm not even drunk.
I love Rock the Vogt. He makes me laugh.
I had a lot of fun with you guys…and girls last week playing DeNiro Player mash-up. We should do that again sometimes. For now, let us dance.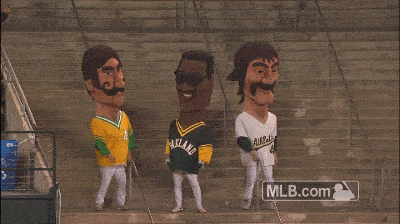 If you need an over the net friend you can follow J-FOH on Twitter.