A few weeks back, I was on vacation and the Big Magoo covered the creeper. He did one hell of a job by making good calls and changing up the format. This week, I'm feeling inspired by the Big Magoo and will follow in his form. I should literally follow in his form because we are similar in height, but not in weight. I'm always looking at schedules every week to help assist with my creeper, but this week I'm taking it a step further. I'm going all in on home parks. This is my mixed bag of who to grab throughout the week because you should be shuffling players in and out as long as you don't have restrictions on moves…
The Top 100 Hitters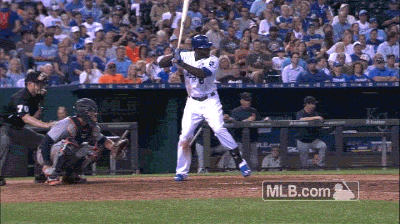 And lay John Coltrane play with that LoCain face.. .Action Bronson knows what was up this year, as his hit-track talks about Grey's favorite late rounder. I don't know about you, but that's how I hear it when I listen. Devil's dandruff? Yeah right! Respect the King of KC! He currently sits 12th on the player rater and Steamers predicts he will go 21/3/21/7/.283 the rest of the way. Yeah I know, not the sexiest total you have ever seen, but if he gets that he will have a final line of 95/15/73/28/.300. I've juggled him all over this list because he has always been a "not quite there yet" player and gaining faith in a fallen false idol has been a fantasy fallacy for years and years. He has a few good things going for him this year that might help explain the change. First, the FB% is up while the GB% is down. Second, his home run to fly percentage is way up at 11.7%, but that's not his career peek. That happened in 2012 when in only 244 AB's he hit 7 HR's and pulled at all our heart strings. I wouldn't worry too much because at 11.7% its not unreasonable. I think he can surpass steamers dong totals when you take into consideration the increase in flyballs and the 12% increase in hard contact.
I've had the Candy Man Can song for the Grandyman stuck in my head all day. He is almost a zombino at age 34 and as he sits right now he will surpass last years home run and steals total. If you were to tell me in the pre-season he would go 27/12 I would of asked you who your dealer was and if they had any more. He could be a nice cheap power/runs target in a trade, if you can still make them, or is surely an add in shallow leagues that are starved for power….Who can take a ball yard, sprinkle in some bags. Cover it with chocolate and a dong or two. The Grandy Man, oh the Grandy Man can.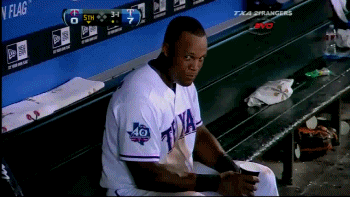 You think this is funny Adrian? This ain't no joke foo, this is fantasy baseball. I give up on Adrian Beltre. I let him hold me in that rear naked choke for too long… wait! what? No that's not it, it was an armbar, yeah that's it, the move is an armbar. I feel that guys will usually get their numbers and with Beltre a repeat of last year didn't seem too far out of the realm of possibility. Even if he lost a few dongs, a batting average north of .300 and good RBI/Runs totals didn't seem too unrealistic. But nope, he crapped on us all like a hippo. I can't believe I traded for him in the hopes that BA would turn around. F**k you Beltre, get your bald a**back on the motherf**kin' roids.
Before I call it a day I wanted to point out that there are lots of other players on the cusp of my list. David Peralta, Neil Walker, Ender Inciarte, Khris Davis, Francisco Lindor, Dexter Fowler, Alexei Ramirez, Avisail Garcia, Aaron Hicks, Rusney Castillo, Ryan Howard, Carlos Santana, and Pablo Sandoval are all close. There are so many players that are needs based at this point. So if you see one of your favorites not on the list then look here. This blurb also proves to me you read the whole post before you start in.
You can follow Jack Full of Hate on Twitter if you want.