I'm channeling some inner-Albright this week. Seat of your pants son! Speaking of Grey, I used the photo he took of me giving him the Larry Bird for my new avatar since it made sense to me that I should use Grey's photo on his site. In other news, I shook up my top-100 this week as we get to the third leg of the 400-meter stretch run relay. If you're not in the top-60, then you can be cut at any time. If you are hot, ascending, or the type of player who can go on a monster power or speed run, then I want you. Obviously, I couldn't get everyone here, for this isn't the Top-120, but you may notice the name brands in the bottom of the list. They are there because it's difficult to cut some of them, but if you must, then you must.
I liked last week's creeper format and it makes sense for me to do it again. I have so many characters this week, it feels like a Cannonball Run movie. I just hope it doesn't turn into a face slapping outtake collection. We have different players here at Razzball, and I need to think about them, I can't be a full-time roto snob. This time of year, we always get an extra dose of H2H questions and I will support their creeper needs. Don't worry my roto friends, I still love you the best, but I have to give the customers what they want… OPTIONS! The roto guys are in a similar boat too, as any major slump can kill you if your opponent is Schmotatoing their way to a title. Without further BS, here are my creeper picks:
Nick Castellanos, 3B (14%) – I was a little surprised to see he was this under owned in E$PN. Really people? Grey would say it means that 86% of all E$PN leagues are dead. The kid has been rosterable for the last month and a half. He hasn't been that different from Brandon Belt or Trevor Plouffe since the break and their ownership is much higher. His track record surely creates trust issues but this is a little ridiculous. I even have them, he deserves to be in the top-100, but it doesn't feel right knowing how bad he can be. With three games to close out the week at the Rogers Centre and one game to open the week in Cincy, I wouldn't be doing my job if I didn't mention this. He crushes lefties and gets to face two of them who have given up a combined 36 dongs this year. What's that?… Oh, and Hitter-Tron says he is a $14.1 play next week. H to the T is a pushy mofo.
Preston Tucker, OF (10.8%) – What happened to PT? It's been such a roller coaster with him. *yells into pillow* Okay, all better… not really. He gets three games in the Bronx, all against right handers and that's really all I needed. We know he can drop dongs on a dime, and call me weird, but the comp that Dave gave him to Matsui back in May is stuck in my head right now.
Colby Rasmus, OF (6.4%) – I guarantee you he hits a bomb on Monday. He's the off-day dongmeister, dong-a-ramma, dong-a-dee-dong-dong, the donnnnnnng. (The following was brought to you by Sky.) To steal a trick from the Grey's bag of tricks: He gets three games in the Bronx, all against right handers and that's really all I needed… and that's me quoting me above.
Jason Bourgeois, OF (0.1%) – I want to be stats rich b*tch! What I need to get there is some Bourgeois delivering off the back of the proletariat. I'm hoping for petty or maybe I'm being petty with Bougee? With him leading off in Cincy while B-Ham is down is tempting me for some SAGNOF! He's got 25 steal speed and should be locked into the top spot this week when he gets four at home and three at Miller Park.
Mark Reynolds, 1B,3B (2.4%) – Chase Field has nothing but love for right-handers, and when you mix in two lefties on the hill you get some creeper wood. I've said in the past that I don't always use the most scientific means of helping decide who to play. Sometimes to break a tie I go with unmeasurable's such as going back to a former home ballpark. It happened the other day with Marlon Byrd when in his first game with the Giants he went yard in P-Town… where he used to play… and already hit 3 bombs this year… yup… uh-huh… rama lama fa fa fa. Like Byrd, after he leaves P-Town, Reynolds will be a rocket reducer when he leaves the desert… see what I did there. Oh you didn't click the link? Your bad.
Tyler Saladino, SS,3B (4.2%) – I hear this scratching at my window the other night around 2:30 and when I walk over to see what's going on, I find the Hitter-Tron in my backyard motioning for me to come outside. I put on my robe and slippers and go out back to find him hammered on carburetor cleaner and smoking spark plugs. He slurs in my ear that he'll trade me a creeper for a bottle of 10W-30 and that cute little toaster he can see through my kitchen window. I obliged, only because I just wanted him to leave and if I didn't he would break in later and steal my toaster anyway. Long story short, his tip was Saladino who gets a full slate at home, a $12.7 valuation, has some speed and MI eligibility. Need anymore?
The Top 100 Hitters
Anyone else here taking issue with your Wong? Going back to July 1st, he has put up a line of 18/2/12/8/.203. In that time his ISO has been 0.080 (yikes) and since the start of August has seen his groundball rate go up to a season high 54.4% and his line drive rate to a season low of 12.3%. Now for the good part, okay maybe it's the "not that bad" part. His K rate is down and walk rate is up for August and has been unlucky at the dish. I still think he is a great talent and should be back on track for part of the stretch run. He's a Cardinal,that's what they do. Having Cadillac expectations for second year breakouts is always Russian roulette that can end up with Catera reality.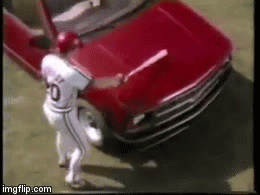 This one goes out to Mike… his Phillies have really started showing some leg and a little more cleavage. I'm not a Phillies fan and never will be but I heart Mike and think it's worth noting that the Phillies have scored the 13th most runs, are 14th in RBI's and swiped the 16th most bags since the break. In school teacher speak that's a report card of B/B-/B. Can I get a we're not the worst group hug chant? Every year I start to crush on teams that are out of it because we get to see what kind of heart and pride these players have. Doobie Herrera has really been pouring it on the last 7 weeks and should of been on this list before. After a solid April, he hit a lull for two months but now is coming on strong and batting third for the Phils. His August line of 16/2/8/5/.365 either matches or surpasses every monthly total on the year….and he still has 10 more games left. The other side of my Phillies lust was boosted by the trade of Utley. Cesar Hernandez has 2nd base locked down including the leadoff spot. I love me some Phillies,  I almost had Howard in here but I still think there is a chance he gets moved. Damn, I forgot to talk about Mike's new crush. Can I get some love for Aaron Althgrrrrrrr! I hope to have him on this list sometime next month.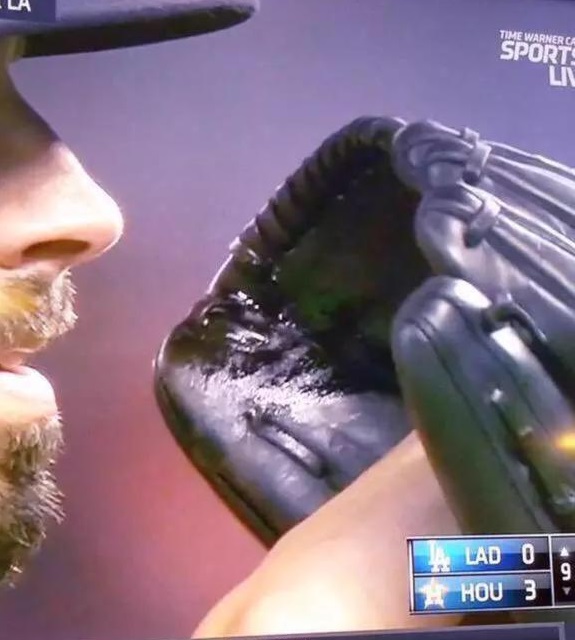 Before I leave I wanted to talk about Mike Fiers and his no hitter. I wouldn't be holding him or running out to add him because following a no no the fringish guys usually take a dump…or at least it feels that way. The above photo shows a substance in his glove that according to him, "I don't know what they are talking about. It could be a different lighting or camera angle or a lot of things. I don't know". Hahahaha, good for him, playing dumb is the best defense. Like they say, if you ain't cheatin' then you ain't tryin'. I really hope this doesn't get turned into a big deal in the media. As a hat owner of both clubs involved in the no-hitter, I'm cool with it. Fiers is helping get Mattingly fired and at the end of the day that is all that matters. Wait, I don't write about pitchers. What am I doing here? Sorry, I gotta go, see you next week.
You can follow Jack Full of Hate on Twitter if you want.