Preston Tucker is up and the no longer LAstros have shown the confidence to not only start him, but bat him third a few times already this year, so I decided to break down this guy and see if he can keep sticking himself in that luscious three hole.  When looking at Tucker's mechanics, I noticed something that relates to a perennial fantasy enigma, so if you stick around, you'll get more than you bargained for in this post…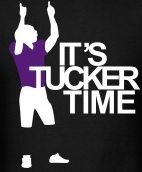 While "researching" Tucker, I found that scouts supposedly nicknamed him the Samurai when he was in high school and he didn't even know if he was called that.  Wait, what?  Someone thinks he wouldn't have found that out?  Who the hell is supposed to believe that such a nickname would evade a samurai, and that he didn't immediately and drastically change his entire persona upon learning said nickname?  30 seconds after he had to have become aware, I'm sure things went just like so: Guy walks into a bar…
The bartender says: "Can I get you a drink Mr. Underage High School Prospect?"
The Samurai responds: "Yes, a Saki to match this dope Kimono I'm jockeying"
Bartender: "Right away Mr. High School rrrr excuse me, Mr. Samurai sir… and while I'm at it, would you like the phone and social security number of our beautiful waitress so you may threaten her with identity theft if she plays hard to get?"
And I'm sure that's how the rest of high school went for him.   Also, is it just me, or when you think of a Samurai do you only think of people slicing watermelons and standing above them like they've accomplished something other than ruined perfectly good food?  Okay, it's clearly summer now and speaking of samurais, when is Walking Dead coming back? I need some Michonne! But seriously, if you had to pick 3 players to fight alongside you in a zombie apocalypse who would they be and why?
Okay, back to the subject, who is this Tucker guy anyway? He wasn't on Keith Law's list of 100 prospects before the season, his name isn't Correa, Buxton, Lindor, or whomever else you're stalking and even Razzball's Prospect Mike hasn't yet mentioned him.  Grey seems to think he's just a short-term schmohawk, just like he does for Colabello, (although I may be slowly be turning his and others' perception on that one) – so why should anyone care about little bitty Tuck Tuck?
Well you could do a lot worse than a enjoying the counting stats of a guy hitting in the middle of the seventh most productive lineup in the bigs, plays in one of the best hitters' parks in the game, and seems to have a clear path to regular playing time as he's competing against two fourth outfielders disguised as starting material (Rasmus and Marisnick.)
Okay, so has that wet your appetite just a little?  You now may be questioning "Well can this punk ninja wannabe keep that coveted position in the lineup?  How could he?  I never heard of him so he can't be that good."  Well my imaginary dubious friend, a quick look at his minor league productivity shows that actually is quite good, he's just been under the Greydar so to speak with a career minor league slash line of 296/365/507 and cumulative K rate of just 16.4%.  It's my impression that MLB teams waited to draft him until the 7th round of the '12 draft to grab him not because his blade wasn't sharp enough at the dish, but because he's kind of short and chubby and doesn't run that well for an outfielder (if only he looked ran and threw like a young Billy Beane… sigh) So let's take a look at this swing already and see if he's got solid mechanics to survive continued exposure.
Here is one of his first big league hits.  If you read my Chris Colabello Fantasy, you'll notice that I like to break the swing into three universal parts: stance, trigger, and swing path.  Since I can't compare Tucker to a former version of himself like I could with Colabello, I can still do some fun things by analyzing his swing on its own merits and also seeing if I can find another player with similar mechanics to compare him to, as presumably we could infer his future productivity on the other player of similar ilk's past production.  So I started with the basics and looked at his stance carefully whilst keeping in mind his old nickname and Japanese idolatry, and the cutziest comp came to mind: Hideki Matsui.  Let's take a closer look.
Stance.  Very Matsuiesque – I can see where the scouts came up with the samurai term now as they also probably made this connection and are clearly just a bunch of racists (prolly not but isn't it fun to arbitrary accuse people of being a racist – it could go terribly, or you might be on to something, either way, it gets people's blood pumping and they realize that they're still alive to fight the zombies).  But I can see the samurai stance as he holds his hands at about shoulder-height elbows are ever so slightly bowed out – just how I remember all the samurais doing it in the movies – and also like Jung-Ho Kang's stance (Dave, you're such a racist for drawing that reference – stop yelling at me self!  Ahhhh alive again, see).
For the hell of it, I googled Samurai stance and found a random samurai blogger who advocates this stance with the best animation ever, which reminded me of Albert Belle.   From a mechanical standpoint, this type of stance is fine as long as the hands don't get too far away from a the body, which could cause an arm bar (a fully straightened front arm elongating the swing), or other inefficiencies.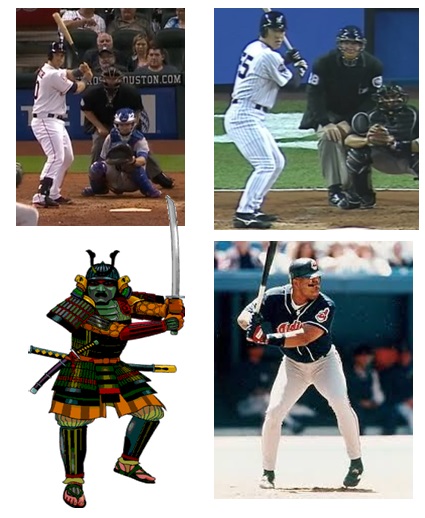 Trigger: Again, this is the point from which a hitter decides whether or not to swing and the starting point of the swing path.  From here the swing path should be as direct and forceful as possible to maximize the chances of hitting the ball hard.  A good swing path starts with a proper trigger position.: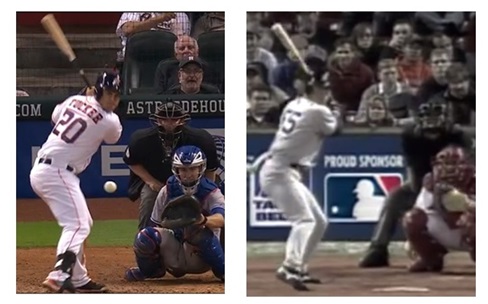 I feel like I'm putting you all in one of those tests of "find the differences between these pictures."  It is often hard to find, but the small differences can matter a lot in what we colloquially call a game of inches.  Between Tucker and Matsui, there are a couple small but important differences worth discussing.  First, look at the vertical bat angle; Matsui's splits his head, which is a classic angle you see from a countless list of power hitters.  Tucker's meanwhile is lower, at about a 60 degree angle behind his head, which as I discussed in the Colabello article, could subject him to a hitch and another problem I'll describe in more detail below.  However, the bat angle at the trigger position is fine in and of itself as long as he goes straight from there to the ball on his swing path.  Also, it's worth noting that his bat angle isn't that much different from Matsui's but it looks more exaggerated because he shifts his entire upper torso further back.
Speaking of this upper body rotation, there actually is a significant difference between his and Mastsui's.  You can see both numbers on his back and his front shoulder comes under his chin (did you catch those?) but his hips and lower body remain similarly positioned to Matsui's.  While Matsui took a more conservative approach with less upper rotation limiting what could go wrong, Tucker's added rotation essentially adds more draw to a rubber band theory that Kris Bryant interestingly discussed of generate additional bat speed by swiftly rotating the torso/hands to catch up with the firing of the hips.  As you'll soon see, Tucker enjoys outstanding bat speed from this approach, however one should keep in mind that the additional upper torso movement may be difficult for him to control at times making it hard for him to check swings and limit his Ks.
Swing Path: Now this was truly fun.  For Tucker, I just played the video referenced above and clicked pause right as I saw him accelerating his swing from the trigger to the point of contact.  His bat moves so fast to the ball from the trigger that it literally looks like the Flash as his hands follow his hips to the ball snapping the rubber band.  What I really like here is that he shows his capability to wait until late in the pitch's path to commence the swing, then explodes his hands into the zone.  Additionally, waiting to the last second allows him to sit back on off-speed offerings and lay off pitches he doesn't like at the last minute, which explains his excellent OBP thus far in his career.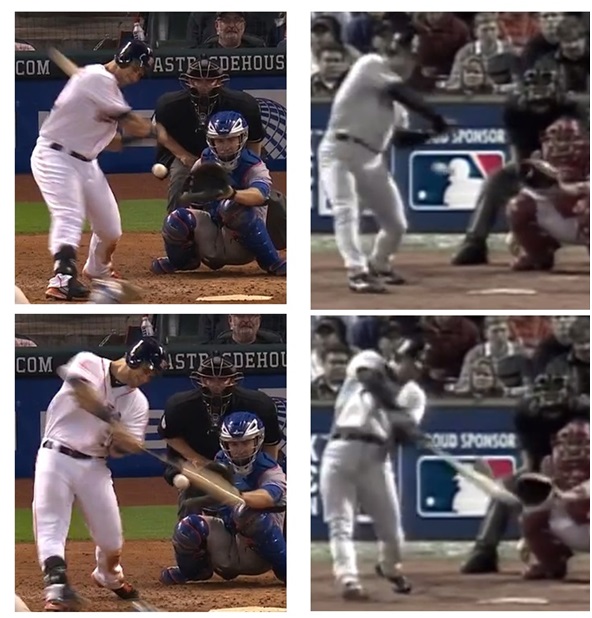 Also notice that in addition to keeping his hands back, like Matsui he successfully keeps his weight back and then centered while avoiding jumping out onto his front foot as anxious youngsters sometimes fall victim to doing.  Ultimately, he nears full extension and a stiff front leg at the point of contact with his weight perfectly balanced (just like Matsui), a swing lover's wet dream.   Keeping his weight back may also help him hit lefties, as he doesn't have to commit early to a pitch harder for him to pick up out of the pitcher's hand.  The other night he weighted back and crushed a fastball from Britton to deep left that Lough made a nice play on to end the game.  It seems like the Astros have noticed this in his approach and it appears that they already prefer using him over Rasmus against lefties.
A Potential Trigger Problem he Needs Avoid: There is a risk with Tucker's approach worth noting that he's not currently falling victim to, but that is driving me crazy with two name-recognized players.  As mentioned above, you'll notice that his vertical bat angle in the trigger position is roughly between 45 and 60 degrees.  Many big leaguers, especially power hitters, hold the bat more vertically (between 60 and 90 degrees) while cocking their wrists toward the pitcher creating "radial deviation" that allows them to snap their wrists during the swing path creating a whip-like effect.  This becomes easier to view when looking at a trigger position from the side – Here is a shot of healthy radial deviation in Matsui's highlighting his cocked wrist and forward tilting angle of the bat toward the pitcher.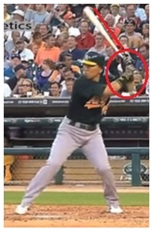 The whip effect and can add lots of extra force at contact without compromising swing efficiency if the bat is cocked on more vertical plane.  However, if someone who doesn't hold the bat vertically tries cocking his wrists, it will create the problem known as "bat wrap" which is a huge inefficiency as the batter would have to pull the bat head back around from behind his helmet in order to reach the ball.  So let's see how Tucker looks in this respect from the side angle: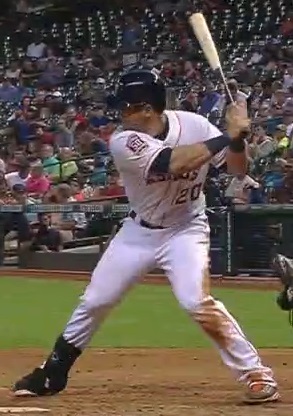 Currently, Tucker looks perfectly fine with a very slight wrist cock and still a quick path for the bat head to get to the ball.  Now it's hard to find examples of Major Leaguers falling victim to bat wrap as they probably wouldn't be able to survive with such an inefficiency, but fear not friends, a couple have ominously gotten away with it for years with no sign of correction in sight:  Wil Meyers, who has a mild one and Carlos Gonzales, who has an atrocious one.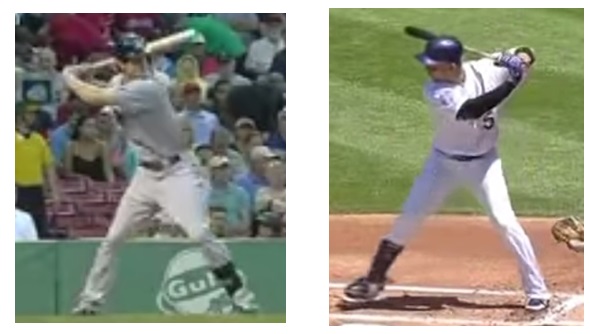 The only reason I can surmise that they successfully hit while doing this is that they're just specimens of human beings and their natural hand speed is so incredibly quick, they can overcome the additional length it takes them to get the bat head to the ball.    A lot of people wonder what's new that Cargo is doing wrong this year as he's barely a Mendoza hitter.  There's nothing new the matter with him – the picture I used above is from 2013 when he was raking and the footage from this year looks the same.  The problem is the same bat wrap he's had his whole career.  He's just getting older and his reaction time and fast twitch firing might not be what it was a few years ago.  Also, the cold, damp climate that Denver has had for basically all of the Rockies' home games has likely prevented him from feeling as loose and relaxed as he needs to be in order to quickly unwind his wrap (remember he's from Venezuela – where the Devil sends people from hell for extra punishment).  Ultimately, this leads to him not getting the barrel into the zone on time and hitting the ball too early in his swing.  This explains his career high ground ball rate as he's still driving his hands down toward the ball not having yet reached proper extension.  He's still only 29 with plenty of athleticism left in him, so as the temperature warms up this summer, I expect that Cargo's numbers will too, but for the sake of his longevity as a premier player I hope he corrects his extreme bat wrap sooner than later.  Unfortunately, I doubt he'll ever receive this advice from little 'ol me, and even if someone in the Rockies organization reads this, s/he might be be too intimidated to tell a former MVP caliber player that's his swing has been inefficient all along.   Hmmmmm.  Maybe shouting will work: CARGO, PLEASE LISTEN AND ELIMINATE YOUR BAT WRAP – I OWN YOU IN TWO LEAGUES AND HAD FORGOTTEN ABOUT IT WHEN I DRAFTED/TRADED FOR YOU!  IT'S NOT YOUR FAULT I OWN YOU, BUT HOW BOUT YOU DO ME A SOLID?
I can only imagine the elite levels Meyers and Cargo could (re)ascend to if they just make this slight adjustment to their swings.
Conclusion: Tucker clearly has a very nice swing and I don't see any major red flags like bat wrap, which I'm still calming down from thinking about.  He's got great rotational torque built into his trigger position and he doesn't aggressively shift his weight forward allowing him to fire into the zone with a healthy, balanced swing path.   He's already physically matured, so he should be ready to supply power numbers immediately and for a long time in Houston's friendly confines.  This essentially makes him the anti-Christian Yelich, thus I'll take some Moor of him (oh I kill myself).  While I'm not concerned about his mechanics inhibiting his performance, his current role in the three hole might take a tole on the psychological (see what I did there?).  Fortunately, based on some of the swagger he's shown already in clutch situations, Tucker might just live up to his old nickname and use the mental toughness of a samurai to pull it off.  For those of us who give him a shot in deep leagues, he may just serve as the dark horse prospect we can ride to victory.