This week I'm making a little one-week tweak to the Creeper of the Week and going with Creepers because we have something that doesn't always happen. What is that Big J? Well eager reader, it's a seven-game Monday-through-Sunday home series for the Rockies. By my count, this will only happen three times this season. The hard part was finding an under-owned player not taken on the Rockies playing everyday, and it's so barren right now that even the French DJ is over-owned to qualify for this post. Hey there French DJ can you drop me a cut for this creeper post? Very nice, old school, but isn't that a little too obvious? I get it, you are on the 1's and 2's, so the choice is yours. Can I at least get one cut with a baseball name in the title? What's that? You don't do requests? Sheesh, that Charlie Blackmon ego is rubbing off on your euro sensibilities. Forget about it, let's move on to the reason we are here.
This week we have two corner infielders coming to town that are heavily under owned. The Padres Will Middlebrooks (0.8) and the Giants Casey McGehee (1.3) are going to Denver where the Coors correction makes everyone Bichetter. At least on paper they are. According to the Hitter-Tron Middlebrooks has an average dollar value of $32.87 and McGehee has an average dollar value of $15.9. Middlebrooks gets two lefties and for as bad as his career has been, he's managed a .261 average and 11 HR's against southpaws in 261 AB's. McGeHee, on the other hand, has fared a little better in his career against right-handers (0.21 points higher), but also gets two lefties. Regardless, I always love the lefty/righty matchups in that thin air. On the year, he's been pretty putrid with his 3/1/2/0/.217 line, but don't be scared, Coors can be that tall can of boost to a slumping player. Middy, on the other hand, has been showing a little more life with his 4/2/6/1/.244 line, and with him batting either 5th or 6th gives me the confidence fuzzies. If you just lost David Wright, this might be the temporary band aid combo you need as you try and batty call away your bad fortune.
Frankencatcher – Last week I went with the Hitter-Tron and it didn't go so well. Chris Iannetta totaled three runs so far and looks awful. Oh well, I'm moving on. I'll be honest, it's not easy trying to make a one week catcher call. The best plays can be daily. Obviously based on what I wrote in the paragraph above, Nick Hundley (7.0%) gets a full week at home where he has been awful in the small sample size. He gets all righties which is good because his career splits favors them .253 to .198. If you aren't feeling him, and no, I don't mean like that you handsy bastards, you can go with the hot-handed Robinson Chirinos (0.3) or Caleb Joseph (3.8). The deep call I like is the zombino backstop A.J. Pierzynski. He has been mashing in his limited playing time but if you look at his three year splits, he hits the most dongs in April and August. Might be worth it if you can add him in when you see Christian Bethancourt has an off day.
Top-100 Hitters for Week 3
Carlos Gomez to the DL hurts a lot. He is still a top 20 player ROS and will be returning to this list as soon as he gets his butt back on the field. David Wright and Alex Rios are in the same boat. When they get back on the field they will also get back on here. Don't go do something crazy and trade them for 50 cents on the dollar. It's the game we play so be patient.
I'm so high on the LoCain right now that I even dreamed about him to one of my favorite Johnny Cash songs. Early one mornin' while makin' the rounds, I took a shot of LoCain and shot my opponents down, I went right home and I went to bed, I stuck that lovin' forty-four beneath my head.
Hanley is hitting so enjoy it while you can, I can guarantee you he will be on the DL at some point. It's what he does and does very well….unlike his defense.
Lots of players are off to ho-hum starts, so please, do not worry… I believe that guys will get their numbers at some point and you just need to be patient. If you are in H2H, it can be extra maddening, but that is the punishment you chose. I'm actually in my first H2H league in years this season and all I can do is wonder why did I play this god awful format? It's the worst thing since the shift.
I had to throw Devon Travis in here. I recommended the kid as a late round flyer before the season started and have watched him a little and I'm f***ing impressed. If he loses his job to the man I can't even bring myself to mention, for fear of the jinx, then I might end up pulling my beard out.
Man I love Steven Vogt and would love to put him on this list but he's a catcher and I cant do it. I hate that position and you should never trade for it. If you are in ESPN he just got catcher eligibility and should be owned…by you.
The Marte PartAy is getting started or as he was referred to in the comments yesterday Marte Gras. Keep it up Starling and you will make a jump up.
If some of these guys don't start hitting I'm feeling a major change to this top 100 next week. I'm looking at you Kipnis, Dozier, Andrus and Ozuna to name a few.
Chris Carter and Brandon Belt are working really hard to join Shin-Soo Choo on the not 100 list. I'm giving Belt a little pass as he works back from his groin injury. Hurricane Carter on the other hand is dormant right now but he will be back…I hope. Actually, I own zero shares of him in the hopes I can get him when a disappointed owner drops him and I grab him when he goes on one of his streaks.
Kris Bryant has arrived…with a flury of K's. It's okay Bryant owners, he's a bad a** and will be dropping bombs soon enough. Looks like he broke his bat and blooped a single for his first hit and RBI.
Steven Souza stopped pressing and went back to what we all thought he could do coming into the season and returns to the list. I must of hurt his feelings last week. The hate worked! He needs a cool nickname for that 20/20 he should (hopefully) deliver and since I'm the resident Mexican I'm going to call him Suavecito Souza.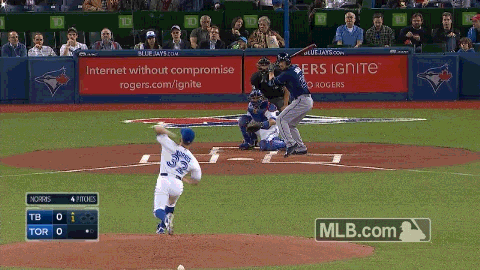 If you need an over the net friend you can follow J-FOH on Twitter