What are you all doing here today? It's Mother's Day… shouldn't you be getting out of the basement and going to pick up the pizza for her for once! Go put on your fancy sweatpants, you know, the ones without the hot pocket stains, and put on actual shoes. Slippers or flip flops are not okay today. Seriously, try and do something! Did you remember to write her a Dear Mama letter? What about being mothers little helper and taking out the trash or refilling her bourbon? There are lots of things you can do to help out your Mother. I know they like telling you what to do or what not to do, but sometimes that's just the way it goes. At least you know mama tried and wasn't just standing in the shadows… I hope. Let's be nice to her and  just lay off the yo mama jokes for the day? Cool. Oh, that's right, you are here for fantasy baseball and not just songs and jokes. Yeah I got jokes.
This week, the 1% owned Seth Smith takes thenter thage. Oops, that should say center stage. I was trying to be lisper friendly or maybe I was being insensitive? Doesn't matter, DGAF. I went over to our trusty sex bot the Hitter-Tron for a friendly consult this week as I felt a need to step away from an emerging Hot Schmotato or a Creeper rent to own. I want to give you an under the radar grab that should be there and has a knack for getting crazy hot out of nowhere.  Seth has Monday off so don't go out and add him just yet, you can just grab a random batty call. Starting Tuesday he gets a short series with his old team the Padres. I always love when a guy goes against his old team. He faces two right handers including Ian Kennedy, who he bats .300 against in 20 AB's with a dong. Following the friars he gets Boston and 4 more right handers to take a shot at. Okay, there is a good chance he doesn't play every day in this series but he has some good history against a few of them and that's what I like. Against Masterson and Porcello he has gone a combined 9 for 19 with a dong and 3 doubles. I know that's not over the top numbers but lets consider a few things about Smith this year. He's hitting .296 at home, he's hitting more flyballs (48.2% compared to 38.5% for his career), and his hard hit percentage is up at 44.1% (career at 30.8%). I'd also like to point out his career HR/FB is 11.6% and if you take his Colorado years out of that math, it's at 10.8% over the last three years. This year he's at 7.4% which to me says the dongs will be coming at some point. Now saying when is never easy to predict but that's why we do what we do. It's someone I like and will be looking at in deeper leagues or where the free agent garden is ravaged of all the schmotatos.
When I first decided to do Frankencatcher I couldn't imagine what a sizz show it was going to turn into with the injury bug this year. There is less sexy out there than the swimsuit portion of an octogenarian beauty pageant. If you are hurting, Mike Zunino (9.4%) is heating up lately and the same goes for Miguel Montero (13.2%). By sometime next week Jarrod Saltalamacchia should be up with the D-Backs and will be one to watch for those in two catcher leagues.
Top 100 Hitters, Week 6
DL – David Wright, Anthony Rendon, George Springer, Hunter Pence, Alex Rios
With high ceiling Yasiel Puig set to return this week he jumps back into the top 100. Unfortunately one of his high ceiling brothers George Springer goes to the 7 day DL with a concussion.
You can call me the jinxmeister and when it comes to Hanley Ramirez it's no secret he is one of my least favorite players on earth. By avoiding the DL he stays on this list but falls five spots with a shoulder injury. The same shoulder he has hurt in the past.
Little big man Altuve gets a big bump this week as I moved him up 8 spots as he shows us that the regression fairies might be taller than him but they can't stop his small man's complex on the diamond. It's not the size of the dog in the fight but the size of the fight in the dog that counts, or some bulls**t like that.
Carlos Gomez is starting to worry me. He comes back from the DL and now has a minor hip issue. Doesn't he know messing around with minors will get you in trouble. I'm starting to think he's off the BRAUNy juice this year and he is what he is, not a first rounder anymore.
Over the last two weeks Brantley Hitford has put up a line of 12/3/11/4/.400. Ah, so boring, so solid. Looks like that back issue is behind him and we should get those smooth steady days we all hoped would be there on draft day. Nothing flashy nothing damning.
Marte Party actually dropped his K rate over 6% the last week. He still has an insane HR/FB and that GB rate is very unlike him but he started stealing again and looks like he will be this seasons version of a roller coaster. They can be a lot of fun one minute then make you lose your lunch the next.
Dread Pirate? More like Dreading the Pirate, he's hurt and he's trying to play through it. I watched him a little this last week and its pretty obvious. If you own him I would try and find someone who never watches baseball to trade with.
The Wong is rising as he rushes blood to our head. Now if he can just lock down a good spot and we got gold Jerry! Gold!
I bumped up my catchers this week after being bearish about it. Gattis, Vogt and Martin deserve better than the usual catcher treatment. As I write this that trio has 6,7,and 7 dongs respectively. Yeah, you better respect the dong. It's better than a lot of other schlubs out there.
Am I the only waiting for the wheels to fall off Triple LINDy? This can't last or can it? His walk rate is up, BABIP is the same as last year, batted ball profile doesn't look too far off, his HR/FB was crazy low last year so this may be a return to norm, he has a job and isn't getting jerked around for once, and his wOBA is redonk. Will regression set in?…of course it will. He's not a .340 hitter, but a .290 season with 20-22 seems very doable.
GIF of the week is not a player but a commenter and is a commentary about how this Top 100 has gone for me at times this year. Nacho is a leaguemate and one of my favorite beer swilling comedians around here. He posted this last year in our league and I got permission from him to post it here. It captures how poorly I ranked some players this year and how damn off I was. If you need help with that, yes, I'm saying that's a swing and a miss by me on a few players. Hey nobody's perfect. BTW…Dude, totally looks like Brett Favre from behind. Am I right?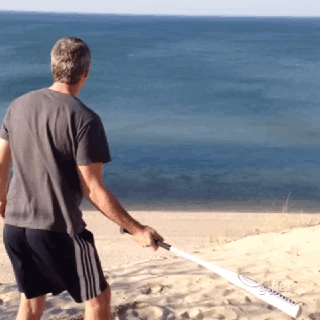 If you need an over the net friend you can follow J-FOH on Twitter.