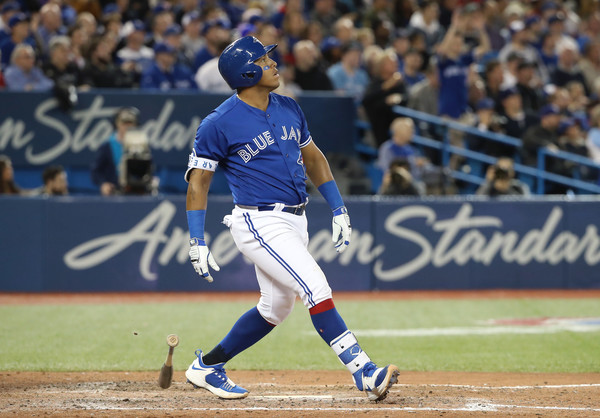 Solarte is breaking out all over! He's halfway to his career high HR total with 9 right now. He's a third of the way towards surpassing his career highs in runs and RBI. So what gives? Well Solarte has embraced the launch angle revolution and has dropped his ground ball rate by 7% from his career numbers. But this shouldn't have surprised us — every year it seems like Solarte has been hitting less ground balls. In the low minors he was hitting between 50 and 60% of his balls on the ground, in the upper minors he was hitting between 40 and 50% and now he's just taking his game to the next level. Maybe we just should've seen this coming?
Risers:
A.J. Pollock: This is the A.J. Pollock we were all promised in 2015. Pollock is currently the #4 outfielder according to ESPN's biased Player Rater and is the closest hitter to having double-digit HR and SB (10/8 respectively.) All Pollock owners are all collectively holding their breath in anticipation of this year's season-ending injury, but for now enjoy the ride.
Corey Dickerson: No one seems happier than Corey Dickerson to escape Florida.Of the big three outfielders who were traded from their Florida teams (Christian Yelich, Giancarlo Stanton and Dickerson) Dickerson has more hits, RBI and stolen bases. If he keeps this pace up he could end up in the top 50 completely eclipsing his current OF mate Gregory Polanco.
Fallers:
Marcell Ozuna: I don't know how much longer Ozuna's 2017 keeps him high on this list. Ozuna has 17 RBI which aren't bad, but the 2 HR, 9 runs and .263 average are really not looking good for a guy who was probably a top 5 round pick in your league. Ozuna is making hard contact on almost 50% of his balls put in play — but unfortunately he's also hitting 50% of his balls in play on the ground. He's pulling 44% of his balls compared to 21% going to the opposite field — I wish there was something I could pinpoint with Ozuna, but baseball is a crazy game. I think last year's .355 BABIP lead to a career high anomaly season. Before 2013 to 2016 his batting average was .265, .269, .259, .266. Last year? 312. This year? .263.
Brett Gardner: As of right now, Brett Gardner's batting average is under .200. His lowest batting average since his rookie season was .256. I think a bit of bad luck has befallen the Yankees leadoff man who is posting a 13.8% BB/rate, yet the highest strikeout rate of his career with a 22.5%. Could age be catching up with him? Maybe — he's an old 34 who seems like he's been playing so long that he's 44. More likely, his career low .259 BABIP is causing a bit of bad luck to affect his ratios. He, like Ozuna, is also hitting far too many ground balls: 51.2%. Maybe Gardy has lost a step at 34. When you're 27 you can turn some of those ground balls into hits. Turning 35 in August plus having an annually falling speed score is a formula for decline.
New on the Scene:
Michael Brantley: Maybe I was hesitant to rank him on account of he's always hurt. But I can't deny that .348 average anymore. He is putting bat to ball at an astonishing 94% contact rate and he's only drawn 3 walks and swung through 5 strikeouts. Michael Brantley has come to play and if he keeps making contact at that rate — he could hit over .333 on the year.
Kevin Pillar: Or as I like to call him — Diet Pollock. Solarte's teammate hasn't allowed his batting average to dip below .265 all year. This is being fed by a .354 meaning Pillar could be a sell high candidate for you. However, Pillar has been making excellent hard contact so far this season seeing his 27.3% last year to 36.9% this year so maybe all that time getting swole is paying off. Pillar has never hit over .280 at the major league level so I think some correction is coming — but he did have a 15/15 season last year making him a valuable 4th OF for you.
GREEN: Rising | BLUE: New Additions | RED: Falling
Top 100 Hitters
Let me know what you think in the comments below!
There were a lot of new arrivals because eight players in the top-100 from last week went on the disabled list!