Happy Bryce Harper Replacement Week! :::sobs into the couch cushion I have been carrying around since watching the video of Harper tumbling over that base:::
The cruel baseball gods took Harper away from us just after we got Trout back. As of this writing, there is no timetable for his return from what they are calling a "significant bone bruise." I'm no doctor (sorry to peel back the curtain), but how the heck did that non-contact injury get a bone bruise diagnosis? I thought for sure he tore every CL in his body. I wouldn't have been surprised to hear that he tore his UCL from reaching for his knee so fast. But a bone bruise? Interesting. Let's just hope he wasn't evaluated by the Mets' training staff because "bone bruise" is going to very quickly become "Oh crap, his knee actually isn't there anymore. We can't find it anywhere."
Now, there is no replacing Harper's production on your fantasy team, especially in the middle of August. That much is obvious. If you're lucky, you took Grey's advice about selling a superstar to heart and cashed in at the deadline. I have Harper in a keeper league where I currently sit in first place, so I have to decide if I want to deal him now to make a playoff push, pray he comes back this season and helps me, or just accept the fact that he is done for the fantasy season but still keep him for next year. I am probably going with option B/C, if we're being honest with each other here.
I'm removing him from our beloved 100 while we wait to see how he looks this week. Hopefully, the baseball gods decide to heal him from his mystery bruise quickly and we can have him back. But it seems more likely we are going to be without him for most, if not all, of the fantasy season. Now, enough crying about Harper (at least publicly). Anyway, to the notes…
The Razzball Commenter Leagues for Fantasy Football are now open! Take on your favorite writers and other readers of the site for a chance at prizes!
Nolan Arenado – Deep breath. X-Rays on his hand came back negative. That is the good news. The bad news is that hand injuries are never good news. Luckily, he was hit by a Vance Worley fastball and not someone with a real fastball. A

fast

fastball, you might say. :::insert laughter reel here::: Anyway, it sounds like he is going to be fine.
Willson Contreras

– Heads to the disabled list with a hamstring injury just as he was becoming the Girl on Fire. 10 home runs and 29 RBIs to go with a .311 average in the second half, what a tease! Sounds like he could be out for a while, so it's back to Frankencatcher streaming.
Joey Gallo

– I went on the

Friends With Fantasy Benefits podcast

last week, and Gallo is one of the guys we talked about. You could lose a day in this kid's Fangraphs page looking at his ridiculous peripherals. He either strikes out, walks, or homers about 60% of the time. For realsies, almost ? of his at bats end in the ball not being touched or going over the fence. The good news is that he has been crushing it lately. His batting average isn't going to help anyone, but 32 long balls sure will. If you're in OBP or OPS leagues, even better. While the Hard%, HR/FB%, and FB% numbers are fun, his BABIP surprised me at just .235. You would think that a guy who makes that kind of contact and puts the ball in the air would have better luck.
Nelson Cruz  – Your PR15 champion, with a smooth 12.88. Seven home runs and roughly a gazillion RBIs. He's doing his usual Cruz thing except he is about to easily set a career high for RBIs at age 37. Dude is aging like a fine wine. Who retires first, Tom Brady or Nelson Cruz?
Andrew Benintendi – Coming in at third overall in PR15 with an 11.96 (Giancarlo Stanton is second and will probably be first by Monday or Tuesday). The Great Bendini had fallen off a bit in the dog days of summer, but he is now getting hot at the right time. He went long ball twice against the Yankees the other day and also stole a base in four straight days. I told you guys to hold on him when he was struggling, so hopefully you took that good advice.
Eddie Rosario – If we're going to stream some Bryce Harper replacements, can I interest you in some Eddie Rosario stock? His 7.68 is the 17th best PR15 in baseball, and he has five home runs in the last seven days. The Twinkies are hot, and he is hitting .293 on the year. He's not going to replace Harper, but he's a streaming option in the short term while we piece this thing together. Oh, and just a 15.6% ownership in ESPN leagues.
Melky Cabrera

– His ownership is still below 75% in ESPN leagues, but he has been doing his usual thing at the plate (except for that year he did something very different). He's 23rd in PR15 and should provide some vanilla production for you as a Harper replacement while not really killing you in any category. As just a guy, he's fine.
Jarrod Dyson

– I added Dyson to the Top 100 as a straight SAGNOF pick. 6.18 PR15 is nice, but it's the steals we really want. I have been rostering him in a few leagues since April or May just for the steals, and he has served his purpose. He won't do much else, but he also isn't going to kill you. He is amazingly owned in just 19% of ESPN leagues, which is pretty remarkable. More people can't use a guy who is going to steal 35+ bases? Come on.
Note: These rankings are considered ROS Trade Value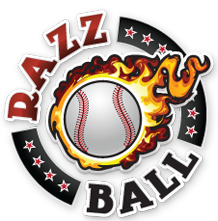 Mike Maher's Top 100 Hitters
(Rankings based on 12-team Roto. GREEN = player rising. RED = player dropping. BLUE = new to the Top 100 or Honorable Mentions.)
The Honorable Mentions (Next Five In…)
Dropped from the rankings: Bryce Harper, Willson Contreras, Gregory Polanco
As always, disagree with anything here? Have any questions or comments? Want to tell Mike how great he is or how much you agree with him? Want relationship or investment advice?
DROP THOSE COMMENTS!
If you want to talk fantasy baseball or football or have players you want Mike to feature, hit him up on Twitter at @mikeMaher or post a comment below!