My 2018 fantasy baseball season may be over, but my 2019 fantasy baseball season has just begun! Justin Mason of Friends with Fantasy Benefits is hosting a series of #2EarlyMocks with fantasy baseball analysts from around the web and he was kind enough to invite me to participate in one of them. For me, it's never #2Early. Hell, I'll do a mock draft for 2024 if anyone is willing to host one! I'll be taking Blaze Jordan #1 overall!
Below you'll see the first 7 rounds of the 28 round draft. I was assigned the 1st overall pick — which for round 1 (in my opinion) is pretty boring. However, from there it gets interesting — you have a long time to wait and watch a lot of baseball's top 20 players go off the board. I've included each selection's 2018 ADP ranking so you can see who has gained/lost the most value. Something to note — the number I've written below isn't their actual ADP — just the rank that ADP falls among all players. For example, Christian Yelich's ADP was actually 41.3, but that leaves him ranked as the 40th player taken off the board — hence the 40.
Round 1
My pick:
1.1 Mike Trout, OF, LAA: Boring, easy pick here. In most of these early mock drafts Trout has been taken first overall. However, there was one maverick out there who took a chance on Jose Ramirez at #1. There are some detractors out there who don't like that Trout has missed games each of the last two seasons, but in 2018 Trout only has 5 less plate appearances than likely AL MVP Mookie Betts. Tristan Cockcroft released his early top 300 for 2019 and even listed Mookie Betts #1 over Trout. All three of these guys are 30/30/.300 threats with 100+ runs/RBI as well so you can't go wrong with any of them — however, Trout has been performing at this high level longer than Ramirez and Betts and still is just entering what is considered other players' peak at age 27. Imagine if Trout hasn't reached his peak? Terrifying.
Other Interesting Picks
1.4 Jose Ramirez, 3B, CLE: The biggest value gainer in the first round, Ramirez has earned every bit of that ADP gain. Who would've thought a little 5'9", 165 pound guy would flirt with going 40/35 in his age 25 season? The only thing slightly holding Ramirez is his .274 AVG, but if your league has made the proper change to OBP, then the 106 walks that have boosted his OBP to .390 are a welcome sight. Unless the Indians re-sign Josh Donaldson, then Ramirez will probably only have 3B eligibility in 2019 — not too big of a deal, but you would still like that flexibility.
1.11 Bryce Harper, OF, WAS: What a weird season for the wunderkind. He finally broke that 100 RBI plateau, lead the league in walks, is only two HRs behind the NL leader yet as late as July 28th he was only batting .218. The biggest thing to watch this offseason is the final destination for Bryce Harper. He controls his own destiny and will make certain he finds himself in the best possible lineup he can. If Brian Cashman can finagle the Yankee roster to free up an OF spot for Bryce, then you are talking about your 2019 AL RBI leader.
Rounds 2 & 3
My Picks:
2.24 Christian Yelich, OF, MIL: The 2018 NL MVP just happened to fall into my lap. I was really hoping Trevor Story was going to slip a bit, but I should've realized that I'm drafting where the big boys play. Yelich is flirting with hitting for the Triple Crown as I'm writing this. He already has the league lead in HRs and AVG — but needs to knock in at least 3 RBI to pass Javier Baez. The biggest surprise about Yelich's numbers this year are the HRs. Yelich has a 51.8% ground ball rate which has him ranked 12th in the MLB. Imagine how many HRs he'd have if he'd embrace the fly ball revolution. My take: keep doing what you're doing, youngblood. It obviously works.
3.25 Aaron Nola, SP, PHI: Nola should have at least one Cy Young award on his mantle by the time his career is over. Over the past three seasons, Nola has maintained a consistent high 9 K/9 rate, solid mid 2's BB/9 rate and dropped his H/9 by two hits this year. He's also seen his swinging strike percentage go up every year he's been in the league (11th in the league this year) while also increasing his first pitch strike percentage (3rd in the league this year.) This is the trajectory of a current and future fantasy ace — I think Nola can finish 2019 as a top-5 fantasy starting pitcher (again.)
Other Interesting Picks
2.13 Ronald Acuna Jr., OF, ATL: Don't need to go much further than the first pick in the second round to find a huge gainer. Not that any of us should be shocked at all — Acuna has been everything we expected him to be as the #1 rated prospect going into the season. Extrapolate Acuna's 430 ABs this season into a full 600 AB season and you're talking about a 108/36/88/22/.293 line. And the kid can't even legally drink until winter.
2.18 Jose Altuve, 2B, HOU: Altuve didn't necessarily have an awful season — just disappointing. When you have expectations for a #2 overall pick and reigning MVP, it had to be hard for Altuve to live up. Altuve still finished 4th in batting average in the entire league, but his 13 HRs/17 SBs left a lot of fantasy owners wanting more. Maybe there was a little post-World Series exhaustion? In total, he made 742 plate appearances from Opening Day until game 7 of the World Series. I think we can count on the ultra competitive and consistent Altuve to return to form in 2019.
3.33 Carlos Correa, SS, HOU: When are we going to get that Alex Rodriguez MVP caliber season from Correa? 20+ stolen base threat? Gone. 30+ HR threat? Haven't seen it yet. He just turned 24 and there's still plenty of time for him to achieve the expectations placed on a #1 overall pick, but this season has to be discouraging for Correa investors.
3.34 Juan Soto, OF, WAS: And then there's the other NL Rookie of the Year candidate. I'll admit it — I'm still shook that the Nationals called up the 19-year-old Soto as early as May 15th (or was it May 20th???) Over his first 61 games, Soto made the Nationals' front brass look like geniuses: 43/13/36/2/.313/.985 OPS. August brought him down to human levels with only 3 HRS and a .255 AVG/.800 OPS. Then, in the last month of the season, he's was crushing again: 6 HRs/.283/.908. I like Soto's debut season — but I'm a bit more wary about his sophomore year than I am Acuna. Both guys are going to be adjusted to and need to make their own proper adjustments.
Round 4 & 5
My Picks
4.48 Matt Carpenter, 1B/3B, StL: This is where the real question mark picks started happening — starting with my pick of Carpenter. Which Carpenter will you get in 2019? The one who was flirting with the Mendoza line at the end of May? Or the one who hit 28 HRs/.302 from June 1st to August 31st? Or again — the one who hit .170 in September. I'll admit I'm not totally in love with this pick for H2H leagues — but in roto a 110/36/81/4/.258 line is really not that bad. Just hope you're catching summer Carp and not spring/fall Carp.
5.49 Charlie Morton, SP, HOU: Did I just overpay for a soon to be 35-year-old, oft-injured starting pitcher coming off a career year who is a free agent at the end of the season? YEP! I was really hoping Trevor Bauer would fall to me — but he was taken just two picks before my pair of picks. With James Paxton, Jameson Taillon, Zack Greinke, Stephen Strasburg and Madison Bumgarner going off the board in the rest of round 5 — it's almost like my fellow drafters were mocking me. The 15 wins and 10.8 K/9 are nice, but Morton will have a hard time repeating this performance in 2019. We all make mistakes!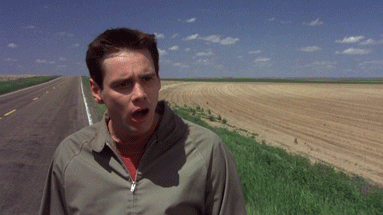 Other Interesting Picks
5.50 Vladimir Guerrero Jr, 3B, TOR: Whoa! A player goes off the board with 0 major league ABs. How deserved is it? Well let's start by talking about Vlad's 61 games at AA. All he did was hit 14 HRs and bat .402 in 234 ABs.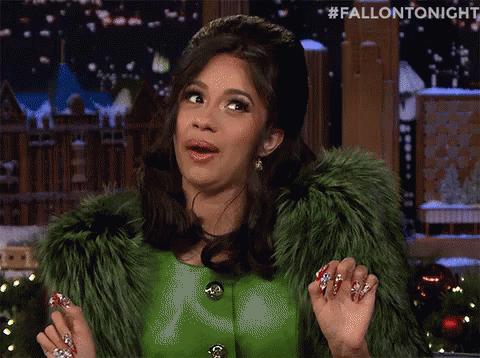 I'd say that's deserving of a promotion…to AAA. Well in the 110 ABs there he hit 6 HRs with a .336 AVG. Well clearly the Blue Jays must've had someone playing third who was deservedly blocking Vlad, right? Oh…Blue Jays third basemen hit .224 with a .665 OPS all season? Hmmmmmm…
5.53 Gary Sanchez, C, NYY: Hol' up. This the same Gary Sanchez that hit 33 HRs with a .278 AVG in 2017? His .186 AVG this year had him tied for second worst in all of baseball. Thank God for Chris Davis. This doesn't tell the whole story, but when you're only going to the opposite field on 18% of your contact your opponent is going to wise up. Hopefully Sanchez takes this offseason to sort his life out. Would I feel comfortable drafting him at 53 overall? Not until I see some spring training adjustments.
5.54 Joey Votto, 1B, CIN: To call Votto's 2018 a disappointment would be an understatement. 12 HRs and 67 RBI are the lowest he's reached in a season where he's had at least 450 ABs. The .400+ OBP we've come to expect from Votto is still there — but you have to believe Votto was nursing an injury or was cursed by a witch or something in the offseason. I think Votto will bounce back to his normal 25+ HR 90+ RBI self in 2019 so I'm okay with this discount.
5.58 Eugenio Suarez, 3B, CIN: A guy who often goes forgotten and underappreciated, that trend continues with Suarez going 58th overall. He's seemed to improve in each of the past three years finally topping 30 HRs and 100 RBI in 2018. With a healthy Nick Senzel and Jesse Winker and a hopefully rejuvenated Joey Votto in the Reds lineup — I think Suarez is due for another statistical step forward in 2019. Maybe even garnering some MVP votes while he's at it.
Rounds 6 & 7
My Picks
6.72 Mitch Haniger, OF, SEA: Haniger was someone I was actually considering in round 5 when I took Matt Carpenter so when I saw he was still there I had to pounce. Here's what I wrote on my Twitter, @KerryKlug: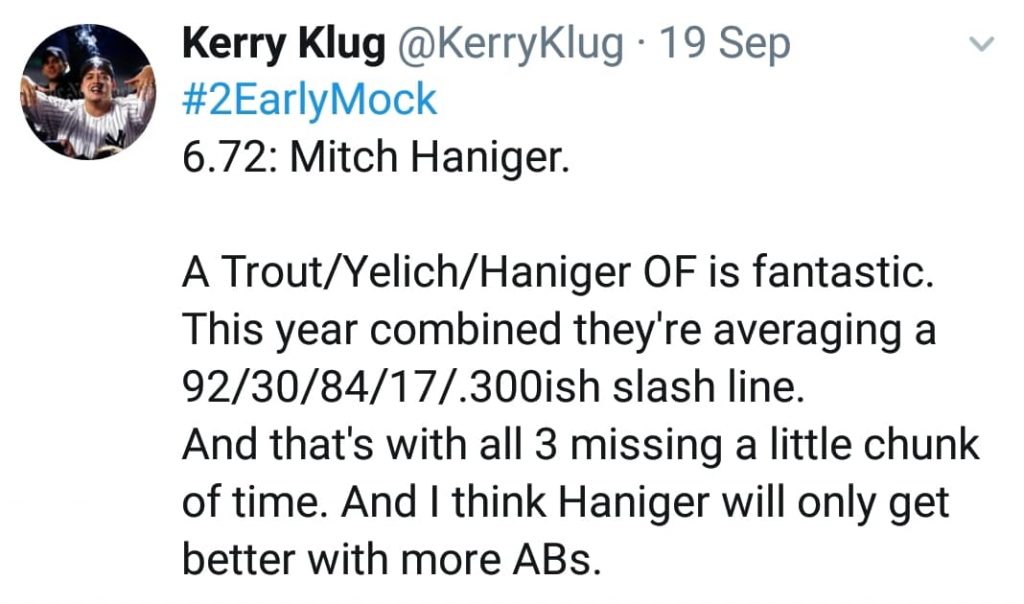 7.73: Mike Foltynewicz, SP, ATL: 7th round for a guy who put up double-digit wins, a sub 3.00 ERA (3.37 FIP) and 200 Ks is a steal. Folty increased the usage of his slider while increasing the velocity on both that slider and his fastball. His slider was one of the best in the league this year ranking 4th in total runs saved per 100 sliders. If he continues to up his usage of that slider — he'll be even better in 2019.
Other Interesting Picks
6.62 Corey Seager, SS, LAD: This could be a great discount considering Seager was the 34th player off the board in 2018. The questions are obvious here — with Seager missing all but 26 games this season due to Tommy John surgery — how will he recover in 2019. I've always thought Seager was a bit overrated for a guy who might not reach 30 HRs and has 0 speed to speak of. Pick 62 is about where I think he should be going every year. If he takes another step and proves me wrong — then good for whoever drafts him at this discount.
6.63 Dee Gordon, 2B/OF, SEA: After stealing 16 bases throughout the first two months of the season — Dee stole only 14 bases in the final 95 games of the season. Peak Dee is only a 3 category player at best — what happens when 2 of those categories are average and his 1 elite category wasn't what it was supposed to be? Dee has led in caught stealing for all three of his past full seasons. Is this because of injuries? Or has Father Time finally caught up to Dee Gordon who will turn 31 early in the 2019 season? Whatever the case may be — I want nothing to do with Dee.
6.64: Jesus Aguilar, 1B, MIL: Aguilar hit 40 HR with 114 RBI in 655 AAA AB in 2016 so maybe we should've seen this coming more. Aguilar does strike out a bit, but throughout his career it's never really been something that has been a huge drain on his batting average. I think you can go into 2019 pretty confident in a similar (if not better) 2019 for Aguilar.
7.76 Jack Flaherty, SP, StL: What a debut season from Flaherty. 148.1 IP, 3.16 ERA (3.86 FIP, 1.079 WHIP, 10.9 K/9. Oh, did I mention he's only 22? As he learns to pitch year-by-year there is Cy Young potential in his arm.
Next post will be the 2nd half of the mock draft.
How's my draft going so far? Leave a comment below to let me know!