Hey, it's Memorial Day weekend, so I assume most of you aren't here. I guess I'll be chatting with some of our playas' from Europe and that New Zealander Steve. Damn, that came out like I'm hatin' on Razzballs good buddy Steve. Sorry Steve, we miss you. With this title you might think I'm going to play a bunch of jazz tunes and that would be the most logical place to go, but not in the stream of confusion of my  mind. Of course I started with Dizzy from one of my favorite jazz albums, but then my mind took an odd turn to Herbie Hancock and how this song changed a lot of musical perspectives for me. After absorbing all of that I fell deeper into the funk and the brilliance of the godfather of soul's backing band (now there is some dancing I want to see come back). Oh, that sweet sweet soul music from the Baby H to the contemporary Charles Bradley and Lee Fields. Now along the way, I had the local LA underground hiphop scene to deliver rare gems like the Breakestra, and speaking of hip-hop, I have to wonder what the world would be like without Herbie Hancock. Now, you might be asking yourself what this has to do with todays creeper or top 100, and all I can say is my mind is a place and I'm letting you step in it for a few. I also know you guys like talking about music so WTFN.
This week, the left-handed hitting Conor Gillaspie (1% owned) gets 8 games (7RH, 1LH) in 7 days against 3 different teams. Opening the week in Toronto for three, going to Baltimore for a Thursday double header, then off to Houston to close out the week. Opportunity, opportunity, opportunity! I'll be honest, I wanted to tell you to grab Adam Eaton, no not like that Happy Vegans, as in add him to your team. He's still only 18% owned. What I'm saying here is, he is getting back to being the player that scores runs, hits for good average and steal some bases. Sorry about that, getting off the soapbox now. Conor is never a season long rostered play. He's not that sexy…of a player, his looks are up to you. Last year he hit .282 and gave you 7 dongs and this year he looks like that .280ish year is not going to happen if he can't cut the K-rate (it's up 5%). Then why even suggest him you hack? Because I like him this week. I got the nod by the hitter-tron ($8.5), I like the parks he's playing in, I like some of the pitching match-ups he get's and Jeff Lynn told me to when I was listening to telephone line on the couch last night. The parks are all lefty dong friendly, hehe, they had HR% of 3.70% (4th), 4.17% (1st), and 3.34% (4th) over the 2013-14 seasons. Yummy! I like his match-up's in Toronto because he has already homered against Hutchinson and gets flyballer E S T R A D A. In Baltimore he gets Bud Norris (4/8 career against) and a TBD. I'm assuming he only plays one of these games but I would still gamble on him playing both. Closing in Houston he gets his lone lefty for the week, Keuchel, but also gets rookie McCullers and Hernandez (1 HR against). He is definitely worth a look in deeper leagues and can be a nice batty call option on certain days this week. I hope some of you were able to play my creeper Ryan Howard last week. He's been my best call all year by going 10 for 26 with 5 runs, 3 HR's and 5 RBI's not including what he does today. I'm such a Barry Horowitz right now.
If you are looking for a catcher, I would ride James McCann, he's hit safely in 7 of his last 8 games, gets every 5th day off and isn't going to hurt you. You could do worse right now so if you just lost Yasmani Grandal I would jump on McCann right away while he's still hitting. His 9/2/10/0/.299 line over 87 AB's is nothing to blow off. We good here? Cool. Moving on.
Top-100 Hitters, Week 8
DL – Jacoby Ellsbury, Yasiel Puig, Jose Reyes, David Wright, Corey Dickerson, Devon Travis, Anthony Rendon, Jean Segura, Alex Rios, Wil Myers
Another week and another major shakeup for some players. I'll be honest you guys…and girls, I was bearish on some players up til this point and my patience was starting to wear thin. It's Memorial Day Weekend and in case you forget it will be June with a blink of the hungover eye. June 1st means 1/3 of the season is gone and I know some guys don't wake up til the weather heats up and others just suck. Jay Bruce keeps dropping even though I still see him as a 25+ home run hitter but what I didn't realize is Adam Dunn tapped him on the shoulder before he retired and said "you're next". I'm going to call him the Donkley. You know like Brucely but now its Donkley, get it? get it?  Yeah I'm bored with this too. Some players are making their first appearance not necessarily by what they have done lately but by how they have performed overall up til this point. The DL is huge right now opening up 10 spots on this list.
I noted less movement this week (looked too cluttered last week) and I'm only highlighting the ones I want you to be aware of. Nolan Arenado has been aight' and kinda meh after that red hot start. He isn't even the highest rated player on the Rockies, that title goes to Charlie " I own him almost everywhere" Blackmon. At $10.4, compared to the Blackmon's $12.7, he's been pretty frugal with the stats. If you can pry him away from a frustrated owner he's a nice buy low target.
I liked Kris Bryant in the preseason, as did Rudy and his robot toys, so what is there to hate on at this point? His K-rate (29.8) could be better while his BB-rate (17.0) is sexy as a motherfu**er. He's on the right path and the counting stats should continue to be a nice source of smiles for his owners.
If you listened to the Big Magoo in the pre-season and had some patience then you are reaping the benefits of drafting Kipnis. His top 100 neighbor tha indo-dozia has been smoking too.
Pence has been hitting since his return from the DL. I wanted to see him and me likey. He'll be steady, a little boring, but solid for you the rest of the way. I will assume the buy low window is closed.
Freddie Freeman is just an adjustment on my part. It reflects me under valuing him a bit and the poor performances by those ahead of him. Like his body of work, its about as boring as it is reading this blurb.
Machado and Wong are off to good starts and this is another case of adjustment. With the Macho Man I'm loving the steals and he could be ready to throw down a 20/20 with a .280 BA….yummy. With Wong I asked my self a question, "Am I being too hard on Grey's Wong?" Yes, Yes I was, I should of ranked his Wong higher in my wankings.
Oh Soler, why is your battery dead. Do we need the sun to come out for you to heat up? He's still a hold or buy low but keep the faith, he is way way way better than this.
Billy Hamilton took a another dive this week. I know he is streaky with the bat, we saw this last year too. He can change this quickly and if he doesn't then we got a new kind of Donkey species.
Kemp has one home run and should be better. I called him a buy low and until he turns it around he can stay in the s**tcan. Magoo and I were talking about him the other day and we agree the correction is coming. Kemps HR/FB is an absurdly low 2.5%. That's almost Juan Pierre bad *looks up Juan Pierre's numbers* YUP! almost Juan Pierre bad.
I was playing this fun little game with Grey in the comments on Friday. We mashed up players name (past or present) with David Lynch films. I want to play the same game with you but instead of David Lynch lets go Robert DeNiro films in honor of Greys run in with Bobby D. Here I'll start, The Rob Deer Hunter! I wonder what DeNiro thinks of this game?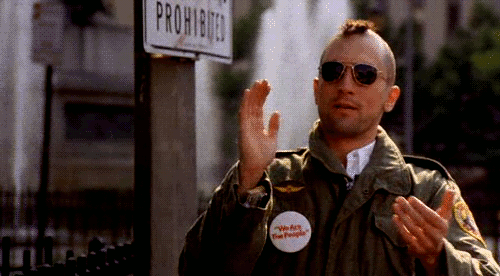 If you need an over the net friend you can follow J-FOH on Twitter