I'm convinced you'd be better off if you ignored everything from Spring Training.  For every one thing you gleam from the spring that pays off, there's five terrible habits you pick up like you're a priest in The Keepers on Netflix.  Okay, maybe you would have seen Joey Gallo wasn't striking out as much (barely has carried over), but you also would've seen Shohei Ohtani looking terrible.  Hat tip to someone on Twitter who screenshot this: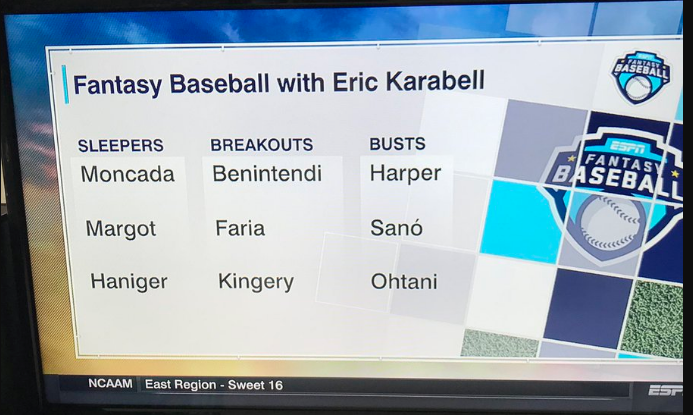 So many things wrong with this — Has Bryce Harper ever been bad?  I mean, maybe injured, but a bust?  WUT.  Also, it's one thing to be concerned about Shohei Ohtani, but bust?  He hadn't pitched one inning in the major leagues by that point and was being drafted around 100th overall.  Bust?  It was a gamble, risk was baked in.  Yesterday, Shohei Ohtani bust…ed out!  (See what I did there?)  He went 7 IP, 0 ER, 2 baserunners (1 hit, 1 walk), 12 Ks.  Good luck convincing someone he's a bust now when trading for him.
The other pitcher with "Otani" in their last name is Jameson Taillon who went 9 IP, 0 ER, 1 Hit, 2 walks, 7 Ks, ERA at 1.26.  Last year, I suggested to get his feng shui back, to find his equilibrium, because he couldn't pitch with one testicle missing, I suggested he put a walnut in his jock strap for balance.  Well, I'm not saying he took my advice, but, yesterday, Jameson Taillon gave up one hit.  Imagine he was a eunuch?  He'd be Sandy Koufax!  Wait, was that why Koufax had a girl's first name?  For a while last year, Taillon was treating the surviving twin like a punch bag, but he looks back to the potential ace he once was.  Go get 'em, Jameson Walnut!  Anyway, here's what else I saw this weekend in fantasy baseball:
Mike Trout – 2-for-3, 2 runs, 2 RBIs and a slam (3) and legs (2).  Who this guy?  He new to the league?
Franklin Barreto – Was called up on Saturday.  I'm feeling the A's (hey now!) more so this year, than I have in past years, in like 15 years.  All your bases belong to the A's Matts.  However — again with some stank — HOWEVER!  Barreto does very little for me, as of this writing.  *waits ten seconds*  Yeah, still now.  He's ranked relatively high on Prospector Ralph's top 100 prospects for 2018 fantasy baseball, but PR doesn't exactly gush like a Diet Coke bottle with a Mentos in his blurb on Barreto.  In redraft leagues, I'm waiting to see something, and, if that means I don't own him, then so be it.
Gregory Polanco – 2-for-4, 2 RBIs and his 3rd homer.  Brocktune!  I talk about Polanco in Friday's Buy video:
Corey Dickerson – 1-for-4 and his 1st home run.  I might be misremembering this, but I feel like Dickerson has more homers than RBIs in the last year-plus.
Eugenio Suarez – Out with a fractured thumb.  Apparently, for drafting him, a fractured thumb was Eugenio's levy.  So, Nick Senzel, right?  I looked to grab him in every league.  Yet, every time a rookie gets called up, I immediately veer on the side of the conservative timetable with "He'll be up in June," with a side of "Maybe in September."  No harm, no foul in grabbing Senzel to see if the Reds surprise the world, but they've called up Alex Blandino, who is as good as he sounds.  You've heard of The Great Houdini?  Well, the new Reds' 3B is The Bland Blandino.
Tyler Mahle – 4 2/3 IP, 5 ER, ERA at 4.22.  Well, that was short-lived.
CC Sabathia – Hit the DL with a hip strain.  Technically, with CC, it's a hungry, hungry, hip strain.
Giancarlo Stanton – 0-for-7 with 5 Ks.  Visual metaphor:  Giancarlo is wearing a sombrero and my fantasy team's batting average is a piñata.  Oh, and all he's wearing is a sombrero.
Anthony Santander – 3-for-6, 3 RBIs and his 1st homer, hitting .207.  He was an early pick to potentially breakout, because the O's had to carry him, due to Rule 5, uh, rules.  It's still early, maybe he just needed some time to find his sea legs (then we can call him Anthony Santa Maria).
Steven Matz – 5 IP, 0 ER, 5 baserunners, 8 Ks, ERA at 3.00 vs. Gio Gonzalez – 5 1/3 IP, 1 ER, 9 baserunners, 6 Ks, ERA at 1.59.  This matchup featured a home plate ump, Marty Foster, who ejected Anthony Rendon, because his strike call was so bad Marty Foster assumed Rendon would argue even though he didn't.  No joke, Marty Foster ejected Rendon for standing in the batter's box an extra two seconds.  Maybe this is one of those new pace of play rules.  By the way, is it me or is it impossible to say any umpire's name without saying their first and last name?
Matt Harvey – 5 IP, 4 ER, 10 baserunners, 2 Ks, ERA at 3.60.  Prospector Ralph, excuse me, Pitcher Profile Ralph will be along in a few hours with a Matt Harvey pitching profile.
Bryce Harper – 3-for-4, 2 runs, 2 RBIs and his 6th homer, hitting .357.  Seriously, a bust?  Is that legitimately the craziest thing you've ever heard?
Jake Faria – 1 2/3 IP, 8 ER.  This 4-man rotation experiment is going as well as The Sopranos finale.  "Don't stop believin'…Wait, that's it?  There's no more?  Mom, they shut off our HBO?!"
Rick Porcello – 7 1/3 IP, 3 ER, 6 baserunners, 7 Ks, ERA at 2.84.  In case you're joining us late, I'm back in on Porcello this year, and own him in one league.  It's still early, but I'll give you a lowercase, non-exclamatory natch.
Eduardo Rodriguez – 3 2/3 IP, 3 ER as he was activated from the DL.  I liked Ed-Rod in the preseason, and he was in Friday's Buy.   Obviously, yesterday's start was not what I had in mind, but it's too early to write him off completely.  He did have seven strikeouts in under four innings.
Xander Bogaerts – Left yesterday's with a lower extremity injury.  A lowextremjury.  Next time on Fox's When Portmanteaus Go Wrong — lowextremjury!
Alex Colome – 1/3 IP, 2 ER, ERA at 15.43.   He wants to stay on the Rays so bad he's cratering his trade value.  Aw, it's kinda sweet how poorly he's pitching.  Sweet and painful, like befriending a porcupine after you sit on it.
C.J. Cron – 1-for-4 and his 1st homer.  You know any time I see a sign of life with Cron I'm going to be watching him like a cyclops with a monocle.
Trevor Bauer – 8 IP, 1 ER, 5 baserunners, 7 Ks, ERA at 2.08.  Some of you are winding up the "Yeah, okay, but Bauer was vs. the Royals."  This is true, and to those people I say, look at the AL Central.  What are you worried about, the White Sox?  The Twins?  Bauer's gonna have about 17-20 cakewalks this year, which sounds like a good year for Billy Butler.
Lonnie Chisenhall – Hit the DL with a calf strain and could miss four to six weeks.  Geez, Ozzy Osbourne came back quicker from a drug-fueled coma.  In Chisenhall's place, the Indians will turn to Naquin, Rajai and Brandon Guyer.  Pretty clear which one doesn't sound Indian at all.
Yan Gomes – 1-for-4, 2 RBIs and his 2nd homer, hitting .143.  He'd be leading my RCL in homers if I owned him.  *scratches head*  Yeah, I might need to make a trade.
Mike Clevinger – 7 1/3 IP, 1 ER, 11 baserunners, 4 Ks, ERA at 0.71.  Can someone tape Danny Salazar's mouth shut, put a gorilla costume on him and ship him to Africa?
Ian Kennedy – 6 IP, 0 ER, 4 baserunners, 8 Ks, ERA at 0.75.  See what I said for Bauer about matchups.
Michael Wacha – 5 IP, 2 ER, 9 baserunners (5 BBs), 5 Ks, ERA at 5.59.  Trying to remain optimistic, but Wacha's looked not nearly half as good as I thought he would in the preseason.  Five walks vs. five Ks?  That's the new blech.
Taijuan Walker – 6 IP, 1 ER, 5 baserunners, 3 Ks, ERA at 3.27 vs. Luke Weaver – 6 1/3 IP, 1 ER, 4 baserunners, 7 Ks, ERA at 1.59.  Not saying these guys will always been gorge, or make you engorged, but how long does it take for you to realize you didn't need to draft that top starter?  Did the time elapsed get shorter than last year?  Then you're growing.  You're really growing if you owned Luke Weaver and Taijuan Walker yesterday.
A.J. Pollock – 2-for-4, 2 runs and a slam (1) and legs (3), hitting .343.  See comments about Spring Training in the lede.
David Peralta – 2-for-4, 2 RBIs and his 2nd homer, hitting .324.  He's crushing the ball almost as much as I'm crushing on him.  Samesies on the crush meter.
Jose Berrios – 4 2/3 IP, 5 ER, 6 hits, zero walks, 7 Ks, ERA at 3.29.  If you had to wear a neck brace after that FIPlash, I'd understand.
Ryon Healy – Underwent an MRI on his twisted ankle.  Gonna start calling him, Ryon Injurly.
Lucas Giolito – 5 2/3 IP, 5 ER, ERA at 6.17.  But he was so good in Spring Training?!  "I hear that, homey."  Oh, shut up, Jason Kipnis.  (Think we have a theme of today's roundup.  What's that, English Prof?  Don't point out my thesis statement?  Oh, shut up!)
Reynaldo Lopez – 7 IP, 0 ER, 7 baserunners (5 BBs), 5 Ks, ERA at 0.69.  Rey-Lo is using those Jedi master tricks taught to him from the first three Star Wars movies which have now been recycled four times.  Stream-o-Nator doesn't like Lopez's next start, and I wouldn't trust him either.
Tim Anderson – 1-for-3 and his 5th steal, hitting .276.  Who ranked Anderson higher than anyone had any right to rank him?!  Shake your body spastically in my direction!  I am your Osho!
Michael Fulmer – 5 1/3 IP, 0 ER, 9 baserunners, 4 Ks, ERA at 0.68.  He throws hard, but is a total velocitease with a 4.7 K/9, and career K/9 under 7.
Cody Bellinger – Out with food poisoning.  Right before Cody got sick, he was heard saying, "Did that sign say this Dodger dog was made with real–" *dry heaves*
Clayton Kershaw – 7 IP, 1 ER, 6 baserunners, 6 Ks, ERA at 1.89, but he went against his archenemy, The Blach Panther, Ty Blach – 6 IP, 1 ER, 7 baserunners, 1 K, ERA at 4.11.  Now it's back to No-K-anda for The Blach Panther, where someone is holding his country hostage and demanding blackmail.  Or it might be Blach mail and he just received a Bed, Bath and Beyond coupon.
Jeff Samardzija – Hopes to return on April 19th.  I kinda need him in one league, which is like, "I hope to get over this pneumonia, so I can go to the dentist to get a root canal."
Sean Newcomb – 6 IP, 0 ER, 5 baserunners, 9 Ks, ERA at 4.35.  Where was this start the first time out?  Saving your best for a start in Coors is so passive aggressive.  You also sneeze on hand towels in your friend's bathroom when no one is looking?  I know that trick!  I invented that trick!
Ozzie Albies – 2-for-4, 2 RBIs and his 3rd homer, and 2nd of the weekend in Coors.  Albies sure — I can tell you how I feel about you night and day, nite and day… — is a 2nd rounder if he played every home game in Coors.   He might be anyway.  Zoinks!
Dansby Swanson – 2-for-4 and his 1st homer, hitting .382.  Damn, just think, the Braves could've had Shelby Miller hitting there if it wasn't for Dave Stewart.  Are you saying Dansby might not have been completely washed up at 24 years old?  Wow, shocker.
Gerrit Cole – 7 IP, 0 ER, 5 baserunners (0 walks), 11 Ks, ERA at 0.64.  I wonder if the Astros said, "Hey, 'member how the Pirates said you should throw your nasty, 95 MPH fastball for contact?  Yeah, forget that.  We appreciate missed bats here."
Charlie Morton – 6 IP, 0 ER, 7 baserunners, 7 Ks, ERA at 0.00, which would be a record if the season ended today.  I like anyone with a heartbeat facing the Padres, but Morton's more than a heartbeat, which also sounds like something Elon Musk would say.  "You are more than a heartbeat.  Let's go to Mars together."  That's Elon tucking in his robots.
Brad Peacock – 1 IP, 0 ER and the save.  Ken Giles did pitch the previous two days, but not sure the Astros really love the K. Giles Band.
Josh Reddick – 2-for-3, 2 runs and his 3rd homer, hitting .346.  You could've had Reddick for cheap.  Which is not just a sign you see as you're leaving Tijuana.
Max Stassi – 1-for-3, 3 RBIs and his 1st homer.  It was in poor taste when Stassi used his home run trot to goose-step around the bases.
Mike Minor – 6 IP, 1 ER, 4 baserunners, 7 Ks, ERA at 2.53.  I'd own Minor, so don't take this the wrong way, but wait until we get to August and the Rangers throw Minor's arm against a wall like a limp noodle to see if he's done.
Cole Hamels – 5 1/3 IP, 5 ER.  …And we can go back to ignoring him.
Joey Gallo – 1-for-5, 2 RBIs and his 3rd homer, hitting .200.  But the Ks are down!  Lowercase yay!
Vince Velasquez – 6 IP, 1 ER, 5 baserunners, 6 Ks, ERA at 5.19.  As I always said, if you stake Vince Velasquez to a 45-run lead vs. the Marlins, you're gonna walk away with a win.
Jake Arrieta – 4 IP, 2 ER in his season debut.  This was Arrieta first game with Kapler and at first Arrieta was confused, saying, "Wait, the hummingbird, zipping around the dugout, is our manager?"
Ben Zobrist – 2-for-4 and his 1st homer, as he hit third.  Ridiculous.  It's almost like wins come too easy for the Cubs, and Joe Maddon is trying to make things more difficult.  I get it, Rizzo's dealing with back pain, but Zobrist shouldn't be the three-hole hitter for the Padres, let alone the Cubs.  Maybe Maddon made a (almost stutterer!) deal with the devil for the World Series victory and now needs to try to get his soul back using Zobrist's wife, the Christian singer.  Play Ian Happ!  By the way, you're gonna be hearing a lot more about Ian Happ, because I just traded for him in Tout Wars.  I traded Jeurys Familia and $60 of FAAB (out of $1000) for Ian Happ.  Oh, and I'm in first place with Hunter Strickland and Sean Doolittle too, while needing a bat.  I'm happy with the trade, but feel free to lambast me in the comments.
Christian Yelich – Hit the DL finally with an oblique injury.  Apparently, for five days, it was oblique that he'd need two weeks to recover like everyone else who's ever had an oblique injury.
Chase Anderson – 6 IP, 2 ER, 6 baserunners 2 Ks, ERA at 3.38.  This was not a resounding vote of confidence.  I mean, two Ks?  The aforementioned Zobrist was the three-hole hitter and Caratini was playing 1st.
Jacob Barnes – With the blown save on Saturday.  If the platypus is a duck designed by a committee, the Brewers' bullpen is a yuck designed by committee.