I still can't believe I chose this schlub to be the creeper of the week. What am I thinking? OR maybe, what am I smoking *takes another hit* to conclude that this disappointment can be a creeper? Tehol even started wavering on Domonic Brown this year, and I am here to tell you to go against all your instincts and own him… for the week… or maybe more. Actually, Tehol still has a shrine at home dedicated to the man and has some delight for him again. Really, what kind of contributor would I be if I didn't talk about Tehol when speaking about Brown? To take it a step further, let me quote the FML (Fantasy Master Lothario) who said this past Friday "As someone who benefited greatly from Brown's 23-homer 1st half in 2013, let me be the first person to point out that Brown is capable of great things". This may sound more like a buy than a creep, but when it comes to Brown, lets take it one step at a time. I'll call him Baby Steps Brown for now. Time to insert my gratuitous What About Bob? clip.
This week, the 6.2% owned lefty Domonic Brown has six games and the blessing of my boss. Seriously man, I picked him and started writing this on Thursday. It's all good G, we think alike… sometimes. We also think alike with that Buick humping sexual degenerate: the Hitter-Tron, who gave him a $10.4 value for the next calendar week. In those six games, Brown goes against all right-handers on the road. His first series opens in Arizona, which plays more neutral to lefties for power, but is good for extra base hits. I'm hoping his schmotatoness carries over here and onto the next series where I'm chomping at the bit. Miller Park has been tops for home runs this year and over the last few seasons, has been very favorable to lefty power bats. Am I the only one who feels like this isn't a creeper-type player? Maybe it's the polarizing effect he has had, or maybe it's the battered manager syndrome that so many suffered through. He falls out of the creeper norm but at this point we are looking at under owned bats to run with as long as we can. Get Brown in your line-up and hopefully he doesn't leave a stain on your stats.
My favorite frankencatcher has finally been gobbled up. Goodbye Beef Welington, I'm gonna miss you. You went from 3.5% owned last week to 19.5% as of this writing. I do like John Jaso, even though I have been scratching my head over the first four days of the week when the Rays have a very strange two games. He gets right-handers for 4 of his 5 games with two of those coming at Texas where the Hitter-Tron loves him. One player I want you all to keep an eye on is Josh Phegley. Rock the Vogt has not been bouncing back like I had hoped, and have to wonder if Phegley gets more AB's.
With only seven-and-a-half weeks left in the season, we need to start getting honest with ourselves. Okay, to be honest, we should of started after the all-star break, but since a lot of us are procrastinators and not proactivists (is that even a word?) [Jay's Note: Nope.] we need to cram now. Go look at your standings and figure out what categories you have a realistic chance of gaining points in. Yes, H2H players, this is for roto-players, because I am a roto player and gear everything I do towards roto. Sorry for the digression… Around number 60 we start getting into players that fall under the "needs based" banner. If you don't need speed, then pay no mind to the base thieves. If you don't need power, then pay no mind to the power hitters. Some players here are good all around and obviously don't fall under the needs based banner, but a large chunk are.
I got some hate for my post All-Star break ranking of Jose Abreu, which I'm cool with. I have hate in my name, so I got you man… or lady. Since the All-Star break, he has put up a counting stats line of 14/7/21. The RBI's are 4th best among all qualified hitters and the homers are 5th. His batting average, which currently sits at .295, hasn't changed, and if there is one thing I like in my top guys is the propensity to not have long-term slumps. I have been saying all season the hitters on the Sox are better than what they have shown and the giant is waking up in Chi-town.
I keep obsessing over Carlos Correa. I only own him on one team and wish I owned him on more. He keeps getting better and will be drafted crazy high next year. If you can crush out of the O-No like that, can you imagine what he'll be doing when he is Mike Trout's age in 2019? Damn, this kid is sexy beyond belief. I'm just glad I bought an Astros hat last year to spite all the local Angels fans. Speaking of the Angels, I drove Grey down to the Big A of Anaheim, nowhere near Los Angeles, to watch frequent commenter Teddy Heater throw out the first pitch. Damn, TH got some skills. He grooved it in so well that Arte Moreno gave him props and was tempted to sign him. Way to go Teddy! Our resident Vegan lifestyle enthusiast Militant/Happy Vegans also showed up to throw some Razz support. Great chatting with you Vegans. I look forward to our next hang when we catch up on some more punk rock. Below is Grey, Teddy, and myself at the game. Teddy is holding up his custom made Razzball jersey while Grey and I are in the new Razzball shirts I got made. If you are interested in the new shirts then hit me up in the comments.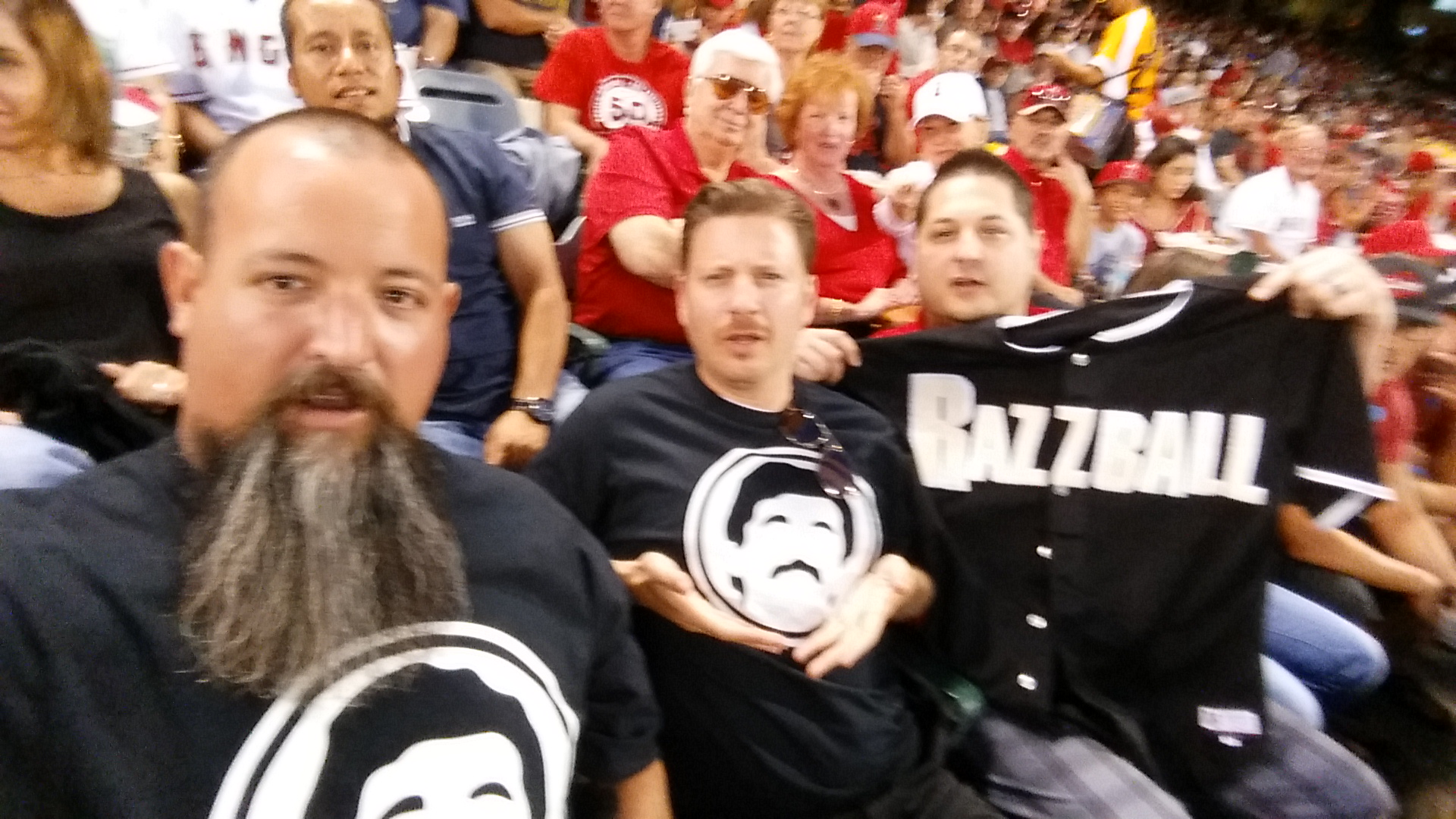 You can follow Jack Full of Hate on Twitter if you want.