Greetings! It's crunch time, boys and girls! Are you one of the good people frantically following the trade talks, hoping to find that closer or rookie call up to complete your championship squad? Or are you one of those mud pirates, who has stopped paying attention all together, ruining things for everyone else? I suppose you're more than likely not reading this if that's the case, but just in case you are, let me be speak for your leaguemates, and say ef you! In head-to-head leagues, it's even more despicable, giving undeserving teams huge victories and besmirching the playoff standings. Stick to DFS, for this is a game of Kings, and why I usually insist on playing in high money leagues, where frauds are beheaded like a deserter of the Nights Watch. Kudos to you if you're still around, fighting for your lives in the greatest game ever invented. You, my goodmen, are warriors and the Elder Gods will write poetry in you honor.
I am Tehol Beddict, and this is, Disgrace/Delight! Take heed!
Player Who Delighted:
Melky Cabrera – Oh, it's gettin real Melky in here. Yeeeea, real creamy like, and Bid Daddy Beddict likes his cream ya'll. In hitting .414, with 2 jacks, and 11 RBI, The Melk Man is soaring in to save the White Sox's season like a PED enhanced Griffin, and I'm riding him like Seattle Slew to the finish line. In what seems like a few short weeks ago, Cabrera was on my disgrace list for what was a pathetic first half to the season, but now, the White Sox are fighting for a playoff spot. With both Melky and Jose Abreu lighting it up, I'd say they have a pretty solid shot.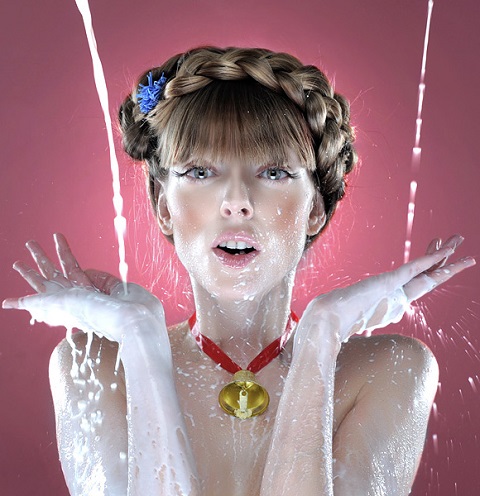 Noah Syndergaard – Is it Pert Plus or Vidal Sassoon? Seriously, Paul Allen would pay one billion dollars for that hair. This stallion made my man-thong so moist last night, I had to wash it three times. 8 innings of shutout baseball, with 9 Ks while only giving up 3 hits? That's some Asgard shizz yo. The ERA is now sitting pretty at 2.70, and with the Mets making a playoff push, there's simply no way they can afford to shut him down early. Glory be to the Elder Gods.
Domonic Brown – 10-for-his-last-20. Cust kayin!
Jimmy Nelson– With 3 consecutive quality starts and some solid K numbers, Jimmer is one you should seriously consider swooping for your championship stretch. The young gunner is only owned in a paltry 14.9% of leagues, so there's a solid chance you could get him on your roster. I'm big on upside, but hey, look at Lindsay Lohan… she went from America's sweetheart to America's not-sweetheart. I'll sacrifice a Llama to the Elders and pray Nelson doesn't suffer the same fate. Say one thing for Lindsay Lohan, she's a horrible actress and an even worse human being… or was that two things?
Carlos Gonzalez – I'm not trying to blast anyone who recommended you dropping Cargo, because I live in a glass house… did I say that right? You know what, f*ck it, I AM blasting anyone who told you to sell low or straight up drop Cargo the Cunning. Did you truly believe in your black hearts that this freak of nature, one of the best players in baseball, would continue hitting like a hungover Brendan Ryan? Oh ho-ho, you sirs were incorrect, and that taste in the back of your throat is pure failure… Wait, nobody on Razzball told you to do that, did they? Oh well, they don't read my posts anyway, so we're all good there. Gonzalez is batting .571 over the last week, with 7 long dongs and 15 Ribbys. Put that in your hash oil pipe and smoke it… and then pass it to your boy! I'd buy my own, but I spent everything I had on a Canadian shipment of Cialis. Don't want to be in a championship bout and come up limper than Donald Trump's presidential campaign.
Play Who Disgraced: 
Yasmany Tomas – I wish I could give your reason why Tomas is currently on many of my fantasy teams, but at this point, there's simply no excuse, especially now that he's not playing every day. The big Cuban is coming weaker than the last Transfomers flick, and to be crystal clear, that is a massive insult and I don't believe I even saw that one. Nor do I need to in order to know that it was a steaming pile of mastadon dung. Tomas is hitting a pathetic .208 over his last 24 at bats with 1 dong and 2 RBI, and that's hitting behind Goldy, who's touches more bases than Johnny Depp in the 80s. Not cool.
Carlos Carrasco – Everyone loves Carrasco's upside but he has us all tonguing his backside, and that, my goodmen, is not what Big Daddy signed up for. In this day and age, a 4.26 is simply unacceptable. The unfortunate part about this, is that for every two duds Rasco throws, he follows it up with the sort of gem Terry Francona has wet dreams about, you know, until he's fired this offseason. Maybe the young flamethrower finishes strong, but his history suggest you should prepare for a continued roller coaster ride. You've got to be realistic about these things.
Starlin Castro – Thiiiiiis is the story of a boy, who played like dirt and destroyed all Cubs fan's joy. And though he looks so good in photographs, I absolutely hate him, when I employ…..him in my lineup (sorry, that was the best I could do as I'm on painkillers after rescuing 3 orphans from a Cougar attack on Mt. Rainier).
Castro has been the epitome of gutter trash in 2015, batting .234, with a disgraceful FIVE home runs, and FOUR stolen bases while being caught THREE times. The kid started with a spark, but now he's just garbage.
Justin Verlander – I know, I know, J.V. is coming off an 8 inning, 1 run gem, but guess what? Broski only had 3 Ks, and has dropped a handful of duds in his 7 starts thus far. Don't fret, Tigers fans, for he's only owed another $130 mill or so. There's simply nothing more saddening than a former hog falling off like a bad bag of dope in what should be their prime, Kate Upton can't really still be playing hide the salami with this man who defines mediocrity, can she? What, Alfedo Simon wasn't available? I mean, this has been going on for years now, and much like other former aces, C.C. Sabathia and Tim Lincecum, it's time to officially give up hope of Verlander ever regaining the form that made him one of the best in the business. But then again, he is filthy freaking rich, and serving lead to the hottest chick on earth.
Thank you for joining me for another edition of disgrace delight. As always, it was a pleasure and I hope to hear from you in the comment section. You're all I have left in this crazy, mixed up world. If you're following the Russell Wilson contract saga, as I am, I highly suggest you check out this genius cartoon below. Have a wonderful rest of the week.
Want more Beddict? Follow him on Twitter at @Tehol143.