I went out on my annual mid-season man-date with Grey this past Friday. What a day! Sandwiches at the wine shop, facial hair products at the beauty supply store, and coffee at some weird fancy hipsteresque spot. I think the guy at the coffee spot wanted to kill the two of us because we were harassing him for not having any alternative sweeteners for my diabetic arse. No matter what we said to him, he just kept responding with, we only have our raw organic fair trade artisanal sugar syrup. He was Mets-front-office annoying. You might be asking yourself why am I telling you all this. Well, at Grey's suggestion, I have added in the DL players to gain some perspective into what they are worth compared to the healthy players for the rest of the season. Earlier in the year I left them out to get more players on the list, as I was figuring out how I wanted to take on the rankings. Like many of you know, this list got dropped on my lap right before the season started and I have been learning on the fly how to approach this. This is FOH's list!
Note: I mentioned in the RCL Update this week that I would be out on vacation. The Big Magoo handled the Creeper of the Week, and I will be in and out of the comments today. I'll also be getting some help from my co-workers so we don't leave you guys… and girls hanging. VinWins! will be covering the RCL Update for me on Tuesday. Thanks guys for helping me while I'm out. *hugs screen*
The Top 100 Hitters, Week 17
Last week I got some backlash about Lucas Duda and my ranking of him. It was a reasonable concern that I was hoping would turn from comments into a discussion. Unfortunately it didn't. Oh, how they love doing a drive-by. Last year Duda hit 30 bombs and batted .253 which if it wasn't for a bad BABIP month (.205) should of been around .270. Either way, nice numbers for anyone who got in on that add. He opened 2015 by putting up a 31/9/25/0/.298 line thru the first two months. Then on May 30th got plucked on the knee. Since then his average has dropped down to .237, has only hit 3 dongs and been a shell of the rising power hitter he was becoming. Jeez, Jack, why didn't you bring up the knee injury before? Because, like everyone else, I wrote it off at the time because he didn't go on the DL and only sat out a game. Then, last Sunday our friends over at ESPN posted a little note via Rotowire: Duda is just 20-for-115 in his last 30 games and has seen his average plummet from .305 on May 27 to .235 after Sunday's game. That slump has coincided with him getting hit by a pitch on his right knee on May 30, though not much has been made of the HBP since it occurred. What I thought was just a soul sucking slump is really a guy playing through an injury. To be honest, I'm glad no one else brought up the knee. Update: He went double dong yesterday.
I don't want anyone thinking I don't like Randall Grichuk. I do like him, I liked him so much that I added him to my dynasty team early in the season. What I don't like is a log jam and a team, the Cardinals, that has no qualms about doing platooney tunes. Because of his defense, Jason Heyward is not sitting. I think Holliday will get some breathers, which is good for Randy, but like Grey said, I think Piscotty may cut into time. I understand that Jon Jay will be the 4th outfielder upon his return, but he's not sitting everyday either. Upside is there for all these hitters, including Piscotty, who can also play and will play first, but those days off can be a killer. For all these reasons I clustered the Cardinals outfield above (79, 80, 81). I have my concerns about Randy with his .370 BABIP and .278 batting average. He is not a speedster and if the BABIP comes back to earth that .278 player could be a sub .250 guy. If you own Randy, then enjoy the ride, just keep your expectations in check with the potential shituation in St.Louis.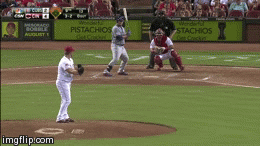 The rookie nookie train continues with Kyle Schwarber joining the list. Look at the beautiful short swing. I love this kid. He has ridiculous upside but the problem is estimating how many games he will play. They say Montero can be out up to 6 weeks and that Schwarber is not expected to catch Lester or Arrieta. Couple that with the Ross factor and we got a potential log jam come September. Hopefully they find a way to get him reps in the outfield and all this worry is for not. Regardless of all that, I would still own him in daily leagues and would even play him in weekly leagues depending on the match-up.
I'll see you all next week when I return from vacation and we get back to normal. Now I must do my celebratory karate dance as I exit the room.