The intro for Yahoo's 2019 fantasy baseball rankings reminds of a Dear John letter written by your ex-wife.  Only your name is Kevin and she accidentally writes "John," and doesn't have a chance to proofread it because she's bedding down your best friend.  Read for yourself: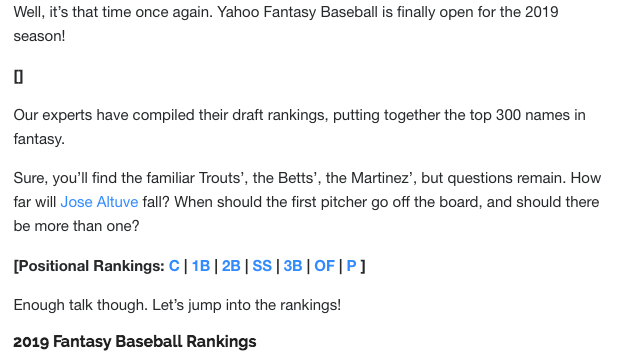 Sure, guys and five girl readers, "You'll find your familiar Trouts', the Betts', the Martinez', but questions remain."
Huh?
Yeah, I have questions that, uh, remain.  How many Trouts have they ranked?  The Betts'?  Did they rank his entire family?  The Martinez'?  Is that like World War Z, but instead it's, "An Apostrophe Z?"
"When should the first pitcher go off the board, and should there be more than one?"
Said like Ron Burgundy, "That's not English."  Should there be more than one?  Are Yahoo leagues this year one-pitcher leagues?  I'm so confused.  Did 100 monkeys with 100 typewriters, who only read Bleacher Report, write up this intro?
"Enough talk though.  Let's jump into the rankings!"
Ha!  Was there enough talk?  I've written more in this intro than they wrote.  With that level of effort, they don't even deserve this evisceration, but… *sharpens nails that look like the 108-year-old Asian man in the Guinness Book of World Records* …here goes nothing.  For this post, I will be looking at the consensus Yahoo 2019 fantasy baseball rankings vs. my own 2019 fantasy baseball rankings.
Last year Yahoo phoned in their rankings with Jose Ramirez at 35th overall, and, this year, they followed ESPN's lead, and moved him up to 6th overall.  Even though my path crossed briefly with Jose Canseco, I know I am not a time traveler.  How is it that I am always a year ahead of these schmohawks?  Last year, I ranked Tildaddy 67th overall, and Yahoo ranked Acuña 173rd overall.  Of course, that was ludicrous.  Or if Ludicrous is reading, "Yahoo's got doh's in many area codes."  This year Yahoo moved Acuña up, because they're trying to move their sugar packet up my thigh as they learn how to draft.  I guarantee you, next year they will move up Adalberto Mondesi.  I wonder if they're still writing 2017 on their checks.  That would explain, at least, why they ranked Josh Donaldson in the top 90 overall, and Zack Greinke in the top 60.
Luis Severino before Aaron Nola and Gerrit Cole is a head-scratcher.  Clayton Kershaw in the top 10 starters is just predictable.  Love how they tried to put Vlad Guerrero Jr. in their top 50, like your past mistakes are absolved, due to your aggressive ranking of this year's rookie.  Of course, Victor Robles is ranked about 70 spots too late, because they suffer from the same hindsight as ESPN, and merely spit back at their readers what said readers want to see vs. what they should see.  Brandy Ehrens, "I just want to rank Kyle Schwarber."  Triple D, "We have to rank 300 other players."  Brandy, "Aw, geez.  Okay, someone write the names down, put them in this Cubs ten-gallon hat and just let me choose."
Last year I ranked Trevor Bauer 89th overall vs. their 181st ranking.  This year he's ranked 54th overall, and 67th overall by Triple D.  What did he do to hurt you, Yahoo?  Did he fly his drone into Brandy's Joe Maddon-stained glass window?  I mean, I get it.  Ranking Delino DeShizz still gives me the heebies and/or jeebies, but, wow, they still hate Trevor Bauer.  Someone else who seems to have accidentally did a poopie in their woobie is Joey Gallo.  Last year, I ranked him 80th overall, they ranked him 151st overall.  On our Player Rater, he ended last year ranked 71st overall.  He is about as predictable of a player as you can find.  So, of course, they've ranked him way too late again with Brandy slotting him in at 106th overall.
You want one thing to point at why they're ranking inside Plato's cave, surrounded by past mistakes?  They have Joey Votto ranked 51st overall.  For 1st basemen, he is ranked before Aguilar, Gallo, Abreu, Carpenter, Olson, I mean, just about everyone, except six other 1st basemen.  Joey Votto who is coming off a 12-homer season when he hit .284, turning 36 this year, and is projected for 22 homers and .278 by Steamer.  Yes, Steamer that is regularly the best in the biz for projections.  22 homers and .278?  Yo, Votto, you Justin Bour?  Blink once for yes and twice for no.  Maybe Yahoo did their rankings' sesh at an Outback Steakhouse, saw a waiter dressed as a kangaroo and subconsciously fell in love with Joey.  It's the only thing that makes sense.
I'm going to list players in a handy chart like I did the other day with ESPN's fantasy baseball rankings.  The Thank You's have it.  It being good value from my rankings vs. Yahoo's.  The No Thank You's don't have it.  They're bad people.  Meh, they might be okay people, but they're likely not ending up on any of my Yahoo drafted teams.  For this, I'll be using my 2019 fantasy baseball rankings (go figure!) and Yahoo's 2019 fantasy baseball rankings (crazy, right?).
THANK YOU
NO THANK YOU