Sometimes you ask and you shall receive and in that vein, I begin this month's Razznasty update. Now I know the two questions you're asking, what did you ask for and receive? And which vein? First, it's the main vein, you know the one in the middle…. Secondly, I asked our very own Hippo in the bush Matt Truss to make a push in the standings over the course of June so I could name the next update "Can't Truss It". Done and done. I told Mr. Truss-ah Truss that I'd dress as Flavor Flav from this video while I wrote it. Truss, that I held up my end of the bargain, picture me decked out in white tuxedo with top hat and Batman glasses. Unfortunately I can't share with all of you due to a shortage on the correct cartridges for my vintage Polaroid Sun 600. Sorry boys, and whatever number of girls are reading this year. I believe we were up to five, but we might have lost a few after the Jose Canseco interview. There's nothing that upsets the ladies more than invasive questions about Madonna's early 90's sperm brokering. Enough of the bollocks, onto the Razznasty update for June. Dynasty Baseball Leagues at their finest.
The Standings
For the third month in a row, Mentok the Mind Controller is holding the top spot in the table. Unlike previous months, he has some direct competition on his tail. With the Truss lead Hippos lying in wait, it's possible we could be talking about a new leader come August, but for now the mind stealing judge sits in the birddog seat. What was once a 7 team race, has whittled to 5 teams within shouting distance, with two clubs needing a push to get into the race. The aforementioned Hippos now sits at 120.5 points, jumping 15 total points in the standings. Commissioner Yes Cheese has dropped 6 points month over month, but still remains very much in the race with 111.5 points in a third place tie, with the dynamic off-season addition Raskals. Bringing up the rear of the contenders is Razzball regular Shill Team 6, who's eminence has been on display all season. As we enter July just 16 total point separate the top 5 teams. Sitting in standings purgatory are the Nick the Dick led FreshPrince OfHellsLair with 101 points,  recently added manager Alice Sweet's Tomatoes, who's done a great job of rebuilding his squad on the fly, with 100.5, and former Prospector Mike, who made a nice month over month gain of 15 points, with a total of 96. The largest month over month point increase belongs to resident bullpen expert Smokey, as his Smoke Show squad gained 18 total points over June, and is a few hot weeks away from entering the competitor conversation. As for the rest of the standings it's made up of full on rebuilders and rebuilding teams just jumping into the process, like Nightpandas, and this month's biggest point loser the J-FOH led Epic of Goodfoldamesh. All in all it's been a great month of action, and one of stabilization after some managerial and administrative changes in May. I for one can see a strengthening among the managers, and an uptick in activity.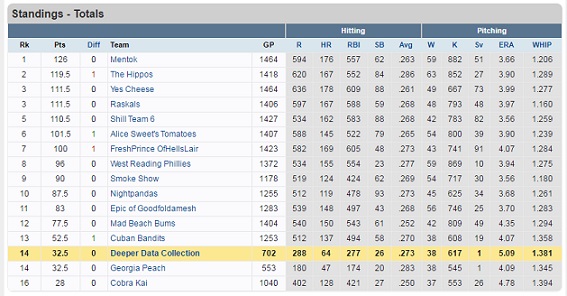 Trades
Mentok trades: Matt Olson to Epic of Goodfoldamesh for Steve Cishek.
Mentok adds an established closer in the midst of a renaissance and J-FOH adds some prospect pop with Olson. The Hateful one is banking on a return to form from the once promising A's farmhand.
Cobra Kai trades: Alex Colome, Randal Grichuk, and a 7th to Alice Sweet's Tomatoes for Jose Ramirez, Bobby Bradley, and a 2nd.
A win now move for AST that still has an eye toward the future, though he can't be too happy with the timing of Colome's injury, and Grichuk's demotion. Still a risk worth taking. Cobra Kai adds a high pick, an up and coming utility player in Ramirez and one of my favorite spec power bats in Bobby Bradley.
Alice Sweet's Tomatoes trades: Tyler Chatwood, Ender Inciarte, and Daniel Mengden  to Nightpandas for Byung-ho Park, and Jeanmar Gomez.
Another win now move from AST, that took place mere minutes after his trade with Cobra Kai. Not sure I love this move from the NP side but he has gained in the standings, and I can appreciate the need for depth. I suppose it all comes down to how you view Chatwood, Inciarte, and Mengden.
Wavier Adds
Mentok: Zach Eflin ($5), Jason Motte ($10), Reese McGuire ($0)
The Hippos: Freddy Galvis ($0), Chad Bettis ($0), Williams Perez ($0), Tom Koehler ($0), Carlos Estevez ($25), Rhys Hoskins ($0), Mark Zagunis ($0), Nick Markakis ($0), Tony Zych ($0), Kris Medlen ($0), Jonathan Broxton ($0), Xavier Cedeno ($0).
Yes Cheese: Tyler Skaggs ($15), Tyler Naquin ($5), John Gant ($0), Adrian Rondon ($2).
Raskals: Mike Foltynewicz ($12), Matt Boyd ($0), Shawn Kelley ($0), Tom Koehler ($0), Yohander Mendez ($1)
Shill Team 6: Edwin Diaz ($2), Dan Straily ($3), Chase Anderson ($3), Ryan Rua ($3), Daniel Palka ($0), Aaron Hill ($0)
FreshPrince OfHellsLair: Jake Marisnick ($0), Tyler Goeddel ($1), Dae-Ho Lee ($4), Thomas Eshelman ($0), Brandon Kintzler ($9), Triston McKenzie ($0), Marcos Diplan ($0), Joe Jimenez ($0)
Alice Sweet's Tomatoes: Kyle Barraclough ($0), Russell Martin ($2), Felipe Rivero ($0), Pablo Sandoval ($0), Michael Gettys ($0), Albert Abreu ($0), Jack Flaherty ($0), Daniel Mengden ($1), Zach Lee ($0), Phil Bickford ($0), Jacoby Jones ($0), Joakim Soria ($0), Cheslor Cuthbert ($0), John Axford ($0), Ryon Healy ($0), Jaime Schultz ($0), Caleb Cotham ($0), Robbie Grossman ($0), Dylan Cease ($0), Jorge De La Rosa ($0), Tyler Wilson ($0), Clay Buchholz ($0), Silvino Bracho ($0), Matt Andriese ($0), Jake Peavy ($0), John Lamb ($0), R.A. Dickey ($0), Stephen Vogt ($1), Tyler Anderson ($0), Ubaldo Jimenez ($0), Christian Friedrich ($0), Jorge Polanco ($0), Lonnie Chisenhall ($3), Jarrod Dyson ($0)
West Reading Phillies: Logan Morrison ($5), Marwin Gonzalez ($5), Neftali Perez ($5)
Smoke Show: Cameron Rupp ($1)
Nightpandas: Danny Duffy ($2), Trevor Plouffe ($1), Johnny Giavotella ($0), Danny Espinoza ($2), Kendall Graveman ($2)
Epic of Goldfoldamesh: Franklin Gutierrez ($2), Alexei Ramirez ($2), John Lamb ($0), Tyler Thornburg ($0), Cesar Hernandez ($1), Sean Reid-Foley ($0), Miguel Andujar ($0), Ramon Laureano ($0), Tito Polo ($0), Jefry Marte ($3), Brett Ebner ($2), Francisco Mejia ($0), Dazmon Cameron ($1)
Mad Beach Bums: None
Cuban Bandits: David Freese ($0)
Deeper Data Collection: Nate Jones ($7), Chad Kuhl ($7), Luke Weaver ($1), JaCoby Jones ($3), Chris Paddack ($1), Brock Stewart ($3), Austin Voth ($1)
Georgia Peach: D.J. Peterson ($5)
Cobra Kai: C.C Sabathia ($0), Robbie Grossman ($3), Rob Refsnyder ($0), Fernando Rodriguez ($0), Fernando Abad ($1), Joe Blanton ($0), Doug Fister ($2), Cory Gearrin ($0), Adalberto Mejia ($0), Travis Jankowski ($0)
Thanks for reading and a BIG AIRHORN SALUTE  to my Razznasty leaguemates.