If I am correct on my predictions, the NL pennant race will be a fun one.  I see three teams with playoff potential, and a fourth that is just shy of it.  Sorry San Diego fans, this isn't your year. [Ed. Note — JERK!]  Good news though, the Chinese calendar says it is going to be the year of the Tony Gwynn soon. [Ed. Note — I take it back. Sorta.] (You can check out the AL West Spring Training Preview here, the AL Central Spring Training Preview here and the NL East Spring Training Preview here.)
For all their hard work last year, the Dbacks ended up…well…average, with an even 81-81 record.  I think they're on the way up, look out NL West.
The Dbacks' rotation was their weak point last year, but they knew that.  Although it might not have been a great idea to trade Tyler Skaggs away, they did sign Bronson Arroyo to make up for it.  I'm not sure Arroyo is a good replacement for Skaggs, but I may be wrong.  I won't own him, you probably shouldn't either.  That doesn't bode well for the rest of the rotation if I don't think the #2 starter should be owned.  Luckily for you, I just don't trust Arroyo.  Wade Miley has a spot locked down, and he is probably worth owning as a back-end starter.  Expect an ERA between 3.80 and 4.20.  The last two spots are probably going to Trevor Cahill and Brandon McCarthy.  I wouldn't draft either of them, but they might be worth owning if they start tearing up the Arizona desert.  Be on the lookout for Randall Delgado to get some spot starts, and maybe even take a permanent roster spot.  Now onto Patrick Corbin, who broke onto the scene last year.  I don't think anyone anticipated his year, and you were lucky if you got him off waivers.  He started to implode at the end of the season, so that should be noted.  He won't put up his 2013 numbers again, but he will put up good fantasy numbers.  The last person that I will mention is Archie Bradley.  He is one of the top pitching prospects now, so my boss is making me do this.  He might get some starts at the end of the year, but probably just to test the water.  Nothing worth owning…happy now, sir!?!?
The Dbacks' pen is looking pretty snazzy this year.  They picked up Addison Reed to close, since they had so much trouble with closers last year.  He is a top-15 closer, and he probably won't be too expensive if you go by the "don't pay for saves" motto.  J.J. Putz might have lost his role as closer, but he will probably be a setup guy now, along with Brad Ziegler.  Both are worth owning for their tasty rates and holds potential.  I have a soft spot in my heart for Josh Collmenter.  He is a long reliever, and a pretty good one, racking up a 3.13 ERA over 92 innings.  I don't know if he is worth owning, but I thought I'd throw his name out.  The last 2 names I'll mention are David Hernandez and Will Harris.  They have some upside potential, but probably not enough to own.
I love this team!  But then again, maybe I'm just a fan of snakes.  Miguel Montero had a bad 2013.  His BABIP was down .080, which caused his average to dip .056.  He is a great rebound candidate, and will be cheap because he disappointed last year.  This brings me to my biggest love affair, Paul Goldschmidt.  Grey totally nailed his projections last year, and I owned him everywhere.  It was fantasy heaven.  I won't own him because his price tag is going to be high, but he is still my man crush…well him and Ryan Gosling.  Now that my fantasies have been fulfilled, I'll move onto another player I'm high on, Aaron Hill.  He was injured for about half of the season last year, but boy was his half season good.  He is ranked about 100th overall, and around 10th among second basemen, but he is better than that.  He is one of my target second basemen.  Our first positional battle comes at shortstop, with Chris Owings and Didi Gregorius.  While Didi had most of the playing time, his bat was less than spectacular, which gives Owings a shot at the shortstop slot.  He is a highly touted prospect who played decently in the 61 PA he got last year.  Didi probably has the advantage right now, but I think Owings will end with the spot.  Martin Prado is handling the hot corner this year.  Mr. Versatility gets a ton of value out of his positional eligibility, but he is an above average player on top of that.  He should be owned in all leagues.  The outfield consists of Mark Trumbo, A.J. Pollock, and Gerardo Parra.  Trumbo and Parra are locks, but Pollock isn't set.  He is likely to be splitting time with Cody Ross.  Pollock has potential if he can get the PAs, but Ross eats into that.
The Dodgers looked like a disappointment early last year.  Somehow they went on a tear, going 42-15 in July and August.  They are looking to repeat their success, otherwise Don Mattingly is bound to have a lot of angry fans on his hands.
Clayton Kershaw recently became the highest paid player in MLB history, and rightfully so.  He broke a 2.00 ERA for only the third time since 2000.  I don't really need to say anything about his job being safe.  The Dodgers have a great 2-3 punch also, with Zack Greinke and Hyun-Jin Ryu.  Greinke is a top 20 pitcher, and Ryu probably cracks the top 30 or 35.  They should be owned in all leagues, and I'll probably be targeting at least one of them in all of my leagues (depending on how my drafts turn out).  Dan Haren is also onboard the D-train with a one year contract.  He will probably be a mid to late round pitcher with decent upside.  He is back in the NL, which is nice too.  The fifth spot is a fight between Josh Beckett, Chad Billingsley, and Paul Maholm.  It's pretty insane that the Dodgers have 7 viable pitchers for five rotation spots (although Beckett is not the same as he was during his Marlin and Red Sox years).  My money is on Billingsley, but I'm only putting down a $2 wager (but maybe I'm a frugal scrooge).
I didn't realize this until now, but Kenley Jansen was a goldmine in certain leagues last year, saving 28 games and collecting 16 holds to go with it.  He will be a top 3 closer this year, but I won't pay sticker price for him (maybe I'll put on the red light to get a discount).  Past Jansen, there are 4 players looking into: J.P. Howell, Paco Rodriguez, Brian Wilson, and winner of the doofiest smile award, Chris Withrow:
Howell, Rodriguez, and Wilson are good for holds and lowering stats, Withrow is good for lowering stats.  Wilson also helps with beard grooming and gives free drum lessons.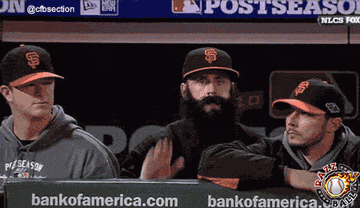 Andre Ethier is the best 4th outfielder around, even though he is listed as the starting centerfielder on the Dodgers depth chart.  It's almost inevitable that Matt Kemp gets injured yawning after waking up one morning, so I understand why they would do that.  Kemp is probably worth taking at his knocked down price though, assuming you're okay with the risk.  The rest of the outfield is filled with Carl Crawford, who is past his prime, and Yasiel Puig, who is overpriced, but still pretty good.  Expect some downswing out of Puig, who played at a highly unsustainable level last year.  Pay for what he is and will be, not what he was.  Adrian Gonzalez will be at first, who is also past his prime.  He is still good, but he isn't as good at Gonzo circa 2009.  The average, runs, and RBI's will stick around, but his power is nearly cut in half.  Second base will be handled by someone who has yet to play a major league game, Alexander Guerrero.  While I don't expect him to be great, he has potential to be okay, especially at such a shallow position.  He will probably end up splitting time with Dee Gordon, which works against both of them, although Gordon will probably be used as a pinch runner, so he will rack up those juicy steals.  My man Hanley Ramirez will be holding up short this year, assuming he doesn't get injured again.  Everyone has him ranked as a top 2 shortstop, but I think of him more as a top 5 option…not worth his price tag.  Juan Uribe will be the Opening Day third basemen, which is unfortunate for the Dodgers.  He is pretty bad and I wouldn't own him unless I was in a 15 team NL-Only league.  Catcher duty belongs to A.J. Ellis.  The job is fairly safe, but he is only viable in 2 catcher leagues.
It's an even numbered year, which means Giants' fans are hoping they can repeat 2010 and 2012.  While I don't think they're good enough for their 3rd Series in 5 years, they have a good shot at the playoffs.
The Giants starters seemed to be falling apart by the seams.  First Tim Lincecum imploded, then Matt Cain followed in form.  Hopefully Madison Bumgarner can hold off the curse.  All 3 are locks in the rotation, and should be owned all around.  You'll be able to get Lincecum cheap, and he'll strike out a ton of batters.  The next two spots are reserved for Tim Hudson and Ryan Vogelsong.  I advise against owning either player unless you're in a deep league.  Hudson is the safer choice of the two, if I had to choose one.  Be on the lookout for spot starts from Yusmeiro Petit.  He should get some spot starts, and might take over for Vogelsong when he eventually implodes.  I don't know if Petit is worth your time outside of spot starts though.
The Giants' bullpen is looking spiffy, if I do say so myself.  Sergio Romo is a top 10 closer, and Javier Lopez, Santiago Casilla, Jeremy Affeldt (I still don't know how to pronounce his last name) and Jean Machi will be splitting setup duties.  Affeldt and Machi are probably the best choices out of those 4.  I wish I had something more interesting to say about these guys, but I'm not overly wowed by anyone not named Romo…and I won't own Romo because his price tag will be too high.  It's unfortunate that there are so many decent pitchers on the Giants, because they detract value from each other.
I find the Giants' batters the most interesting part of the team.  While there are no superstars outside of Buster Posey, they are an all-around solid team.  I don't need to say much about Posey, we all know he is a top 3 backstop option.  I won't own him, because I'm eying a catcher on a different NL West team that I'll mention later (hint: he isn't on the Padres and his name rhymes with "fill-in demario").  Over at first we have a high-upside player, Brandon Belt.  Belt had a "breakout year" in 2013.  I used quotes around that it wasn't a huge breakout.  A 76/17/67/.289/5 slash decent and all, but I think that's near his ceiling.  He won't be too expensive, so he should be worth a CI/IF/UTIL slot.  The middle infield is the weakest part of the lineup, which is manned by Marco Scutaro and Brandon Crawford.  Neither will bring much to the table outside of NL-only leagues.  Everyone's favorite Panda, Pablo Sandoval, handles the hot corner.  He lost a ton of weight during the offseason, but I still have no idea whether or not that is a good thing.  He is a top 12-15 third basemen, but I don't trust him.  If you do, he probably won't be too expensive.  The only new position player is Michael Morse.  He will probably put up numbers similar to Sandoval, but with a lower average (.250s or so).  Hunter Pence is one of my favorites on the Giants.  He puts up good numbers year in and year out, and he has a very unique swing and personality: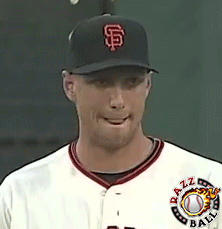 I want to own him if I can get him for the right price.  The last player I'll mention is Angel Pagan.  I saved him for last because I wrote an entire article on him.  I'll summarize the article for you so you don't have to read any more of my dreadful writing: buy Pagan as a cheap OF/UTIL player.  He will help with runs, stolen bases, and average…and he is ranked beyond 200th overall.  I know I haven't mentioned any backups, but that's mostly because there is nothing to talk about.  Gregor Blanco and Joaquin Arias will probably get some playing time, but nothing significant.
It's not looking to be a good year for the Padres (sorry guys).  The good news is that they definitely seem to be a team on the rise.  They made some decent signings this winter to bolster the rotation… let's see how things pan out.
If you have short term memory issues, I just mentioned that the Padres have some new pitchers on their squad.  Josh Johnson and Ian Kennedy would be those pitchers.  Both pitchers have been playing fairly poorly in recent years, but they should be getting a boost in the baseball magnet that is Petco Park.  I don't think either is worth owning, unless they really start tearing it up.  I want to say Eric Stults has an assured rotation spot.  He was the only Padre to surpass 200 IP, while keeping his ERA at a decent level.  On the other hand, he had never passed 100 IP in a season before this, so who knows if his arm will hold up.  In that case, look for Robbie Erlin (who?) to get some starts.  It really isn't worth keeping an eye on him though.  The interesting pitchers on this team are Andrew Cashner and Tyson Ross.  Cashner is a favorite sleeper of mine, and I'll be trying my best to get him in leagues.  He posted a 3.04 ERA (3.29 FIP) over 160 IP last season.  That's nothing to scoff at.  Ross did even better, albeit in fewer innings.  He was able to strikeout over 1 batter an inning over 94 innings.  Sky has some thoughts on Ross, so I'll let him take the floor.  I would expect some regression from both, but they should be able to keep their ERA inside the 3.5-4 range.  Hopefully Tyson won't bite anyone's ear off.
The Padres' bullpen hasn't been stellar in recent years, but it hasn't been deplorable either.  Huston Street will be closing again…and again, he should be owned.  He was 33/35 in saves opportunities last year, and should repeat with similar numbers.  The only other relievers worth a look are Alex Torres and Joaquin Benoit.  Benoit was the savior to the Tigers' woes last year, and he will be a solid setup guy this year.  He is probably a rough equivalent to David Robertson (when he was the 8th  inning man).  Lastly, Torres tore it up for the Rays last year, posting an ERA of 1.71 over 58 IP.  He is going to a friendlier ballpark, so he has potential to repeat those numbers.  His BABIP was really low last year, so I would expect some regression.
The poor poor Padres… they just can't catch any breaks with their bats.  After Chase Headley absolutely mashed the ball in 2012, he was barely able to put up half of those numbers last year.  He is a lower-end third base option.  Now Cameron Maybin is out for 2-3 months.  I'm not sure that is actually a bad thing, but it certainly doesn't help.  Chris Denorfia and/or Alexi Amarista will be taking over for him.  Neither are worth owning unless you're desperate, or in an NL-Only league.  Carlos Quentin and Will Venable fill out the outfield.  If Quentin can stay healthy, he is a big bargain.  Over the past 2 years, he has gotten 660 PA, batted .268, hit 29 bombs, scored 86 runs, and drove in 90.  That's really good production, if he could do it in one year.  He is only 31, so he still has some value.  Venable, on the other hand, is overrated.  After hovering with a 10% HR/FB ratio, he goes off the charts, reaching 19.8%.  He has 20+ stolen base speed, but I doubt he will top 20 homers this year.  If you think he can repeat, please don't take him earlier than 200th overall.  The infield has some life to it.  Most of this life is with Jedd Gyorko and Everth Cabrera.   I really like Gyorko this year, and I'm pretty sure everyone else does too.  He hit 23 home runs in his rookie season, which is great, especially since he plays second.  He won't hit for average or steal bases, but he is a good cheap option for second with upside.  Grey professed his love for Gyorko here.  I'm not as high on Cabrera, and I'm probably the only one.  He started running wild last year, raising his average by almost .040 and stealing at a much higher click.  But then he gets suspended for 50 games for using PEDs…a little too suspicious in my big book of tricks.  I don't like him now that he is clean.  He will still steal bases and score runs though, so there's that.  This leads us to (over) Yonder Alonso.  I'm not really sure why he plays first, because he only hit 6 home runs in 375 PA last year.  He doesn't have much power, and isn't worth owning.  Our last stop on the Padres' tour is with Nick Hundley.  He is okay as a second catcher, but not much else.  He isn't likely to play 130 games, and I'd be surprised if he hit over .250 this year.
The Rockies play on a field that is the antithesis of Petco.  Every year you hear about how you should never own a Rockies pitcher, and all hitters that leave the mile-high city are due to major regression.  Bollocks I say!  People gotta stop over simplifying.
Well okay…I'll take some of what I said above back.  But not all of it, I won't eat my words.  Jhoulys Chacin and Jorge de la Rosa put up good numbers last year, and have some potential for repeating.  I like Chacin more, with Jorge streaming as necessary.  Tyler Chatwood is also interesting.  While he won't be striking out many batters, his ERA is pretty good.  He fits the mile-high splits well, with a 3.50 ERA at home and a 2.72 ERA away in 2013.  A pitcher that had a 3.50 ERA in the worst stadium in the bigs, where do I sign?  The last two spots are probably reserved for "Mr. DL", Brett Anderson, and Juan Nicasio.  Nicasio is bad, and Denver doesn't help.  Anderson has potential, if he doesn't dislocate his rotator cuff coughing.  The Rockies also picked up Jordan Lyles from the Astros.  He was good for a short while last year, but he has some developing to do.  I don't really know why I'm bringing him up, because he isn't even worth spot starts.
The Rockies only have 3 relievers worth owning: LaTroy Hawkins, Rex Brothers, and Matt Belisle.  Hawkins is boom or bust, so don't take your chances till the later rounds.  I'm not sure why the Rockies didn't just allow Brothers to close this year, he can handle it…and well.  He will be setup man until Hawkins sucks it up, which I can't wait for so I can nab Brothers.  Belisle was the main setup man last year, and he will be splitting it with Brothers this year.  His FIP has been stellar for the last couple years, but his ERA has been shaky.  That's not totally his fault, so he might be worth a grab in deeper leagues.
Carlos Gonzalez is a top-5 player… well, he probably is exactly number five.  I'm starting there because I couldn't think of a better segue.  He contributes in all five categories, which is so rare.  It's unfortunate that he has trouble staying healthy, but I'd still buy him at a slightly lowered price to account for that.  After that is the best hitting shortstop around, Troy Tulowitzki.  Too bad he is also a huge injury risk.  He is great, if you're into that sorta thing.  But I like to get some steals from the SS slot, and he can't help me there.  Next, I'll jump over to Michael Cuddyer.  There is no way he is .330 again.  Buy him for what he will be, not what he was.  The numbers should be roughly equivalent to last year, with his average falling back down to earth.  My next hop lands me at the backstop, with Wilin Rosario.  If you don't think he has broken out yet, then this is as good a year as any to start.  He probably has a little too much hype, which will raise his price.  Catching is pretty deep this year, so you don't have to aim high if you don't want to.  Grey ranked him as the best catcher overall, but what does he know…he only nailed that Goldy projection.  Drew Stubbs is next on my list.  If he could get on base more, he would be a great leadoff hitter, but unfortunately he has never broken a .330 OBP.  His numbers should increase a bit in Colorado, but that doesn't make him worthy of a roster spot.  Over at the hot corner is hot prospect Nolan Arenado.  Do players still qualify as prospects after getting over 500 PA in a season?  Either way, he has room to grow, and could go on to be a great third base option in a couple years.  Keeper league alert: buy him young, reap your rewards in 2015/16.  Only 2 stops left on the Coors Express.  1st stop, 1st base, Justin Morneau.  Morneau went from a life-long Twin, to 2 separate teams in under a full season.  The Morneau we once knew is gone now, and we are left with a shell of his former greatness.  That shell is decent, but not worth owning at first base.  The last stop is the only one that has a potential duel.  This is at second, with DJ LeMahieu and Josh Rutledge.  Grey was really high on Rutledge last year, but he couldn't hold it together, which is a bummer.  He started off okay, but fell off.  When they sent him back to AAA, he crushed it again, hitting .371 in 38 games.  Hopefully he can pick his game up, cause I like they guy.  DJ has the advantage right now, and will probably get most of the playing time.  If he can't hold up, Rutledge will fill in the holes.  Both are also backups to Tulowitzki, so if he gets hurt, you'll see both in action.  Neither are worth owning, unless they can prove themselves more.
Jeremy is a contributor for Razzball Baseball. He had a last name, but he lost it in 'Nam.  You can follow the soldier of misfortune on twitter @Jeremy_Razzball, just don't trigger his flashbacks.