First off, I would like to say Eric Sogard should be the Face of the MLB; that vote was rigged in David Wright's favor.  Baseball needs more nerdy-looking, glasses-touting, Bernie-leanin', jive-walking players.  But without further ado, here is the AL West Spring Training Showdown. (You can check out the AL Central Spring Training Preview here and NL East Spring Training Preview here.)
The Angels didn't make many transactions this winter, but at least none of them were bad.  Hopefully their underperformers can step up their game.
The Angel's starting rotation is going to fly high or fall hard this year.  Jered Weaver and C.J. Wilson are the only locks for a rotation spot in my mind.  Hector Santiago probably has a spot too as they just signed him, but I am reluctant to pick him up outside of deep leagues: while his ERA looks delectable at 3.41, his WHIP is less than satisfactory, sitting at a lowly 1.36.  He is a ticking time bomb (I have this same argument for Matt Moore, but I'll bring that up when I get to the AL East).  The last 2 spots are being fought for by Matt Shoemaker, Joe Blanton, Tyler Skaggs, and Garrett Richards.  I expect almost no resistance from Shoemaker and Blanton though.  After last year, I don't know how the Angels could possibly give a spot to Blanton, and Shoemaker certainly hasn't been wowing anyone with his minor league stats (4.64 ERA in 29 starts in AAA).  Skaggs looks promising.  He is a good sleeper pick, with decent upside, but I wouldn't expect him to produce as well as other highly touted rookies like Danny Salazar and Sonny Gray.  Richards has some experience in the majors, although it's nothing to drool over.  I wouldn't look to him for more than an occasional stream.
When I look at the Angels' bullpen, I'm not seeing any sparks flying.  There is nothing much going on that is worth looking at, at least in terms of fantasy value.  While Ernesto Frieri's closer job isn't safe, there isn't exactly a plethora of replacements in the pen.  The only other names I see having any discernable fantasy impact are Dane de la Rosa and Joe Smith.  If either of these guys end up being the setup man, I would think about owning them, assuming holds count in your league.  Otherwise, skip the Angels pen and move on.
We all know Mike Trout is the answer to every fantasy owner's prayers, so I don't think I need to talk anymore about the golden god.  The rest of the outfield is filled out by Josh Hamilton, Kole Calhoun, and Raul Ibanez.  Wait Jeremy, that's 4 outfielders!  Well it looks like you're better at math than I am.  Ibanez will probably be the DH because of stuff like this: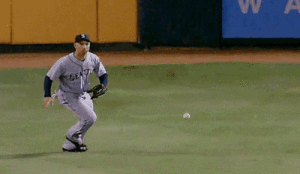 and this: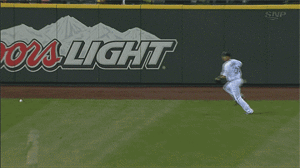 He will probably get some playing time in the field to give the other 2 rest.  Both Hamilton and Calhoun are worth owning, and both have little to worry about in terms of job security.  Calhoun is a great sleeper pick this year…although that is slightly diminished because I'm only the ten millionth person to say that.  Grey is one of those 9.999 million ahead of me.  I'll move onto the infield now.  I'll start behind the plate, with Chris Iannetta.  Iannetta won't be of much use in single catcher fantasy leagues unfortunately, as his production is run-of-the-mill at best.  He will be splitting time with Hank Conger, who is even less ownable than Iannetta.  As we take our walk around the basepaths, our first stop is at Albert Pujols, the butt of many a fantasy team pun name.  If he can stay healthy, which hadn't been an issue until last year, he should produce at near "Pujolsian" levels.  His job isn't going anywhere.  The next stop on our list is at second, and our host is Howie Kendrick.  Kendrick is by no means a top notch second basemen, but the position is shallow this year, and the Angels don't have anyone to replace him.  He is probably a top 15 second basemen, but he shouldn't be anything more than a benchwarmer (or maybe filling a MI/IF slot) outside of deep leagues.  Erick Aybar is next on the list.  Again, there is no one nipping at Aybar's heels.  Aybar is roughly equivalent to Kendrick in terms of their respective positional rankings and fantasy values.  If you put a gun to my head, I'd put Aybar just ahead of Kendrick.  Our last stop on the Angels tour is David Freese.  Freese is a decent third basemen, just like Aybar and Kendrick.  And for a third time, no one is touching his position.  He has an even stronger argument though, as the Angels just signed him for $5 million.  Unfortunately for you team though, third base is a deeper position than the middle infield, so you probably won't be needing him to start at 3rd.  If you had him in a CI or UTIL slot, I wouldn't hold it against you.
You know it and I know it: the Astros are a mess.  Fortunately for them, they have been rebuilding their team, and they have a ton of great young talent on the way up.
The 'Stros have no one who is going to wow us in their rotation this year, and probably no one who is worth owning.  I will mention Scott Feldman here though.  The Astros gave him $30 million over 3 years, which is a lot for them.  They know he isn't an ace, but he is a decent veteran who could be a good mentor to the younger arms on the team.  He is ownable as a backend starter, maybe.  If he falters, drop him for hopefully greener pastures.  Okay, you twisted my arm, I'll mentioned Jarred Cosart and Brett Oberholtzer here too.  Oberholtzer looks better than Cosart to me, since Cosart managed to walk more batters than he struck out.  Keep an eye on those 2 to see if they're doing anything.  They might be good for some streams.  Mark Appel looks promising, but probably won't be in the majors until at least 2015, so don't touch him outside of dynasty leagues.
I have no idea where to start in the bullpen.  The only name that stands out to me is Jesse Crain, but he will probably be the setup man.  He is worth owning for holds and lowering rate stats.  ESPN says he is in the closer runoff, along with Matt Albers, Josh Fields, and Chad Qualls.  I want to mark Fields as the frontrunner, but I don't really know.  It's hard to say anything definitively on this team, especially now that pitching legend Nolan Ryan is in the front office.
The Astros hitters look like a bunch of no-names, but there is a lot of potential there.  For starters, they have some sweet sweet power in Chris Carter.  If he could get his average up, he could be a really hot fantasy player.  But if he doesn't, he is a younger Adam Dunn.  At worst, Carter is cheap power, and no one is taking his job from him.  Behind the plate is Jason Castro, who is a great late round catcher option.  He should be owned in all leagues deeper than 8 teams.  Next up to bat is Jose Altuve.  He is the closest thing to a start the Astros have right now.  He is a top 10 second basemen and will contribute in 3 categories (R, AVG, SB).  Next up is shortstop, and Jonathan Villar.  I don't see anyone taking his position right now, but that doesn't mean he is very good either.  Sky seems to have a little crush on him though, and that's okay, the dude is fast.  He will steal bases like almost no one else (queue Billy Hamilton), but he will flop in other categories.  If Carter is your cheap power, this guy is your cheap speed.  To top off the infield is Matt Dominguez.  He put up a decent 56/21/77/.241 slash last year, which doesn't seem great, but he was only 23.  With no one challenging him for his position, he is a good backup/sleeper pick.  You could also throw him in a CI or UTIL spot.  His BABIP last year was .254, and he will be cheap…buy him now or forever hold your peace.  Right now, Dexter Fowler is the only 100% lock in the outfield.  He is a decent hitter, but I wouldn't expect anything spectacular.  He is leaving the hitters haven of the mile-high city after all.  The other 2 spots right now belong to Robbie Grossman and L.J. Hoes.  Neither are worth owning, but they are both in danger of losing their position.  Jesus Guzman was just signed, and will be stealing some of their playing time, but he isn't interesting.  The juiciest name for the Astros right now is George Springer.  This kid has potential, and an invite to Spring Training.  I think he will be making the opening day roster, and hopefully he will be starting.  Everyone should be picking him for his high upside, in the later rounds of course.
There are only 3 teams that start with an 'A', and they're all in the AL West.  Coincidence?!?!?  Probably.  Everyone's favorite money-ball team is looking good for yet another year.
Well they lost Bartolo Colon, but they don't care…hell, I don't care, it's for the best.  I really like their rotation because while there are no superstars, there are many solid pitchers.  I will start with Jarrod Parker, who looks to by the number one starter.  While Parker's numbers don't look spectacular, I think he is good for a mid-3's ERA.  He struggled during the first half, but really pulled it together during the second half, stringing together 8 starts consecutive quality starts.  At one point, he threw 25.1 innings and only gave up 3 runs.  Hopefully he can pick up where he left off.  Next up is Sonny Gray, who is up there with Calhoun for the amount of times he has been mentioned as a sleeper pick.  I mean the press is definitely earned, but it inflates his value which sucks, but he is worth it.  He is in no danger of losing his spot after his performance in the postseason.  The A's signed Scott Kazmir this year, which locks him in a starting slot.  He is worth a flier, since it's highly likely he pulled himself together (at least to some extent).  The last 2 spots are a battle between A.J. Griffin, Tommy Milone, Dan Straily, and Drew Pomeranz.  My money is on Griffin and Straily, but I wouldn't dismiss the other 2.  I would own Griffin and Straily as backend starters, and I would stream the others if they got any starts…after all, Milone does have a 3.21 ERA at home.
The A's bullpen has some really good stuff, and some really bad stuff (I won't be mentioning the bad, sorry).  Jim Johnson is closing obviously, and I don't think there is much danger in his position.  Sean Doolittle and Ryan Cook are the only relievers I would look into besides Jimmy J.  They're both going to get some holds and will lower rate stats.  Just pray they don't close: they combined for 4/16 in save opportunities.
The A's season was bolstered by exceptional hitting performances from Josh Donaldson and Jed Lowrie.  That's a pretty good way to lock yourself into a position.  Don't expect either to repeat their dominance, but I wouldn't expect either to fall apart, just regress.  Now for the right side of the infield: "Mr. Glasses" Eric Sogard and Brandon Moss.  Okay, nicknames aren't my forte.  Moss had a pretty good year, smacking 30 homers and driving in 87.  Both are locked into their positions too.  Be on the lookout for Nick Punto though.  If Lowrie or Sogard falter, Punto is looking to step in to pick up the slack.  He is a decent fill in if he gets any playing time.  The outfield is being manned by Yoenis Cespedes, Coco Crisp, and Josh Reddick.  Reddick showed so much potential in 2012, and dashed almost all of it in 2013…oh well, his job isn't really in jeopardy.  Cespedes and Crisp are safe too.  They're both worth owning, Reddick not so much.  Lastly, we get to the big C, Derek Norris.  Nothing really special here.  He might lose some time to Stephen Vogt or John Jaso, but none of them are worth owning, so it's not really important for fantasy purposes.
I really like the Mariners this year, even though there are many others who disagree with me.  I swear it's not just a Cano-crush from a Yankee fan…but no one ever believes me.  They made a ton of moves in the offseason and I think they're underrated.  The Mariners are all-in for the next few years.
The Mariners have six starters pushing for five spots.  Felix Hernandez, Hisashi Iwakuma, and Taijuan Walker are all locks, and should be owned across the board.  Hopefully Iwakuma can return to full health not too far into the season and Walker lives up to expectations.  The last 2 spots are split between Erasmo Ramirez, Brandon Maurer, and James Paxton.  I want to say Maurer will be on the outside looking in, because a 6.30 ERA over 90 IP doesn't exactly look good.  Paxton is worth a shot on a late round pick, Erasmo isn't worth much of anything until he proves himself further.
The M's signed Fernando Rodney, which is either going to go perfectly…or is going to be lost money.  He most likely is going to start the season as the closer.  But I wouldn't count out Tom Wilhelmsen or Danny Farquhar if he falters.  If holds and rate stats is what you're after, look no further than Yoervis Medina and Charlie Furbush.  They're not the best setup men out there, but they're good enough.
For the position players, I'll start with the prospects: Brad Miller and Mike Zunino.  Brad Miller looked really good last year.  In half a season he put up 41/8/36/.265/5…and he is a shortstop (and only 24 years old).  Grey likes him, I like him, that should be good enough for you.  Go out and buy, buy, buy!  Sorry folks, I'm not as high on Zunino as I am on Miller.  I'm not saying Zunino is bad, he is just more of an unknown.  I'd wait to see if he holds onto the position (which he probably will).  If he does, keep an eye on him.  I don't think he is ready to drop our jaws, but he has some upside.  Justin Smoak…don't own him…moving on.  Robinson Cano…own him…moving on again.  Kyle Seager will be manning third base for his third full season in the majors (unless I just jinxed him).  He is near the bottom of the top 10 third basemen, definitely worth owning.  Corey Hart was a nice pickup for the M's, if he can return to form…and not to get hurt.  I can see him going upwards of 80/25/80/.260, so he should be on a team somewhere.  It's hard to say whether or not Michael Saunders and Dustin Ackley are worth owning; it depends on how much playing time they get.  They are both set to start right now, but Willie Bloomquist and Logan Morrison could take some of their playing time.
I think the Rangers are the front runner for the AL West title this year.  They were a part of the biggest trade this offseason (which was a really good trade for both sides).
The Rangers' rotation hasn't changed much since last year.  I don't think I need to say much on Yu Darvish, his numbers speak for themselves.  Hopefully Matt Harrison can return to form after a season ending injury last year.  He will probably be cheap because of this…probably worth a shot on the cheap.  But for every action there is an equal and opposite reaction, which leaves us with an injured Derek Holland.  He should be ready by May, so no need to worry too much.  I want to say the final 2 roster spots go to Martin Perez and Alexi Ogando, but I can't be 100% certain.  Tommy Hanson and Nick Tepesch are fighting for a roster spot too, but I wouldn't even think about owning them if they managed to pull of said upset.
There is a 3-way battle for closer in Arlington now that Nathan is gone between Neftali Feliz, Joakim Soria, and Tanner Scheppers.  I don't think Scheppers will get it, but that isn't a bad thing.  He led the Rangers in holds and had a sub-2.00 ERA over 76.2 innings.  I want to give the closer role to Feliz just because I lost all trust in Soria when he was a Royal.  I don't fully trust anyone else in that bullpen.
Now we move onto one of the deadliest offenses around.  Prince Fielder, Adrian Beltre, Elvis Andrus, Shin-Soo Choo, and Alex Rios should be owned in all leagues, and are locked into their positions.  The interesting players on this team are Leonys Martin and Jurickson Profar.  There has been more than enough buzz around Profar to get your hopes up, but he didn't exactly deliver on his promises last year.  But he was only 20, so maybe he needs a little experience under his belt.  I have a feeling everyone forgets Martin exists.  He is rarely mentioned, but he did pretty well last year, posting 66/8/49/.260/36 in just over 500 PA.  While this doesn't sound great, he does provide steals on the cheap, with a bit of power sprinkled in.  His numbers are getting hurt because over 300 of those PA have been in the 8th or 9th slot in the batting order.  If he is given more chances to leadoff, he will have a huge payoff.  Pick him up and store him away.  At worst you wasted a late round pick on him.  Last on the list is Geovany Soto.  He is certainly not the same Soto who hit 23 bombs and .285 in 2008.  The problem is that the only feasible backup the Rangers have right now is J.P. Arencibia, who can barely hit .200.  I expect them to split time, rendering both of them unusable outside of 2 catcher leagues.
Jeremy is a contributor for Razzball Baseball. He had a last name, but he lost it in 'Nam.  You can follow the soldier of misfortune on twitter @Jeremy_Razzball, just don't trigger his flashbacks.