With just over a month and a half left to play, it's still a tight two-horse race between Razzball's J-FOH and Hannibal Montana for the first Razznasty championship. The big story right now though is MattTruss (The Hippos). Truss has gained nearly 20 points in the standings since our last league update in early July and now sits comfortably in third place. How has he done it? Basically he's dominated the rest of us since July 1st – leading the league in RBIs, wins, and strikeouts over that span. But that's not all. The Hippos have also been top five in four other categories, including hitting the second most homers and posting the second best ERA since the beginning of last month. In other words, it's been a balanced attack on the standings, and I am now officially scared of hippos. There is still a lot of ground between Truss and our two leaders, but anything can happen when you're a 2-ton animal on the move.
Our league's trade deadline is Sunday, and there have been a ton of trades since the last update. I'll list them all here, but I'll save my comments for the trades I was involved in. A quick note on trading in dynasty leagues: in my experience it's typical to see a lot of trade action, since a dynasty owner is somewhat limited in how he or she can acquire new talent. Since you are keeping the majority of your roster (in our case 30 of 40), the smaller supplemental drafts end up being leftovers (cuts) and new signees that are usually prospects. Dynasties also tend to be deep (we're a 16-teamer) and this thins out the free agency pool pretty quickly. For these reasons, trading becomes one of the best ways to really improve or "change" your team in a dynasty league. Whether you're utilizing small moves like a pair of pruning shears on a bonsai tree or you're taking a hacksaw to an entire limb that you either don't need or want anymore, a trade can bring in the talent that free agency and supplemental drafts just can't provide. Here are the current league standings as well as all of our league's trades from the last month…
2015 Razznasty Standings (8/10/15)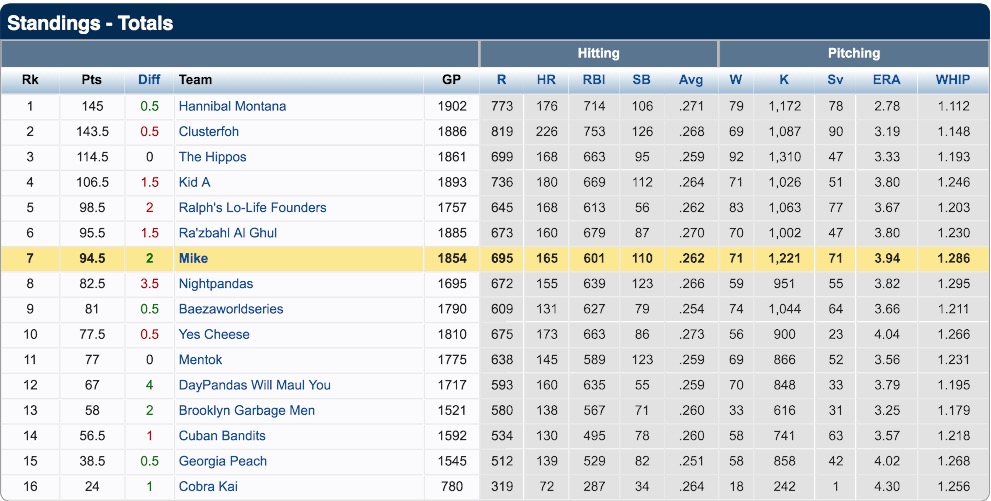 Trades
– J-FOH trades Randal Grichuk and Grant Holmes to Cuban Bandits for Adrian Beltre
– Hannibal trades Erik Fedde to Cuban Bandits for Gerardo Parra
– J-FOH trades Carlos Santana, Alex Guerrero, Brandon Moss, and a 1st round pick to Mike for Craig Kimbrel and Francisco Liriano
– Ralph trades Avisail Garcia and Michael Cuddyer to Cuban Bandits for Tony Kemp, Tommy Pham, Dan Haren, and Adam LaRoche
– Georgia Peach trades Jung-ho Kang and Hisashi Iwakuma to J-FOH for Joe Ross, Matt Chapman, and Michael Feliz
– Mike trades Curtis Granderson to Hannibal for Wei-Yin Chen
– Cuban Bandits trade Trevor Story and Gary Sanchez to Cobra Kai for Javier Baez
– Hannibal trades Zack Grienke, Aaron Judge, and a 1st round pick to Ralph for Giancarlo Stanton
– Ralph trades Colin Moran to Cuban Bandits for Matt Moore, Ervin Santana, and an 8th round pick
– Cobra Kai trades Eddie Rosario to Ra'zbahl Al Ghul for a 1st round pick
– Ralph trades Ender Inciarte to Ra'zbahl Al Ghul for Nelson Cruz
– J-FOH trades Michael Pineda and a 6th round pick to Mike for Jose Quintana
– Mike trades Carson Smith and a 3rd round pick to Ra'zbahl Al Ghul for Manuel Margot
– Mike trades Alex Guerrero and Roberto Osuna to Hippos for Patrick Corbin
– Mike trades Blake Snell to Hippos for Odubel Herrera and Adrian Rondon
– Cobra Kai trades Yordano Ventura and 2nd round pick to Mike for two 1st round picks
– YesCheese trades Orlando Arcia and a 6th round pick to Ra'zbahl Al Ghul for Ian Kinsler
– YesCheese trades Rougned Odor and Rowdy Tellez to Ra'zbahl Al Ghul for Albert Pujols, Josh Harrison, and Forrest Wall
– Cuban Bandits trade Huston Street and Hunter Harvey to YesCheese for Lance McCullers, Pablo Sandoval, and a 5th round pick
– Hippos trade Gregory Polanco and a 3rd round pick to Georgia Peach for Ryan Braun and a 5th round pick
– YesCheese trades Forrest Wall and a 3rd round pick to Georgia Peach for Jonathan Papelbon and a 7th round pick
– Ra'zbahl Al Ghul trade a 6th round pick to Cuban Bandits for Jesus Montero
– Georgia Peach trade Jeff Samardzija to Hannibal for Jorge Polanco
I made several trades here, partly because I'm sitting in the middle of the pack without a realistic chance to win the whole thing. I'm happy with my team, but I felt like it could stand some pruning before the deadline to get set for next year. My goals were to improve my offense, get younger pitching, and land a prospect or two without tearing my big league roster apart. I generally look at closers as trade chips and not long term solutions, so I was happy to get some pieces in return for players like Carson Smith and Roberto Osuna. Brandon Moss and Carlos Santana aren't much to get excited about, but they'll serve as utility bats on my team, and both Craig Kimbrel and Francisco Liriano were players I was prepared to sell. Yordano Ventura and Patrick Corbin helped me get a bit younger on the pitching side of things. I landed a second pitching prospect in Franklyn Kilome earlier in the year, which made it easier to part with Blake Snell for two players I have a soft spot for – Adrian Rondon and Odubel Herrera. This wasn't a trade I actually sought out, but rather one that came to me and just made sense. Should Chase Utley approve a trade away from Philly, Doobie might get some reps at second base again, which would obviously help his value and make him more of a keepable asset in this league. We'll see.
Putting my own team aside for a second, I want to say that this league has been a blast all year. As you can see, it's very active, and that's what makes it fun. So thanks to everybody in the league for making it what it is. If you've never played dynasty, give it a try. If your league ends up being anything like this crew we have here with Razznasty, you'll love it.