I went into the Mike Foltynewicz vs. Red Sox in Fenway matchup a spry, jovial young rascal.  The mischievous imp of Chinese food, the rapscallion.  Then Mike Faultywirewitz went 7 IP, 1 ER, 6 baserunners (3 BBs), 7 Ks, ERA at 2.55, and I aged forty years.  "I was told just the painting of me is supposed to age."  That's me trying to get a refund for my Dorian Grey Albright portrait.  The time Finkynewhitch was on the mound was like the three-year span when I lost my fortune investing in Beanie Babies compressed into two hours.  He just loses all semblance of the strike zone out of completely nowhere.  It's like, "We're cruising….so cruising…And now I'm throwing five feet outside the strike zone."  With that said, it's hard not to be encouraged — his velocity is up to 96 MPH; his K/9 is up to 10.4; he's got the best xFIP of his career, and his team should provide run support.  He's also in his third full year when I like to look for starter breakouts.  The only drawback is his command is a mess.  As long as you watch him pitch with cucumbers on your eyes to combat the wrinkles, you'll be fine.  Anyway, here's what else I saw this weekend in fantasy baseball:
Sean Newcomb – 3 IP, 3 ER, ERA at 2.75.  This was a tough start at Fenway.  Sean will overcomb.
Mike Soroka – Will begin a rehab later this week.  In the biz, we call this a Mike check.
Ronald Acuna – Left yesterday's game after going 175 MPH through first base, calling himself safe and twisting his leg.  The replay of Acuña hurting himself while calling himself safe shows why umpires make safe and out calls while standing still.  Since Acuña walked off the field on his power, I'm assuming he will be fine.  Leave the safe calls to the professionals.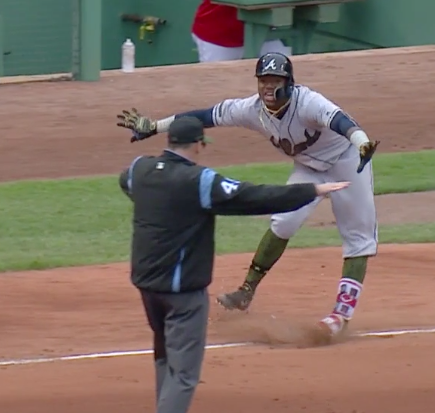 Tyler Flowers – 1-for-3, 3 RBIs and his 2nd homer, hitting .286.  The home run came off Sale and went over the Green Monster, who I'm told is named Wally and is racist.
Drew Pomeranz – 3 1/3 IP, 5 ER, ERA at 6.75.  You are a flawed specimen.  Goodbye, Pomeranz.  I said that in my most evil voice.
Mookie Betts – Scratched with side tightness.  Nooooooooooooo… *takes a few breaths* …oooooooooooooo… *sobs for a few minutes*  …oooooooooooo… *forgets why I'm sobbing, checks email, sees an email from my bookie, reminds me of Mookie, sobs again*  ….ooooooooo!!!!
Chris Sale – 4 1/3 IP, 6 ER, ERA at 2.76.  You'd think Sale would be able to handle the Braves' tomahawk better considering his dexterity with scissors.
Andrew Miller – Returned to the DL with knee inflammation.  He's battled knee problems for years, and you have to wonder if the Indians are the right team for a wounded knee.
Trevor Bauer – 7 1/3 IP, 4 ER, 7 baserunners, 13 Ks, ERA at 2.61 vs. Gerrit Cole – 7 IP, 3 ER, 6 baserunners, 8 Ks, ERA at 2.05.  According to Bauer, Gerrit said Bauer has no future in baseball back when they were teammates in college.  I wanna believe Cole said this, but it likely never happened and Bauer is using it to fuel some kind of massive grudge that only he is holding.  Like I wanna believe every ex-girlfriend thinks I'll never amount to anything, and it keeps me fighting every day.  I'll show you, Stacey Pawlowski!
Yonder Alonso – 2-for-6, 2 runs, 2 RBIs and his 11th homer, hitting .234.  His homer tied the game at 9-9 in the 11th as Alonso proved no one gets one over Yonder!  YODEL-AY-EE-OOOO!
Evan Gattis – 2-for-6, 3 RBIs and his 5th and 6th homer, hitting .230.  Sure, CBS ranked him top 20 overall in the preseason, but he does have catcher eligibility!
Jose Altuve – 4-for-6, 1 run, 2 RBIs, hitting .330, and back-to-back four-hit games.  If might were height, Altuve wouldn't need a phone book to drive.
Ken Giles – 0 IP, 3 ER, and an epic Kazaam, raising his ERA to 5.06.  Hopefully, he doesn't beat himself up too badly.
Lance McCullers – 4 1/3 IP, 7 ER, ERA at 3.98 vs. Carlos Carrasco 5 2/3 IP, 5 ER, ERA also at 3.98.  Neither of these two pitchers seem Mediterranean, but they are both giant PITAs.
Jordan Lyles – 4 2/3 IP, 5 ER, ERA at 3.83.  'Member way back, like, all the way back to about ten days ago when everyone was saying Lyles was a brand new pitcher due to one start in Petco?  What are they saying about him after two mediocre road starts?  Could he have been a Hodgepadre as always assumed?  It's kind of incredible how some people can break down the angle of a guy's breaking ball, the change in a guy's arm angle or an array of other things, but can't tell the difference between one start vs. a month of starts vs. a season of starts.
Phil Hughes – Acquired by the Padres.  Well, that's it for the NL pennant.  Call it a day every other NL team, you're not going to be able to compete with that.  Sorry, good try out there.  When Homer Bailey becomes available in 2021, you will have another opportunity, but until then you're playing for 2nd.
Clayton Kershaw – Will return on Thursday.  For the starter hoarders and those saying Ron Washington is a coke snorter.  Sorry, listening to too much Pusha T.
Walker Buehler – 7 IP, 1 ER, 4 baserunners, 8 Ks, ERA at 2.20.  Not trying to evoke the Ma Anand Sheela of Dodgers starters, but Kershaw wasn't nearly as good as Buehler in his rookie year.
Cody Bellinger – 1-for-4, 2 RBIs and his 8th homer, hitting .237.  What a snooze this young brother's been.  Yo, Cody, get your shizz together!  Final warning!
Bryce Harper – 1-for-4, 2 RBIs and his 16th homer, hitting .232.  Yes, I saw his home run.  It was a moon shot as they said on a Hollywood stage with Neil Armstrong, but, damn, I'm glad I have Harper in an OBP league.  Woof on that average.
Anthony Rendon – 2-for-3 and his 5th homer, hitting .267.  We're overdue for him to have one of his insane months.  It's gonna happen in June.  Did I just reverse jinx him or reverse reverse jinx him or reverse reverse reverse jinx him?
Ryan McMahon – 1-for-4 as he was recalled to play 2nd base.  Was surprised to see people in my NL-Only leagues still holding McMahon, guess they thought more highly of him than I did.  Not saying there won't be some value here — Coors, dur — but LeMahieu will return at some point, and the Rockies have shown no willingness to play rookies ever.  It's remarkable that Arenado isn't still backing up Vinny Casilla.
Nolan Arenado – 2-for-4, 2 runs, 2 RBIs and his 10th homer, hitting .324.  I found these treasury bonds from 1954 in my attic.  I'm just going to carelessly leave them by this open window—NOOOO!!! Torenado!!!
Carlos Gonzalez – 4-for-4, 2 runs, 2 RBIs and his 5th homer.  Also, in this game, Ian Desmond ( 1-for-3, 2 RBIs) hit his 9th homer and David Dahl (1-for-5) hit his 3rd homer.  When I was younger, I had a Matt McConaughey from Dazed & Confused-type friend who used to tell me how he loved when the weather warmed up so girls would wear less clothes.  I feel as pervy as him but about the weather warming in Coors.
Alex Reyes – Will debut on Wednesday, which makes me so horny.  So, that's why it's called hump day!
Jack Flaherty – 6 IP, 1 ER, 6 baserunners, 4 Ks, ERA at 2.15.  Where does Flaherty go once Reyes and C-Mart are back?  Haven't a clue.  I will say the Cards are a weird organization.  They have no problem promoting rookies, but that never means they're going to play them.  It took Pham and Jo-Ma until they were 29 years old to see regular playing time.
Greg Holland – Hit the Disgraceful List, though, in his case, this was just showing mercy to a character we once admired.  Greg Holland was basically Theon Greyjoy last year, then he was captured by Ramsay Bolton this year, and WHIP'd and lost his ability to command his balls.  Greg Holland, you've been placed on the Reek List.
Felipe Vazquez – His third blown save in the last three save chances and he left with forearm tightness.  For a pitcher, there is no other tightness.  Tightness in the chest would be better.  Since Vazquez will likely be DL'd for 18 months (not fully joking), we have to pick up a replacement.  Richard Rodriguez would be the smart choice; Michael Feliz would be an interesting choice; Edgar Santana would be the obvious choice.  The shot-in-the-dark-because-who-knows-what-C**nt-will-do choice?  Kyle Crick.
Jason Hammel – 5 1/3 IP, 0 ER, 6 baserunners, 10 Ks, ERA at 5.23.  5+ K/9 pitcher + team who strikes out 45% of the time = Ky Young.  Damn, so close!  My math's a little off there, but you get picture.
Jesus Aguilar – 2-for-3, 2 runs, 4 RBIs and his 9th homer, and 87th homer this week, hitting .325.  I told you to grab him in Friday's Buy.  Now you have to start examining everything you did this weekend that you thought was more important.  You really needed to spend time with your friends and family at a BBQ?  I think we both know the answer to that.
Asdrubal Cabrera – 2-for-5, 2 RBIs and his 8th homer, hitting .316.  *holds up American Express card*  "Asdrubal, because as anyone else is not enough."  That's Asdrubal rehearsing in his mirror for a nonexistent commercial endorsement.
Aaron Nola – 6 2/3 IP, 1 ER, 4 baserunners, 10 Ks, ERA at 2.27.  The Marla Gibbs line!  Like that's more arbitrary than the Wandy Line.  So, when do we consider Nola a top 5 starter?  Not to answer, but to ruminate.
J.A. Happ – 6 2/3 IP, 2 ER, 8 baserunners, 8 Ks, ERA at 3.84.  Granted, I don't read what other 'perts write, but it feels like I'm the only talking about what Happ is doing this year.  What the haps on Happ, people?  You'd be hard to find someone pitching as well as him, peripherals-wise.
Curtis Granderson – 2-for-5 and his 4th homer, hitting .242 (.381 OBP).  He's done nothing in the past week, but Grandy has been known to get scorching hot for a week or two spell — S-C-H-M-O-T-A-T-O.
Ryan Tepera – 1 IP, 0 ER and his 2nd save, and two saves this weekend.  Looks like the Blue Jays are going with panko to cover their closer role.
Daniel Mengden – 9 IP, 0 ER, 2 baserunners (zero walks), 5 Ks, ERA at 2.85.  At the beginning of last week, Rudy grabbed Mengden.  Because he's some kind of wizard?  Rudy was going off the Stream-o-Nator, which he created, so maybe he is a wizard.  Guess that explains the purple robe too.  Mengden's next start?  More of the same goodness.
Frankie Montas – 6 IP, 1 ER, 5 baserunners, 7 Ks in his 1st start.  Look at Frankie Montas showing Bryan Cranston he's not the only one to find success after Malcolm in the Middle.  Montas is a converted middle reliever/child actor, who throws damn hard (97 MPH), and the Stream-o-Nator doesn't hate his next start.
Clay Buchholz – 6 IP, 1 ER, 2 baserunners, 3 Ks, ERA at 1.64.  He is chum for the Regression Fairies.
Jean Segura – Was kicked in his melon on Saturday and now he might be dealing with a concussion.  Damn, I didn't mean to curse him with my Friday Sell.  Sometimes I don't even know my own power.  Though, when I try to lift anything that weighs more than fifteen pounds, I do seem to know my own power.
Mike Leake – 8 IP, 1 ER, 4 baserunners, 2 Ks, ERA at 4.93 vs. Jose Berrios – 7 1/3 IP, 2 ER, 9 baserunners, 8 Ks, ERA at 3.67.  This matchup was billed as, "What do get when the Kool-Aid Man needs first aid?  Berrios/Leake, oh yeah!"
Jeimer Candelario – 0-for-3 and homered twice on Saturday, hitting .272.  If he was dropped while he was on the DL, I could see getting back in on him.  Fantasy value this year, Jeimer > Miggy?  True or false?  Seems crazy to say true, or crazy like a fox?  Think before answering, young prematurely balding man, a lot is riding on this answer that we can't verify.
Matt Davidson – Sounds headed to the DL with back issues.  Back issues of Men's Health, to be exact.  Filling in for him was Jose Rondon (1-for-4 and his 3rd homer), and his third homer this week.  Rondon is a hot schmotato as long as Davidson stays sidelined.
Anthony Banda – 5 1/3 IP, 1 ER, 4 baserunners, 6 Ks, ERA at 3.95, as he 'started' Saturday's game in the 2nd inning.  Too bad the RCLs moved away from a Games Started limit this year, would add a whole new wrinkle into the equation trying to guess who will be the 2nd inning man for the Rays.
Kevin Gausman – 2 2/3 IP, 7 ER, ERA at 4.31.  Hey, Gausman, why not just run over my grandmother, then keep reversing your truck nuts over her lips, so it looks like her newly dead body is teabagging your truck?  It would be a lot quicker to get me to hate you!
Sonny Gray – 3 2/3 IP, 5 ER, ERA at 5.98.  You don't have to go home, but you can't stay on my team anymore.  Guys and five girls, we can't carry a starter who has a 6 ERA through two months of starts.
Masahiro Tanaka – 6 IP, 1 ER, 6 baserunners, 8 Ks, ERA at 4.62.  Tanaka strikes Ohtani out twice is the highlight from this game, according to ESPN.  So raycess.  Why don't they point out every time a Dominican pitcher strikes out a Dominican hitter?  *black guy meme pointing at his head*  I'm so woke.
Andrelton Simmons – 2-for-4 and his 4th homer, hitting .332.  One year he hits for power, one year no power; one year he hits for average, one year no average.  Yo, Andrelton, pick a lane wth your UFO!
Garrett Richards – 2 1/3 IP, 3 ER, 3 hits, 5 walks, 3 Ks, ERA at 3.67.  Try to put that start behind you, and focus on how much Stream-o-Nator likes his next start, i.e., from f**k us to focus.
Albert Almora – 3-for-5, 2 runs, 1 RBI, hitting .326, hitting over .400 in the last week.  Hot schmotato alert!
Yu Darvish – Hit the DL with triceps tightness.  Why does it feel like they've been trying to figure out what's wrong with Darvish since last year?  Pitchers do have a bit of a Catch 22 to deal with when injured.  You wanna see a doctor, but if they recommend you to Dr. James Andrews, then you're done and will lose vital parts of your arm.
Jose Quintana – 4 1/3 IP, 4 ER, ERA at 4.78.  Sometimes my dog, Ted, goes out and does two poops, and, like any proud father would be, I celebrate him by calling Teddy Two Poops.  This weekend, he went on one walk and did three poops!  That's right, a new world record, Teddy Three Poops!  I mean, who does three poops in today's day and age?  Who?!  Then Quintana went out and did four poops.  Always the competitor this Quintana.
Hunter Pence – Giants are talking about releasing The Gangly Manbird.  This comes after Pence reworked his swing to use more launch angle and less "getting a running start while flapping."