We're finally starting to settle into the season!  The Opening Week jitters are gone, and while we still say "small sample size" on everything – it's not the size of the data but how you use it!
With starting pitching, most guys have only made their first start on the year – a few top-of-the-rotation guys have made two – so unless you see something drastic, you're not panicking.  And full disclosure, I wrote this intro before Joe Ross's first start, so admittedly I am a little nervous…  I have several shares of Ross – on all my redrafts teams, I ranked him crazy high, he's going to have my first born child…  But whatever happens, it's still only one start!  This is one of the most nerve-racking Pitcher Profiles I've done!
My heavy investment in Ross made him an easy choice to break down for the first Profile on the young season, so here's how he looked on Sunday afternoon hosting the Marlins, after having his start Saturday night postponed:
First Inning: Here we go!  Ross's first pitch is a 95 MPH fastball on the hands to Dee Gordon, and ugggghhhhhhhhh, he pounds it into the right center gap and makes it to the wall for a first-pitch leadoff triple.  Not too bad on the location either; it still scores as a 0.5 on the Gamescore+ scale, but it's not like it was a get-me-over-cookie like Jimmy Nelson's first pitch to Jose Altuve yesterday.  Yikes.  So some immediate stressful pitches coming up, and an 85 MPH slider sweeps outside to Marcell Ozuna, 1-0.  Mmmmmm, that slider.  Lookin' saucy.  93 MPH fastball gets Ross's first whiff jamming Ozuna up and on the hands, 1-1 is another high fastball, and it's lined right to Daniel Murphy for the first out.  Wasn't lined too hard, but still, thankfully someone was there with Gordon's speed.  94 MPH is inside to Christian Yelich, 94 nips the high inside corner to the lefty, and there's a new pitch, an 88 MPH cutter (I think – maybe compact slider) just misses the outside edge, 2-1.  92 is inside, that cutter again at 89 is fouled back, and the payoff pitch is a 94 MPH fastball low and inside for a walk.  Hoping this is a rare walk, given Ross's strong K:BB for the majority of his rookie season.  That slider sweeps again outside 1-0 to the ever-dangerous Giancarlo Stanton, and while it wasn't a strike, I decided to GIF this one, and you'll see why: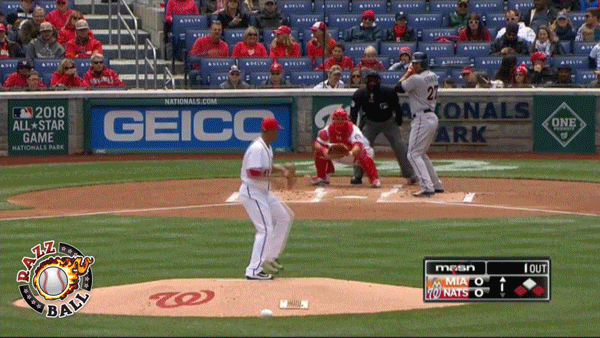 Because he follows it up with another slider, and it's a completely different pitch!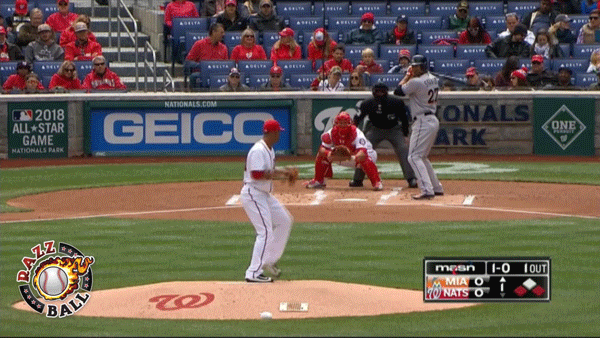 Wow.  Most exciting 2-0 count in history right there…  Fastball is fouled off, slider at 84 goes low and outside, then a perfect fastball on the knees at 93 fills it up: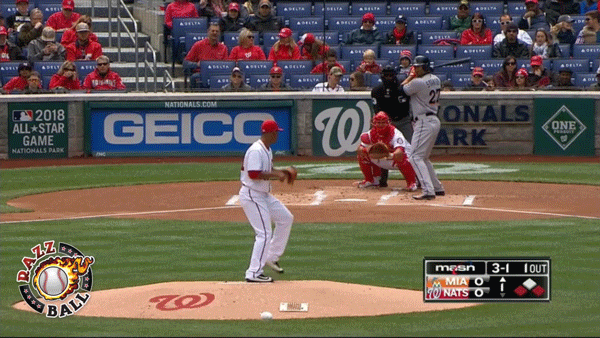 3 GIFs right away…  But unfortunately the curse of the GIF selection has Ross's slider in the zone rolled right in between third and short for an RBI single.  The shift was on, but if it wasn't, that's an easy out right to the natural SS position.  So one run on the board, runners at first and second, and 94 MPH is inside to Martin Prado, fastball high fouled back, then fastball again on the hands is as routine a groundball as you'll get, and Ross gets out of the inning with a tailor made double play.
Second Inning: The Nats pick up a run in the first to make it 1-1, so Ross is hoping to clean up the sheets and is outside to Justin Bour with the fastball, slider is low, and quickly 2-0.  Fastball on the outside edge is fouled off, 91 MPH is high, then a 3-1 fastball is flared to shallow left for an easy out.  And after a few high-pitch outs, J.T. Realmuto grounds the first pitch fastball to second for an easy first-pitch out.  2 down, and Adeiny Hechavarria takes a fastball strike, 92 MPH again is in there, slider skips into the dirt, then Ross amps up a 96 MPH two-seamer, and it cuts back towards the outside corner and gets the call for Ross's first K on the year looking.  Yup.  96 MPH two-seamer.
Third Inning: Opposing pitcher Tom Koehler takes a 94 MPH fastball just outside, 92 is in there, 93 strike, then a slider breaking into the dirt low and outside gets a swing and miss for Ross's 2nd K.  Back to the top, and Gordon takes a fastball way low and inside, two-seamer runs outside, two-seamer again barely outside, 3-0.  Ross fights back with a 93 MPH fastball in there, that cutter again at 87 MPH nips the inside corner for strike 2, and a fastball on the outside black at 94 is grounded routinely to short, two down.  First change-up on the day is an 85 MPH solid-looking pitch that dips low to Ozuna, fastball is in there to even it up, fastball again for a strike 1-2, slider goes low and outside, 2-2.  The slider is breaking, but not quite looking tempting enough today.  But a sinking 94 MPH fastball gets an ugly half-swing hold up from Ozuna for Ross's 3rd K.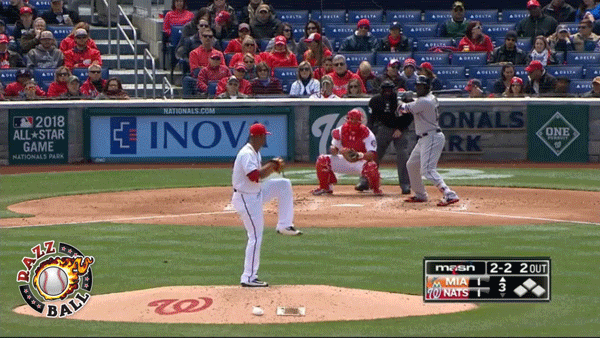 Man, look at the movement on that, at 94!
Fourth Inning: Still a 1-1 game, and there's what I'm happy to see, that slider nice and compact with a ton of movement, but stays in the zone for a first-pitch strike.  Ain't nothing Yelich could do but take.  Fastball runs outside, and ugh, curse of the Pitcher Profile again as a slider is pulled way into the dirt and inside, 2-1.  Then that cutter low and inside is golfed to center, and it's an easy flyout, one down.  The big boy Giancarlo takes a slider low and outside, fastball on the inside black is called a ball but looked good, then a slider in the zone is rocketed to third, but Anthony Rendon makes the play for the second out.  That was hit a lot harder than his RBI single, but this time an out.  Law of averages.  Two down, and Prado takes strike one, and a 94 MPH on the outside black is roped to right, and dumbass Bryce Harper dives out of it – whiffs – and it rolls to the wall for a triple.  Harper had it to, it just went under his glove while he tried to dive.  Ugh, either catch it or play it on the hop, ya clown!  THAT'S A CLOWN OUTFIELDER, BRO!  So runner at third, two down, and it looks like another change-up at 89 runs outside to Bour, fastball catches the top of the zone at 93, huge slider breaks inside and low, 91 is barely high and tight, then a 89 MPH cutter perfectly located on the low-outside corner is popped to center, and a routine third out escapes Ross from the triple.

Fifth Inning: The game remains tied, and a great slider bends into the zone to Realmuto, 0-1.  Fastball nips the high outside corner 1-1, fastball well high gets a chase but fouled back, change-up again looks pretty good at 84 MPH but it's a smidge inside, 92 is bareeeeeely outside, then 91 MPH on the high outside part of the zone is hit hard to left for a leadoff single.  A lot of pitches high that AB, wish Ross went low to mix the sightlines.  After a check at first Hechavarria fouls off a fastball, slider low and away, then a sinking fastball at 92 is grounded weakly to second for another easy double play.  Gotta love a groundballer!  Two outs, and a great sinking fastball at 93 gets a whiff from Koehler, fastball low and outside, fastball again outside, fastball fouled back, then a slider in the zone gets an emergency poking swing for another easy groundout to second to end the inning.
Sixth Inning: After the Marlins escape with no runs given up with the bases loaded, Ross has to continue protecting the 1-1 tie with a slider cut on and missed to Gordon, 0-1.  Slider again dips low, then slider again in the zone is groundball through the gap for a leadoff single.  A great test here – Ross with no one out and Gordon on first – you know he's going.  Excited to see what composure he can bring.  Two checks at first run Gordon back, and a fastball is in there to Ozuna, fastball again on a slide-step delivery is in there 0-2, then a fantastic slider out of the stretch gets Ozuna swinging for a 3-pitch strikeout with Gordon held at first: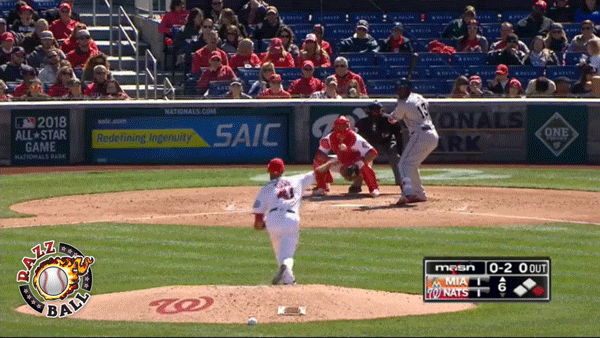 …I mean…  Wow.  Even the broadcast was distracted by Gordon, and cut to Ross's delivery too late!  Another check at first, some long stops-and-starts to try and hold Gordon before a first-pitch fastball is barely outside to Yelich, again Ross misses on his 80th pitch, then a beauty of a change-up gets Yelich hacking, 2-1.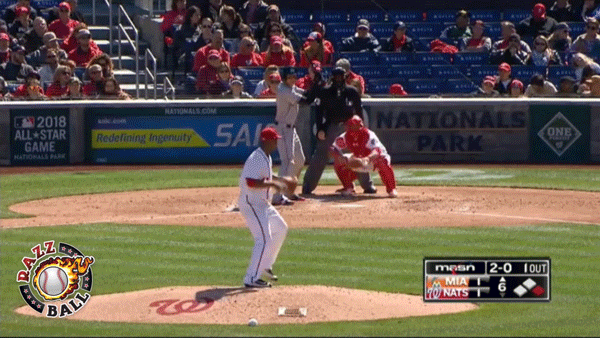 I try to limit myself to 4 GIFs, and I'm at 6.  I can't help it!  I can't believe people were hating on his change-up!  Yet another check at first almost gets Gordon, then a fastball is low – Gordon takes off – and Wilson Ramos guns him down.  Credit Ross as much as you can – the lead wasn't huge, his jump wasn't great… Awesome.  Yelich fouls off a 3-1 fastball, but Ross loses him on a 3-2 slider low and inside.  I dunno about that pitch selection there.  Runner again at first, and Stanton takes a slider low and outside, fastball nips the outside corner 1-1, 91 MPH sinker gets Stanton unable to check his swing 1-2, then a high fastball in the zone is flied to right, and thankfully it's routine as hell for Harper because he's an atrocious fielder…  I'm still bitter!  Ross is out of the inning with some impressive pitching.
Seventh Inning: After a long and taxing inning (with Gordon taking some much attention) even though no one scored, Ross is back out there at 88 pitches with the game still tied and drops in a fastball to Prado for strike one, slider sweeps low and outside, then another gorgeous slider bends into the zone 1-2, and slider again is in the zone and Prado takes for Ross's 5th K looking.  Slider stays outside to Bour, then a sinker on the outside edge gets a routine lazy fly to left, two down.  Realmuto takes a slider inside, fastball runs back to hit the outside black 1-1, then a fastball jams Realmuto on the hands for an easy grounball out to short.  The Nats would go on to score 3 runs in the bottom of the inning, giving Ross a W in his 2016 debut.
Final Line:  W  7.0 IP  97 Pitches (57 Strikes)  1 ER  5 Hits  2 Walks  5 K  Gamescore: 66  Gamescore+: 68.0
Final Analysis: Yeah, Joe Ross is awesome.  You're welcome, America.

After that leadoff triple on the first pitch, Ross was borderline dominant, going 7 shutout on 96 pitches.  My apprehension I had pregame while writing that open was quickly abated, and Ross looked awesome.  There's a little hot and cold water you could throw on this though.  It was a very cold day which tends to favor the pitchers.  Also, it's the Marlins.  Sure they have some weapons, but they're not exactly the Blue Jays out there.  That said, Ross flashed a plus change-up (a big detraction from many analysts was his lack of a third pitch) plus a usable cutter, AND the broadcast talked about a split-finger he's been working on (I didn't notice any this start, so maybe it's still in progress).  The fastball and slider are both obviously pluses, dancing all over the zone all day.  I wish he was able to make his slider look a little more hittable in this start though – it was breaking too far down and low to make hitters offer at it on several occasions – but overall, fantastic stuff.  And I also want to re-emphasize his ability to hold runners.  He allowed all of 1 steal last year, pitched amazing from the stretch yesterday (see the 2 GIFs in the 6th inning), absolutely dynamic holding Gordon eventually leading to a CS.
We talked ad nauseam about Ross on the Podcast this offseason, and frankly I was surprised I was so alone on an island with his high ranking.  I pushed him back up a few more in my ranks after this start – I originally ranked him 27 coming into the season, but down a couple with all the skipped starts talk – I love seeing them stick with him even after a PPD.  I don't even think his slider was near 100% on point and with the Nats are sticking with him in rotation this early, I think big things are coming.  If Ross somehow went undrafted and is still available, get him now.  And if you're feeling iffy on your rotation, given his ADP and this not being a 0 ER 10 K start, your buy low window might be barely cracked open.
Updated Top 100 SP
(rankings for ROS based on 12-team Roto, green for risers, red for fallers)
| RANK | SP, TEAM |
| --- | --- |
| 1 | Clayton Kershaw, LAD |
| 2 | Jake Arrieta, CHC |
| 3 | Chris Sale, CWS |
| 4 | Max Scherzer, WAS |
| 5 | David Price, BOS |
| 6 | Jose Fernandez, MIA |
| 7 | Madison Bumgarner, SF |
| 8 | Matt Harvey, NYM |
| 9 | Corey Kluber, CLE |
| 10 | Chris Archer, TB |
| 11 | Carlos Carrasco, CLE |
| 12 | Jacob deGrom, NYM |
| 13 | Noah Syndergaard, NYM |
| 14 | Gerrit Cole, PIT |
| 15 | Stephen Strasburg, WAS |
| 16 | Jon Lester, CHC |
| 17 | Felix Hernandez, SEA |
| 18 | Zack Greinke, ARI |
| 19 | Carlos Martinez, STL |
| 20 | Danny Salazar, CLE |
| 21 | Carlos Rodon, CWS |
| 22 | Cole Hamels, TEX |
| 23 | Francisco Liriano, PIT |
| 24 | Joe Ross, WAS |
| 25 | Marcus Stroman, TOR |
| 26 | Dallas Keuchel, HOU |
| 27 | Raisel Iglesias, CIN |
| 28 | Jeff Samardzija, SF |
| 29 | Justin Verlander, DET |
| 30 | Patrick Corbin, ARI |
| 31 | Taijuan Walker, SEA |
| 32 | Johnny Cueto, SF |
| 33 | Sonny Gray, OAK |
| 34 | Masahiro Tanaka, NYY |
| 35 | Yordano Ventura, KC |
| 36 | Luis Severino, NYY |
| 37 | Drew Smyly, TB |
| 38 | Adam Wainwright, STL |
| 39 | Michael Wacha, STL |
| 40 | Steven Matz, NYM |
| 41 | Jason Hammel, CHC |
| 42 | Hisashi Iwakuma, SEA |
| 43 | Ian Kennedy, KC |
| 44 | Jose Quintana, CWS |
| 45 | Michael Pineda, NYY |
| 46 | Mike Fiers, HOU |
| 47 | Wei-Yin Chen, MIA |
| 48 | Jake Odorizzi, TB |
| 49 | Vincent Velasquez, PHI |
| 50 | Garrett Richards, LAA |
| 51 | Jordan Zimmermann, DET |
| 52 | Juan Nicasio, PIT |
| 53 | James Shields, SD |
| 54 | John Lackey, STL |
| 55 | Andrew Cashner, SD |
| 56 | Kyle Hendricks, CHC |
| 57 | Aaron Nola, PHI |
| 58 | Gio Gonzalez, WAS |
| 59 | Julio Teheran, ATL |
| 60 | Shelby Miller, ARI |
| 61 | Kenta Maeda, LAD |
| 62 | Aaron Sanchez, TOR |
| 63 | Robbie Ray, ARI |
| 64 | Collin McHugh, HOU |
| 65 | Jerad Eickhoff, PHI |
| 66 | Lance McCullers, HOU |
| 67 | Anthony DeSclafani, CIN |
| 68 | Tyler Glasnow, PIT |
| 69 | Jimmy Nelson, MIL |
| 70 | Edinson Volquez, KC |
| 71 | Tyson Ross, SD |
| 72 | Kevin Gausman, BAL |
| 73 | Nate Karns, SEA |
| 74 | Scott Kazmir, LAD |
| 75 | Blake Snell, TB |
| 76 | Yu Darvish, TEX |
| 77 | Jaime Garcia, STL |
| 78 | Adam Conley, MIA |
| 79 | Ervin Santana, MIN |
| 80 | Taylor Jungmann, MIL |
| 81 | Jose Berrios, MIN |
| 82 | Rich Hill, OAK |
| 83 | Clay Buchholz, BOS |
| 84 | Jake Peavy, SF |
| 85 | Eduardo Rodriguez, BOS |
| 86 | Nathan Eovaldi, NYY |
| 87 | J.A. Happ, TOR |
| 88 | Mike Leake, STL |
| 89 | Rick Porcello, BOS |
| 90 | Derek Holland, TEX |
| 91 | Matt Moore, TB |
| 92 | Jon Niese, PIT |
| 93 | Bud Norris, ATL |
| 94 | Josh Tomlin, CLE |
| 95 | Kris Medlen, KC |
| 96 | Marco Estrada, TOR |
| 97 | Hector Santiago, LAA |
| 98 | Shane Greene, DET |
| 99 | Brandon Finnegan, CIN |
| 100 | Chris Tillman, BAL |
Dropped Out: Andrew Heaney, LAA (DL), Henry Owens, BOS (Meh, had a change of heart. I know he was sent down but decided he isn't good enough to wait for, even if it's only a few weeks), Kyle Gibson, MIN (I wanted to get those final two in and he was the last cut after a poor debut)
I'm a little worried about this lat issue with Jacob deGrom.  Certainly not panicking, but if there's a DL stint coming, it's so close with that 1-15 range that any little issue takes you down a few.
Yup, I'm panicking on Dallas Keuchel.  10 walks in 2 starts!  And obviously I watched his last outing as it was at my Brewers, and he never got to 90 MPH.  Really had to labor his way to 5.2 IP, and while he's not a hard thrower, his fastball was at 89.6 last year and could get up to 92-93 when need be.  Well, a lot of times yesterday it needed bein'!  Averaging under 87.8 MPH so far this year, and a 2 MPH drop early is a littler concerning with someone who throws slow to begin with.
I'm not worried yet on Jeff Samardzija.  He always gets pounded at Miller Park, and that was another start I watched due to my bias.  Stuff still had good movement.
I never try to root "too hard" against guys I was low on, but it was nice to see Johnny Cueto AND Scott Kazmir both have bad games against each other.  Score.
Great start for Ian Kennedy, who I had ranked really favorably compared to ADP and I remain bullish on.
I think you kinda have to buy Juan Nicasio at this point.  He reminds me of Michael Pineda in that rookie year for the Mariners.  I never realized just how big Nicasio is, and just the power fastball and slider combo with it looking like he's just on top of the hitters with that long frame lunging forward…  But the comp has another parallel – I think we could see a bumpy second half and a wear down.
I should've ranked Aaron Sanchez higher from the onset… I've always liked his stuff, and while obviously hindsight is the whole 20/20 hooblah, I'm not too surprised he flashed some Ks and looks good.  First real regret thus far, I'd add him where I could.
As you all know, I've never been a big Tyson Ross guy (irony I love little bro!), and I've DEFINITELY never been a fan of shoulder injuries.  Scary stuff.
Even after a no-hit debut, you'll see I didn't even rank Ross Stripling.  He has pretty boring stuff to me.  Reminds me of Chris Heston and that no-hitter last year, and he went on to be a streamer at home at best.  NL-only is the only leagues I'm getting Stripling for now.
Do you guys still think I'm nuts for J Ross?  And what are your thoughts on this first in-season re-rank?  As always, let me know your thoughts below, and happy pitching, Razzball Nation!