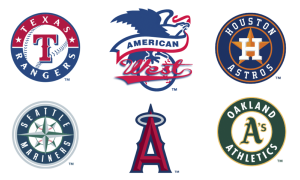 The American League West. Home to the defending World Series Champion Houston Astros. Home to the best player in baseball. Is that Mike Trout or Shohei Ohtani? Home to the team that has a need for speed, as the Seattle Mariners acquired Dee Gordon. Can some of that speed and "other stuff" be transferred to the arm of Felix Hernandez? Home to the only team that has had a Bush own the team, pitch for the team, and had, not one, but two POTUS's. Or is it POTI? Home to the team with the second-lowest payroll in all of baseball. The Oakland Athletics are at $50.7 million for the 2018 season, while the Boston Red Sox have a $229.7 million payroll for the upcoming season. Ladies and gentlemen, the American League West.
The 2018 Razzball Commenter Leagues are now open! Free to join with prizes! All the exclamation points!
HOUSTON ASTROS: 101-61 record in 2017
I was always told that a team has to be strong up the middle to be great. Obviously, there are many different ways to construct a successful baseball team, but the Astros are emblematic of the "strong up the middle" tenet. George Springer is in center field, Jose Altuve is at second base, and Carlos Correa is at shortstop. That's an awesome core and those guys are entrenched in their respective positions. Alex Bregman has solidified the hot corner. We are talking about the defending World Series Champs, so there aren't many positional battles, but…..
First base – Yulieski Gurriel is the Astros first baseman. Unfortunately, he was suspended for the first five games of the season due to the racist gesture he made during the World Series. Then, he had surgery on the hamate bone in his left hand. Any surgery to the hand/wrist area always scares me. Anyways, Gurriel is going to miss Opening Day and could return sometime in mid-April. His injury shuffles the deck. Marwin Gonzalez can fill in at first, but the Astros love him in the utility role. If the Astros decide to keep Marwin in that role, then Tyler White and AJ Reed look to be the options. White is 27 years old and bats from the right side. He has 343 plate appearances in the big leagues and popped 11 home runs during that span. The walk rate is in the 8% range and the strikeout rate can be expected to be around 24%. While he has power, I wouldn't expect a high batting average. Reed is 24 years old and bats from the left side. He only received six plate appearances last season, but in 2016 got 141 and hit three home runs. The walk rate of 12.8% was great, but the 34% strikeout rate and .164 batting average were no bueno. Everything that I'm seeing indicates that White has the upper hand, but Spring Training performances could tip the scales one way or the other. Just remember that Gurriel will be the guy when he's ready to go.
Corner outfield – Gonzalez will play some left field, as he played 47 games there last season, but he also played 19 at 3B, 22 at 2B, 31 at 1B, and 38 at SS. The Astros will more than likely keep him in the super utility role. Derek Fisher looks to be in line to get the bulk of the playing time in left field. Fisher is 24 years old and bats from the left side. In Triple-A last season, he clubbed 21 home runs and stole 16 bases with a .318 batting average. He did get 166 plate appearances with the big club last year and hit five home runs with three stolen bases. The batting average was only .212 and he struck out 32.5% of the time, but he did walk 10.2%. Steamer has him projected for 284 plate appearances, so Fisher is probably only viable in the deep leagues. In right field, Josh Reddick and Jake Marisnick will likely form a platoon, as Reddick bats from the left side and Marisnick from the right side of the plate. One scenario that I've seen multiple people discuss is the possibility of starting Marisnick in CF, moving Reddick to LF, and sliding Springer to RF. In that scenario, both Fisher and Gonzalez would fill in when necessary. While Marisnick hit 16 home runs and stole nine bases in 259 plate appearances last season, he struck out 34.7% of the time and batted .243. While that scenario is unlikely, if Marisnick balls out and Fisher struggles, it's definitely within the range of outcomes.
LOS ANGELES ANGELS: 80-82 record in 2017
Can we stop calling them the Los Angeles Angels? I know Grey has ranted about this very topic many times, but as a fellow Angelino, I feel that it is my civic duty to join in. I live in West Los Angeles and Angels Stadium is 40 miles away. That's 1 1/2 marathons. The freaking stadium is called Angel Stadium of Anaheim for goodness sakes!!!!!! Ahhhhhhhhhhhh! Woooo saaaaaa. Woooooo saaaaaaa. Anyways, there are no battles in ANAHEIM. Justin Upton is the left fielder, Mike Trout is in center field, Zach Cozart mans the hot corner, Andrelton Simmons is at short stop, Ian Kinsler is at second base, and Martin Maldanodo will catch. There will be some potential platoon situations, though. Kole Calhoun will be on the strong side in right field, but lefty masher Chris Young should get at-bats. At first base, Luis Valbueno and Albert Pujols will share time, while at DH, Pujols, Shohei Ohtani, and Young should be a revolving door. Which brings me to rant #2. Why are there establishments in cold weather environments that have automatic revolving doors in the front? Like, who thought that a contraption that turns at a pace so slow that turtles nod their head from side to side and allows 2 people to walk in at a time when it's freezing cold outside would be a good idea?
SEATTLE MARINERS: 78-84 record in 2017
The outfield looks to be set, as Dee Gordon will patrol center field with Ben Gamel and Mitch Haniger flanking him. Mike Zunino is the man behind the plate. Kyle Seager is at the hot corner, Jean Segura is at short stop, and Robinson Cano will be the second baseman. The only question mark is at first base. Ryon Healy was brought over from Oakland, where he slugged 25 home runs last season. The issue is that he had hand surgery to remove a bone spur on February 14. As I mentioned in the Gurriel post above, any kind of hand surgery scares me. The time table for recovery was listed at four to six weeks. If Healy can't go for whatever reason, it would be Mike Ford and Daniel Vogelbach. Ford was selected by the Mariners in the the Rule 5 draft. He was brought up in the Yankees minor league system. While Healy is a right-handed batter, Ford is a lefty and has exhibited excellent plate discipline in the minors, often having a higher walk than strikeout rate. Last season, the strikeout rate was in the 13% between Double-A and Triple-A. The BB/K rate was 1.36 in Double-A and 1.13 in Triple-A. That number has never been below 0 in his entire minor league career. As for power, he clubbed 13 home runs in 417 plate appearances in Double-A last season. He's 25 years old, but does not have any big league experience. Vogelbach, on the other hand, has 44 plate appearances in the big leagues. He is also 25 years old and bats from the left side. He has power, as evidenced by his 17 bombs in Triple-A last season. With that said, while he exhibited good plate discipline in the minors, the strikeout rate was super high in the majors, albeit in a small sample size. The most concerning thing for Vogelbach is his ability to play defense. There was a video of Nelson Cruz taking grounders at first base a month ago, but I don't think that's a viable option. With that said, never say never.
TEXAS RANGERS: 78-84 record in 2017
The infield looks set for the Rangers with Robinson Chirinos behind the plate, Adrian Beltre manning the hot corner, Elvis Andrus at short, Rougned Odor at second, and Joey Gallo at first base. Nomar Mazara is the right fielder with Delino DeShields in center. Shin-Soo Choo will be the DH. While some may have some questions about DeShields in center field, who would replace him? Drew Robinson? Really, the only question is in left field. As Evan Grant of the Dallas News wrote a month ago, "They haven't had a player start more than half the team's games in left in a season since David Murphy in 2013. In the last four years, they rank 28th among the 30 MLB teams in OPS from left field." Most sites have Willie Calhoun as the probable starter, but let's not forget that he's only 23 years old and has 37 plate appearances of big league experience. Now, he did club 31 home runs in Triple-A last season and has never had a strikeout rate above 16% in the minors, but we've seen it all too many times in which the minor league numbers don't translate to major league success. I'm not saying Calhoun can or cannot be a success. I'm just saying that it's not a foregone conclusion. If Calhoun does struggle, Ryan Rua would figure to get the playing time. While Calhoun bats from the left side, Rua is a right-handed batter and has 608 big league plate appearances under his belt. The strikeout rate is high and batting average low. Not a good combo, but he's a veteran.
OAKLAND ATHLETICS: 75-87 record in 2017
Khris Davis is the DH. Matt Chapman will man the hot corner, Marcus Semien will be at short, Jed Lowrie at second, and Matt Olson will be the first baseman, so the infield looks set. Catcher will be a platoon betwen Bruce Maxwell (LH) and Josh Phegley (RH). Steven Piscotty is entrenched in right field. Matt Joyce (LH) and Mark Canha (RH) will form a platoon in left field. Center field is where things get a little interesting I suppose. Dustin Fowler looks to be the front runner, as he was acquired in the Sonny Gray trade. Fowler is 23 years old and bats from the left side. Has speed and pop, as evidenced by the 13/13 season he posted in Triple-A with the Yankees last year. Unfortunately, in his first big league game, Fowler ran into an unpadded electrical box in foul territory and injured his right knee. You can expect plenty of days off if Fowler does indeed win the starting spot. Since the Athletics love to platoon, Jake Smolinski would be the guy. The 29-year-old crushes lefties (.299 average with 11 home runs in 251 plate appearances). If Fowler struggles or gets injured, then Boog Powell would be the guy. Powell bats from the left side and has some speed. Plays decent D and is high OBP guy, but there's no pop in the bat.