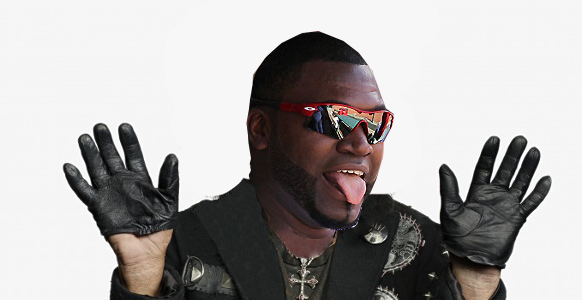 Today, ladies and gentlemen, is officially the last day of school. And by school I mean me writing fantasy baseball posts in 2016. Over the next few months I'm sure Grey will take a gander at the numbers to determine if yours truly will be back in 2017. Hopefully my eight remaining followers have enough pull to see me through to the other side and get me invited back to Razzball Spring Training. But if not, it's been a good run. This post is my 94th baseball-related post. I have big incentives in my contract if I make it one hundred, so I hope that doesn't influence Grey's decision in a negative way. There are a lot of hungry points league writers out there that just might be willing do what I do for even less. Will they be as cool as I am? Doubtful. As funny? Certainly not. And lastly, will they have the maturity level of a third grader? I certainly hope so. Here's to hoping Grey just flips a two-headed coin.
Before I jump the gun and start saying any official goodbyes, I think we should take a look back at 2016 and what happened in points leagues…
Let's establish some batting benchmarks.
Who wore it better?
Anthony Rizzo and Daniel Murphy both scored 503 points. Rizzo's ADP was 14, while Murphy was taken 80 picks later at 94. Murphy is eligbile at 1B, 2B and 3B.
Bryce Harper scored 422 points. Ben Zobrist scored 421. Harper was the first batter drafted, while Zobrist was the 49th. Both are eligible in the outfield.
Adam Jones scored 381 points. Adam Eaton scored 382. Eaton was drafted more than one hundred spots later.
If I wanted…
If I wanted 351 points I would have drafted Khris Davis, not Andrew McCutchen.
If I wanted 334 points I would have drafted Odubel Herrera, not Maikel Franco.
If I wanted 311 points I would have drafted Yadier Molina, not Justin Upton.
If I wanted a player that struck out 216 times, scored 317 points and needed to be taken in the 3rd/4th round I would have drafted Chris Davis. I also would have been better off just not playing.
Here are some pitching benchmarks.
When healthy, Clayton Kershaw was the no doubt best pitcher in points leagues. In fact, he was the best player in points league. Just as I predicted back in March when I told everyone with the first pick to take him. In his absence, however, Scherzer was the number one.
I bet you didn't realize…
I bet you didn't realize that Mashiro Tanaka (521) had more points that Noah Syndergaard (517).
I bet you didn't realize that Jose Quintana (480) scored more points than Carlos Martinez (470), Kenta Maeda (454), Jeff Samardzija (445) and Chris Archer (434).
I bet you didn't realize that Justin Verlander was the third best starting pitcher if we are ranking them my points scored.
Who scored more?
Bartolo Colon or Jake Odorizzi?
Stephen Strasburg or Kenta Maeda?
Jerad Eickhoff or Marcus Stroman?
Unless you answer was "tie" for each question, then you were wrong. Colon and Odorizzi scored 414 points. Strasburg and Maeda had 454. Eickhoff and Stroman put up 398. And lastly, Carrasco and Gray scored 383 points. Yes, they were all trick questions.
As I mentioned last week, I told everyone in the preseason that David Ortiz is the most underrated player in points leagues. In the same breath I urged you all to draft him. Well, I hit the proverbial tail right on the 260 pound donkey. As far as I am concerned Big Papi is my 2016 Point Leagues MVP. With 38 home runs, 127 RBIs, 79 runs scored and .317 batting average he has compiled that best farewell season in the history of the game. Did I mention he also stole two bases. That's two more than Manny Machado. Here's what I said about Ortiz this season. Exhibit A. And here's what I said preseason which I also regurgitated last week. "Entering his age 40 season, David Ortiz has shown no signs of decline. As a matter of fact his numbers have steadily gotten better. He finished last season with 37 home runs and 108 runs batted in. His ADP of 93 made Ortiz an early 10th round steal in 10-team leagues and a late 8th round bargain in 12-teams. His PPPA of 0.7540 was 7th best in the league. Over the last three seasons, he has averaged 0.7867 which is the third best of any player over that three year span. Only Miguel Cabrera (0.7974) and Edwin Encarnacion (0.7953) were better. I wonder what Sloppy Papi has in store in his farewell season. 2016 buy." I really don't want to ask, but do you what both Ortiz and Jose Fernandez have in common? Both will score zero fantasy points in 2017, and both will be severely missed.
Here comes Dylan Bundy!
It turns out Justin Upton was the textbook "buy low" player. He has hit 22 home runs in his last 67 games. He hit 9 in his first 85. I still hate him. Can't wait to not draft him in 2017.
I'd like to you leave with a couple parting thoughts. Think of this section as fantasy baseball talk meets Deep Thoughts by Jack Handy.
Here are few last legit sentiments…
In related news, there was rumor of a Dazed and Confused remake with Tim Lincecum playing the role of Slater. The project was almost green lit, but then Lincecum woke up and realized he had passed out in Josh Gordon's basement.