This draft is a crock pot vs. a microwave.  A love sesh vs. a 'hold the moan.'  A nature hike vs. "I'm gonna sit in the car as we drive past some mountains."  Guys and five girl readers, it's a slow draft.  This slow draft took about fifteen days, 18 hours, four minutes and–okay, only a lunatic counts seconds.  Not almost 15 days of straight drafting, mind you.  I don't need to ice my clicky finger.  It's five minutes of drafting, twelve hours of waiting.  It does allow you to second-guess your picks.  Actually, more like triple-guess.  (Who are we kidding, you quadruple-guess, fiveruple-guess, sextruple-guess, ochocinco-guess your picks.) For those not in the know, it's a weekly, 15-team, two-catcher league that lasts for 50 rounds and there's no waivers.  Anyway, here's my NFBC draft recap:
C: Chris Iannetta – 19th
C: Christian Vazquez – 23rd
1B: Cody Bellinger – 2nd
2B: Ozzie Albies – 7th
SS: Jean Segura – 5th
3B: Kyle Seager – 10th
MI: Jose Peraza – 11th
CI: Ian Desmond – 9th
OF: Giancarlo Stanton – 1st round, 7th overall
OF Christian Yelich – 3rd
OF: David Dahl – 13th
OF: Michael Taylor – 15th
OF: Kevin Pillar – 22nd
UTIL: Matt Chapman – 17th
Bench: C.J. Cron (21), Mikie Mahtook (27), Willy Adames (28), Hunter Pence (29), Joc Pederson (31), Eduardo Escobar (34), Harrison Bader (35), Jose Iglesias (37), Dixon Machado (40, Roberto Perez (41), Adam Engel (43), Kaleb Cowart (45), John Hicks (47), Christian Arroyo (49)
P: Yu Darvish – 4th
P: Felipe Rivero – 6th
P: Trevor Bauer – 8th
P: Michael Wacha – 12th
P: Shane Greene – 14th
P: Rick Porcello – 16th
P: J.A. Happ – 18th
P: Hyun-Jin Ryu – 20th
P: Cam Bedrosian – 24th
Bench: Miles Mikolas (25), Trevor Williams (26), Mike Montgomery (30), Nate Karns (32), Brock Stewart (33), Matt Andriese (36), Jake McGee (38), Tyson Ross (39), J.C. Ramirez (42). Trevor Hildenberger (44), Dillon Peters (46), Tyler Beede (48), Justin Nicolino (50)
*SKIMMING TEAM* SKIPPING OVER CATCHERS BECAUSE THEY DON'T MATTER, NICE INFIELD, LIKING THE CORNER, LOVE THAT EARLY OUTFIELD– OH MY JESUS MONTERO, WHAT HAPPENED TO YOUR OUTFIELD?
This draft, at least the Dahl part, happened prior to the Carlos Gonzalez news.  Not long before the news, but earlier enough to screw me in the ol' rear caboose.  To look at the outfield half full, rather than half empty, the CarGo signing happened early enough to allow me to draft a crapton of alternatives.  Mikie Mahtook?  Mahtaken!  Hunter Pence?  I think I can make room on my team for The Gangly Manbird!  Joc Pederson?  Will you be platooning or starting?  Meh, doesn't matter, here's a ticket for Grey's NFBC team, join the fun!  Harrison Bader?  I don't believe in Pham, so I have to believe in something, besides drafting a bunch of janky/junky outfielders.
MIKIE MAHTOOK?!  I MAHTOOK YOU FOR A SERIOUS PROGNOSTICATOR!
What?  He'll, uh, start, prolly.
WELL, IF NOT, YOU HAVE THREE TIGERS, SO YOU'VE UPPED YOUR ODDS OF GETTING A FEW GUYS IN ONE OF THE WORST LINEUPS.
In NFBC (at least this league with no waivers), it's best to make sure you have as many innings and at-bats as you can get.  Losing Dahl and the iffiness of Michael Initial Taylor with Victor Robles looming, I needed to go heavy with a bench/bunch of guys who would find themselves at-bats.  No better place to find at-bats than on a bad team with few options.  Somehow I ended with a bunch of Tigers, but it could've also been a few Marlins, White Sox, Royals, etc.  Also, I have mi novio, Giancarlo.  For this league, I used our NFBC rankings, and you can see Giancarlo is easily the best player, who I was able to get with the 7th pick.  Oh, and Rudy came in 2nd for all fantasy baseball rankings, according to FantasyPros, out of something like 150+ 'perts.  (After coming in 5th in a more competitive field for fantasy football.)  By the way, if you want to inject some of Rudy's magic into your fantasy teams, our fantasy baseball subscriptions are now live.
I KNOW YOU WON YOUR NFBC LEAGUE LAST YEAR (HE'S MAKING ME TELL YOU THIS), BUT DID YOU HAVE ANY TAKEAWAYS FROM LAST YEAR THAT HELPED THIS YEAR?
Does this help the outlook of my team in your eyes:
CI: Matt Chapman
OF: Giancarlo
OF: Yelich
OF: Ian Desmond
OF: Taylor
OF: Pillar
Or:
Cron to first and Bellinger to OF.  I.e., I have flexibility.  Flexibility that I didn't appreciate as much last year.   So, my outfield looks poor on first glance, but I can move corner men to take the weight off.  Not ideal to have C.J. Cron as my 1st baseman, but last year I won with Hanley as my 1st baseman and Chris Davis as my corner man.  You see Kevin Pillar as my 5th outfielder; I see Harrison Bader with a 20/15/.283 season last year in Triple-A, and Dexter Fowler, who can't stay healthy, and Pham, who I don't trust, in front of him.
OKAY, YOU'VE CONVINCED YOURSELF OF GREATNESS, APPARENTLY, BUT CAN WE BE REALISTIC ABOUT YOUR PITCHING?
Here's my staff last year: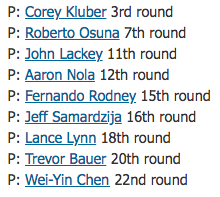 Looks eerily similar — I even took an Asian as my last rotation starter.  Not saying all Asians look the same, by the way, I'm merely saying– You know what?  I'm gonna move on.  Now you might be thinking, well, you must've had some great bench arms last year.  I'd love to sit here and tell you that, but I'm at a standing desk, and my bench was not sexy:

I might've got a month of Wade Miley, but I remember having him on my bench during his decent April/May last year, and never monopolizing on it as I would've liked, then getting crushed by him when the Regression Fairies clicked their stilettos into his 30 and older club.  You can argue Kluber going into last year is better than Yu this year, but you'd be arguing with yourself and looking like a crazy person.  Also, I love Wacha and Bauer, like Porcello, and Happ and Ryu are hopefully some veteran innings like Lynn and Chen were supposed to provide last year.  Remember, Chen did nothing last year.  If I get anything from:  Miles Mikolas, Trevor Williams, Mike Montgomery, Nate Karns, Brock Stewart, Matt Andriese, or Tyson Ross.  I'm doing better this year than I did last year.
YOU DID HAVE 7 STARTERS IN YOUR ROTATION LAST YEAR, AND ONLY SIX THIS YEAR.  CARE TO ELABORATE?  (PLEASE KEEP IT UNDER 250 WORDS, I DRIFTED DURING YOUR LAST ANSWER.)
Relievers seemed to be flying off the shelves in this league, so I felt I needed a third reliever a little earlier this year.  Hence, Cam Bedrosian vs. Drew Storen last year.  In truth, my team lineup during most weeks (it's a weekly league for pitchers; twice weekly for hitters) will include another starter from my bench and one of my relievers will likely move to the bench, unless I hate all matchups.  Playing more than two relievers regularly is a great way to lose an NFBC league.  You will fall behind in Ks and Wins, and since it's a weekly league, you can't make up those stats later in the league by streaming in more starters.  You want innings, innings and more — you guessed it! — innings.  Every year I see people chase potential saves in this league, while knowing that they can never realistically play a lot of those guys.  I think Storen and Barrett last year saw my active lineup maybe twice.  I will get more value from platooning Tyson Ross into my lineup when he's at home than someone who's taking Chad Green.  Even though Ross went around pick 585, and Green went around pick 330.  (Now watch this jinx that sees Green become the closer, and Ross fail to make it through April.)
SNOOZE!  OKAY, ONE LAST QUESTION, YOU HAVE FOUR HOURS TO CHOOSE A PLAYER, BUT YOU DON'T HAVE AN EXCUSE FOR DRAFTING ROBERTO PEREZ, DO YOU?
Depth?  Okay, no real excuse.