You can think whatever you want about Juan Uribe. I don't care what anyone thinks, he is one of the most unique players in baseball. A classic character from yesteryear. He has to be a latin 50. Have you seen a pic of him? His player page said 36… looks more like 56. But I ain't hatin'. Have you seen how this pimp rolls? He works that cardigan harder than no other! To elevate his pimptatude even more is his love of slapping bones, which from what I hear is his clubhouse racket. Ryu looks locked in, kinda like the way he pitches. He must of been pissed when they traded Uribe since I heard they are boys. Enough about what a badass Uribe is off the field, I like him this week and below I'll go over why. He's a one of a kind playa'! Before moving on, I couldn't believe how many songs have "one" in the title. It's kinda cray. One of my favorites is a cover of a popular band redone by another popular artist and he kills it. And before you think anything, I don't like the band he covered. I just wanted to put that out there. One more cut from the man with one in the title. Okay, I'm done. I will go back to the misery of having lost Springer and Miggy in the 'perts league. I've been doing heavy doses of the blues, Hank Williams and Johnny Cash. I miss you guys! *wipes tear* Grey dodged a bullet there.
This week the 2.1% owned Juan Uribe gets my stamp of approval for creeper status, even though he should be owned (3 dongs in the last week). Hot is what it is, it doesn't have to make sense, but when you have had man muscles as long as he has you must sit back and not question it. Since moving to the Braves on May 27th he has raised his batting average from .238 to .280, has hit 5 of his 6 home runs, and increased his slugging from .298 to .414. On the bill is three games at hitter friendly Miller Park and four games at Coors. Yummy! He faces six right-handers this week, which would usually throw some caution at me, but when I looked him up, he actually hits better against righties over the last three years (.292 vs RHP vs .234 vs LHP). The Hitter-Tron gave him a $11.3 value for the week, I looked after I chose him, so at least for now I'm back to being on good terms with that steel-sodomizing hit projector. If you are not feeling Uribe in Milwaukee, he doesn't have the best success there, then you might want to take a stab at Ike Davis who opens the week with three games at the Yankees and gets three right handers. Most notable Eovaldi who he bats .385 against with 2 knocks.
Creepy Frankencatcher: Obviously you want to get A.J. Pierzynski into the line-up for the Colorado series and at 19.7% owned could very well be available in your league. If you don't feel like using him against the Brewers then I would be utilizing the hitter-tron for Monday, Tuedsay and Wednesday. If you don't want to do that then batty call dongers like Uh oh Chirinos, Three Flowers, and Beef Wellington. They are always good one day calls.
THE TOP 100 HITTERS
DL – Dustin Pedroia, Jacoby Ellsbury, David Wright, Jorge Soler, Adrian Beltre, Hunter Pence, Matt Holliday, Ryan Zimmerman, Corey Dickerson, Ender Inciarte, Wil Myers,Giancarlo Stanton, Freddie Freeman, Anthony Rendon, George Springer, Miguel Cabrera.
Last week I started to make a point about needs and want to drive it home this week. Starting at player 80 til the end of the rankings, it becomes a needs based list. I decided to add the guys who are just on the cusp of cracking the 100 but have a question mark or two I don't like. I'm not saying one is better than any of the others but it becomes what they are worth to you. To be honest, we can even go as high as number 61 on my list (Billy Hamilton) depending on the size and competitiveness of your league. After certain comments the past few weeks it got me thinking that I need to explain the bottom ranks in more depth. At a certain point in the season it becomes more about need than value. If you are killing it in dongs then you don't need to grab Marlon Byrd and instead might want to use a Ben Revere if speed is your need. Maybe, like me, you lost both Giancarlo and Springer in one league and Miggy and Springer in another this past week and need to fit Valbuena and Hurricane K-arter in your line-up to keep pace with home runs. There are too many scenarios to list but I hope you get the gist of what I'm saying. So if you don't like where I ranked Justin Turner compared to Leonys Martin then at least you understand that the number on the left is really meaningless when comparing those two. They are all just one big needs based clusterf**k!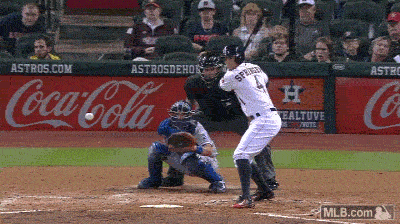 I start the GIF's this week on a sad note. Springer was suppose to be my savior in the 'perts and writers league this year but instead he ripped out my heart with his broken wrist. Actually I thought I broke my own wrist when I punched a hole in my wall and caught part of the stud. After posting a fabulous June (19/6/12/2/.321) we are left holding our heads as the tears run down our cheeks. I'm getting really tired of all these hitters going down. Dear tuxedo shirt Jesus, can we get another Tommy John up in here and stop taking all the hitters? Funny this brings me to another point: LUCK! Many have argued there is no luck in FBB but is this really true? Freak injuries happen and it's just the way it goes. The only "science" involved in here are the MRI's and treatments to get them back on the field. I'm kidding of course, it's like a 70/30 split IMHO. The best teams I ever had have been the one's with the fewest injuries. It's just reality. The best you can do is batty call his spot to death and hope for the best. The batting average might kill you but the counting stats can be had. Follow our DFS writers and use hitter-tron every day to gain the greatest advantage over your leagemates.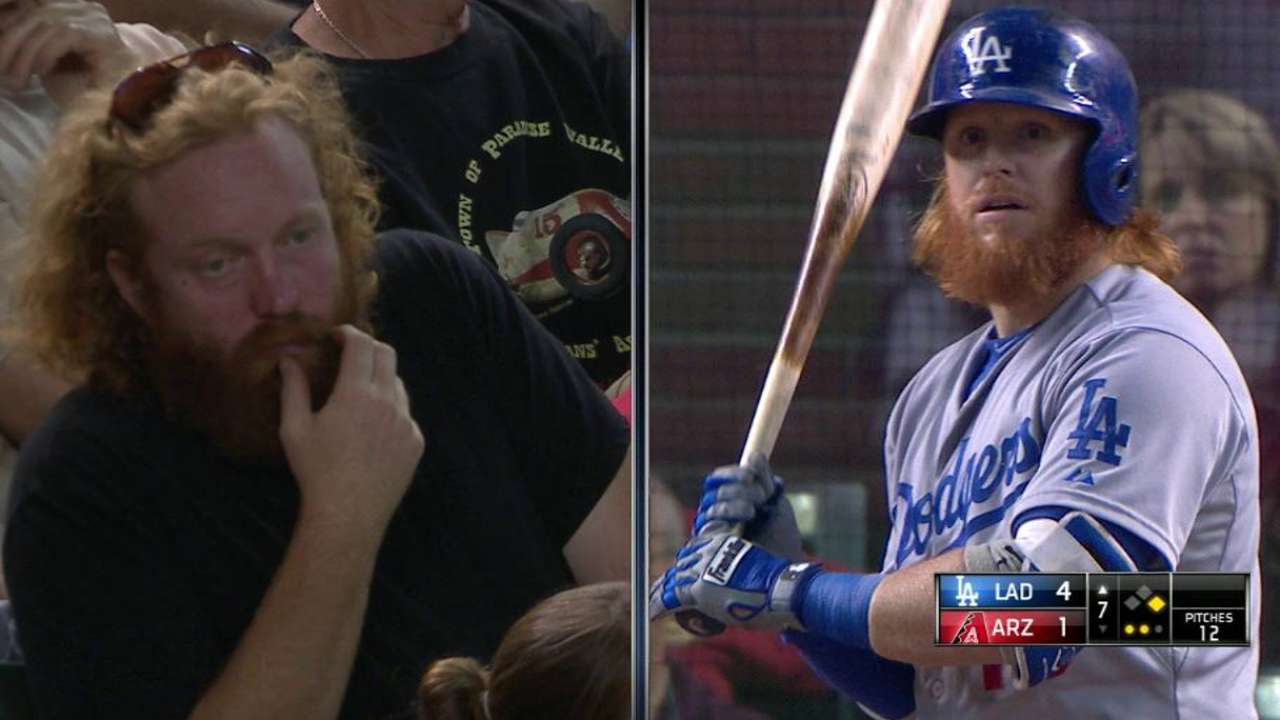 How is it possible for Justin Turner to watch himself? Where is his DeLorean? This picture is a screen shot from the D-Backs game this past Wednesday. I have a hard time with how to rank Turner. He has been outstanding since I gave him the Creeper treatment and at 64% owned is making me wonder what is wrong with the other 36% of the people living under a rock. That being said I have my reservations with the Dodgers and playing time going forward. Before his surge they wanted to limit his time and not play him every day but with the looming promotion of Corey Seager and Hector Olivera I am left with some questions. Does he bump Gonzo at first once a week? What about Callapso, the guy they traded Uribe for? Does he play some outfield too? I have no idea and there could end up being a massive log jam real soon. Honestly, I think someone gets traded (hopefully Guerrero to an AL club or Callapso to who really cares club) but something has to give eventually. If you own him via the free agent pool then enjoy the ride but I wouldn't be trading very much to obtain him.
Is this a Paul Revere tribute gif? I say yes, yes it is. I hope you all had a safe and insane 4th.