Auction drafting reminds me of playing poker. Having a plan of attack, choosing the right hand to play, and then subsequently winning the hand while finding out that you could've made a lot more money if you had played it correctly. If you're patient enough, play the rights hands and stick to the calculations, it'll work out to your benefit more often than not, but are you that patient?
Can you let a player go under value because he's not part of your plan? Can you avoid getting sucked into the auction and over paying for your guy? Can you avoid killing your budget faster than a college kid on spring break?
Hindsight is 20/20 and that is rarely more apparent than over the course of an auction. I don't believe I've ever left an auction without regret. However, even if you don't stick to your plan, there are ways to maneuver the auction to make your team build complete.
My plan coming into the auction was similar to my draft strategy for most of my leagues. I wanted to concentrate my bat spending on top of the order, high average, speed guys. Accomplished this with my combination of Ronald Acuna Jr. and Trea Turner. I balanced that speed with power in Edwin Encarnacion, Miguel Andujar, Justin Upton, and Max Muncy.
For my pitching, I took a more aggressive stance than normal and only wanted one ace and two established closers. I got Max Scherzer and then grabbed Edwin Diaz, Sean Doolittle, and Pedro Strop late.
12 Team Roto. Mixed League. $260 budget. Auction for 23 Active Roster Spots. 7 Round Reserve Snake Draft

C: Yan Gomes $1
C: Jorge Alfaro $1
1B: Edwin Encarnacion $10
2B: Luis Urias $1
3B: Max Muncy $11
SS: Trea Turner $41
MI: Xander Bogaerts $19
CI: Miguel Andujar $7
OF: Ronald Acuna Jr. $39
OF: Eloy Jimenez $14
OF: Victor Robles $15
OF: Justin Upton $10
OF: Chris Taylor $1
Reserves: Cesar Hernandez ($1), Ian Happ, Christin Stewart, Joc Pederson, Jung Ho Kang
P: Max Scherzer $36
P: Edwin Diaz $18
P: Sean Doolittle $16
P: Luis Castillo $13
P: Mike Soroka $1
P: Framber Valdez $1
P: Justus Sheffield $1
P: Alex Reyes $1
P: Pedro Strop $1
Reserves: Josh James, Carlos Rodon, Gio Gonzalez
Diaz for $18 and Doolittle for $16, how does that work?
Kirby Yates was the first closer nominated and he went for $13. The next closer nominated was Edwin Diaz who I grabbed for $18, which felt cheap as I had him down as a $23 player. The next closer nominated was Craig Kimbrel who I threw out there hoping to lock down another elite closer, and his value has been down due his ongoing free agency.
Well, his value wasn't down in this one and he was the only closer that went for more than Edwin Diaz at $19. The rest of the assured closers went for $17 until later in the draft as nobody wanted to break the $18 Diaz price. A price wall does get created at times when the top player at a position is taken and can be factored into your budget to some extent. In this auction, you knew it would take approximately $17 for a closer.
Did you really have Ronald Acuna Jr. and Trea Turner as $40 players?
No. However, after speaking with my podcast co-host Donkey Teeth about his CBS AL/NL only auctions, I wanted to take an aggressive approach early on in this auction as he mentioned there were a number of nice later values even in AL/NL only. With that in mind, I was fine paying the premium for 2 top end power/speed bats. Trout and Mookie both went for $6-$8 more than I was expecting and put that inflation onto the top players if I wanted to grab them, which leads me to Acuna and Turner as $40 players. While it is an overpay, it is an adjustment that I feel you have to make if you don't want to be left out of the top level players as many auctions are top heavy in spending. A middle of the road team is preferable in an AL/NL only auction, but in a 12 team mixed, I want the upside.
How do you track your money? Where do you want to be salary wise in the auction?
I have a general plan by dollar amount when I enter an auction.  It's not overly complicated. I lay out all the positions I need to fill and then assign dollar values that I expect to utilize in my $ draft tracker. As the auction moves forward, I play with the values as I win players to determine where I can spend money. There are more complex methods that people use, but in a fast auction, I've found that less is more when tracking your money.  You can be as aggressive as you want early in the auction, but you have to adjust and know when to, as the Fonz would say, "sit on it, ayyyyy."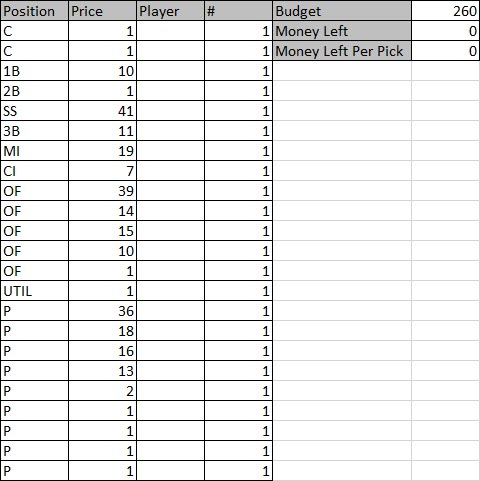 If I'm worried about my salary in the auction, (first use your $ tracker above) I generally want to be in a position where my highest budgeted amount is being spent on the best players available. For instance, if my $ draft tracker says my highest bid left is $15, then I don't want the best players available going for $30 or $5. If the best players available are going for $25-$30, then you've likely overspent early and need to wait for some more money to come off the board. If the best players are $5, then you've waited too long and better start stockpiling talent because you may end up with money left over and not enough high end talent. This method has worked for me and is easier than keeping track of players going off the board over or under value.
An important factor in any auction is the number of $1 players you feel comfortable drafting. I am used to 15+ teams leagues, so, in a 12 team league like this one, I was comfortable having many $1 players and using the wire in season. If you typically play 12 team leagues, or don't want to spend all of your time playing the wire, then you need to budget a little more money at the end.
Alright, enough already about what went right, what would you take back if you could?
Well, Trout goes for $51 and even at the time I knew I should've gone $52, but I didn't. So what? I wanted Turner and Acuna, and I got them. The next item, which I don't mind, but wasn't part of the plan, was grabbing Xander Bogaerts for $19. I have him as a $22 player and expected somebody else to continue to bid on him afterward, but I'm happy to get his stat line at $19 even if it fills MI awfully early. Same thing happened with Andujar at $7. Good values on both and I like each player, so, it's not like they got dropped on me, but that money was targeted for different aspects in the auction.
The next 2 things came when I was reaching the end of my spending. I had 2 bats and 2 arms I was targeting as my last fairly big buys. I wanted one of Eugenio Suarez or Victor Robles, and one of Zack Wheeler or Luis Castillo.  $28 to spend on these guys before I hit dollar days, and I'd like to have some money left over.
Suarez goes for $13 first and thinking I can get Robles for less, I waited, but he went for $15. While I do need another OF at this point, Suarez likely fit my build better, but so be it. Wheeler gets nominated before Castillo and goes for $10. Luis Castillo then comes out and I get him for $13, which puts me in $1 days. I could've let Castillo go and spread the money around, but I wanted another dependable starter with upside, and Castillo was the last of that kind. So, I spent the last of my money and went $1 guys the rest of the way out. Primarily best bat available and upside arms.
As I mentioned off the top, no auction goes exactly as planned, but I stuck to my strategy (well close enough).  I'm happy with my hitting projections, and while I'll have to be diligent on the wire with my pitchers, I have enough of a base to feel comfortable.
Razzball Tool Endorsement: I use the War Room for all my drafts. Seriously, if you haven't drafted yet, the Razzball War Room alone is worth the cost of a subscription.

Follow B_Don on Twitter @DiktaSausagePod. Check out his podcast with @DonkeyTeeth87 here on Razzball, "Ditka, Sausage, and Fantasy Sports."