After a lengthy hiatus, and much world travels, Donkey Teeth and B_Don are back talking baseball on the Goin' Deep Razzball Podcast. After talking about some of the big free agent landing spots and few of the free agents still yet to sign, the guys introduce the
RazzSlam
.
The RazzSlam discussion includes a full layout of the rules, point scoring system, playoff and prizes. The B_Don and DT also chat a little about draft strategy and how they might use their very limited RazzSlam FAAB opportunities. Slow drafts will start in late February, sign up here for your chance to compete against some of the biggest names in the industry!
At the back end of the show (36:30) the fellas discuss the Fantrax Best Ball draft B_Don is currently participating in with some industry stalwarts. Find out where Luis Robert, Fernando Tatis Jr, Lucas Giolito, Jo Adell and many other exciting names were drafted.
Please, blog, may I have some more?
Grey joins Donkey Teeth and B_Don to discuss ideas for 2020 fantasy baseball on the Goin' Deep Razzcast. They debate whether Ronald Acuna or Mike Trout should be taken #1 overall next year, or maybe dark horse Christian Yelich? The changing landscape of Major League Baseball and fantasy baseball is at the forefront of the discussion.
And should you gamble on Pete Alonso or Yordan Alvarez in the late 2nd or early 3rd round? Yes, but you'll have to tune in to find out which one. Then later in the show Grey disowns B_Don for suggesting Bryce Harper should be drafted over Rafael Devers, and Donkey Teeth is disowned shortly after for contemplating Aaron Judge over Devers. Don't miss all the drama on this week's episode of Goin' Deep!
Please, blog, may I have some more?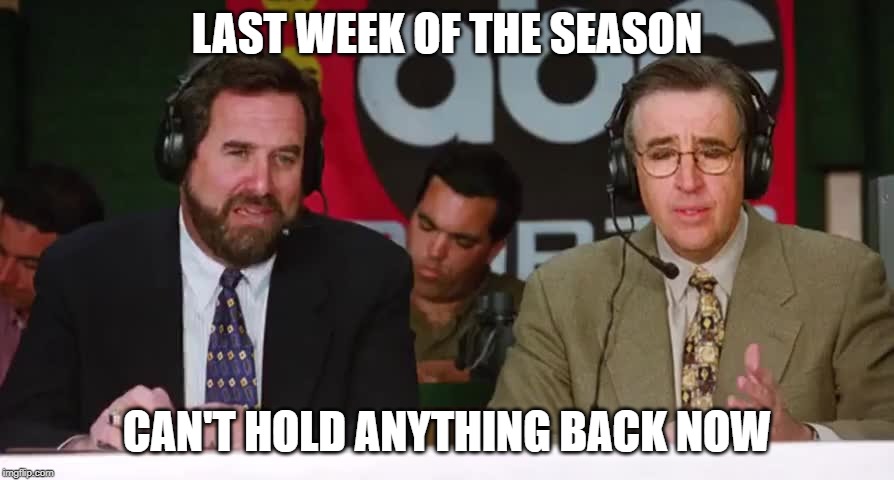 Last week of the regular season. Playoff teams may decide to adjust or sit their starters as they lock up their position and start getting ready for the playoffs. Did my best to recognize the 2 starters as best I could here.
There's still some questions about who will start, but the situations I couldn't nail down were:

Baltimore: Dylan Bundy is in line to start, but there's a chance that Chandler Sheperd gets a chance in that spot instead.
Mariners have Marco Gonzales down to pitch both Sunday and Tuesday. It could be Tommy Milone or Justin Dunn if Marco goes Sunday.
The Reds could throw Kevin Gausman as an opener or could let Sonny Gray take the spot on Tuesday.

Oakland and San Diego are likely running a 6 man rotation.
Cincinnati may run a 6 man rotation, but have to monitor that situation.
Please, blog, may I have some more?