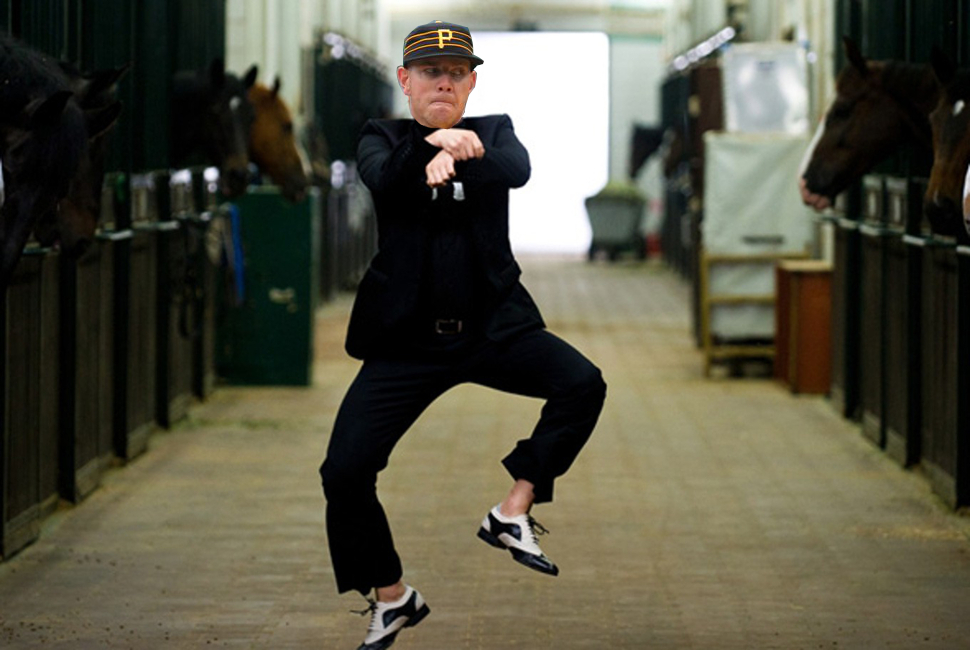 Eeeeeh, sexy Pirate
Op, op, op, op
Oppan Kingham style
Eeeeeh, sexy Pirate
Op, op, op, op
Eh-eh, eh-eh-eh-eh
By now this post will most likely feel like it's late to the party, but since I only write once a week there's not much I can do about that. The word on the street is that Kingham will get another turn in the rotation. I guess a near perfect game more or less forced their hand. Way to do a good job with that tough decision there Pittsburgh. However, Clint Hurdle did say that there were no promises after his second start. Looks like Kingham has another hurdle in front of him to keep from being sent back to Indianapolis. Perhaps another near perfect game will do the job.
Jameson Taillon, Ivan Nova and Trevor Williams absolutely belong in the Pirates rotation. After them, I don't think the same can be said for anyone else. Steven Brault has already been rightfully moved to the bullpen. When they asked Nick what he thought about Chad being ahead of him in the pecking order he replied by saying "not Kuhl man". Even though Kuhl hasn't had great success in his 51 starts, I still think they should keep running him out there. Just to put some numbers out there, in those 51 starts Chad "keeping it" Kuhl, and his 7.71 K/9, has averaged about 9.56 points per start. Horrible from a points league perspective, but perhaps adequate in real life. I'll have to run some more numbers to make an official decision on that one.
Do they plan to bump Kingham for Joe Musgrove? While he might have some talent, you know what else he has? Bullpen experience! Last year he made 23 appearances out of the bullpen for Houston when he found himself the odd man out in the Astros' rotation. I say let him and Tyler Glasnow become bullpen buddies. I heard that's a few steps before butt buddies, but who knows. In the meantime the Pirates front office might want to consider the "bird in the hand" rule. You know, the one that says Nick Kingham is worth two in the bush. Musgrove and Kuhl being the two in the bush. Sounds like the name of an '80s porn flick.
Since I've led off with a pitcher I guess I can make today's post about pitchers.
Givne Josh Hader's outstanding pitching this year I wanted to point out who was way ahead of the game. Check out this old post.
Darth Hader leads all relief pitchers with 39 strikeouts in just 18 innings. That's 19.5 strikeouts per nine innings! Despite only being a "closer" for the last two weeks or so, he has the third most points amongst all relief pitchers. I said closer in quotes because who can tell what they are doing in Milwaukee with the ninth inning. And what's going to happen when Corey Knebel, who's on his way back, returns? I'm guessing Evil Knebel resumes ninth inning duties and Hader owns the 7th or 8th inning. Perhaps both. Just sucks for leagues that don't award points for holds. Maybe it's time to sell. Quick!
Let's look at some points league numbers for pitchers.
29.33 – Max Scherzer leads all pitchers in points per start. The next four are Justin Verlander (29.29), Patrick Corbin (28.67), Corey Kluber (28.5) and Sean Manaea (26.17). I know I said next "four", but I am loving me some Gerrit Cole and he's next with 25.83 points. I might be one of the rare few that have stuck with him since the beginning in my keeper league.
13.68 – This is the average number of points per start for all pitchers that have started at least four games this season. Chris Stratton, Tyler Mahle and Garrett Richards have all put up 13.5 points per start. Jose Quintana, Kenta Maeda and Dylan Bundy are at 14 points.
16.66 – This is the average number of points per start for all pitchers with at least four starts that are owned in at least 60 percent of points leagues. Ivan Nova and Tyler Skaggs have averaged 16.67 points per start. Shohei Ohtani is at 17.
20.3 – This is the average number of points per start for the top 50 starting pitchers. Lance McCullers has 20.33 points per start. Chris Sale has 20.17 points.
21.8 – Miles Mikolas is averaging 21.8 points per start. That puts him in the top 15. He's owned in 78 percent of leagues.
21.75 – Bartolo Colon has averaged 21.75 points per start over his four starts. That ranks him 16th. He is owned in about 11 percent of leagues.
18.83 – Trever Williams is owned in only 73 percent of leagues yet he is averaging 18.83 points per start.
17.60 – Francisco Liriano is owned in just 39 percent of leagues yet is averaging 17.6 points per start. Noah Syndergaard has 17.86 points.
Out of the these four pitchers, I'd say Mikolas and Williams need to be owned. The other two should be strong candidates for streaming.
Here are some other pitchers of interest:
Clayton Kershaw (14.67) – Off to a 1 and 4 record, but still has a 2.84 ERA. Both his walks and hits are up (ever so slightly), but it has only been seven starts. He's still a clear top five pitcher. However considering I didn't say "top one", it seems Mr. Kershaw has fallen just a bit.
James Paxton (13.00) – Is he hurt? I don't think so. I thought he was supposed to be awesome or hurt. What's this in between bullshift? If I wanted 13 points per start I would have drafted Felix Hernandez (13.33) or Kevin Gausman (13.17).
Robbie Ray leads pitchers with a 14.6 K/9. The next three are Gerrit Cole (13.17), Max Scherzer (13.15) and Caleb Smith (12.86). Caleb who? Isn't he from a soap opera or something? Smith's PPS is 11.83. I'll pass.
My two cents.
Why isn't Wednesday spelled Wendsday?
Mike Soroka needs to be owned. Actually it's probably too late. I'm sure both Kingham and Soroka have already been scooped up. I actually felt that I needed to grab Kingham after four innings of perfect pitching. Turns out I was right as I got an email from a league mate moments later cursing me out because he was in the process of adding him when he got the notification that I had already done so. It sucks, but it seems we need to save a roster spot for speculation. In fact I currently have two. The moment Soroka was scratched from his Gwinnett start I picked him up too. There is almost always going to be at least one person in the league that is going to make the speculative pickup just in case. Seems I'm that guy in this league.
If I'm slow responding to comments today it's because I am going to be binge watching Cobra Kai on YouTube Red. Once I figure out what the f-ck that is.
Does David Dahl have a female fan club called the Dahlings? If not, he should.
When did CBS add the points per plate appearance stat to their advances stats?
Ender Inciarte (13) has more than double the steals as Billy Hamilton (5). More like Billy Shamilton. I own Inciarte in every points league I am in. Him and Quintana. I guess Quintana just got the memo.
Not only does Ozzie Albies have 9 home runs, but he also is tied for the Major League lead in doubles with 12. Another guy I own in every one of my points league.
I think it's time for another name change Giancarlo.
I wonder if Shin-Soo Choo could beat Jung-Ho Kang in a Taekwondo match. Winner gets to keep the hyphen.
Any of you readers/commenters live near Monkish Brewery and want to be trading buddies?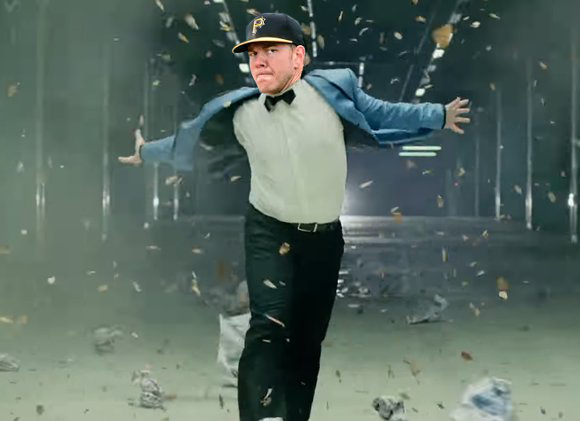 Follow me on Twitter at @malamoney