I'm back baby!  Returned henceforth from thy vacation, and I have no idea if that attempt at Ol' English made any sense.  Now I wanna drink a 40!  Which is something Julio Urias can't do!
So much happens in baseball when you're gone for two weeks!  Well, I was just on vacation for one week, but most of it was without internet.  Yeah – rough!  First time I've done a big vacation like that during the baseball season.  Not gonna lie though – kinda worth it for a little break.  But alas – we have a lot to catch up on!  Like Urias getting a very surprising (to me) call up this early.  Sure he was mowing down AAA, but he's 19 and the Dodgers seemed to go into the year with a lot of pitching options.  Then Alex Wood went from scratched (giving Urias his debut in a "spot-start" that went poorly against the Mets) to the DL, so Urias has a shot to stick in the rotation for a bit.  With that little bit of extra leash, how would Urias respond in a tough matchup at Wrigley?  Here's how the MLB's youngest cub fared last Thursday afternoon:
First Inning: Urias's first pitch of his second career start is a strike on a fastball in there to Dexter Fowler at 90 MPH.  Then another fastball is a broken bat flare single that barely gets over Chase Utley at second for an unlucky leadoff single.  Argh.  92 MPH is inside to Jason Heyward, 92 again fouled off, then his first off-speed pitch is a 77 MPH curveball that does this: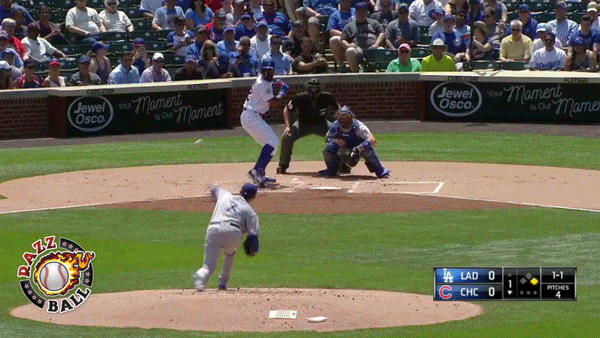 Fastball inside 2-2, nice power curveball is fouled off, then 94 on the hands gets a double-play ground ball opportunity, but Heyward barely beats it at first.  So only one out and a fastball is ripped down the third base like by Kris Bryant but it's foul, then a gorgeous change-up at 83 drops in the zone, 0-2.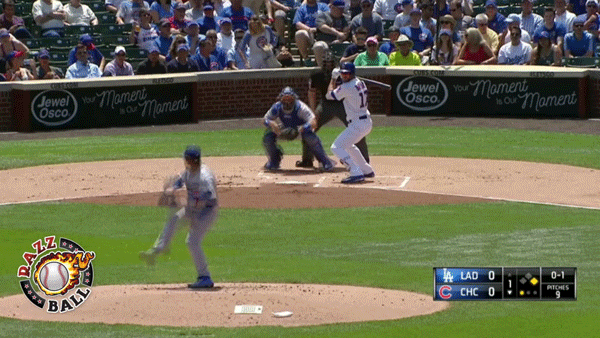 Whew.  Then fastball in the zone is another double-play ball, but the Dodgers turn this one to get Urias through a quick first inning.
Second Inning: Urias goes inside curveball to Anthony Rizzo to get ahead 0-1, fastball misses inside, change-up flutters low and away, 93 MPH on the hands eats him up for a foul back, nice curve down in the zone gets a half-swing flare back, then 93 absolutely paints the outside black, but the ump is gonna be a dick to the youngun: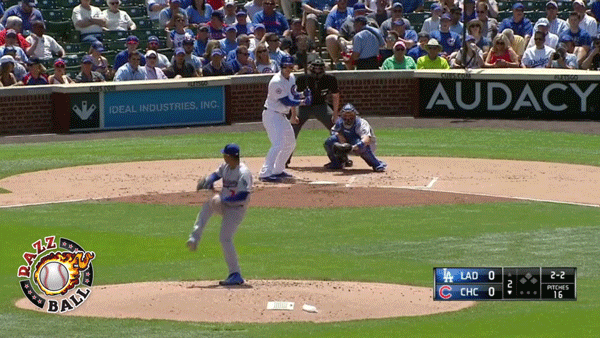 Nasty, but it's 3-2.  Fastball fouled off, then paint again at 94 is called ball four.  That one was a little further outside and lower than that last GIF, but I bet Urias at age 25 gets both of those.  So a tough leadoff walk and Jorge Soler barely nips a fastball that somehow chops through first and second base for another unlucky single.  BABIP-ped to death!  Addison Russell show bunt but pulls back on a first pitch curveball, high and tight fastball is taken, 2-0 change-up on the outside black fouled off – nice moxie there – fastball way off low and inside, outside fastball fouled to right, then 87 MPH slider gets Russell to lose his bat for his first K: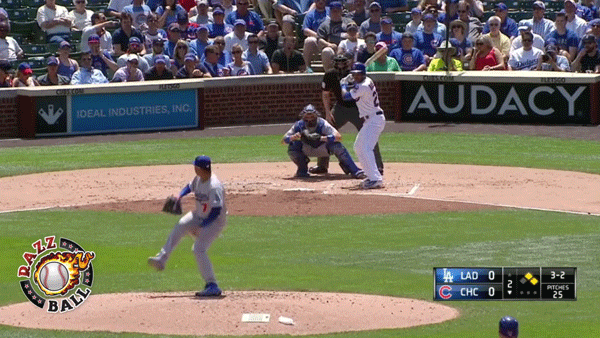 I'm out of GIFs already, through only 4 outs!  I knew Urias was special even though the numbers haven't bared that out, but mannnnn.  Inside fastball is taken by Javier Baez, change-up stays outside but gets Baez unable to hold a check swing, fastball misses, then a change gets a flare bloop single to center that it looked like Joc Pederson had a chance a, but it lands in front of him for an RBI single.  Pederson then bobbles it, letting the runners get to second and third.  Some shoddy CF play there, and the 3rd hit that wasn't well-struck at all.  Miguel Montero foul tips a first pitch fastball 0-1, foul tip again on a fastball at 93, fastball again stays high, then rolling curveball in the zone is a routine grounder to second, one down.  So runner at third and two outs with opposing pitcher Kyle Hendricks slashing a first pitch fastball foul, fastball again fouled back, then fastball at 93 on the outside black gets the call for Urias's 2nd K and gets him out of the inning.
Third Inning: First pitch change-up stays outside to Fowler as we go back to the top of the order, change again is perfect and in there, fastball skips in low, then a fastball on the hands absolutely eats Fowler up for about a 5-foot groundball out made by A.J. Ellis.  Fastball at 94 is in there to Heyward, saw a little bit of Urias losing his balance there, then fastball again is barely past short for a single.  Still nothing hit all that hard.  Urias again having full faith in that change-up and it's a taken strike one on the outside edge to Bryant, then a high fastball on the outside part of the plate gets a loud, long flyball to the warning track for the second out.  Had Bryant reaching a little too much to get homer contact.  Fastball in there to Rizzo, fastball again at 93 in a perfect low and inside spot for a foul back, then I'm pretty sure a slider at 86 gets a flare to left for the final out of the inning.

Fourth Inning: Again pounding the zone, Urias is in there Soler, but an 89 MPH slider or cutter didn't do much on the outside edge and Soler dumps a single the opposite way to right.  First "legit" hit to me.  Russell swings and misses for strike one, then 92 MPH on the hands is a soft flare to first for the first out.  Change-up again on the first pitch to a righty is in there for strike one, then after a check at first, Urias tries a change-up again, and even though it was outside and nice and low at the knees, Baez golfs the poop out of it for a 2-run homer.  Yeah – legit hit there!  But a nice bounce back with a tight slider that gets a whiff from Montero, fastball is in there, change-up in the dirt, then a 1-2 fastball paints that inside corner for his 3rd K.  At least Urias is showing he can brush off when things don't go his way.  Nasty fastball in there to Hendricks for strike one, that big curveball like that first GIF is in there 0-2, change-up low, then a 1-2 fastball is hit pretty hard by the oppo SP to right, but right to Trayce Thompson for the third out.

Fifth Inning: Third time through the order and a change-up is in there to Fowler, change again drops low, and man these righties have got to be focused on change-ups early in the count by now…  Fastball low, change outside, change yet again is dribbled foul, then a payoff fastball on the outside edge gets a routine grounder to short, one down.  94 in there to Heyward 0-1 – Urias again had a little bit of a footing issue and lost his balance a bit – curve drops in the dirt low, slider also in the dirt low, then 92 MPH on the inside part of the plate is crushed to right, and the power-anemic Jason Heyward gets a homer.  Bad misses on both off-speed pitches and Heyward was laser-eyed on a fastball.  Then on the very next pitch, Urias hangs a curveball and Bryant hits it like 700 feet off the left field scoreboard.  MURD-ERED.  Wow, actually I think that was a hanging change-up.  I swear this is all stream of consciousness – I just said that righties are gonna focus on first-pitch change-ups with how Urias is having his pitches called.  Been like 6 or 7 sequences to righties that have started with first-pitch change-ups – sure that one hung up in Bryant's wheelhouse, but it's not like it wasn't expected.  94 MPH is in there to Rizzo, then slider gets a chop to second for a routine second out.  FINALLY Urias starts a righty with something different and it's a fastball that Soler fouls off, slider in the dirt low, then a nasssssty change-up at 82 that broke away and low from Soler gets a huge whiff, then a slider that didn't do too much gets a swinging strike 3 mostly due to the speed, so thankfully Urias can end his outing on a high note.  Hendricks ended up pitching a lot better and Urias is hung with his first career loss.
Final Line:  L  5.0 IP  79 Pitches (57 Strikes)  5 ER  8 Hits  1 Walk  4 K  Gamescore: 32   Gamescore+: 40.8

Final Analysis: Head-scratching…  Urias has some beautiful mechanics, 4 plus pitches, and looks as composed as any vet out there on the mound, but it just hasn't gone his way.  It really wasn't going his way early with some very weak contact and some umpire squeezing on that one walk, but then he made some mistakes and got launched on.  Not surprisingly for a shorter outing – his Gamescore+ came out higher than his Gamescore, but that's one of the wider margins we've seen.  You can thank some unlucky singles in the first 3 innings for that.
As mentioned – Urias has 4 plus pitches, which is unbelievable for a 19-year-old lefty.  The fastball sat right at 92ish most of the outing, but he ramped it up to 94 on a few occasions.  He averaged 94.0 MPH in his debut against the Mets that fell to 92.4 in this one, but I don't think that's anything but small sample noise.  I think his main off-speed pitch – at least what we saw in this start – was a change-up that he could throw for strikes and get whiffs on.  Unfortunately, the Dodgers stubbornly kept Urias on the same game plan through the whole start, and the force-feeding of change-ups early in counts to righties got him burnt.  It's just really frustrating to see a vet catcher and a coaching staff have a stud 19-year-old out there with 4 plus pitches and make him have cookie cutter sequences.  Wow – have I ranted yet?  Anyway, the curveball out-classes the slider, with heavy break in the 77 MPH range.  It's a big, easily-discernible bender – not that hitters could lock on it, but has a very sexy look from a lefty.  Then his slider was pretty solid, but it didn't consistently feature a sharp break.  I may have called a few sliders change-ups earlier in the game as the two both have similar break, just the slider is a few ticks faster on the radar gun.  A few had that heavy, sharp break though like the 4th GIF.  I was surprised to see he went from throwing only 4.9% change-ups in his debut to 13.9% in this encore start.  It seems like in any given outing, any of his 3 of his off-speed pitches could be the most utilized.
I usually don't delve too much into mechanics, but I do want to mention Urias lost his balance on the follow through a few times, I'm pretty sure all on fastballs.  If he was still doing this in the Minors, they probably wouldn't have called him up.  Now, this isn't any sort of comparison to the player himself, but it reminds me a lot of Jimmy Nelson.  He was the Minor League's hottest pitcher for a lot of 2014, then in the Majors he kept almost falling over on his follow through on several occasions.  Nelson has subsequently ironed that all out and been a much more consistent pitcher (his last start notwithstanding), but gives me this slight glimmer of concern for Urias's 2016 output.
The hype is certainly for real – this is a perennial Cy Young candidate in the making.  4 plus pitches, smooth mechanics, ahead-of-his-years composure…  I might have trouble keeping him out of the top-20 next year.  It's just soooooo tough to weigh his ROS impact against starters who we know are in the rotation the rest of the year.  If Alex Wood comes back faster than we think it could pull Urias back out, Urias is likely on an innings cap anyway, then to top it off he's a lefty, which could be beneficial for 1 or 2 inning relief stints down the stretch.  But for now, I have enough confidence to rank him right in that streaming class even though the results haven't been there yet and my nagging concern on his balance issues, mechanics-wise.  I'm hoping the Dodgers learn from their mistakes in his pitch calling this last outing and he can build on what was a pretty solid start until that 5th inning home run derby.
Updated Top 100 SP
(rankings for ROS based on 12-team Roto, green for risers, red for fallers)
| RANK | SP, TEAM |
| --- | --- |
| 1 | Clayton Kershaw, LAD |
| 2 | Jake Arrieta, CHC |
| 3 | Chris Sale, CWS |
| 4 | Max Scherzer, WAS |
| 5 | Noah Syndergaard, NYM |
| 6 | Jose Fernandez, MIA |
| 7 | Madison Bumgarner, SF |
| 8 | Stephen Strasburg, WAS |
| 9 | Corey Kluber, CLE |
| 10 | Jacob deGrom, NYM |
| 11 | Jon Lester, CHC |
| 12 | Yu Darvish, TEX |
| 13 | Danny Salazar, CLE |
| 14 | Carlos Carrasco, CLE |
| 15 | Gerrit Cole, PIT |
| 16 | David Price, BOS |
| 17 | Johnny Cueto, SF |
| 18 | Taijuan Walker, SEA |
| 19 | Chris Archer, TB |
| 20 | Jeff Samardzija, SF |
| 21 | Carlos Martinez, STL |
| 22 | Aaron Nola, PHI |
| 23 | Joe Ross, WAS |
| 24 | Masahiro Tanaka, NYY |
| 25 | Steven Matz, NYM |
| 26 | Zack Greinke, ARI |
| 27 | Cole Hamels, TEX |
| 28 | Justin Verlander, DET |
| 29 | Rich Hill, OAK |
| 30 | Jose Quintana, CWS |
| 31 | Matt Harvey, NYM |
| 32 | Carlos Rodon, CWS |
| 33 | Drew Pomeranz, SD |
| 34 | Vincent Velasquez, PHI |
| 35 | Jason Hammel, CHC |
| 36 | Jordan Zimmermann, DET |
| 37 | Drew Smyly, TB |
| 38 | Dallas Keuchel, HOU |
| 39 | John Lackey, STL |
| 40 | Aaron Sanchez, TOR |
| 41 | Felix Hernandez, SEA |
| 42 | Ian Kennedy, KC |
| 43 | Wei-Yin Chen, MIA |
| 44 | Kenta Maeda, LAD |
| 45 | Julio Teheran, ATL |
| 46 | Sonny Gray, OAK |
| 47 | Lance McCullers, HOU |
| 48 | Kyle Hendricks, CHC |
| 49 | Marcus Stroman, TOR |
| 50 | Michael Wacha, STL |
| 51 | Anthony DeSclafani, CIN |
| 52 | Francisco Liriano, PIT |
| 53 | Patrick Corbin, ARI |
| 54 | Kevin Gausman, BAL |
| 55 | Julio Urias, LAD |
| 56 | Jimmy Nelson, MIL |
| 57 | Gio Gonzalez, WAS |
| 58 | Hisashi Iwakuma, SEA |
| 59 | Tyler Glasnow, PIT |
| 60 | J.A. Happ, TOR |
| 61 | Jameson Taillon, PIT |
| 62 | Marco Estrada, TOR |
| 63 | Jaime Garcia, STL |
| 64 | Jake Odorizzi, TB |
| 65 | Nate Karns, SEA |
| 66 | Michael Fulmer, DET |
| 67 | Rick Porcello, BOS |
| 68 | Tyler Duffey, MIN |
| 69 | Tanner Roark, WAS |
| 70 | James Shields, CWS |
| 71 | Adam Conley, MIA |
| 72 | Eduardo Rodriguez, BOS |
| 73 | Junior Guerra, MIL |
| 74 | Blake Snell, TB |
| 75 | Steven Wright, BOS |
| 76 | Nathan Eovaldi, NYY |
| 77 | Chris Tillman, BAL |
| 78 | Matt Moore, TB |
| 79 | Jon Gray, COL |
| 80 | Robbie Ray, ARI |
| 81 | Adam Wainwright, STL |
| 82 | Scott Kazmir, LAD |
| 83 | Mike Leake, STL |
| 84 | Matt Shoemaker, LAA |
| 85 | Michael Pineda, NYY |
| 86 | Mike Fiers, HOU |
| 87 | Collin McHugh, HOU |
| 88 | Edinson Volquez, KC |
| 89 | Hector Santiago, LAA |
| 90 | Jerad Eickhoff, PHI |
| 91 | Sean Manaea, OAK |
| 92 | Josh Tomlin, CLE |
| 93 | Yordano Ventura, KC |
| 94 | Matt Andriese, TB |
| 95 | CC Sabathia, NYY |
| 96 | Andrew Cashner, SD |
| 97 | Derek Holland, TEX |
| 98 | Colby Lewis, TEX |
| 99 | Ervin Santana, MIN |
| 100 | Zachary Davies, MIL |
Dropped Out: Rubby De La Rosa, ARI (DL – UCL damage, uggghhhh.  Especially rough after he had groin and triceps issues earlier, I think he was compensating for the upcoming TJ, sadly…) Alex Wood, LAD (DL – triceps, but I saw elbow lumped in there too, so I scurred), Juan Nicasio, PIT (yeah, it wasn't a disaster, but it hasn't been good enough to hold off the prospects – likely heading to RP soon), Raisel Iglesias, CIN (wow – heading to the bullpen…), Shelby Miller, ARI (I bet Miller's fantasy owners have a finger that's in need of a DL stint)
Missing the Profile for a week and missing nearly all of baseball for a week certainly puts you behind the eight ball!  So definitely let me know if I'm missing anything big in the ranks, and what you think of Urias moving forward.  Happy to be back, Razzball Nation!