Yesterday, Vince Velasquez went 6 IP, 3 ER, 6 baserunners, 12 Ks, ERA at 5.05.  Ironic his initials are VV, because owning him is anything but peaceful.  Maybe Richard Nixon was prophetic when he threw up the V's.  Did Nixon say, "I am not a…conservative streamer?"  VV is so volatile, he's like Nixon in a Pepsi full of Mentos!  "Vince, why are you taping us?"  Velasquez shakes his jowls.  "Why are you always hating Ian Kennedy?"  Velasquez diverts his eyes.  "Vince, why do you keep asking for advice from that WAR monger, Henry Kissingfangrapher?"  Velasquez's peripherals are much prettier than his ERA — 11 K/9, 3.1 BB/9, 3.83 xFIP — but there is no way to recommend him without saying you know he can screw you at any moment.  So be careful listening to Henry Kissingfangrapher.  Anyway, here's what else I saw yesterday in fantasy baseball:
Carlos Santana – 1-for-4, 3 RBIs and his 6th homer.  Crazy the way he turned his whole season around this week.  Maybe he'd be so kind to sneeze on Hoskins.  Don't Dracula it either.
Madison Bumgarner – Nearing mound work.  Hopefully, he's not taking a dirt bike to his rehab.
Alen Hanson – 1-for-3, 2 RBIs and his 3rd homer, hitting .268, and hitting near-.300 in the last week with two homers.  He'll be in this afternoon's Buy column, and you can likely wait for that because who's really picking up Alen Hanson?
Ty Blach – 4 1/3 IP, 5 ER, 4.20.  Glad to see him get hit around, because I was worried when Bumgarner returned there might be a chance Stratton was the odd man out.  Then again, they have Holland too, but I'm worried Holland wouldn't know how to work middle relief.   Though, maybe he could be the tunnel between the starter and the 8th inning guy.
Carlos Martinez – Hit the DL with a right lat strain.  This guy has a whirling dervish of unforeseen problems around him.  Must just be Car-Ma's way.
Miles Mikolas – 6 2/3 IP, 1 ER, 6 baserunners, 4 Ks, ERA at 2.51.  Because it was a while ago but still applies, here's what I said this offseason, "Ohtani is super overrated, Mikolas might actually be a bargain.  If only he could also hit 30 HRs!  Riiiiiiiight.  Yes, seven I's.  The verdict, as they say, is still out on Mikolas, but I've seen him compared favorably to starters like Maeda, Hendricks and teammate, Wacha.  Plus, it's the Cardinals, they make mountains out of anything that takes the hill.  For safety's sake, I'll put him around a 7.2 K/9 and a 2.4 BB/9 which is 2013 Jose Quintana, a 3.51 ERA/3.86 xFIP guy.  I see now why Mikolas is Greek for 'Me likey.'"  And that's me quoting me!
Marcell Ozuna – 2-for-4 and his 2nd steal, hitting .254.  He now has as many steals as homers.  Yup, totally normal.  Nothing to see here.  Emphasis on nothing.
Tommy Pham – 2-for-4, 2 runs and his 6th homer, hitting .330.  Pham has three times as many homers as Ozuna.  *arranges tacks on desk, slams head into tacks*  I'm good!
Raffy Lopez – 1-for-3 and his 2nd homer, and 2nd in four games, as he fills in for Austin Hedges.  He's more or less power for NL-Only leagues, but there's worse *pinkie to mouth* Raffy tickets.
Dee Gordon – Out with a bruised toe.  M's doctor had a tough time telling which toe was bothering him, because Gordon can't differentiate between eeny and meeny.
Kyle Seager – 2-for-5, 5 RBIs and his 5th and 6th homer, a grand slam.  This was the M's first grand slam of the season, unless you count Ichiro asking, "Who the f**k is Tom Brady?"  That was the best slam of the year.
Ryon Healy – 2-for-5, 2 runs and his 6th homer.  Of course, he'll be in this afternoon's Buy column.  I've mentioned him just about every day this week.  Get your Healy now*!  *Not the sneakers with the wheels on the bottom unless you want to seriously injure yourself.
Mike Zunino – 2-for-4 and his 6th homer.  I wish my catcher was hitting .194 with six homers.  Shoot (not you deranged white man), I'd take three homers and a .194 average.
Jean Segura – 4-for-6, 2 runs, hitting .305.  I touch on this more below with Inciarte, but Segura has only five steals, and that's not bad considering steals across the league.
J.A. Happ – 3 1/3 IP, 7 ER, ERA up to 4.80.  Anyone out there know how to hack into a scorer's computer and change a couple of home runs into four-base errors?  Asking for a friend.  Obviously, not a great start, but his peripherals — 11.2 K/9, 2.6 BB/9 and 3.21 xFIP — give me hope, assuming he's still healthy.
Adam Eaton – Had arthroscopic surgery to remove a flap of cartilage from his ankle.  Wow, he had a literal vagina on his ankle.
Matt Wieters – Left with a knee injury.  You got a solid, mediocre 65 ABs from him, and, for that, you have to be happy.   Remember, Keith Law once compared Wieters to Yogi Berra.  Little did you know, he meant as they were in 2008.  Don't worry, Blake Swihart is can't miss, Law says it's so!
Paul Goldschmidt – 0-for-5, 2 Ks, hitting .218.  There's a bottom here, right?  Okay, are we near it?
Zack Greinke – 7 IP, 1 ER, 4 baserunners, 6 Ks, ERA at 3.70 vs. Tanner Roark – 7 IP, 1 ER, 4 baserunners, 4 Ks, ERA at 3.33.  This matchup was billed as, "If Greinke Was Tanner Then He'd At Least Have A Shade Of Color."  As you can imagine, not a ton of people called it by that name.
Byron Buxton – 0-for-2 as he was activated.  Wow, that felt kinda out of nowhere.  He went from a fractured toe to unable to run to singing the chorus of that Fogerty song.
Jose Berrios – 5 1/3 IP, 5 ER, ERA at 4.50.  Good news, he should be better.  Bad news, there is bad news.  Okay, specifically, he looks a helluva a lot like a 3.80-ish ERA pitcher.
Max Kepler – 1-for-3 and his 5th homer.  Has done nothing in the past week or so, but he has been hitting third (more like turd!), so maybe this is the beginning of a schmotato run.
Brian Dozier – 4-for-4, 3 RBIs and his 6th homer, hitting .246.  Look at Dozier this way, whatever he does before July is icing, cause he's hitting 25+ homers in the 2nd half.
Ian Kinsler – 3-for-4, 2 runs, 2 RBIs and his 2nd homer, hitting .214.  You see his home run celebration?  He mimed writing a Thank You note to the pitcher.
Justin Upton – 1-for-4 and his 9th homer, and his 5th homer in the last eight games.  Appizzarently, May is the month Upton is going to be hot in.
Jim Johnson – 1 IP, 0 ER and the save as Keynan Middleton worked the 8th.  *shakes fist at the sky*  Sciosciapath!!!  It could be a matter of wanting Middleton to get some work first before diving into the ninth, but it could also just be The Sciosciapath, so I tried to pick up Johnson in all my leagues.
David Price – Expects to start on Saturday.  That's good news for his owners; he was expected to be out for a Fortnite.
Eduardo Rodriguez – 5 IP, 0 ER, 1 hit, 3 BBs, 8 Ks, ERA at 4.58.  I'll say it for you, sonavabench!  You couldn't have started him, there was just no way.  I'd check the Stream-o-Nator on whether to start him next time too, i.e., I don't trust my own judgment on him, i.e., ROBOT RULEZ!!!  Though, that doesn't explain Elon Musk dating Grimes.  Nothing does.
Hanley Ramirez – 2-for-4, 3 RBIs and his 5th homer, and 2nd homer in as many games.  Hold on for another ten-day stretch until Hanley sees a butterfly flapping its wings and a tsunami of disinterest rises in him.
J.D. Martinez – 1-for-4, 2 RBIs and his 9th homer, hitting .348.  Just Dong, though, Just Dong'ing more than that when hitting near-.350.
Salvador Perez – 1-for-4, 4 RBIs and his 4th homer, a grand slam, hitting .288.  Perez jumped all over Tillman early because the Orioles' pitching only has half the rope-a-dope equation down pat.
Jon Jay – 2-for-4, 1 run, hitting .283.  I hadn't mentioned The Federalist prior to this, because I was hoping him leading off was a nightmare I'd wake from and Whit Merrifield (2-for-3, 9th steal, hitting .270) would be returned.  Stupid Ned Yost and his powerful centralized government-loving Federalist!  Hopefully, Ned just lost his pen and hasn't changed the lineup since.  Ask The Federalist for his quill, you dope!
Ian Kennedy – 4 IP, 9 ER, ERA at 4.61 vs. Chris Tillman – 1 1/3 IP, 5 ER, ERA at 10.46.  Whatever you can do, I can do worse!  No, you can't!  Yes, I can!  No, you can't!  Yes, I can!  By the by, the lyrics to this real quick read to me like a Diary of Anne Frank musical where Hollywood has given her multiple personalities: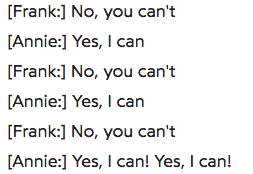 Trey Mancini – 3-for-5, 3 runs, 2 RBIs and his 4th homer, hitting .268.  I will now laugh hysterically until I sob.  *three seconds later*  That was a good cry.  Okay, so Mancini apparently didn't like me saying you can move on in shallower leagues.  Or he's passive aggressive AF.  Hey, Trey, until you get your shizz together, I will pronounce your last name like it rhymes with fettuccini.
Manny Machado – 2-for-3, 2 RBIs and his 10th homer, hitting .350.  Macho, macho Machado!
Adam Jones – 3-for-5, 3 runs, 3 RBIs and his 6th homer, hitting near-.400 in the last week, but he's owned in 90% of leagues, because fantasy baseballers (<–my mom's term!) change lanes about as quickly as a tractor trailer.
Mike Foltynewicz – 5 IP, 0 ER, 5 baserunners, 4 Ks, ERA at 3.21.  Mentioned this in the comments yesterday, Foltysandwich is the kind of pitcher I would happily own, but watching him pitch is IBS inducing.
Ender Inciarte – 3-for-5, 1 run, 1 RBI and his 16th steal, hitting .265.  It's worth pointing out that what he's doing is not the new normal.  Steals are not in vogue.  Strike a pose!  Ender is leading the majors in steals.
Ozzie Albies – 2-for-6, 5 RBIs and his 11th homer, hitting .285.  I'm just happy I drafted him in one league.  I was legit way too low on him in the preseason.  Mea culpa, my friends in Latin America.
Freddie Freeman – 5-for-5, 2 RBIs and his 6th homer, hitting .326.  Hasn't been bad, but wrap your noodle around this one.  Freeman hasn't been outstanding and the Braves are one of the most dangerous lineups in baseball.  I can also turn this into getting my ulcer in a tizzy if I think about how their entire lineup changed after Acuña was promoted, and how so many clubs artificially suppress their rookies.
Caleb Smith – 5 1/3 IP, 2 ER, 9 baserunners, 5 Ks, ERA at 3.63.  I've folded Smith into a few of my teams.  His numbers are way too sexy to overlook.  Not surface numbers, mind you, but those underlying Mama Jamas.  By the by, pajamas is so sexist.  There should be majamas, said Woke Grey.
Trevor Story – 1-for-3 and his 8th homer, hitting .222.  The average has really bottomed out, but not quite as bad as Desmond.  I still believe Coors and its artificially inducing BABIP chamber will correct all of this, and, even if it doesn't, they're worth falling on your sword.  For unstints, Alex Gordon or Desmond?  Okay, Gordon's currently hotter, but his season peak is Desmond's good weekend.
Lorenzo Cain – 2-for-3, 2 RBIs and his 5th homer, hitting .283.  Cain…Sugar!'s been terrific, but the Brewers' bump on Yelich hasn't exactly appeared yet, huh?  Not to answer but to ruminate.
Corey Knebel – 1 IP, 0 ER, 2 Ks in the 8th inning, while Jeremy Jeffress got the save.  Craig Counsell said he'd ease Knebel back into the 9th inning, but he said it while holding the microphone oddly, so I guess we should forgive him.  Like there's any difference if you're facing the best hitters in a lineup in the 8th inning of a tight game or the 9th inning.  Managers are stupid.
Walker Buehler – 6 IP, 2 ER, 5 baserunners, 8 Ks, ERA at 1.64.  Glad I have him in one league, but I want him in every league!  Daddy, I want the Golden-Armed Goose now!
Tyler Mahle – 5 IP, 0 ER, 7 baserunners (4 BBs), 2 Ks, ERA at 3.86.  His peripherals still look sweet.  He is one hot T. Mahle!  However, the Reds starters and their park do scare me.  Yes, I'm Joe McCarthy, due to the Reds scare.
Scooter Gennett – 3-for-4, 3 RBIs and his 5th homer.  I'm not going to say what I said the three other times this week he homered, but you know what I'm thinking.  Simpatico!
Matt Harvey – Will make his Reds debut today.  That gives Reds fans about twelve hours to pretend this is all going to work out for the best.  I suggest praying that Harvey doesn't sleep with Votto's wife and screw up your Hall of Fame 1st baseman's head.
Kyle Lohse – Retired from baseball.  He was never an All-Star, had a 5-ish K/9, 4.40 career ERA and tossed the ol' sand-rock about 87 MPH.  Feel free to make fun of him, because he still made close to $85 million in his career.  Seriously, if any of you dads are out there reading this and you let your kid stop playing baseball, donate your kids to me, I will scream at them for 18 years.  Then we can split their earnings 60/30/10.  You get the 10!  Wow, I just became Scott Boras for a second.