Greetings from beautiful New Jersey. If you say otherwise, as someone born and raised in New Jersey I am legally obligated to fight you with my shirt off. I'm sorry, but I don't make the rules. Even though I am just here visiting, these laws are still binding. Strange, I know. But true. Very true. Ask Grey if you don't believe me.
Given how the first 20 weeks have gone, putting two Dodgers pitchers at the top of this list just seems like a tease. We know what is going to happen by Monday, so why do we torture ourselves? If we have learned anything this season, it's that Dave Roberts hates every single one of us and does not want us to be happy. Luckily, both are owned in 100% of RCLs, so we can safely ignore them without feeling too guilty. 
As for value choices this week, Streamonator likes three starting pitchers who are owned in less than 75% of Razzball Commenter Leagues for a positive value. The value choices for this week are:
Now, what really sticks out here is Tyler Skaggs receiving such a high dollar value. Ricky Nolasco and Steven Matz are, let's face it, whatever. Stream if you will, stream if you won't. Those two are going to help you sometimes and hurt you others. The Nator likes them (kind of) this week, but they aren't pitchers you're going to take home to your fantasy baseball momma.
Skaggs usually isn't, either, but the Nator loves it some Tyler in W21. Now, the big thing here that could throw his whole article out the window is that Skaggs is on the paternity list. As it stands now, he is still scheduled to start, but babies change everything in our lives, ya know? For the sake of 1,000 words, let's assume he is going to pitch twice this week and actually help some brothers out. But, on a real level, pay attention to the Twitter machine and those lineup updates. No promises are to be made in W21.
In eight starts this season, Skaggs has been, as they say, not too bad. More importantly, he has pitched better lately. He has allowed three or fewer runs in six straight starts and has lowered his ERA more than a run and a half over that time.
His two starts this week are not great. He has Texas and Houston, but he does at least get both of them at home. Streamonator has him as a Top 5 starter this week, but I obviously dropped him a bit lower. Who are you going to trust, Rudy or me? Rudy has a proven track record for utilizing these tools for impactful results, while I am the guy who told you all about J.T. Realmuto in March last year. WHO. ARE. YOU. GOING. TO. TRUST?
Anywhere, here's the entire list:
Pitchers are listed in order by rank. Colors represent 8 toughest or 8 easiest opponents according to team wOBA for last 14 days.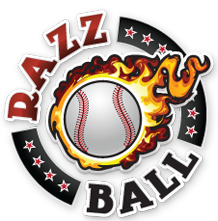 THE BEST
THE REPLICAS
THE STANDARDS
THE KNOCKOFFS
THE 
All pitchers are projected for two starts as of Friday night. 
If you would prefer to see the above tables as a color-coded graphic, we've got that too!
(Click to enlarge.)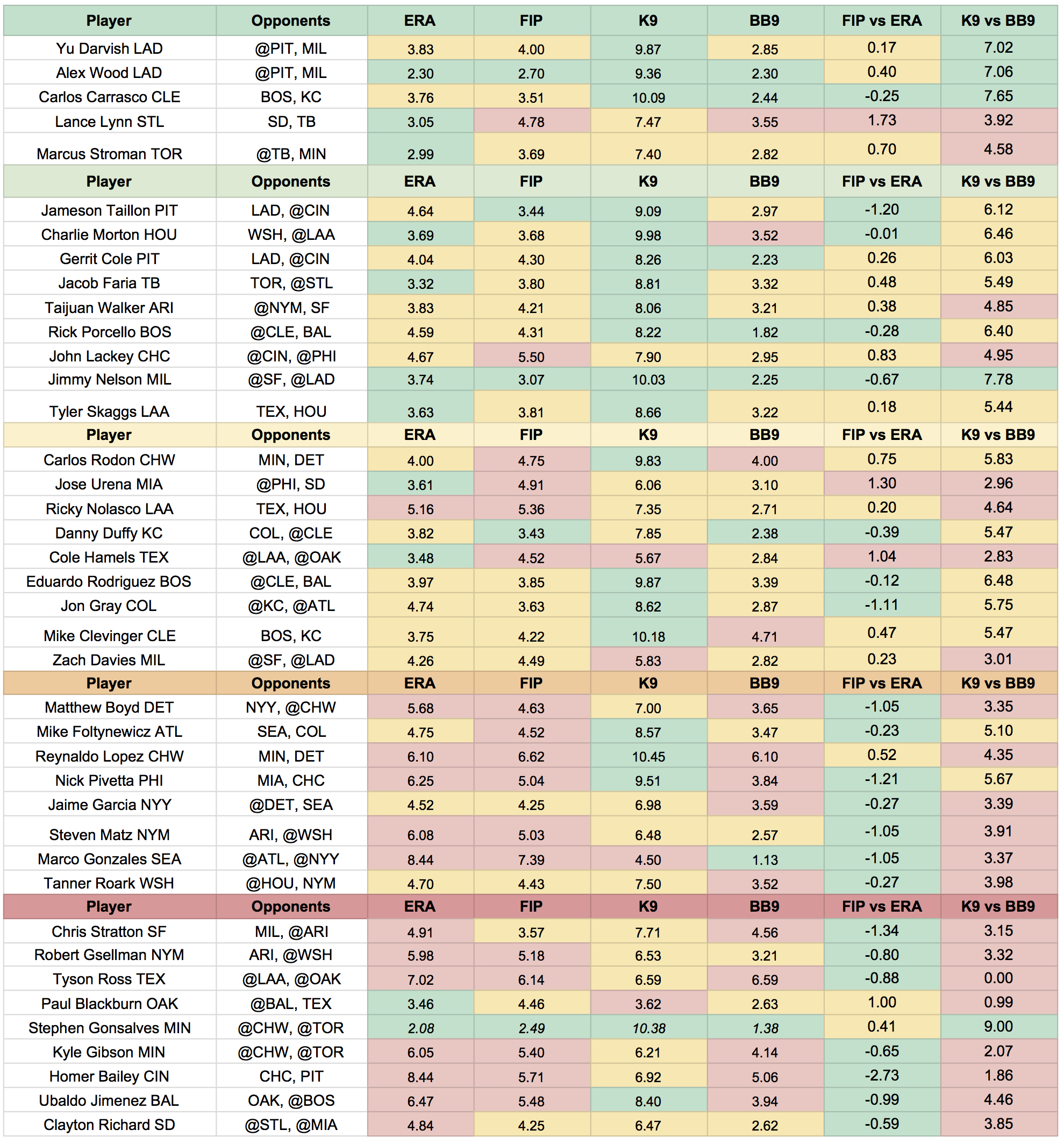 As always, disagree with anything here? Have any questions or comments? Want to tell Mike how great he is or how much you agree with him? Want relationship or investment advice?
DROP THOSE COMMENTS!
If you want to talk fantasy baseball or football or have players you want Mike to feature, hit him up on Twitter at @mikeMaher or post a comment below!