There is a decent chance that the MLB Trade Deadline throws some wrenches into our list this week. Yu Darvish is currently on the list and could very well get traded. He got absolutely rocked his last time out, though, so some owners might be a little shy about throwing him out there for two starts this week. Depending on your team and league format, though, the chances are you should probably send Darvish out there for his two turns this week. He is going to start at least once even if he gets traded, and August is not the time to start second-guessing your squad.
Our focus for this week is Charlie Morton. He is only owned in 49% of RCLs, and Streamonator likes him for a $13.60 value that is partly due to favorable matchups against the Rays and Blue Jays, both of whom are in the bottom eight in team wOBA over the last couple weeks. In his last start out against the Phillies (who are surprisingly in the top eight for team wOBA over the last two weeks), he tossed seven shutout innings with nine strikeouts on just three hits and a walk.
The main difference in Morton this year that has increased his fantasy value is he is striking out batters at a much higher rate than he ever has in his career. His career K/9 is 6.66, but his K/9 in 2017 is up over 10/9: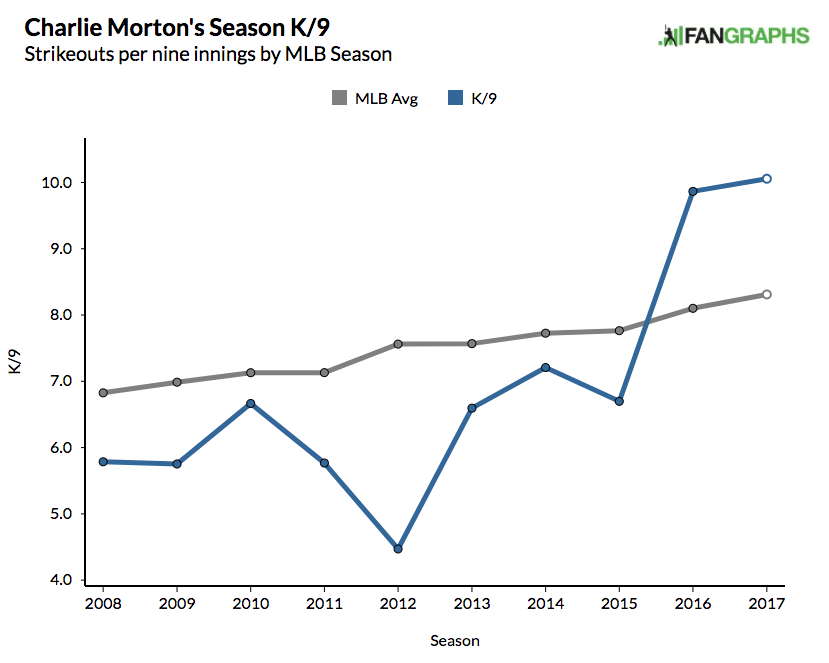 His 2016 K/9 was 9.87, but that was over just four starts. As is expected when you see a spike in strikeout numbers, Morton's swinging strike numbers are up, too. While he posted a career swinging strike percentage of below 8.0% coming into the season, he is at 10.4% in 2017.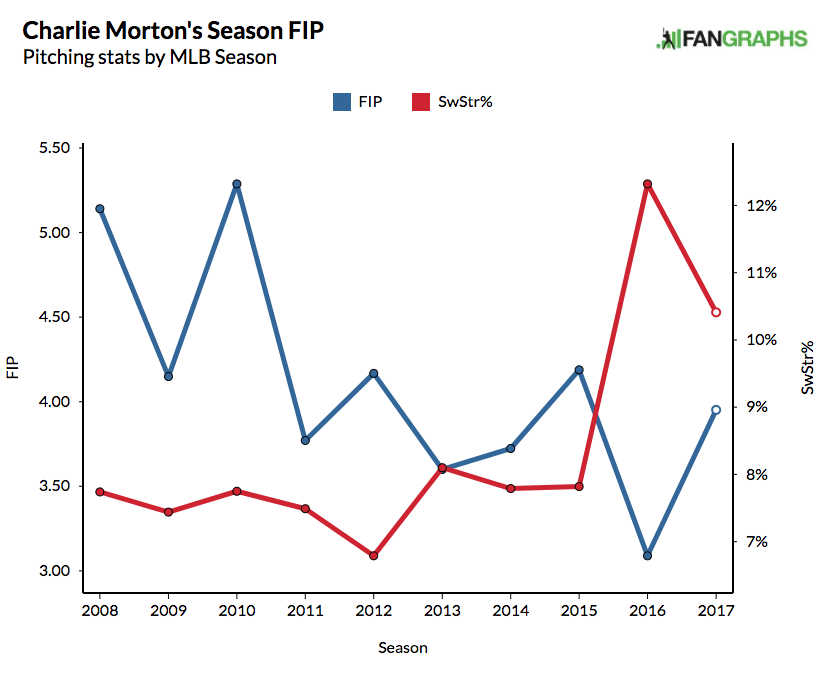 His Hard% and HR/FB% are both up, too, so it is not all roses for Morton this season, but the good has definitely outweighed the bad in 2017, and that should continue to be the case with two good matchups this week. The Astros are going to be without Carlos Correa and George Springer, which is not ideal for his run support, but even without those two they still have one of the better offenses in the league. Not many teams have a Derek Fisher or a Marwin Gonzalez to plug in when injuries strike, so they should be OK.
Jameson Taillon – He is owned in 99% of RCLs, but I thought it worth nothing that Streamonator loves Taillon this week against the Reds and the Padres. The Padres are actually in the top 8 for team wOBA for the last 14 days, but I think I'm just going to ignore that. They're the Padres. I have him as the third best option this week after Sale and Bumgarner, and Streamonator likes him for a $39.70 value.
Mike Fiers – If things stand the way they are now, Fiers gets the same favorable matchups that Morton does. There was some worry that he might get bumped from the rotation due to the return of Dallas Keuchel, but Brad Peacock got the demotion instead. While he has seemingly been on the verge of losing his spot in the rotation for pretty much the entire season, he has pitched well enough to hold on all year while injuries have forced the Astros to dig deeper into their starting pitching depth than they would probably prefer. Like Morton, his strikeout numbers are also up, though his FIP is more than a run higher than his ERA. But that is a problem for another week. For this week, enjoy the matchups.
Now, for the full list.
Pitchers are listed in order by rank. Colors represent 8 toughest or 8 easiest opponents according to team wOBA for last 14 days.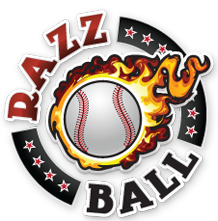 THE BEST
THE REPLICAS
Player
Opponents
ERA/FIP
K9/BB9
Jimmy Nelson MIL
STL,

@TB

3.38/3.20
10.01/2.19
Jose Berrios MIN

@SD

, TEX
3.76/3.90
8.39/2.69
Charlie Morton HOU

TB

,

TOR

3.83/3.95
10.06/3.39
Luis Severino NYY
DET,

@CLE

3.03/2.95
10.22/2.26
Patrick Corbin ARI

@CHC

,

@SF

4.36/4.19
8.42/2.71
Chris Archer TB

@HOU

,

MIL

3.80/3.09
11.22/2.92
Kenta Maeda LAD
@ATL, @NYM
4.09/3.97
8.59/2.45
Felix Hernandez SEA
@TEX, @KC
4.08/4.91
8.43/2.37
Cole Hamels TEX

SEA

, @MIN
3.97/4.88
5.25/2.82
Jake Arrieta CHC
ARI,

WAS

4.03/4.23
8.65/2.98
Yu Darvish TEX

SEA

, @MIN
4.01/3.98
9.72/2.96
THE STANDARDS
Player
Opponents
ERA/FIP
K9/BB9
Jeff Samardzija SF
@OAK, ARI
4.85/3.50
9.71/1.13
Masahiro Tanaka NYY
DET,

@CLE

5.09/4.68
9.61/1.96
Sean Manaea OAK

SF

, @LAA
3.82/3.64
8.76/3.03
Aaron Nola PHI
@LAA,

@COL

3.17/3.24
9.69/2.72
Mike Fiers HOU

TB

,

TOR

3.71/4.99
9.19/3.30
CC Sabathia NYY
DET,

@CLE

3.66/4.24
7.14/3.47
Alex Cobb TB

@HOU

,

MIL

3.46/4.22
5.87/2.22
Mike Foltynewicz ATL

@PHI

, MIA
3.82/4.54
8.21/3.17
Michael Fulmer DET
@NYY, @BAL
3.35/3.34
6.36/1.88
Trevor Bauer CLE

@BOS

, NYY
5.25/3.90
9.90/3.55
Ian Kennedy KC
@BAL,

SEA

4.43/5.04
7.81/3.56
THE KNOCKOFFS
THE 
Player
Opponents
ERA/FIP
K9/BB9
Anibal Sanchez DET
@NYY, @BAL
6.18/5.16
8.45/2.72
James Shields CHW

TOR

,

@BOS

5.86/6.56
6.75/4.97
Ricky Nolasco LAA

PHI

, OAK
5.07/5.39
7.26/2.50
Erasmo Ramirez SEA
@TEX, @KC
4.80/4.17
7.14/2.08
Homer Bailey CIN
@PIT, STL
8.37/5.82
5.40/3.78
Nick Pivetta PHI
ATL,

@COL

5.73/5.23
9.32/3.94
Steven Matz NYM

@COL

,

LAD

5.51/4.95
6.46/2.09
Aaron Blair ATL*

LAD

, MIA
4.86/4.74
7.03/4.14
Mike Pelfrey CHW

TOR

,

@BOS

4.73/5.50
5.92/4.41
Ubaldo Jimenez BAL
KC, DET
6.93/5.86
8.03/4.20
* 2017 AAA Numbers
All pitchers are projected for two starts as of Friday night. 
If you would prefer to see the above tables as a color-coded graphic, we've got that too!
(Click to enlarge.)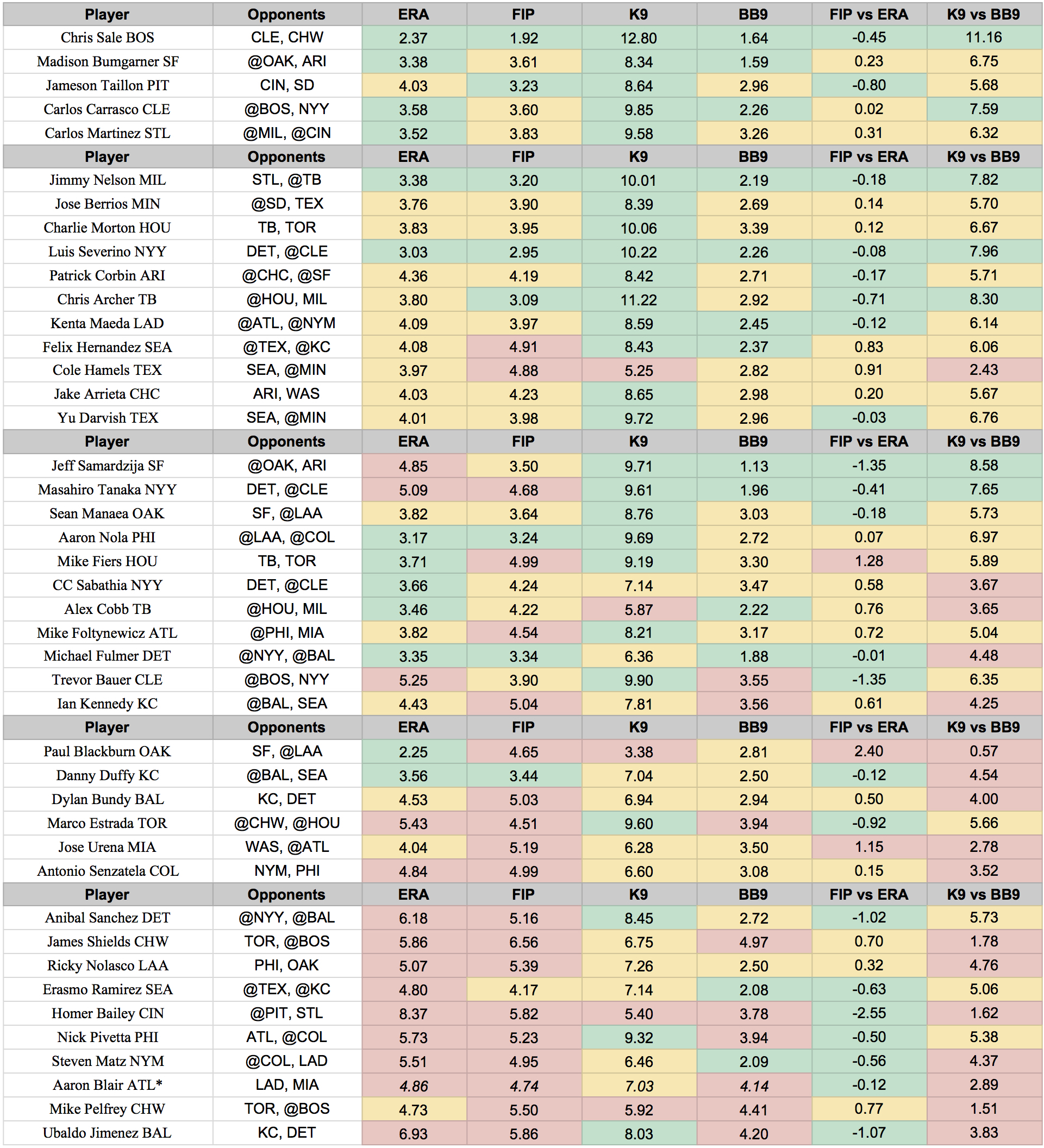 As always, disagree with anything here? Have any questions or comments? Want to tell Mike how great he is or how much you agree with him? Want relationship or investment advice?
DROP THOSE COMMENTS!
If you want to talk fantasy baseball or football or have players you want Mike to feature, hit him up on Twitter at @mikeMaher or post a comment below!