Another week, another Clayton Kershaw start pushed to Monday. At least this week they moved the start before I wrote and submitted this article. If they move it again Saturday morning, then I will be convinced that Dave Roberts is just doing this to troll me every week. As of now, he is your top two-start starter for Week 12. He might even deserve his own tier.
For Week 12, there aren't a ton of attractive options after our first two tiers. In previous weeks, we have had middle-of-the-road arms with some good peripherals or some recent success that were available in the majority of leagues. This week, though, I'm not crazy about any of the starters on this list that are going to be available in most leagues. Just look at the numbers in the chart below.
After staring at the names below for what felt like days, the name I finally settled on was Francis Martes. Martes started and won his first MLB game a couple days ago, going five innings, striking out seven, and giving up one run on three hits and two walks. Here is what an unimpressed Grey said about him at the time:
Francis Martes – 5 IP, 1 ER, 5 baserunners, 7 Ks, ERA at 5.19.  He's recommended only in leagues where you have to own one player who a healthy horse cannot carry.  Martes is 21 years old and 250 pounds!  By the time, he's 40 he's going to eat Bartolo.
The ERA is perhaps a bit misleading since it includes a relief appearance in which he went 3 2/3 innings and gave up four runs. The main positive that jumps out at you is the strikeouts, as his 9.35 K/9 is quite good for a youngster through his first nine innings in the big leagues. But (you knew there would be a but after such a positive lede), there are some pretty big red flags. Ahem:
Of course Francis Martes is dominating in his first MLB start, because we didn't just see him compile a 5.29 ERA and 2.10 WHIP at Triple-A. pic.twitter.com/8Hj1LGcBLL

— Scott White (@CBSScottWhite) June 15, 2017
While Martes is a top pitching prospect for the Astros, he has been, well, not good in Triple-A this season. While he is striking out 10.58 per nine innings in eight starts, he is also walking an astronomical 7.79 batters per nine, which is a big reason behind his 2.10 WHIP and 5.00+ ERA. His numbers in Double-A in 2016 are much better, though, so it is possible he was just going through a bit of an adjustment period at a new level this season.
It also doesn't hurt that he happens to be pitching for one of the best teams in baseball right now, giving him a decent chance at two wins if he can avoid disaster in his two starts. I like him as a roll of the dice for Week 12 with the potential for strikeouts and wins, but I will admit that he terrifies me.
A few other notes before the chart:
Pitchers are listed in order by rank. Colors represent 8 toughest or 8 easiest opponents according to team wOBA for last 14 days.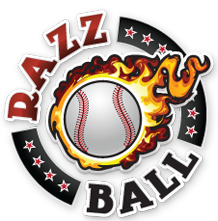 THE BEST
THE REPLICAS
THE STANDARDS
THE KNOCKOFFS
Player
Opponents
ERA/FIP
K9/BB9
Matt Garza MIL

PIT

, @ATL
4.17/4.06
6.70/2.54
Scott Feldman CIN
@TB, @WAS
4.29/4.28
7.18/3.13
Andrew Cashner TEX

TOR

,

@NYY

3.50/4.55
4.28/4.02
Sam Gaviglio SEA

DET

,

HOU

3.41/5.93
6.29/2.10
Clayton Richard SD
@CHC,

DET

4.30/3.86
6.55/2.25
Ariel Miranda SEA

DET

,

HOU

4.17/5.04
7.53/3.48
German Marquez COL

ARI

,

@LAD

4.19/3.92
8.55/3.19
Jordan Zimmermann DET
@SEA, @SD
5.35/5.78
5.71/2.62
Tanner Roark WAS
@MIA, CIN
4.39/4.15
7.39/2.89
Francis Martes HOU
@OAK, @SEA
5.19/4.63
9.35/4.15
THE 
Player
Opponents
ERA/FIP
K9/BB9
Nick Martinez TEX

TOR

,

@NYY

4.67/5.86
4.83/1.83
Miguel Gonzalez CHW

@MIN

, OAK
5.49/5.17
5.15/2.97
Jason Hammel KC
BOS,

TOR

5.05/4.41
6.94/3.03
Robert Gsellman NYM

@LAD

, @SF
5.50/4.58
6.68/3.01
***Mike Montgomery CHC
SD, @MIA
2.56/3.88
6.90/4.73
Jeremy Hellickson PHI

STL

,

@ARI

4.91/5.91
3.97/2.69
Chad Kuhl PIT
@MIL, @STL
5.61/4.23
7.13/3.79
Zach Davies MIL

PIT

, @ATL
4.91/5.10
6.26/3.19
Josh Tomlin CLE

@BAL

,

MIN

5.83/4.05
6.46/0.76
Matt Moore SF
@ATL,

NYM

6.00/4.74
7.50/3.58
R.A. Dickey ATL
SF,

MIL

5.35/6.02
5.35/3.96
**Daniel Gossett OAK

HOU

, @CHW
16.20/11.23
2.70/2.70
Chris Tillman BAL
CLE, @TB
8.07/6.27
6.56/4.79
* Injury concern
** Numbers represent one start
*** Not guaranteed to get two starts if Hendricks returns
All pitchers are projected for two starts as of Friday night. 
If you would prefer to see the above tables as a color-coded graphic, we've got that too!
(Tap to enlarge)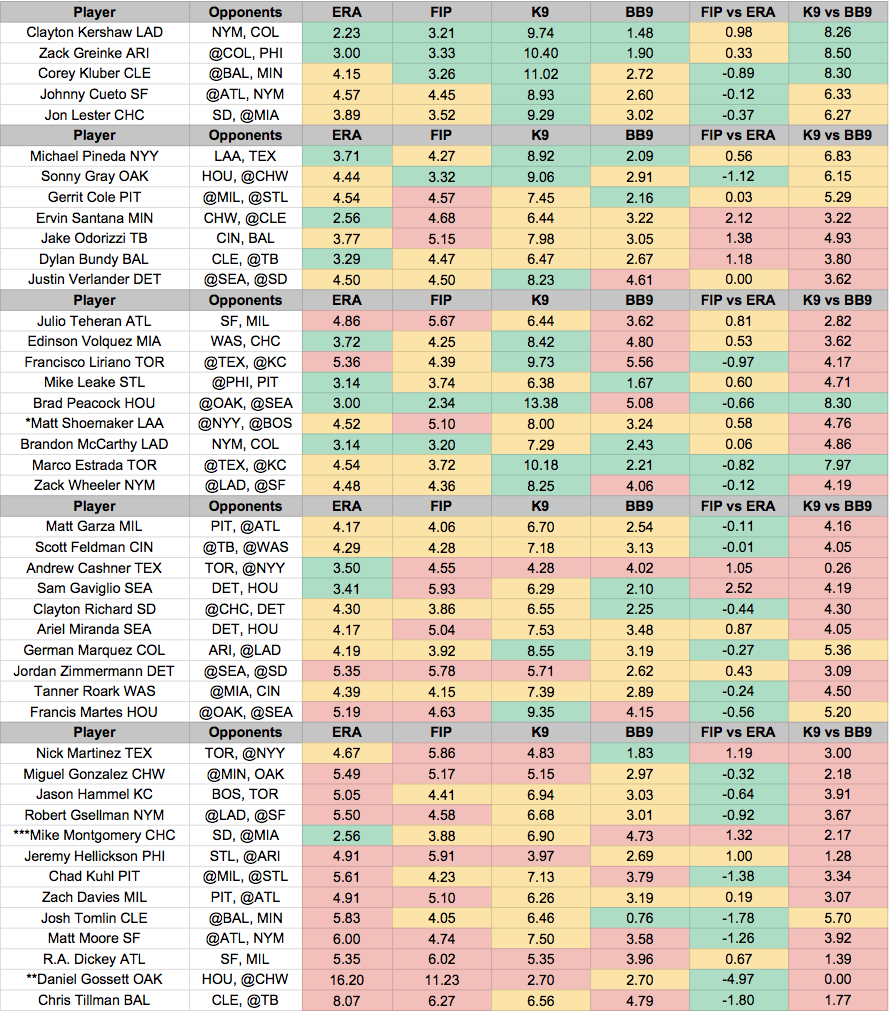 As always, disagree with anything here? Have any questions or comments? Want to tell Mike how great he is or how much you agree with him? Want relationship or investment advice?
DROP THOSE COMMENTS!
If you want to talk fantasy baseball or football or have players you want Mike to feature, hit him up on Twitter at @mikeMaher or post a comment below!