Son of a plumber, the real American dream has returned for another week of two start scrutiny. I'm here to do the dirty work. I drop the bionic elbow on your dome to enlighten you to the two start knowledge that I possess. I've seen hard times recently, and it's due to Rick Flair, Nate Karns, Mike Foltynewicz, and Tom Cruise! You don't know what hard times are Daddy! Hard times is when the factory workers are out of work and got 4 or 5 kids. Hard times are when the Auto Workers are out of work! Hard times are when a man who's worked at a company for 30 years gets a watch and gets told a computer can do his job! Hard times Daddy! I've been stuck in hard times. Well screw Mike Foltynewicz until he tricks me into believing in him again. We're back this week and it's no holds barred we're taking the folding chairs out of the front row and fighting dirty. We're going with the theme of 1980's and early 90's wrestling. This is pretty much the last time I watched wrestling. They ruined it with all the complex storylines and other non-sense. Remember when it was just sort of some meaningless beef and you got to watch them duke it out on Saturday morning? In my humble opinion it was the best it ever was, but what do I know?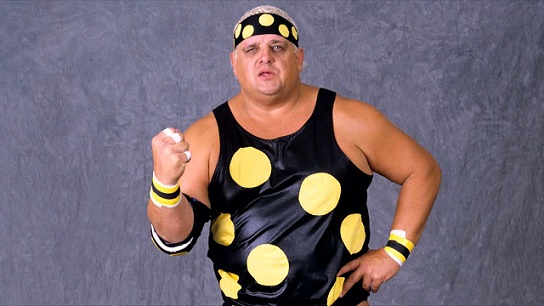 Hulk Hogan (Aces) – Say what you will about his daughters singing, his son's driving, or his wife's life decisions. It's Hulk freaking Hogan he's the greatest wrestler of all time no questions. These starters are the same you're starting these guys because…well…they're your best pitchers! This week we're a little short on Hogan's. In fact we have just two, Diamond Dallas Keuchel, and Breaded Jake Arrieta are the Aces!
Dallas Keuchel, (vs. COl, @SEA); Jake Arrieta, (vs. CLE, @MIN)
Andre The Giant (Must Start) – You've heard the tales of Andre the Giants exploits when out on the town. You've seen him toss big strong men around like rag dolls, and you've seen him in a one strap leotard. He's the 8th wonder of the world for Christ sakes. Where to begin? Michael Wacha's last three starts have been sort of confusing. Two were against the Dodgers, who just so happen to mash righties, and his most recent was at Colorado. Not the easiest opponents to say the least. Now Wacha got beat up a bit, butttttttttttt his strikeouts were way up. At Coors on Wednesday he had 10 K's! Granted he gave up 4 earnies, and didn't do a ton for your ratios. Still that's an encouraging sign from a player averaging 5.46 k/9. He gets two great starts first at home against the Twins and then at the Philies…. I'm really high on the Card's arms this week which is why I'm throwing Carlos Martinez way up here. With these solid matchups I see he and Wacha providing maximum returns. Martinez has also been cash money over his last three starts going 3-0 with a k/9 of 10.18. The walks are still there but he induces grounders and gets K's. Many will disagree with this rank but I like his upside in week 11…. Damn Tanaka how'd you get so fly? Since returning two weeks back the Yankee has had stellar starts vs the Mariners and Nationals. This week he gets a trip to Miami and then follows that up with a home start vs the always scary Tigers. The way he's looked the last two turns I'm not sitting him against anybody. Loyal to a fault they say…. Francisco Liriano gets a great matchup in the first of his two starts this week against the lefty adverse White Sox. He then finishes it off with a trip to Capital City!!!…. Scott Kazmir faces two lineups in the bottom third of the league in wOBA vs LHP, and he's pitched well lately. I'm rolling him against the Angels and Padres…Ranking Julio Teheran here means I'm going to pay dearly for my faith…. Am I falling too early for Carlos Rodon? He's been immaculate over his past three and I'm starting him everywhere. The matchups are pretty good too, the Pirates are having difficulty hitting LHP, and the Rangers have a 22.5% against those pesky southpaws. The age of Rodon is upon us!…. Jose Quintana's numbers have been the victim of a few bad starts against some good lefty hitting lineups. Seriously look at the numbers. The Royals and Tigers are in the top ten in wOBA vs LHP and the Twins were until they started to severely regress a few weeks back. He gets the same matchups as Rodon because "newflash" they're teammates! I know earth shattering stuff…. I wonder if Ray Searage gets a percentage of Edinson Volquez's contract? Whatever that man knows it's a secret the rest of MLB wishes they had. Volquez draws the Brewers and Sawx this week, I'd confidently start him for both turns.
Michael Wacha, (vs. MIN, @PHI); Carlos Martinez, (vs. MIN, @PHI); Masahiro Tanaka, (@MIA, vs. DET); Francisco Liriano, (vs. CWS, @WAS); Scott Kazmir, (@SD, vs. LAA); Julio Teheran, (@BOS, vs. NYM); Carlos Rodon, (@PIT, vs. TEX); Jose Quintana, (@PIT, vs. TEX); Edinson Volquez, (@MIL, vs. BOS)
Ultimate Warrior (Why Can't I Sit You) – So the Ultimate Warrior was sort of insane in real life. Who knew???  Garrett Richards who are you? You've given up a homer in 5 straight games, and just been awful since late May. Your last start vs the Rays was encouraging, but you get two starts that should be avoided by the struggling righty's owners…. Trevor Bauer, I'm hiding under my bed. Please tell me when the bad guys are gone. By bad guys I mean copious walks…. Tyson Ross is an odd case, his K/9, HR/9, FIP, xFIP, and GB% are all very solid but his BB/9 of 4.40 sucks and it's inflating his ERA a bit. I'd contemplate sitting Ross this week based on his matchups. The A's and Diamondbacks are top 10 offenses against RHP and they each know how to take a walk. I'm foeseeing some trouble for Mr. Ross…. Gio Gonzalez's peripherals say he's pitched better than his mid-4 ERA shows. In a lot of ways he's not that different from the aforementioned Tyson Ross. Gio is another guy with a solid K/9, HR/9, and a high BB rate. The one big difference is Ross has always been a groundball pitcher and Gio's one for the first time in his career. In fact his 56.1% GB rate is nearly 10% higher than his career 46.6% prior to this season. He draws the Rays and Pirates this week, and it's a tale of good start/bad start. I own him everywhere and as much as I might be tempted I won't sit him against the Rays…. So Taijuan Walker's been much better (2-1, 1.64, 21-3 K-BB) his last three starts, if you own as much of the rookie righthander as I do (67.3%) then you're hoping he figured it out. But do you truly trust that he did? Starts at the Giants and vs. the Astros should put his form to the test…. Jered Weaver it's not working right now and I don't expect it will work this week either. Just sit him if you own him, but you don't hear me though.
Garrett Richards, (@ARI, vs. OAK); Trevor Bauer, (@CHC, vs. TB); Tyson Ross, (vs. OAK, @ARI); Gio Gonzalez, (@TB, vs. PIT); Taijuan Walker, (@SF, vs. HOU); Jered Weaver, (vs. ARI, @OAK)
JunkYard Dog (Streamers) – These are the unsung heroes, the gents you need to pickup this week if you're looking to add some starts in your points or head to head leagues. These are your JYD's! My favorite streamer of the week is the Twins Trevor May. Over his last 5 starts May sports a 3.03/2.46/3.12 ERA/FIP/xFIP as well as a K/9 of 8.54 and a BB/9 of 1.10. He's at St. Louis and home against the Cubs, let's see if he can continue his run of good form. This is an endorsement of Kyle Gibson too, sort of…. Is Jesse Hahn a streamer? I guess it depends on your league. If he's available go and pick him up, I'll wait to continue. Oh snap! You just missed the Reef Bikini team sorry dude, maybe next time…. Chris Young has been good in four of his 6 starts and I like his matchups this week against the Brew-crew and the Red Stockings…. I missed out on Vincent Velasquez in a dynasty over some monkey business, but I'm the new guy in this league so I'm picking my battles. Too bad too because I have a feeling he's the next in a long line of high upside Astros pitching prospects. Pick him up if you still can…. Anyone else think Horatio Sanz in his heavy hey day would have played a killer Williams Perez? So far so good with the Braves righty and I'm feeling his moobs matchups this week…. Tanner Roark has struggled his last few starts, makes you wonder where the guy from last year went? Did he get too comfortable in the bullpen? I'd roll the dice on him this week and hope he's a guy you keep around for awhile.
Jesse Hahn, (@SD, vs. LAA); Brett Anderson, (@TEX, vs. SF); Trevor May, (@STL, vs. CHC); Chris Young, (@MIL, vs. BOS); Vincent Velasquez, (vs. COL, @SEA); Williams Perez, (@BOS, vs. NYM); Tanner Roark, (@TB, vs. PIT); Kyle Gibson, (@STL, vs. CHC); Charlie Morton, (vs. CHW, @WAS)
Macho Man (One Good/On Bad) – You know the drill here these dudes have one good start and one bad start. Green means go, red means stop, drop, and bench. Or just stop and bench……you get it.
Noah Syndergaard, (vs. TOR, @ATL); Anibal Sanchez, (vs. CIN, @NYY); Tim Lincecum, (vs. SEA, @LAD); Wei-Yin Chen, (vs. PHI, @TOR); Chris Tillman, (vs. PHI, @TOR); Rick Porcello, (vs. ATL, @KC); Mark Buehrle, (@NYM, vs. BAL); Yovani Gallardo, (vs. LAD, @CWS); Nathan Eovaldi, (@MIA, vs. DET); J.A. Happ, (@SF, vs. HOU); Aaron Harang, (@Bal, vs. STL); Aaron Sanchez, (@NYM, vs. BAL); Wade Miley, (vs. ATL, @KC); Tim Hudson, (vs. SEA, @LAD); Tsuyoshi Wada, (vs. CLE, @MIN); Chad Bettis, (@HOU, vs. MIL)
Iron Sheik (Bad Starts) – Patooey I spit on your starts…..
Andrew Cashner, (vs. OAK, @ARI); Chi-Chi Gonzaez, (vs. LAD, @CWS); Carlos Frias, (@TEX, vs. SF); Matt Garza, (vs. KC, @COL); Kyle Loshe, (vs. KC, @COL); Erasmo Ramirez, (vs. WAS, @CLE); David Phelps, (vs. NYY, @CIN); Alex Colome, (vs. WAS, @CLE); Tom Koehler, (vs. NYY, @CIN); Jeremy Hellickson, (@LAA, vs. SD); Shawn Marcum, (@CHC, vs. TB); Michael Lorenzen, (@DET, vs. MIA); Robbie Ray, (@LAA, vs. SD); Jerome Williams, (@BAL, vs. STL); Chris Rusin, (@HOU, vs. MIL); Jon Moscot, (@DET, vs. MIA)
As always these starts are subject to change at a moments notice. If anyone is dropped, pushed back, skipped, or killed by a hot air balloon we'll discuss….