(NOTE: THIS POST WAS RELEASED EARLY YESTERDAY ON OUR PATREON. IT'S $5/MONTH.)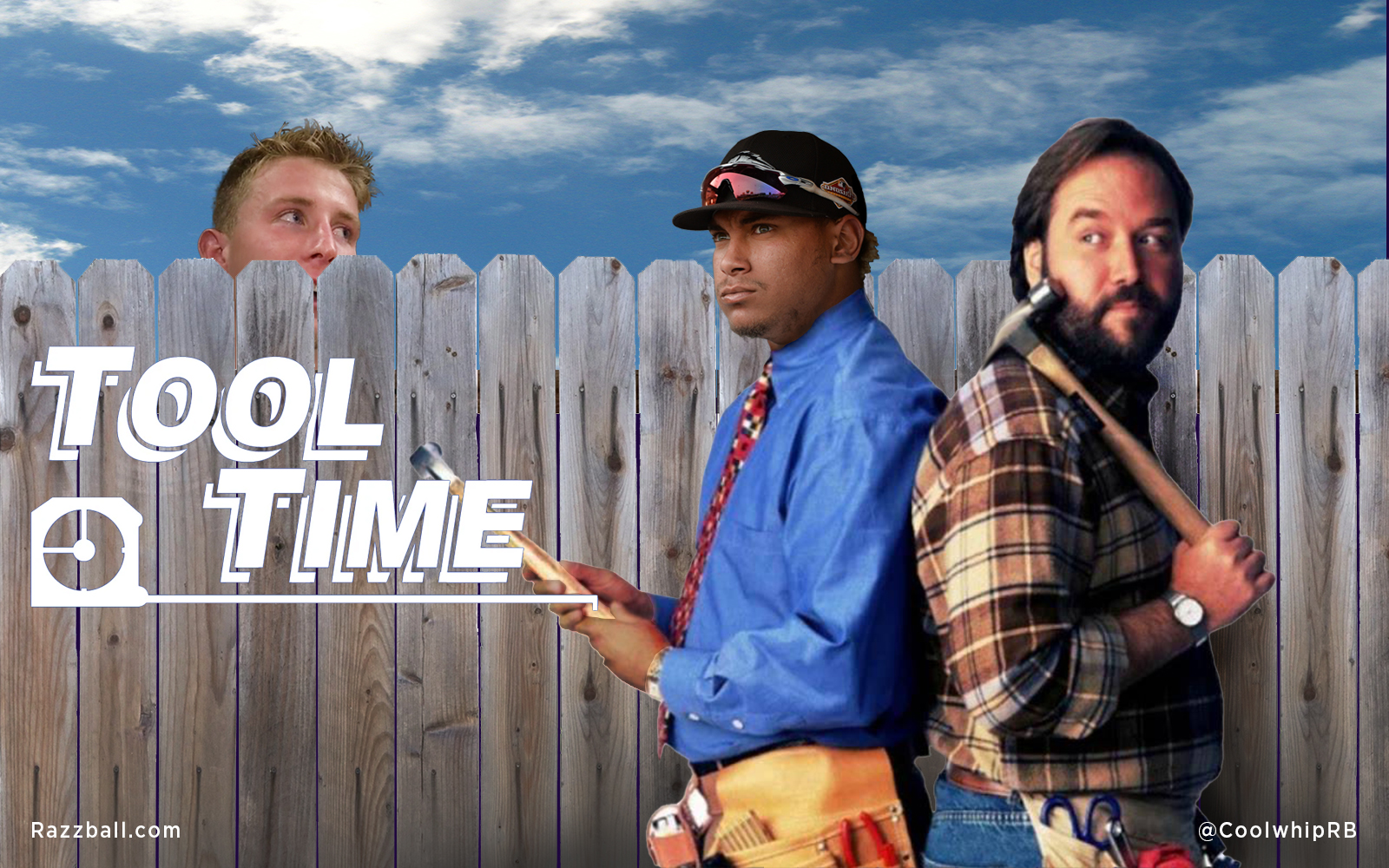 Josh Naylor was gently touched on by me when he was traded from the Padres to the Indians, like the Padres gently touch on the Indians while playing Cowboys and Indians. *phone rings* "Hello, yes, that's me. What's that? I've been cancelled? I see. No, no, it's understandable. Hey, I had a good run." Welp, before I get out of here, Josh Naylor is only 23 years old, and doesn't get nearly the love one with his type of power should get. You don't have to be a carpenter to Naylor! *phone rings* "Hello…You again? I know I was cancelled, but I thought I could finish up prior to–Keep it short? Okay, like Al Pacino. What?! That was a short joke. They're not allowed either? Oh c'mon…" Whispers, "Your mom…What? Did I say 'c'mon your mom?' Uh, yeah." Damn, I just got cancelled while being cancelled. Any hoo! The Indians said Naylor would play every day. His last Triple-A year shows what he's capable of:  10 HRs, .314 in 54 games. His Launch Angle is rather flat, and I'd love to see him hit more fly balls. That's the only way to Naylor! *phone rings* "Ugh…Yes, I'm done." Anyway, here's some more players to Buy or Sell this week in fantasy baseball:
BUY
Cam Gallagher – It was a real struggle to find a decent catcher this week unowned in 50% of leagues, and worth anything. Not sure I found one either. Will Gallagher be a smashing success? Not swinging that sledgehammer, and who is Will Gallagher? I also looked at Psycho Killer, Curt Casali, and Jacob Stallings, who sounds as exciting as being in neutral. These names came from our 7-day Player Rater. Yup, we got one of those suckers too. I'd watch that closely in final weeks; whoever is hitting well is the grab.
Ryan Mountcastle – Guessing he's still available in so many leagues because people have moved onto fantasy football, because not only have I been a fan of Mountcastle since David Tennant was playing him on the BBC, but he's doing well.
Brandon Belt – Real question is would I drop Belt to Naylor…*phone rings, picks up and immediately hangs up*…I'm done with them.
Garrett Cooper – Still think Cooper can be a star. Right now, he's a rock that's heating up, call him Coopiter.
Jon Berti – He looks at the lineup card, "I would get more play in a convent. Hey, I get no respect." Poor Jonny Stranger-to-the-field.
Sam Haggerty – I'd put the last week of Sam Haggerty's hitting up against anything David Lee Roth's done.
Nick Madrigal – I understand why he hasn't been picked up in every league. Empty average only takes you so far, but his batted ball profile leads me to think in the near-future he will hit .350 for an entire season.
Isan Diaz – Like the polar opposite of Madrigal. Call him Mick Nadrigal. Isan might hit some homers and .190.
Ty France – Likely more of an AL-Only pickup, especially if France is being added in an AL-Only league and AL is sort for Alps.
Brad Miller – The hottest schmotato in Schmotato Land. An actual place in New Jersey. Right outside Trenton.
Austin Riley – Was bagging on Riley in the 1st month for his Ks, but he's made adjustments — as players do if they get freakin' playing time! Hello, Reds! *points wildly at Aristides* — and now Riley looks like a .250 hitter vs. the .220 guy he was. That's a big difference for someone who still has 30-homer power. BABIP O'Riley isn't be boosted by luck either.
Bobby Dalbec – Here's what I said when he was called up, "(Dalbec) looks like he could be Luke Voit for the next 30 days, then hit .210 next year when everyone's crazy about him. Huge power, could barely hit .250 in Triple-A. I picked him up in one mixed league, and would grab him elsewhere." And that's me quoting me!
Jazz Chisholm – True uninteresting story alert! The other day when Chisholm was called up, I had the title, Marlins Jazzercise Their Option To Call Up Chisholm, and he was the lede, then OZUNA hit three homers and I began to rewrite the lede, then Alex Dickerson blew OZUNA out of the water like Mothra, and I rewrote the lede a third time. This is why I don't usually lead with West Coast games, because the lede is written already. I told you this was a super uninteresting story. Any hoo! I like Jazz *waves hands*, but he needs playing time. Can see what I wrote on Chisholm in the Alex Dickerson fantasy.
Jose Garcia – I added him in a bunch of leagues for his power and light speed, screamed Jo-Ga like Sega commercials, and danced around the house like no one was watching because no one was watching. Now, I don't know why the Reds brought him up if they're going to keep playing Galvis.
Jose Iglesias – Chazz Noir isn't hitting .400; not sure Sexy Dr. Pepper is, but Iglesias? Church!
Brandon Crawford – We might be seeing a bunch of Giants hitters in the Buy, due to one insane game in Coors.
Alex Dickerson – See what I said 1/8th of an inch above, or 6 inches if a girl is reading.
Kevin Pillar – Even if Bud Black's head wasn't made of concrete, he'd love a Pillar.
Victor Reyes – Back in January — Was it January? I don't remember anything pre-pandemic. — I liked Reyes for average and light speed, and, well, that's what he's still doing.
MacKenzie Gore – Will he be called up? It would be silly to not bring him on board for any help he can provide. Will he log real innings? I'm not sure we see that this year. There, all the Gore-y details. If you can do same-day pickups, grab Deivi Garcia; he goes tonight.
Clarke Schmidt – Was added to the Yankees' taxi squad, so he joins Alex Reiger, Elaine Nardo–*intern whispers in my ear*–Okay, think I had that taxi squad wrong. Here's Prospect Hobbs's Clarke Schmidt fantasy.
Tony Gonsolin – Ya know I love me some Gonsolin, but this is also a Streamonator call, like the call it makes to the oldies station to have them play Only the Lonely.
Yusei Kikuchi – This is also a Streamonator call. "Can I wait on the line while you play it so I can be with someone while it plays?" Streamonator is depressing!
Greg Holland – The Royals might also go with a committee of Holland/Staumont, which would be them going Dutch.
Hunter Harvey – The Orioles said they have visions of Harvey being their closer. They must be imagining themselves having a lead, and calling in their imaginary closer, Harvey.
Kevin Ginkel – I was reprimanded yesterday for saying Junior Guerra had the save opportunity on Wednesday. Ya'll got me, Guerra had the 2nd save opp after Ginkel coughed up the first. Hector Rondon is also there, and I've been eying him. Maybe the DBacks go to Crichton. Maybe I'm just saying that because the DBacks' bullpen is a complete mystery.
Yoshihisa Hirano – Typing out his first name is like when you don't know the answer, and you cover your mouth, mumbling something.
Devin Williams – One of the more underrated parts of fantasy baseball is discovering new middle relievers. It's a shame we won't get a 162-game season, because Devin Williams is on pace to strikeout 180 in 70 IP. Just one of the best middle relief seasons ever.
Gregory Soto – There's better guys closing on some teams now then when the season started, even though then teams had all offseason to figure out the best guy for the closer job. Smart!
Daniel Bard – Is Daniel Bard still the closer? Was Bard ever the named closer? If the Tanners knew his real name was Gordon Shumway, why did they keep calling him ALF? I have questions, ya'll!
SELL
Matt Olson – This isn't a Sell, per se. Per Sell? This is a drop in shallower leagues. Since we're beyond the trade deadline in most leagues, these Sells will be buh-byes. If you're in a dynasty league or you have a late trading deadline, then by all means check out the fantasy baseball trade analyzer. What's wrong with Olson? Wildly awful luck. So, he could turn it around, and it wouldn't shock me, but you can't keep running out there a guy that's swinging like a blind Miguel Sano.
Mike Moustakas – Just never connected this year after he struggled with injuries. I'd kiss Moistasskiss goodbye in shallower leagues.
Ramon Laureano – Romeo, Roman, Nomar, however you want to misspell his name, he's been impossible to own for about three weeks now. If you have other options, I think it's time to move on in shallower leagues. Also, I couldn't help separating the A's with one Moistasskiss.