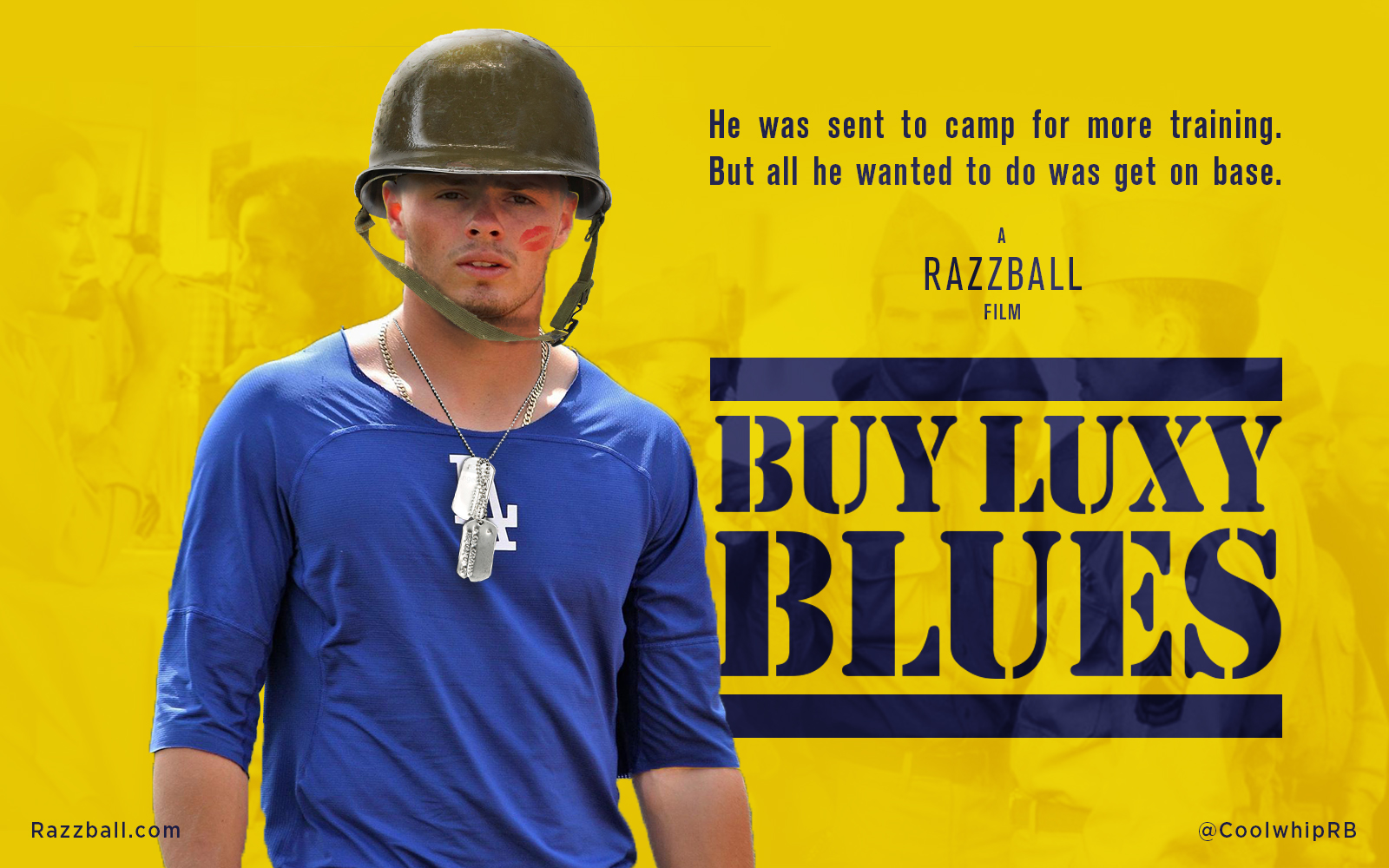 (NOTE: THIS POST WAS RELEASED EARLY YESTERDAY ON OUR PATREON. IT'S $5/MONTH.)
Every day Prospect Santa brings up fantasy prospects for all the nice boys and five girls. The naughty boys and five girls can try to figure out what they did to be deemed naughty, but we won't be explaining designations to anyone, so that's tough sledding if you got a naughty tag. Just know you prolly did something like wanted to drop Adalberto Mondesi or were happy Acuña got hurt because you didn't own him. One day Prospect Santa boots an unpaid elf out of the way to reveal Cristian Pache. "The elf's getting valuable experience, better than any paycheck or healthcare!" Wow, Prospect Santa is a bit of a jerk. Another day Prospect Santa brings up Casey Mize and leers at Mrs. Claus with lust and anger. Yo, is Prospect Santa okay in the head? So, who is next for Prospect Santa, could it be, Gavin Lux? Yes, that's why we're here. I'll admit to cheating a little for who to lead with in the, uh, lede. Prospect Itch (no relation to Santa, as far as I know) recently came out with his Fantasy Baseball Prospect Stash List and I scrolled all the way down to the 2nd name. Also on that list: Pache, Mize, Skubal, K*bert– Okay, Itch is psychic; it is confirmed. Gavin Lux got a bit of a raw deal coming out of Summer Camp, being sent to the alternate training site, where they practice the ancient art of hopping on one leg and other alternate training. Lux can come up and be an immediate pickup in the shallowest of leagues. He could be a top five guy at his position in the final month-plus with a .300+ average and power, and maybe a few steals. When do we see him? I think soon, but that's up to Prospect Santa. "Ho! Ho! Ho! You ain't ever getting Wander Franco!" I kinda hate Prospect Santa. Anyway, here's some more players to Buy or Sell this week in fantasy baseball:
BUY
James McCann – Besides the obvious reasons to pick him up because he's hitting well, you can also grab him and when putting him on your team you can say, "Get in McCann!"
Joey Bart – Just went over him this morning. If you activate your scrolly finger, you're gonna find it. I have faith in you!
Tommy La Stella – Entering a Parsippany, NJ Ramada is Tommy La Stella, carrying a notebook. A sign reads, "Dwayne Murphy's 'Get Uppity With Me' seminar in room 103." Before entering the room, Tommy stops by a giant tank of water with floating cucumber slices. There, a man reads his name tag, "Gonna turn that 'La' into Launch Angle." Little did Tommy know that was Dwayne Murphy and nothing would ever be the same for him.
Garrett Hampson – Think this is the seventh week in a row I've listed Hampson in my Buy column, and there's only been, like, five columns, so…ugh, math! I didn't think Hampson was going to get playing time, because Bud Black's head space can be rented out, but Hampson has not only been playing, he's hitting leadoff.
Brendan Rodgers – Just gave you my Brendan Rodgers fantasy. It was without an ounce of ironing.
Jurickson Profar – Times are changing and now I want all Padres hitters. Plus, with Pham sidelined, more guys are getting chances, whether it's Josh Naylor, Ty France, Profar, Jake Cronenworth, or Jorge Mateo. Fun fact! A group of guys needed to fill-in for Pham is called a Phamily.
Isaac Paredes – Already gave you my Isaac Paredes sleeper from during the shutdown. It was written while dancing The Roger Rabbit.
Alec Bohm – Already gave you my Alec Bohm fantasy. It was written while doing the "Bend and Snap."
Ryan Mountcastle – Was supposedly called up by the Orioles. I won't believe it until I see him on the field with my own eyes — hey, what's he doing with my eyes? Give me my eyes back! Am I excited for the new show Mountcastle on the BBC (Baltimore Baseball Club)? Yes, I grabbed him in all leagues. If he were called up prior to this post being written, he would've been the lede over Lux, but here we are. Plus, I've written so many pieces on Mountcastle already. Here's my Ryan Mountcastle fantasy from way back, but it's still relevant. I actually (and this is funny in an unfunny way) wrote Mountcastle as a Buy last May, expecting him to be promoted 15 months ago.
Cristian Pache – Gonna be super frank with you, I AM A GIANT WIENER! You see, Super Frank is this costumed hot dog at Gelson's who tries to sell me kosher frankfurters. So, that's me being Super Frank. Now, being super frank as in honest, I almost made Pache this week's lede, but I worry when Acuña returns, Pache's out.
Ian Happ – *sees David Peralta is owned in more than 50% of leagues making him ineligible for this column* I'm so proud of you for picking Peralta up…*sees Happ isn't owned in 50% of leagues*…What are you people doing?! Maybe it's because Happ burned so many people in the past, but it's time to warm again for him. Hmm, warm again on player…Can we abbreviate that WAP?
Brandon Nimmo – Macaroni in a pot, that Nimmo is a wet-ass fishy. Sorry, that WAP shizz is catchy. Nimmo's been leading off. Almost like no matter the Mets manager, they always think good defense means a guy should leadoff. Any hoo! Nimmo has been hot. We'll see about when the Mets return.
Robbie Grossman – On our Player Rater, Grossman is a top 75 overall player (and Adalberto Mondesi isn't top 300 — kill me now).
Tyler O'Neill – This isn't entirely about the Cards' upcoming 14-game weeks, but that doesn't hurt. Again, any Cardinals hitter is worth a pickup because of their sheer number of games.
Justus Sheffield – This is a Streamonator call, like the call it makes to the number it finds on Facebook for its high school sweetheart. "You're married with kids. That's great!" *sobs loudly*
Adam Wainwright – This is also a Streamonator call. "Have you thought about me? Once when you were passing a junkyard? That's so nice to hear." *snorts through tears*
Cole Sulser – Too bad MLB got rid of the Rolaids Relief Man Award, because "a Cole Sulser" would be an obvious frontrunner.
Sergio Romo – Be happy that you don't own Taylor Rogers, if you can. If you can't, be happy Thom Brennaman didn't have to call games repeatedly with Romo pitching.
Ryan Pressly – As soon as I say Pressly seems to have quieted concerns about him, I'm gonna be changing my tune, and the Astros' pen will be All Shook Up and Scrubb and Taylor will be in the picture with A Little Less Conversation.
Drew Pomeranz – *sits by the beach as a caricaturist sketches, eventually the artist turns the picture* "I said I was Drew Pomeranz, I didn't tell you to draw a Pomeranian." That's Drew Pomeranz irate, which is how I will be if Tingler doesn't use him for saves, shoulder tightness be damned. Are we sure it's not shoulder heaviness from a Pagan being on his shoulder? Maybe we could put an Angel on that shoulder, like, say, Buttrey, and Pagan will slide right off.
SELL
Brandon Lowe – Likely coming up on the trading deadline in many leagues, but don't get it twisted like that rubber band holding together your knot of singles. Let me be clear, this isn't a sell as in drop. Know what gives that away? It says sell. Crazy, right? On our Player Rater, B. Lowe is above nearly everyone except for a select few. As an aside, don't buy any grocery store product ever that is labeled "Select." It's a verb meaning for you to select it, it's not an adjective. That's just actionable advice mixed inside other actionable advice! As Dan wrote in his excellent piece on Fly Ball exit velocity, Lowe is due for regression. Just about everything is a little goofy on Lowe, and his HR/FB% should raise eyebrows too. He's obviously overperforming. Not saying to trade Lowe away for an operation to get rid of your gag reflex, but I would go to our Fantasy Baseball Trade Analyzer and explore options.