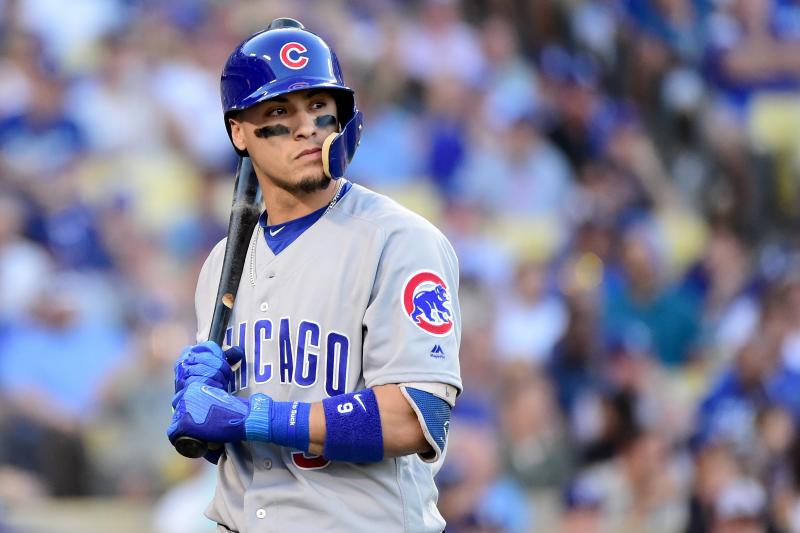 Introducing the interrobang list! (You'll find it at the bottom of the top 100.) What's an interrobang you may be asking yourself? An interrobang essentially is a hybrid of a question mark and an exclamation point. When someone says something like "What in the world?!" You can save yourself some space and use the interrobang. "Okay cool, weirdo — how does this apply to fantasy baseball?" The interrobang list at the bottom are a few guys who didn't make the Top 100 list proper, but are still people that are making me go "?!"
Risers:
Javier Baez: An interrobanger himself, Baez has been one of the best hitters over the last 15 days. He has 13 runs, 6 HR, 17 RBI, 1 SB and a .349 AVG. Joe Maddon has even moved Baez into the 2nd spot and Baez responded with 6 hits in 11 at bats. He won't keep this up — but he's still a solid contributor hitting in the top third of one of the best lineups in baseball.
Jed Lowrie: Ladies and gentlemen your AL MVP! He's hitting a saucy .372 and is leading the planet in RBI with 22. But he's going to turn into Bruce Banner again soon. His contact rate is 81% which is almost identically on pace to his career 82%. So what is explaining this career break-out season so far? His .406 BABIP is over 100 points higher than his career numbers. A 34-year old break-out is almost an oxymoron so even though it's past 4/20 — sell as high as you possibly can.
Fallers:
Matt Carpenter: One of the biggest fallers this week, Carpenter can't buy a hit in these first few weeks. If he was sacrificing for power like he has in the past few years this wouldn't be a problem, but he's only got 2 HR and 10 RBI. I'm pretty certain Carpenter is still nursing his back and shoulder injuries that he suffered through in spring training. I think the best thing the Cardinals could do is give him a 10 day DL stint to rest and recover.
Marwin Gonzalez: How much is positional eligibility worth to you? A sub-.200 average? 5 runs? 7 RBI? I'm predicting Gonzalez will bounce back. His walk rate is up from last year though his strikeout rate is up slightly as well though. His contact rate may be down but his BABIP is down over 100 points as well. He's hitting a slightly higher percentage of line drives than ground balls with a significantly lower hard hit percentage. If he can start getting harder contact those line drive outs will start turning into line drive hits.
Interrobangers:
Yangervis Solarte: Who the heck is this guy? Solarte certainly has .280 AVG potential, he hit .286 as recently as 2016, but this 19.2% HR/FB is 8 percentage points higher than any other number in his career. Maybe another change of scenery was just what Solarte needed to break out. If he keeps this up he'll be on the Top 100 soon enough. However, if he returns to what he has been in the past (like I expect him to) he won't even be a banger anymore.
Christian Villanueva: I told you in February that Villanueva was going to be the front-runner for NL Rookie of the Year, but none of you believed me! Obviously no one predicted this. Villanueva is crushing lefties to a .524 clip with 5 HRs, but has only hit .212 with 1 HR against righties. Here's what I said about Villanueva in my injury article article earlier this week: "His last year in triple-A (2017) he had a .923 OPS vs righties. If Villanueva can start hitting righties just as hard as he's been killing lefties — we might have a league winner on our hands!"
GREEN: Rising | BLUE: New Additions | RED: Falling
Top 100 Hitters:
Interrobang List:
There you have it — let me know what you think in the comments below!