So I'm taking us down yet another rabbit hole, into yet another JB's-vanity-project-abyss.  Although, since the last time this happened only two weeks ago, Alex Reyes made it into the rotation!  He was only "OK", and we're not sure if he'll be starting again for the next turn, but at least we were put on readiness!
Of course since I added this guy in the REL, I've been following Brock Stewart pretty intently this season.  Maybe it's because Brock is a common name we share!  But really, it has to do with his under-the-radar ascension through the Minors this season.  He's dominated in the minor leagues with a 9+ K-rate, a BB-rate well under 2, including a 2.49 ERA and 0.93 WHIP in 50.2 PCL innings, with a 9.59:1.07 K:BB in OKC.  Overall, his MiLB numbers are a 1.68 ERA 0.86 WHIP in 20 starts, with 126:18 K:BB in 118 innings.  And yet, no one seems to care about this guy since they want Jose De Leon!  While many may be surprised Brock got the call yet again to spot start over De Leon with an opening in the rotation, logistically he's on the 40-man while De Leon isn't and there's a roster crunch.  But it's not like Brock isn't deserving!  And he's got pretty good stuff – 93-95 MPH fastball, hard slider, and a change-up that is oddly WAY slower than the heater at 81ish MPH.
Obviously, at the Major League level, things couldn't be more of a polar opposite.  Going into yesterday afternoon, his ERA was over 11 in two spot starts and one relief appearance.  In that 3 innings of relief his last MLB appearance, he walked 4, or what would've been 22.2% of all the walks he's thrown in the minors all year.  Someone isn't suited for the bullpen!  And the two awful starts?  One was a little unlucky with some BABIP hits @MIL, then a murdering @COL.  Way to make a guy who progressed all the way from A-ball pitch in the two worst parks in the NL!  So the start this afternoon, hosting the Cubs, is BY FAR his best matchup.  Man, trial by fire!  With Stewart so far off the radar, I am hoping that being pot committed and writing this open before the first pitch will cause some cosmic karma and help Brock throw a breakthrough game.  Here's how he looked:
First Inning: Stewart's first pitch is a 93 MPH fastball in there to Dexter Fowler, and there's really not much better than breaking down a game called by Vin Scully.  So I humbly ask you to read this breakdown in a Scully voice…  0-1 94 MPH fastball almost hits Fowler's foot – yeesh get the jitters out – 83 MPH change-up low, 96 (!!!) in there and fouled off, then 94 with a little sink hits the letters for a K looking to start it off.  Huzzah!  86 hanging slider is high to Kris Bryant, 94 barely outside, then nasty, tight 86 MPH slider gets a foul into the mitt, 2-1.  Then slider again a little more break gets a whiff, 2-2.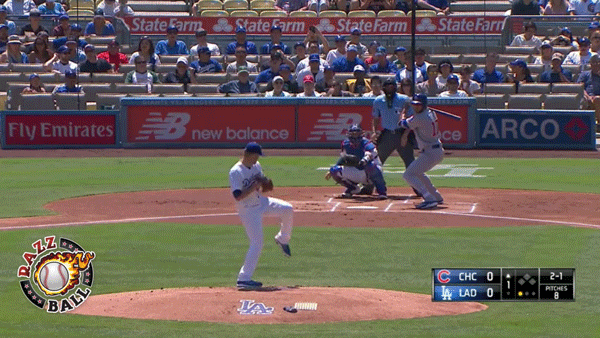 Stewart tries an up-an-in fastball and he misses low and away at 94, yuck, then 3-2 slider breaks off the plate for a walk.  These walks in the Majors are so weird given his pedigree!  Anthony Rizzo takes an 82 MPH change-up low, fastball fouled off, nasty 94 MPH heater with some two-seam running action on it gets a whiff, 95 painting the outside corner gets nipped back foul, then an 82 MPH change-up has Rizzo wayyyyyyy in front for a lazy fly to dead center, two down.   Change-up at 81 sinks low to Ben Zobrist, 94 paints the outside corner 1-1 – love it – change-up at 85 is hit into no man's land in foul territory in left and no one can catch it landing in the dirt, 1-2 at 96 is well low and in – another fastball overthrow – then 95 just off the outside black gets Zobrist reaching, 2 Ks to start it off, eureka!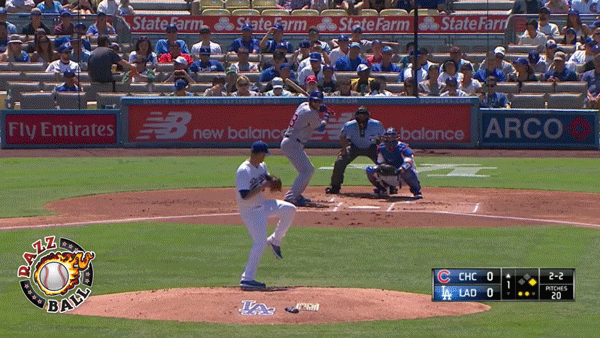 Second Inning: Still 0-0, and first-pitch fastball to Addison Russell at 93 MPH is flied routinely to right, one pitch, one out.  91 MPH is a bit high to Jason Heyward, 94 MPH paints at the knees 1-1, change-up at 83 is ripped down the line foul, then 93 high and outside has Heyward reaching for it, but the grounder finds a gap up the middle for a single.  Wah.  94 right in there to Javier Baez, 93 again in the zone fouled off, then a huge cut whiffs on an 81 MPH change-up for another K.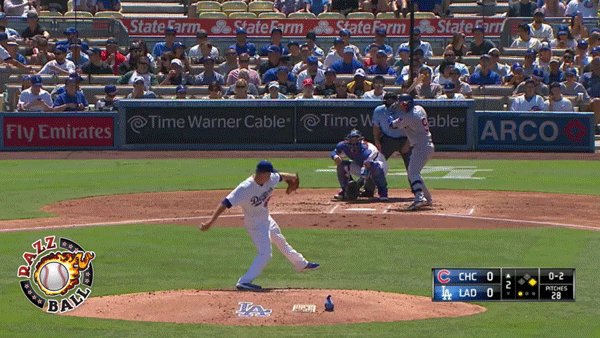 94, 93, then 81 on a change-up, nasty!  David Ross fouls off a first-pitch fastball, 93 gets Ross to make an ugly whiff on a half-swing, then 85 MPH change-up in the zone yields yet another whiff, and it's 4 Ks.  YUMMY!
Third Inning: Game remains a scoreless pitching duel, and Stewart starts Jon Lester with a change-up, and Lester whiffs, 0-1.  92 MPH two-seamer makes it in there 0-2, change-up bareeeeeely drops low, then 1-2 94 MPH fastball paints the low inside corner for yet another K.  Gnar Kill!  Back to the top, and Stewart starts it with this slider, whewwwww-ie!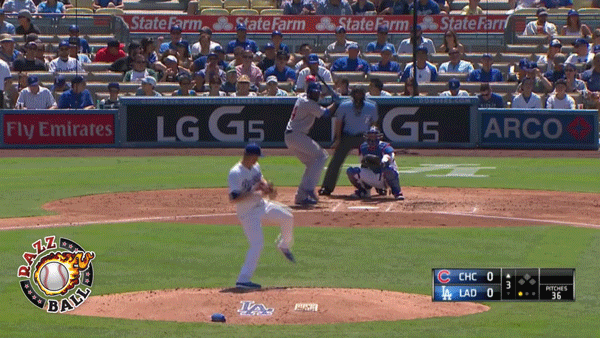 0-1.  Nasty. Change-up skips in low, change-up again a little higher but still breaking low gets yet another whiff at 83 MPH 1-2, high fastball fouled back, hanging change flutters well outside, change again dribbled foul, low fastball at 92 fouled off, still 2-2 and a two-seaming 93 MPH fastball runs back into the front door for another K!!!!  I'm skeeting everywhere right now watching this start.  Hopefully you're still reading this with the Vin Scully voice…  Bryant – you guessed it – whiffs on a change-up, high change-up gets ANOTHER whiff, then 94 right in there STRIKES OUTS THE MUTHAFUCKIN SIDE!!!  I don't care about censors right now, that was REDONKULOUS!
Fourth Inning: Wow, 7 Ks through 3 innings and a big 81 MPH change-up gets a whiff from Rizzo, 0-1.  I can't wait to see what the swinging strike final tally is.  Stewart is owning so hard that Rizzo tries to bunt through the shift and bunts a fastball foul, fastball on the outside black slashed foul, then 0-2 again is an 86 MPH slider that absolutely ties him up, unbelievable.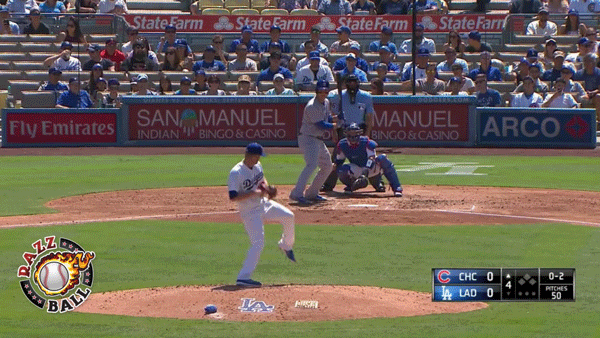 6 Ks IN A ROW!  Had to go past my 4 GIF quota for that…  Slider right in there to Zobrist – feels like Stewart has been ahead virtually the whole game – two-seamer runs onto the inside edge for strike two, 93 stays outside, then fastball again in the zone is flied out to dead center for an easy second out.  Although since it wasn't a strike out, it was a terrible AB.  C'mon, Brock!  Two down, and Russell takes 94 right on the inside paint 0-1, nasssssty change-up doesn't get the call on the outside corner 1-1, then 93 on the outside corner is poked to third for another easy out in the field of play.  Phenomenal!
Fifth Inning: Still scoreless and a two-seamer runs outside to Heyward, two-seamer again starts on the inside and runs into the zone for a strike, slider breaks inside, 2-1 slider again at 87 MPH gets tipped back foul, then two-seamer again is a broken bat flare to right for a leadoff single.  Wish we got a change-up there.  Baez fouls an inside 93 MPH fastball, 93 at the letters fouled off as well, then 0-2 high fastball on the hands is popped in the infield for an easy first out.  92 right on the outer third for strike one to Ross, 93 just outside, change-up bareeeely misses the outside edge 2-1, 93 fastball in the zone gets a whiff, 2-2 fastball fouled off, slider stays off the plate, then the payoff pitch is a fastball that sails way high, and it just slipped out of his hand.  He immediately rubs off his fingers.  So runners on first and second, and Lester whiffs through a change-up at 79 MPH (!!), 0-1.  Change again is low, change yet again at 78 MPH (get lowwwww!) gets a whiff again 1-2, then fastball on the outer edge is a 93 MPH fastball that Lester bunts with two strikes, and he gets it down for a sacrifice.  Man, it was only a few feet fair, that's aggravating.  Could've been another K!  So runners on 2nd and 3rd, first high-stress part of the game for Brock, and a change-up that looked to have the bottom of the zone is called a ball low, 1-0.  Change again gets a whiff, then change yet again on the outside edge is flared to center for a lazy pop to easily get Brock outta it.  JB IN LOVE!  But then JB sad to see them yank Brock after only 5 innings for a pinch-hitter.  He gets a lot of butt taps and high-fives in the dugout, and seems content to accept his fate.  Amazing outing to get his career on track.

Final Line:  ND  5.0 IP  80 Pitches (57 Strikes)  0 ER  2 Hits  2 Walks  8 K  Gamescore: 69  Gamescore+: 75.8

Final Analysis: Dude.  I solemnly swear I wrote that open at 3:30ish EST before the game started.  Not in my wildest dreams did I foresee anything like THAT!  And not like anything was lucky out there, every out I had as a 0.5 – i.e. was softly hit – and only one batter got both the singles.  Ironically it was the anemic-hitting Jason Heyward, but ya know…  With the great Ks and not much hard hit, the Gamescoe+ unsurprisingly came out well ahead of the true Gamescore.

Stewart flashed a great fastball usually sitting 93-94, but topped out at 96 a couple of times.  He started out with four-seamers and incorporated more and more two-seamers that kept his fastball moving all over the place.  The big pitch for Brock is that awesome change-up.  We talk about pitchers that have change-up mastery like they're a little safer and we believe in them more – so we should all be exalting Brock!  Usually 81-83 range, his change-ups got down to 78 MPH and all the way to 84-85.  They consistently had movement at all speeds, and even the harder ones are 10+ MPH slower than the fastball, so they all work.  I can't think of a pitcher who in one start had a 96 MPH fastball and a 78 MPH change-up.  Awesome to watch.  He also features a nice, tight slider at 86-87 to keep his attack three-pronged.  It looks more like a cutter since it doesn't sweep too hard, and isn't really the K pitch like it is for other pitchers.  I know I GIFfed more sliders than change-ups, but the change is his bread and butter and it was just a function of what I picked on the fly; Brock leaned on the change for swinging strikes.
Speaking of swinging strikes – 80 pitches, 15 SWINGING STRIKES!  What an unbelievable display!  I actually thought it was even more…  I feel like a lot of the change-up masters lately have been slow-tossers, but not Brock.  He's only 24, put up those amazing numbers in the Minors, and now has shown effectiveness at the highest level.  It's tough to put him in my ranks for the rest of 2016 due to an unsolidified role in the rotation, but I really REALLY hope he projects to make the 5th starter's spot in LA next year.  It's likely not going to happen due to so many injured vets who could be in there at the start of next year, but hopefully a spot is there for him sooner than later.  He's solid as a Brock!
Updated Top 100 SP
(rankings for ROS based on 12-team Roto, green for risers, red for fallers)
| RANK | SP, TEAM |
| --- | --- |
| 1 | Madison Bumgarner, SF |
| 2 | Max Scherzer, WAS |
| 3 | Jake Arrieta, CHC |
| 4 | Jose Fernandez, MIA |
| 5 | Chris Sale, CWS |
| 6 | Corey Kluber, CLE |
| 7 | Jacob deGrom, NYM |
| 8 | Johnny Cueto, SF |
| 9 | Jon Lester, CHC |
| 10 | Justin Verlander, DET |
| 11 | Yu Darvish, TEX |
| 12 | Cole Hamels, TEX |
| 13 | Clayton Kershaw, LAD |
| 14 | Danny Duffy, KC |
| 15 | Noah Syndergaard, NYM |
| 16 | Carlos Carrasco, CLE |
| 17 | Chris Archer, TB |
| 18 | David Price, BOS |
| 19 | Jose Quintana, CWS |
| 20 | Kyle Hendricks, CHC |
| 21 | Kenta Maeda, LAD |
| 22 | Masahiro Tanaka, NYY |
| 23 | Carlos Martinez, STL |
| 24 | Drew Pomeranz, BOS |
| 25 | Zack Greinke, ARI |
| 26 | J.A. Happ, TOR |
| 27 | Felix Hernandez, SEA |
| 28 | Rich Hill, LAD |
| 29 | Tanner Roark, WAS |
| 30 | Jason Hammel, CHC |
| 31 | Michael Fulmer, DET |
| 32 | Anthony DeSclafani, CIN |
| 33 | Rick Porcello, BOS |
| 34 | Jake Odorizzi, TB |
| 35 | Matt Shoemaker, LAA |
| 36 | Ervin Santana, MIN |
| 37 | Dallas Keuchel, HOU |
| 38 | Ian Kennedy, KC |
| 39 | Carlos Rodon, CWS |
| 40 | Marcus Stroman, TOR |
| 41 | Danny Salazar, CLE |
| 42 | Jameson Taillon, PIT |
| 43 | Robbie Ray, ARI |
| 44 | Sean Manaea, OAK |
| 45 | Marco Estrada, TOR |
| 46 | Zachary Davies, MIL |
| 47 | John Lackey, CHC |
| 48 | James Paxton, SEA |
| 49 | Steven Matz, NYM |
| 50 | Julio Teheran, ATL |
| 51 | Kevin Gausman, BAL |
| 52 | Drew Smyly, TB |
| 53 | Matt Boyd, DET |
| 54 | Aaron Sanchez, TOR |
| 55 | Junior Guerra, MIL |
| 56 | David Phelps, MIA |
| 57 | Stephen Strasburg, WAS |
| 58 | Jon Gray, COL |
| 59 | Eduardo Rodriguez, BOS |
| 60 | Matt Moore, SF |
| 61 | Hisashi Iwakuma, SEA |
| 62 | Yordano Ventura, KC |
| 63 | Joe Musgrove, HOU |
| 64 | Dylan Bundy, BAL |
| 65 | Steven Wright, BOS |
| 66 | Adam Wainwright, STL |
| 67 | Trevor Bauer, CLE |
| 68 | Jeremy Hellickson, PHI |
| 69 | Gio Gonzalez, WAS |
| 70 | Jeff Samardzija, SF |
| 71 | Vincent Velasquez, PHI |
| 72 | Bartolo Colon, NYM |
| 73 | Julio Urias, LAD |
| 74 | Jerad Eickhoff, PHI |
| 75 | Jaime Garcia, STL |
| 76 | Blake Snell, TB |
| 77 | Chad Green, NYY |
| 78 | Dan Straily, CIN |
| 79 | Gerrit Cole, PIT |
| 80 | Tom Koehler, MIA |
| 81 | Michael Pineda, NYY |
| 82 | Ivan Nova, PIT |
| 83 | Taijuan Walker, SEA |
| 84 | Francisco Liriano, TOR |
| 85 | Mike Foltynewicz, ATL |
| 86 | Tyler Skaggs, LAA |
| 87 | Collin McHugh, HOU |
| 88 | CC Sabathia, NYY |
| 89 | Joe Ross, WAS |
| 90 | Andrew Cashner, MIA |
| 91 | Mike Fiers, HOU |
| 92 | Jordan Zimmermann, DET |
| 93 | Homer Bailey, CIN |
| 94 | Chris Tillman, BAL |
| 95 | Archie Bradley, ARI |
| 96 | Ryan Vogelsong, PIT |
| 97 | Tyler Anderson, COL |
| 98 | Kendall Graveman, OAK |
| 99 | Alex Cobb, TB |
| 100 | Tyler Glasnow, PIT |
Dropped Out: Reynaldo Lopez, WAS (well I thought he was more cemented in a role than that, but he was awful his last start, and while he should be up when rosters go to 40, he might be long relief), Bud Norris, LAD (I hope Brock moves him to the bullpen for sure!), Mike Leake, STL (shingles, ugh, get well soon), Scott Kazmir, LAD (got a Viagra stuck in his neck and hit the DL!), Jose De Leon, LAD (issues with that roster crunch will continue even when rosters expand), Jimmy Nelson, MIL (lord, what a let down this year…)
As I mentioned last week, this will be my last re-rank of SP for 2016.  Once we get into September, it's all about matchups, and 40-man call-ups mess up rotation turns, guys get skipped… It all pretty much turns into a metaphorical Week 17 in Fantasy Football.  Speaking of, good luck in your football drafts this week!
Glad we can go into September with it looking like Clayton Kershaw will grace us with his elite pitching again.  Stay healthy, my friend!  (can you tell I own him in an important league?!)
I feel like I had to fight the masses, so I'll bump my chest with how well Drew Pomeranz has held up – both with more innings, and in the AL.  Pom wonderful!
Jake Odorizzi continues to be consistently-good for pretty much the first time in his career, and I'm starting to buy in for the first time pretty much in his career.
I'm still moving him up a tad, but I promised if Marcus Stroman had a great start this past week, he would get a major boost.  As I kinda suspected, it's feeling more like a hot streak…
…uggghhhhh I feel dirty moving Carlos Rodon ahead of him though.  I'm likely rolling Rodon out there while he's pitching well, but I don't feel safe about it…
Joe Must-Drop Musgrove…
Big swing and miss on Blake Snell as well.  Pure stuff is readily apparent, but he just doesn't have control OR command down yet.
It was next to impossible to figure out where Gerrit Cole should be placed, as we're still figuring out an elbow issue.  By the time this is posted, he might need to be dropped out, or moved back up 30 spots…
Ivan Nova looked really effin' good against my hapless Brewers yesterday, and I'm ranking him as if his hammy issue he had to leave early with doesn't cost him any starts.
Well there ya go, Razzball Nation!  Joe Ross is back…  With Strasburg out, hopefully Ross goes right back in the rotation when he's ready.
I'm obviously not expecting much out of Alex Cobb since he barely squeaked in, as his rehab starts haven't fared too well.  But if he's somehow slipped through the cracks in deeper leagues, he's worth the flier.
You guys have a little bit of that deep league excitement for Brock Stewart as well?  And even though I won't have new ranks, what looks off in this final edition?  Anything that's egregious, I definitely will fix!  Shoot your comments below, and happy final month of pitching, Razzball Nation!