Jose Ramirez fouled a ball off his knee and was carted off the field.  *long, painful swallow*  Say what now?  Thankfully, it turned out Jose Ramirez simply has a knee contusion and was carted off the field because he had reached his steps for the day.  *claps hands*  "Okay, guys, call me a cab, my FitBit says I'm done-zo."  That's Jose Ramirez once he reaches 10,000 steps.  I hear ya, Jo-Ram!  I once sat down on an escalator because I had reached my "floors" for the day.  I'm not over-exercising and dying young.  Nuh-uh!  You don't mess with age expectancy.  I'm already down on Ramirez in a non-sexual way, so this doesn't change my stance on him, and, if you like him, it doesn't sound like it should change your feelings either, since he appears healthy.  Anyway, here's what else I saw in spring training for fantasy baseball:
Matt Olson – Suffered a hamate bone injury in Japan and had it removed, forcing him out for at least six weeks.  Hopefully, the bone was removed and used in a Hamatsu ramen to savor the bone before saying goodbye.  "So much pain, but so much umami!"  I've moved Olson down in my top 500 and top 20 1st basemen.  This is awful news for him, since hamate bone surgery usually zaps a player's power.
Jesus Luzardo – Shut down for six weeks with a muscle strain in his shoulder.  No, not the Luzardo King.  Can't the A's have anything nice…*sees wall poster of Gene Tenace jumping on Vida Blue*…in the last 40 years?  I had Luzardo buried in my top 100 starters because I was never drafting him, and this obviously doesn't change that.
Corey Knebel – Has a UCL issue.  He's headed for a second opinion.  He's done.  Sorry, Knebel, no one believes this stunting.  I've removed him from my rankings.
Chase Anderson – Was moved to the bullpen.  He was removed from the rotation and my rankings.  I apologize; I was too high on him and he might've cost some of you a draft pick.  I will now flagellate my back with a tree branch like a Dan Brown character.
Corbin Burnes – Added to the Brewers' rotation and added to my top 100 starters.  His numbers don't jump off the page at me, which is good since I'm not sure I can take that kind of fright.  I love me some Woodruff; I'd try that Freddy Peralta shizz.  Burnes?  All right, I guess so.  Notice the varying levels of enthusiasm?  Good, that was the goal.
Jimmy Nelson – Soreness in his elbow.  Sometimes the allure of filling the Tommy John surgery stamp card is just too great.
Alex Reyes – Will open the season in the bullpen.  It's a long season and I bet we see some starts from him, but I wouldn't bet too much because it also wouldn't shock me if he recorded more saves than starts.
Dakota Hudson – Will be the 5th starter for the Cardinals. I can't believe the Cardinals accepted a bribe from Goldie Hawn to have her youngest daughter get the 5th rotation spot.  Hudson's profile (6 K/9, 3.5 BB/9) suggests he'd be better in the minors, and I wouldn't grab him outside of very deep leagues.
Rich Hill – Hurt his knee and MRI showed a Grade 1 strain of his MCL.  Only surprised he doesn't have a blister on his knee.  The medical term for Hill's knee ailment is a kneecompoop.  I didn't adjust his rankings; I never imagined he'd throw a full season.  No one should've imagined that. Injuries are baked into Rich Hill's value like pot is baked into brownies.  Julio Urias will start the year in the rotation, but he can't throw more than 100 IP this year, so his value doesn't change dramatically either.
Alex Cobb – Dealing with groin soreness.  Cobb is such a knob.
Chance Sisco – Sent to Triple-A, because the O's have Jesus Sucre and Pedro Severino, i.e., the blahtoon of "Sweet Jesus, they suck."
Ronald Acuña Jr. – Braves announced Tildaddy will hit cleanup.  One of the best 1, 2 or 3 hitters will hit 4th, as Snitker really satisfies curiosity.  I updated my top 10 and top 100 for his new projections, but I'm not entirely convinced he won't be hitting leadoff, 2nd or, you guessed it, 3rd as early as May 1st.
Bryse Wilson – With Gausman and Faultyelbowitz headed to the IL (which is short for ill), Wilson, Kyle Wright and sometimes Max Fried will be in the Braves' rotation. This is going to come as a surprise for people but I prefer Bryse Wilson to Wright (or Fried).  At only 21 years of age, Bryce has so major poyse.  In Triple-A, he had 11.5 K/9 and 1.2 BB/9 in only 22 IP, and not much worse in a larger sample size in Double-A (10.4 K/9, 3 BB/9).  He throws 95 MPH and has an above-average slider, and change.  I'd never choose a rookie pitcher for Rookie of the Year-type accolades, but, if I were, Bryse is the type of guy I'd look at.  Now wouldn't that be Bryse for Wilson.  He was added into the top 80 starters.  As for Wright, he was added into the top 100 starters.  The good news for Wright is he could throw 150+ IP.  The bad news, he looks like a 4.25 ERA pitcher.  Forbade news, don't draft any Rockies starters besides Marquez.  Wright's numbers just scream 7.5 K/9, 3.7 BB/9 and 4.40 xFIP, which is so super bleh.  For an upside gamble, I guess you could do worse.  By the by, Bryse Wilson's name looks swastiky on his player page: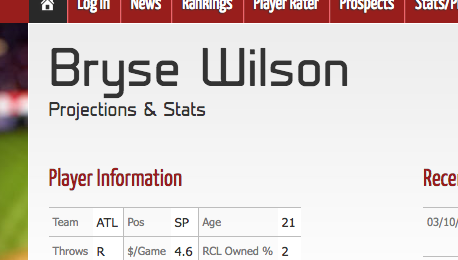 Greg Holland – Named the Diamondbacks' closer.  How do you Dutch over your best reliever?  This is how.  My top 500 was updated with Bradley and Holland being fixed.  If only Holland was fixed by taking balls away from him.  I keed, of course, because I bought him for free at Tout Wars.  In an NL-Only league.  Dot dot dot.  Hahahahahaha.  I mean, seriously, ha.
Ian Happ – Sent to Triple-A to start year.  Maddon finally had the last straw with Happ, and not like Maddon's some eco-nerd that won't use a plastic straw, though that might be true too, but he's just done with Happ.  How the once-mighty-who-were-never-mighty-who-were-only-mighty-due-to-our-perceptions have fallen.  I changed his ranking in my top 20 3rd basemen.
Nick Senzel – Sent down to the minors.  I kept his 384 ABs projection in my top 20 3rd basemen the same.  I never expected him to break camp with the club; I do expect him to break bread with Scott Schebler some time in May.
Scooter Gennett – Went down in a heap and had to be carried off the field with a groin injury.  To add insult to injury, they carried him off on a cart as he screamed, "I want my Scooter!"  What an ugly scene it was.  I'm going to pat my brow and sigh thinking about it.  *holds finger to ear bud*  "What's this?  Senzel has shown incredibly maturity in the 47 minutes he's been in the minors and is being recalled to play 2nd base?  That's fantastic!"  Yeah, seems unlikely, but one can dream.  So, Scooter's out for the next 8-12 weeks.   Hello, new Reds' 2nd baseman, Derek Dietrich! Until Nick Senzel is quote-unquote ready (in a few weeks).  Scooter was updated in the top 20 2nd basemen.
Willie Calhoun – Was sent down to the minors because the Rangers have Forsythe and no foresight.  Calhoun will be back at some point.  Likely for another team.  Or maybe after he plays overseas for a few years.  "They don't care about BABIP here, they're only interested in bibimbap."  That's Willie after a few years in Korea.